Altın Küre Ödülleri: '12 Yıllık Esaret' adaylıklarda birinci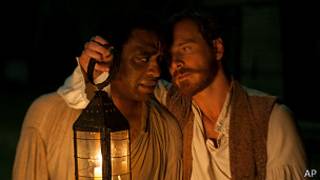 Bu yılki Altın Küre Ödülleri'ne, İngiliz yönetmen Steve McQueen'in imzasını taşıyan ve Chiwetel Ejiofor'un başrölünü oynadığı "12 Years A Slave" (12 Yıllık Esaret) filmi damga vuracak gibi.
Amerika'da köleliğe zorlanan bir kişinin hayatını konu edinen film, en iyi dram filmi dahil olmak üzere 7 dalda aday gösterildi.
"12 Yıllık Esaret", en iyi dram filmi dalında şu filmlerle karşı karşıya geliyor: "Captain Phillips" (Kaptan Phillips), "Gravity" (Yerçekimi), Rush (Zafere Hücum) ve "Philomena".
McQueen, "American Hustle" filminin yönetmeni David O Russel ile en iyi yönetmenlik ödülü için yarışacak.
En iyi oyuncu dalında ise Ejiofor ile birlikte aday gösterilenler arasında, Güney Afrikalı efsanevi lider Nelson Mandela'nın hayatını perdeye taşıyan "Long Walk to Freedom" (Özgürlüğe Giden Uzun Yol) filminin yıldızı Idris Alba da var.
Bu ikilinin dişli rakipleri arasında Robert Redford, Tom Hanks ve Matthew McConaughey gibi Amerikalı aktörler yer alıyor.
Ejiofor ve Elba aynı zamanda, "Dancing on the Edge" ve "Luther" yapımlarındaki performanslarıyla da en iyi dizi oyuncusu ödülüne aday.
İkilinin bu daldaki rakipleri de güçlü: Michael Douglas, Matt Damon ve "Phil Spector" karakteriyle Al Pacino.
Ejiofor, ödülleri veren Hollywood Yabancı Basın Birliği'ne teşekkür ederek şöyle dedi: " '12 Yıllık Esraet' ve 'Dancing On The Edge' kamuoyundan ve medyadan yoğun takdir aldı ve buna çok minnettarım. Bu projelerin bir parçası olmak bile başlı başına bir lütuf."
12 Ocak'ta ABD'nin Los Angeles kentinde yapılacak törenle sahiplerini bulacak sinema ödüllerinin adayları şunlar:
En iyi dram filmi
12 Years A Slave / Captain Phillips / Gravity / Philomena / Rush
En iyi müzikal veya komedi
American Hustle / Her / Inside Llewyn Davis / Nebraska / The Wolf Of Wall Street
En iyi yönetmen
Alfonso Cuaron - Gravity / Paul Greengrass - Captain Phillips / Steve McQueen - 12 Years a Slave / Alexander Payne - Nebraska / David O Russell - American Hustle
En iyi aktör - Dram
Chiwetel Ejiofor - 12 Years a Slave / Idris Elba - Mandela: Long Walk to Freedom / Tom Hanks - Captain Phillips / Matthew McConaughey - Dallas Buyers Club / Robert Redford - All is Lost
En iyi aktör - Müzikal veya komedi
Christian Bale - American Hustle / Bruce Dern - Nebraska / Leonardo DiCaprio - The Wolf Of Wall Street / Oscar Isaac - Inside Llewyn Davis / Joaquin Phoenix - Her
En iyi aktris - Dram
Cate Blanchett - Blue Jasmine / Sandra Bullock - Gravity / Judi Dench - Philomena / Emma Thompson - Saving Mr Banks / Kate Winslet - Labor Day
En iyi aktris - Müzikal veya komedi
Amy Adams - American Hustle / Julie Delphy - Before Midnight / Greta Gerwig - Frances Ha / Julia Louis-Dreyfus - Enough Said / Meryl Streep - August: Osage County
En iyi yardımcı aktör
Barkhad Abdi - Captain Phillips / Daniel Bruhl - Rush / Bradley Cooper - American Hustle / Michael Fassbender - 12 Years a Slave / Jared Leto - Dallas Buyers Club
En iyi yardımcı aktris
Sally Hawkins - Blue Jasmine / Jennifer Lawrence - American Hustle / Lupita Nyong'o - 12 Years a Slave / Julia Roberts - August: Osage County / June Squibb - Nebraska
En iyi senaryo
Her - Spike Jonze / Nebraska - Bob Nelson / Philomena - Jeff Pope, Steve Coogan / 12 Years A Slave - John Ridley / American Hustle - Eric Warren Singer, David O Russell
En iyi özgün müzik
Alex Ebert - All Is Lost / Alex Heffes - Mandela: Long Walk To Freedom / Steven Price - Gravity / John Williams - The Book Thief / Hans Zimmer - 12 Years A Slave
En iyi özgün şarkı
Atlas - Hunger Games: Catching Fire (Chris Martin, Guy Berryman, Jonny Buckland, Will Champion)
Let It Go - Frozen (Kristen Anderson Lopez, Robert Lopez)
Ordinary Love - Mandela: Long Walk to Freedom (Bono, The Edge, Adam Clayton, Larry Mullen, Brian Burton)
Please Mr Kennedy - Inside Llewyn Davis (Ed Rush, George Cromarty, T Bone Burnett, Justin Timberlake, Joel Coen, Ethan Coen)
Sweeter Than Fiction - One Chance (Taylor Swift, Jack Antonoff)
Yabancı dildeki en iyi film
Blue is the Warmest Color - Fransa / The Great Beauty - İtalya / The Hunt - Danimarka / The Past - İran / The Wind Rises - Japonya
En iyi animasyon yapımı
The Croods / Despicable Me 2 / Frozen
En iyi televizyon dizisi - Dram
Breaking Bad / Downton Abbey / The Good Wife / House Of Cards / Masters Of Sex
En iyi televizyon dizisi - Komedi
The Big Bang Theory / Brooklyn Nine-Nine / Girls / Modern Family / Parks and Recreation
En iyi mini dizi
American Horror Story: Coven / Behind The Candelabra / Dancing on the Edge / Top of the Lake / White Queen
En iyi dizi aktörü - Dram
Bryan Cranston - Breaking Bad / Liev Schreiber - Ray Donovan / Michael Sheen - Masters of Sex / Kevin Spacey - House of Cards / James Spader - The Blacklist
En iyi dizi aktrisi - Dram
Julianna Margulies - The Good Wife / Tatiana Maslany - Orphan / Taylor Schilling - Orange Is The New Black / Kerry Washington - Scandal / Robin Wright - House Of Cards
En iyi dizi aktörü - Komedi
Jason Bateman - Arrested Development / Don Cheadle - House of Lies / Michael J Fox - The Michael J Fox Show / Jim Parsons - The Big Bang Theory / Andy Samberg - Brooklyn Nine-Nine
En iyi dizi aktrisi - Komedi
Zooey Deschanel -New Girl / Lena Dunham - Girls / Edie Falco - Nurse Jackie / Julia Louis-Dreyfus - Veep / Amy Poehler - Parks and Recreation
En iyi mini dizi aktörü
Matt Damon - Behind the Candelabra / Michael Douglas - Behind the Candelabra / Chiwetel Ejiofor - Dancing on the Edge / Idris Elba - Luther / Al Pacino - Phil Spector
En iyi mini dizi aktrisi
Helena Bonham-Carter - Burton and Taylor / Rebecca Ferguson - White Queen / Jessica Lange - American Horror Story: Coven / Helen Mirren - Phil Spector / Elisabeth Moss - Top of the Lake
En iyi mini dizi yardımcı aktörü
Josh Charles - The Good Wife / Rob Lowe - Behind the Candelabra / Aaron Paul - Breaking Bad / Corey Stoll - House of Cards / Jon Voight - Ray Donovan
En iyi mini dizi yardımcı aktrisi
Jacqueline Bisset - Dancing on the Edge / Janet McTeer - White Queen / Hayden Panettiere - Nashville / Monica Potter - Parenthood / Sofia Vergara - Modern Family