Double vision blog: Surprises in the city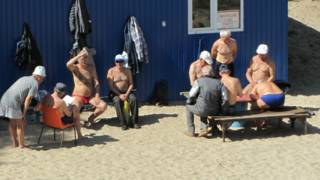 Some people take to city life like ducks to water and some find it can be a bit loud and expensive. I fall into the latter group but you can't beat cities for stimulating curiosity and people watching and both of them are free.
Wandering about with my friend in Kyiv last spring, we were blown away by the superb Spetsfond paintings at the National Art Museum.
Then, as it was so warm and sunny she asked if I would like to sit on the beach and have an ice cream.
I thought this must be a trick question. Ice cream? Yes, beach? Where?
Sadly we didn't have enough time to whizz down the zip wire over one half of the Dnipro river to Trukhaniv Island but we did sit eating ice-cream on a sandy beach with a back drop of already tanned men chatting and playing dominoes in their swimming trunks as if they were on the Black Sea Riviera. Bizarre and wonderful!
Back in UK, London's Kensington Gardens is my local park and a few weeks ago when I was walking the dog we rounded some trees by the Serpentine and came upon half a dozen people standing very still holding their arms outstretched with their palms facing skywards. There were some other people looking at them with huge expensive cameras and big lenses.
Were they waiting to see if it was going to rain? Waiting for Godot? Maybe it was a form of Tai Chi? No; they were waiting for flocks of bright green South American parakeets to land on their hands and arms to eat peanuts.
There are thousands of the exotic birds now and legend says they originated when Jimi Hendrix released a pair "to add colour to the city".
Someone must have started feeding them and then others joined in, always in the same spot and the birds got wise to a free meal. I stood and watched and within minutes there were 30 – 40 red beaked birds with orange eyes cracking open nuts.
On the subject of beaks; I read somewhere that there were 35 replica noses that had been secreted onto certain London public buildings by an artist recently revealed as Rick Buckley in protest against the increase in "Big Brother" surveillance. So my dog and I caught a bus to Admiralty Arch which King Edward VII commissioned and dedicated to his mother Queen Vitoria on the South West corner of Trafalgar Square.
It has three heavily decorated archways leading to the Royal Mall. Inside the right hand arch there was supposed to be a nose on the wall at about 2.5 M high.
I felt a bit silly and I got some very odd looks from car and taxi drivers on the road passing through as I searched for the olfactory organ and I was not disappointed.
Stuck fast and poking out about 4 cms, minding its own business because it doesn't have eyes to see and if it has a sense of smell, is sniffing a lot of traffic fumes.
Delighted and amused I went to look for my next oddity in the South East corner of the square: Britain's smallest police station but I got waylaid by a pair of giant white fingers pointing at each other on King Charles Island.
These huge digits are called "You" and were made by Mexican artist Jose Rivelio. More evidence of surveillance, I thought to myself, but apparently represent " the highly significant issue of inequality between human beings" which is fair comment.
There was certainly a tension in the space between the two tips but would have been much more aggressive and sinister if they had been pointing outwards towards the passing public.
On a more cheerful note next year David Shrigley's giant thumbs-up sculpture will be displayed on the Fourth Plinth in the North West Corner.
I found the tiny police station masquerading as a twin lamp post containing a circular room behind elegantly curved glass doors. It was built in 1926 and it's purpose was to hold one police officer who could observe troublesome elements demonstrating in the square.
The station's round stone body has narrow window slits to enable a complete vista. Inside it had a telephone with a direct line to Scotland Yard and the light on top flashed to alert nearby officers on duty. It's present civic role has rather slipped in importance; for now it is unromantically a cleaners broom and bucket cupboard owned by Westminster Council.
Thirsty for a cup of tea and a bowl of water we headed off to the dog friendly, Hawkhurst Vault Cafe and bar at the top end of Brick Lane. This welcoming East End haven of peace and comfort with books and sofas was holding an extraordinary exhibition about a Victorian English gentleman who lived in a place called Bumforth Manor and had been a pioneer of photography.
His great grandson Nick Simpson has started to restore the plates and exhibit them on www.bumforthmanor.com when they aren't gracing gallery walls.
The subject matter was too rich to describe fully but largely consisted of wildly imaginative combinations of very serious looking people dressed in heavy Victorian clothes and animal skins often displaying a new invention or taking part in theatrical scenes.
There were cabbages and other vegetables like leeks in the pictures, so this strange man must often have raided the kitchen garden at his manor house for props.
After tea and croissant and a brief snooze the hound and I caught a long, slow bus ride back to Notting Hill, exhausted by our afternoon of entertainment.
Transport for London boasts over 6,800 scheduled buses over 700 routes but unless it is a night bus they crawl along like red caterpillars at about the same speed which gives plenty of time for people watching but I only half paid attention as I contemplated what I might cook for supper.
Українська версія блогу - тут.
Blog 1: My Ukrainian shovel and salt
Blog 2: Lambs, Lions and Birds
Blog 3: Democratic bureaucracy versus corruption
Blog 5: How long is a piece of string?