Double vision blog: Perceived impressions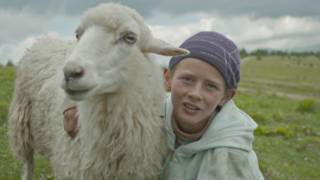 I was delighted to be invited to the launch of Ukrainian Cinema Days in London at the embassy in Holland Park recently where I met new Ukrainian friends and listened to the opening speech by Igor Iankovskyi who founded a charity to support talented young people in an Initiative for the Future and who are financing Ukraine, the National Short Film Competition.
I noticed that the point repeatedly made was one of anxious concern that Ukraine may be viewed by other nations as war torn and corrupt with few positive things to recommend it.
On the contrary, the new films indicate that the Ukrainian story is exciting and diverse. I went to see The Living Fire (Zhyva Vatra) which is about three generations of Carpathian shepherds struggling to keep their tradition of migrating to the high mountains for summer grazing alive in the modern world.
They light a central fire; the Living Fire, at the beginning of the herding season and keep it burning constantly. This age old ritual was still common in the Hutsul region until the mid 20th century.
I have visited the Carpathian Mountains in the middle of winter when it was covered in snow but I recognised the landscape shapes. The documentary film had many panoramic views of stunning vistas, with wild flowers, steep grazing and some surprisingly harsh weather, easily forgotten in the baking summers at lower levels along the Dnipro delta.
The head of the herding family 82 year old grandfather Ivan shows sad emotion for the decline in shepherding and is very keen that his 9 year old grandson Ivanko takes it into his heart and soul to continue with it. The film conveys alarm bells about the inevitability of loss but my impression was quite different for several reasons.
Before The Berlin Wall came down in 1989 and the break up of the Soviet Bloc we had next to no information about Ukraine and it's people. We knew a little about Poland because of Lech Walesa and we had many Polish immigrants to the UK after WWII but that was about it. It wasn't until the Orange Revolution that we were given a little news.
What came out though, was not an impression of corruption - that was assumed to be a Russian problem with KGB officials simply turning into capitalists and oligarchs. We knew Ukraine to be a vast and arable land that had been The Bread Basket and that it was also home to the Chernobyl nuclear disaster.
My generation felt sorry for all the countries that were subjected to Communism so our impressions of Ukraine were of harsh conditions, a lack of fairness and the need to find ways to survive - not to cheat or steal necessarily but to 'bend the rules' to make life bearable within an imposed corrupt system.
English courts used to send hungry children to the Colonies for stealing a loaf of bread and we are not proud of that history so I think we are far more sympathetic to emerging and young democracies than Ukrainian's might realise. It is a difficult journey.
We used to pride ourselves that the UK was a safe place to leave your front door unlocked and that we had fair and decent justice and democratic systems but we are finding that those who are in power and make the rules are often completely corrupt and the whole show has been like the Emperors Suit of Clothes.
London houses have had metal bars on the outside of their windows for centuries and it wasn't because we wanted to feel imprisoned in our own homes!
That the documentary about the Carpathian shepherding has been made at all shows that it is not too late to hope for keeping this way of life and protection of the landscape viable - Ukraine retains far more of its traditions than we have and it has been recognised before its too late - We are trying to revive them where they have already died out.
Time doesn't stand still in the countryside but it is slower than in the cities. The seasons still dictate work and play patterns in a routine that gives us spring sunshine to look forward to and long nights of freezing darkness to curl up inside and sleep.
If young people want comfort and work life choices, then living on the land and hiking into mountains herding sheep and goats is unlikely to appeal to many. The trick is to find ways of tweaking it to survive alongside modernity - then it may be viewed as a high quality of life that is to be yearned for and prized.
We have much better and more practical clothing and the advent of quad bikes has made difficult terrain easier to cover.
If women were encouraged to join the men in shepherding there might be more who would be keen to go off into the mountains for a few months. It could be a romantic adventure rather than a lonely task and surely there is no need to only eat lard and bread?
There are many people returning to the countryside after years of city living to find a simpler life. They accept that they will probably be financially poorer but emotionally feel richer and happier.
It is tough to chop logs for the fire and go out to feed and water animals in driving rain and soggy fields with no weekend breaks or days off but it is satisfying to doze by firelight in a cozy room after a delicious meal of lamb stew and vegetables with smoked cheeses and fruit from the garden or celebrate the warmth and durability of a woolen sweater and felt slippers.
Rapid communication and information makes many rural businesses possible - work that only requires a desk, an office and a land line or satellite wi fi.
I have farming friends who have WWOOFERs (World Wild Opportunities on Organic Farms) to come and help. They are usually enthusiastic and hard working people of all ages who want to become involved with the land and farming experiences in exchange for board and lodging.
Often they are 'townies' who have realised they are missing something. In the Romanian sub Carpathians of Transylvania HRH Prince Charles has set up a private nature retreat called Kalnoky where guests may unwind, relax and explore the authentic traditional lives and values of farming, trades and crafts in the area.
No one denies that the war with Russia in the East of Ukraine and Crimea is frightening and depressing but I think the future for Ukraine in the long run is bright. All I ever experience is good will and great energy. Yes, there are times when corruption is visible, annoying and frustrating but it is everywhere in the world.
My message to Ukrainians is to keep your chins up and don't give up! Your time is coming.
Українська версія блогу - тут.
Blog 1: My Ukrainian shovel and salt
Blog 2: Lambs, Lions and Birds
Blog 3: Democratic bureaucracy versus corruption
Blog 5: How long is a piece of string?
Blog 6: Ukrainian seeds of inspiration