Double vision blog: Bah Humbug!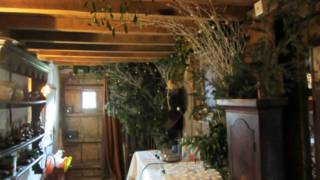 Before I launch into a seasonal diatribe about my dislike of the 'C' * word; I would genuinely like to wish all Ukrainians at home and abroad a very peaceful Christmas* and a continuation of Ukraine's remarkable progress as a strong, independent and vibrant nation in 2016.
I was going to write a celebration of a typical English Christmas but my close friends know that it would be disingenuous because I am the modern equivalent of Charles Dickens' character Ebenezer Scrooge: "Christmas? Bah Humbug!" In other words: a lot of forced jollity that's very expensive.
As a child I used to go with my family to Midnight Mass at Baddesley Clinton church in the Midlands and once, magically, it had snowed heavily between going to bed early on Christmas Eve and getting up later to go to mass.
We piled into our old Land Rover, and drove through narrowed lanes with hedgerows transformed into sparkling hummocks, futuristic curves and sweeps of perfect, unblemished, drifting white beauty. Trees dripping with diamonds on white fingered branches, a violet-black sky twinkling with stars. I can see it in my mind's eye as if it were last night.
Softly compressing pure fluffiness underfoot made little squeaks and crunches as we went up the snowy church path entering billowing clouds of frankincense wafting through the congregation. The priest spoke and sang in Latin which I was too young to comprehend except that it sounded pleasantly soothing. Sensing being let off the hook from paying reverent attention I gazed around the church and built multi story zig zag houses with prayer cards on the seat of the pew in front.
Then home and chivvied back to bed so that Father Christmas could descend the chimney to eat his mince pie and drink a glass of sherry before leaving us presents in our stockings hanging on the mantle piece. In the early morning we woke to find nuts and tangerines, trinkets, tiny picture books and maybe a box of 12 jacks with a little red ball, colouring pencils and a bottle of bubbles to blow.
With church "out of the way" we spent the day together tobogganing, building snow men, preparing and eating a turkey lunch, plum pudding with silver sixpences hidden inside, pulling crackers and opening presents under the tree. Grandma's and grandpa's hugs and love.
It's entirely possible that my fond memories of Christmas are selective and embellished to perfection but I began to have my doubts as everyday facts betrayed Christian teachings; not only in war conflicts but throughout history and much closer to home.
For example the church tower was built in 1500 and is one of two known locally as The Towers of Atonement.
It was erected by the lord of the manor, Nicholas Brome in penitence for killing the parish priest in a jealous rage when he came home and found his wife being tickled under the chin by him. He used his power and influence to escape justice and was even pardoned by the King and the Pope where any ordinary citizen would have faced the gallows.
The only time since early childhood that Christmas has evoked a similarly wondrous effect was when my friends invited me to a traditional family Sviaty Vechir (Holy Evening) dinner of kutia or poppy seed milk with candles and many toasts. Then to Volodymyr's Cathedral in Kiev where I was once again enveloped by swirling inhalations of heady frankincense and prayers in a foreign tongue. I wanted to cry.
The modern UK festive period includes multi faiths and is culturally diverse in many towns and cities. Recently I heard some wonderful combinations of traditions celebrating peace and good will as different nationalities are integrating. Research the origins of Christmas and it is obvious that for centuries there have been festivities and celebrations all over the Northern Hemisphere in the darkest weeks of winter. Rituals have been borrowed and overlapped, suppressed and revived since mankind needed an excuse to hold a party.
In a bah humbug mood of seasonal emotional wobbliness, I attend Christmas parties in small doses. Of course I am pleased to be invited and sometimes I really enjoy a few hours but then I need to retreat home.
The end of the year brings me to update news from some of my 2015 blogs.
In the spring I returned from my Ukrainian holiday with a traditional heart shaped shovel. As the daylight hours extended, spare time receded and a seasoned hazel branch given to me by a neighbour lay unused. Recently, he offered to fit it for me and today he delivered it; smooth, varnished perfection, snugly carved and shaped into the handle socket at the top of the spade. It is the best Christmas present I've received in years.
Meanwhile, recapping on Alf Bob the Poodle Bichon frise cross who dodged a haircut in the Autumn, his curly white fur was clipped to half an inch or 1.27 cms and he may now require a coat to keep warm.
The pumpkin seeds from Lubny market turned out to be green marrows and in warm November temperatures I picked the remaining Ukrainian tomatoes from the greenhouse to ripen in a kitchen drawer.
I cannot resist making more comments about the English weather; thousands of homes, businesses and farms in North England have been flooded for the third time in as many weeks as they have been deluged with storms. More than 30in (773mm) fell on Shap in Cumbria which is at least three times the long-term average for the month. Rivers have burst and some pumping and water barrier facilities have failed - speculation blames some of it on recent government cutbacks.
The people affected are having a traumatic time but there have been heroic acts of kindness and team efforts as people have helped each other and the British public donate essentials and cash. I am astonished by how much quiet determination and strength people find when they are shown some support by their fellow men and perhaps that is a crucial indication of why we should celebrate the spirit of Christmas. Bah Humbug?
My new year's resolution for 2016 is to learn the Cyrillic alphabet fluently and try again to speak some Ukrainian! My fingers are crossed and tongue untied.
Українська версія блогу - тут.
Blog 1: My Ukrainian shovel and salt
Blog 2: Lambs, Lions and Birds
Blog 3: Democratic bureaucracy versus corruption
Blog 5: How long is a piece of string?
Blog 6: Ukrainian seeds of inspiration