Double vision blog: my Ukrainian holiday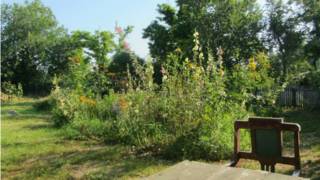 I returned to Ukraine for at least the eighth time since 2006 in July and had one of my best holidays ever.
There is a youthful energy and initiative that is palpable giving rise to many innovative businesses and a fledgling tourist industry that becomes more sophisticated each time I visit.
After arriving in Kyiv we headed S.East for my friends' village near Lubny in the Poltava region. The house and garden overlook the tree-lined wide and beautiful river Sula.
This summer fruit was abundant and all around the village, trees dripped ripe apricots, mulberries and cherries.
I had to compete with a gaggle of geese but I collected enough and spent a happy afternoon on the dacha veranda in the shade, stoning and popping them into empty mineral water bottles to a third and topping them up with vodka.
Finally we celebrated a wonderful few days with a family bbq. The local honey man called by on a vintage motorbike with side car and cart with milk churns full of fresh honey which he ladled into huge glass jars for us.
Well fed and rested our next adventure was a two night stay at the spa hotel in the Chernihiv region in a pine forest next to the Snov river; which we swam in, rather than the huge sparkling swimming pool but made full use of the spa's excellent choice of massages and body wraps.
We found a farm with horse riding and accommodation near the historic town of Chernihiv, so after coffee in a cafe and lighting a candle in the ancient cathedral we went to Sednev which sits snugly at the end of the village in a valley amongst trees.
I was given a pretty mare and trotted off to explore a valley of sunflowers and corn. After 40 minutes I estimated that if we turned left we should loop back to the farm and the village.
Somehow we had ridden to another village entirely and rode down narrow unpaved roads between pretty dachas, gardens and barns with old fashioned haystacks. At each junction I let my horse choose the direction on the assumption that she would know the way home.
After we had passed the same places and people several times, I made a pathetic effort at trying to ask for directions.
No one spoke English and embarrassingly I didn't know the name for horse, the village or the farm in Ukrainian. I didn't have my phone with me either.
Finally the mare apparently chose the correct route and 20 mins later I saw the instructor from the farm riding the mares' mother towards us. We galloped like greased lightening making clouds of dust before walking back. A ride like that is my idea of heaven especially if followed with another full body massage and dinner back at the spa hotel.
Super clean, moisturised and massaged we headed to Kiev for some city entertainment. Being mistaken for a pensioner and given free entrance to a food festival when I'm nowhere near retirement is not one of the most flattering holiday freebies I've experienced but it was pretty funny.
The food festival was in a trendy revitalised area of Platforma where a disused factory from the Soviet era has a new life as a venue for arts and cultural events.
It felt like Kiev's version of Brick Lane in London and the old Truman Brewery. Approached by a funky mural stretched along a wall in the car park, the huge brick buildings are decorated with trompe l'oeil shop scenes. Inside they retain the cavernous concrete feel of raw arty spaces.
I tried not to feel too decrepit as we wandered around trying different foods cooked and presented by fashionably cool, young entrepreneur chefs. The grilled frogs on skewers were certainly interesting. I discovered Kvass, a soft drink made from fermented rye and a smoked buffalo sausage, similar to a good biltong, melting in the mouth with a smoky aroma.
There's a good choice of restaurants in Kiev and an excellent meal at a fish restaurant including wine and service cost £35 for three of us.
One afternoon we zip wired smoothly at a dizzying height over traffic lanes and the Dnypre River from the hill at the Friendship of Nations Arch to the beach on Trukhaniv Island where we paddled in the surprisingly clean warm water.
Another day we ducked out of an unseasonably torrential downpour into a lovely high ceilinged apartment of the deceased writer and poet Mykola Bazhan and were given a guided tour of his home preserved as he and his family lived in it including their collection of art and furniture.
My homeward bound suitcase was slightly overweight as usual and I left behind a long scythe blade from Lubny market, worried it might alarm security at the airport. I was requested to unpack a wicker basket stuffed with Soviet era ribbed glass dishes, strings of beads from the Sunday flea market on Petrivka that straddles railway tracks, buffalo sausages and a traditional metal biscuit maker with long handles that weighs 3.5 kilos.
Small bottles of woodland spirits and a bucket of walnuts poured into the gaps. Security were quite amused and waved me through.
My friends back home are getting used to the wonderful medley of goodies I bring back and I think they are beginning to realise there's a gem of a country waiting to be discovered that they could afford to take the whole family to.
Українська версія блогу - тут.