Unusual 'fog dome' spotted
2nd December 2016
Last updated at
11:36
Early this morning Weather Watcher Hannah was out walking her dog in Tremeirchion, north Wales when she came across this very unusual dome shaped cloud of fog.
"I just couldn't believe how perfectly dome shaped it was. After about 10 minutes it started to flatten and looked like low lying cloud along the fields but over quite a big area, it was huge" she said.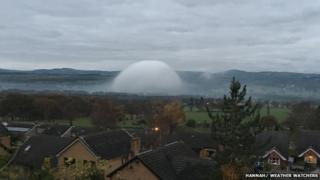 Met Office and BBC Weather Centre Forecaster John West shares with us his thoughts on what could be causing this effect.
"This is a very unusual phenomenon, but the most likely explanation is that the "fog dome" has been caused by a source of heat close to the ground, possibly an agricultural building or a relatively warm pool of water. As the fog has formed in the valley this heat source has forced the fog to lift away from the ground into a dome as warmer air rises; like a hot air balloon."
You can sign up to be a BBC Weather Watcher on the BBC Weather Watchers website.