A
As working parents around the world grapple with balancing the demands of a career and childcare needs at home, some families have turned stereotypes on their heads.
In the United States, 6% of fathers are full-time caregivers for their children, allowing mothers to focus on their careers, according to the Pew Research Center. This small trend is growing in other parts of the world. In the United Kingdom, fathers now comprise almost 10% of stay-at-home parents, according to the UK government's Office for National Statistics. For shorter periods in some countries including Germany, Sweden and Norway, fathers often take available paternity leave and then return to work, according to the Center for Economic and Policy Research.
While the figures are still small, families are beginning to configure their work lives differently to accommodate children and careers, said Linda Descano, president and CEO of Women & Co, Citigroup's personal finance resource for women.
"There's a whole spectrum of how couples are managing professional and family responsibilities," she said.
Finances often drive these decisions. A recent Citigroup and LinkedIn survey of 954 professional women found that 75% are either the primary breadwinners or earn an equal income to their partners. Experts say this wage disparity has meant that more men are putting their career on hold until their children are in school, much as women have done for decades.
As women earn more and have higher-level jobs, childcare falls more on fathers, said Wendy Sachs, author of How She Really Does It: Secrets of Successful Stay-at-Work Moms. Anecdotally, in the US, women with big careers and senior executive level jobs are more likely to have husbands with jobs that have more flexibility, she said.
Stay-at-home fathers tend to stay current with their professions by keeping up with certifications, volunteering for non-profits or events that use their professional skills, or taking on small projects in their field, so that re-entering the workforce is easier, said Cali Yost, CEO and founder of Work+Life Fit and Flex+Strategy Group.
"It's not sustainable for two parents to both be on the road, working 80 hours per week and raising a family — no one's figured out how to do that unless you have an army of help," said Sachs.
Having dad as the main parent at home does not mean mom is not in tune with the children. Rather, today, women — much like many men — want both successful careers and to be engaged, present parents. A look at four American families where mom goes to work and dad stays home:
Rosemary Haefner and Jamal Nubani
Chicago, Illinois
Rosemary Haefner, global head of human resources at a website, and Jamal Nubani, a personal trainer and speed skating coach, were together 13 years before deciding to have a child because they were not sure how to fit a family into their lives. Nubani, 49, stopped training clients to care for the couple's now four-month-old daughter when Haefner returned to work after a six-week maternity leave. Nubani has been able to keep up his work as a coach a few nights a week.
It was both a practical and personal decision for the couple.
"Between the two of us, it would be more practical for Rosemary to keep going — she doesn't think she can stay home," said Nubani, who eventually plans to go back to work, possibly within a year. "I have a lot more connections and can jump back in my career."
Haefner, 42, runs a department with 40 people, many of whom work outside the US. During her short maternity leave, she worked from home 20 hours per week to ensure everything ran smoothly in her absence.
"If you're running a department, it's not like the company can bring someone in to backfill that position," she said.
Haefner said she promotes a flexible workplace culture, such as allowing people to work from home so that time spent commuting can be used for personal life.
Sometimes, work-life balance is more about choices and trade-offs, Haefner said. She chose a career over being a full-time parent.
"I can't have it both ways," she said.
But she said she looks forward to spending the time that she can with her daughter, whether that means feeding her in the morning or putting her to bed every night.
Deborah Onanian and Eric Sticker
East Greenwich, Rhode Island
"As soon as I get to work, I can't wait to go home and see my boys," said Onanian, a home economics teacher and mother of two-month-old and two-year-old sons. "I'm a mother first... but I love my career and don't want to give that up."
Onanian and Eric Sticker, a photographer and songwriter, considered day-care so both could continue working full-time, but it was expensive. The couple decided having one parent stay home would be a better option financially and for their son's health after he came down with an illness after just an hour playing at a day-care centre.
Which parent would be home came down to simple math: Sticker, 43, stayed home because his wife, 41, earned more and had benefits such as health insurance after teaching in the same district for 11 years.
Being a full-time parent has been a great experience, but also very challenging, he said.
"It's been the hardest job I've ever had — there's no down time," he said. Recently, the couple hired a babysitter 22 hours per week so Sticker could begin to focus on his career again part-time. Once their sons are in school, he intends to go back to work full-time.
"If there's a stigma of men staying home, there shouldn't be," said Sticker. "The kids need a go-to parent and the more you share the load, the better off the kids are. It shows stability that both Mom and Dad are there for them."
Laura Ruvolo Lipp and Brian Lipp
Denville, New Jersey
Brian Lipp became a stay-at-home dad almost by chance. For the past 6 years, his two sons, age four and six, went to day-care or were cared for with nannies while his wife, Laura Ruvolo Lipp, worked as a lawyer.
Brian, 36, began a new job in March as an information technology executive. The new position came with an hour commute and no flexibility.
Laura had already faced down an inflexible workplace. The 36-year-old had worked for two law firms that advertised themselves as family-friendly. But her bosses weren't tolerant when she arrived late because of childcare or other child-related issues. In early 2012, Laura started her own family law practice so she could set her own hours and have more time for her sons.
Now Brian's new job and long commute meant his wife became the only go-to parent. That quickly affected her work. Every hour she was not working was an hour she couldn't bill a client, reducing the family's income and the attention her clients needed.
The couple reviewed their finances and realized that if Brian stayed home, they could save $2,300 per month on day-care. If Laura worked a few extra hours each week at her hourly rate, she could make up the difference in the portion of her husband's salary that was not already going toward childcare. So Brian quit his job in May.
"I don't think there's any way to have it all," said Laura. She noted that many people focus on moms needing flexibility, "but they don't focus on dad's flexibility."
Brian has not entirely left the work world. He maintains the technology systems at his wife's firm — free of charge. He said he would go back to work full-time if the family needed him to do so, but he prefers being involved with his children.
"What's the difference when the man has the high-paid job?" he asked.  "There's no difference."
Steven and Dana Reyngoudt
Hasbrouck Heights, NJ
Steven Reyngoudt, currently a wine sales consultant with flexible hours, cares for his three daughters — who are 16-months-old, five-years-old and eight-years-old — while his wife pursues her career as a senior marketing director for a television network. The couple decided after the birth of their second daughter in 2007 that Steven would focus more on the children, primarily because Dana had a more lucrative career.
"I'm more comfortable having a job, not a career, and I don't think my wife could be a stay-at-home mom," he said.
Since Steven still works, the Reyngoudt family relies on a support system that includes Dana's mother and day-care.
Because of their arrangement, the couple's three daughters see a different family unit. "Their mother moves forward in her career and still makes time for them, but their father picks them up from school and does all the cooking," said Steven, 37. "It's good for them to see this."
His wife, who was not available for comment for this story, works 50 to 60 hours per week, but attends as many of the children's activities as she can.
"On career day, my daughter was extremely proud and happy that her mother talked about her job," said Steven.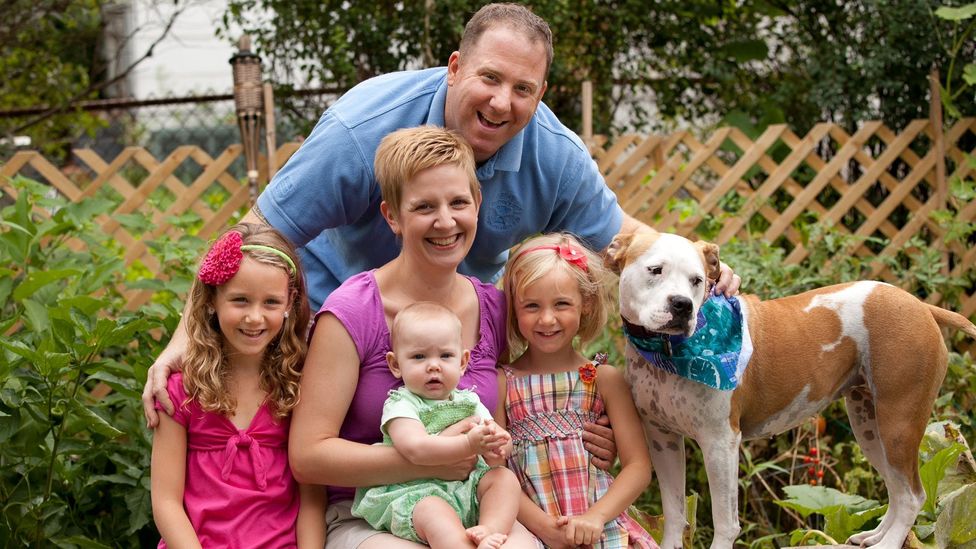 For the Reyngoudt family, dad Steven, is the go-to parent since mom, Dana, has the more lucrative and demanding career. (Elise Campbell)
For the Reyngoudt family in Hasbrouck Heights, NJ, dad, Steven, is the go-to parent since mom, Dana, has the more lucrative career. (Photo credit: Elise Campbell)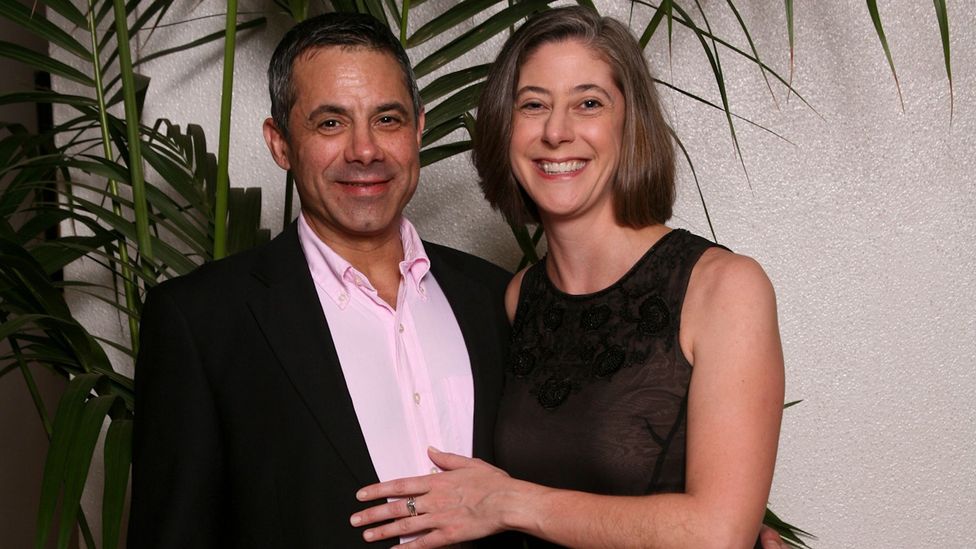 Rosemary Haefner's husband, Jamal Nubani, stays home with their four-month-old daughter. She is the head of human resources for a website. (Photo courtesy Rosemary Haefner)
Rosemary Haefner's husband, Jamal Nubani, stays home with their four-month-old daughter. She is the head of human resources for a website.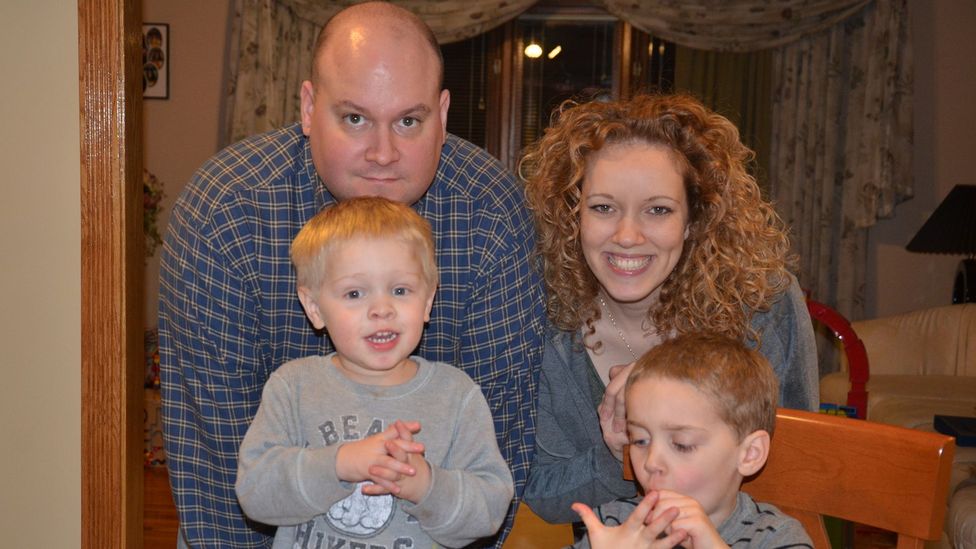 Brian Lipp recently became a stay-at-home dad. His wife, Laura, spends more time working at her law firm. (Courtesy Lipp Family)
Brian Lipp recently became a stay-at-home dad to his sons. His wife, Laura Ruvolo Lipp, spends more time working at the law firm she founded in 2012.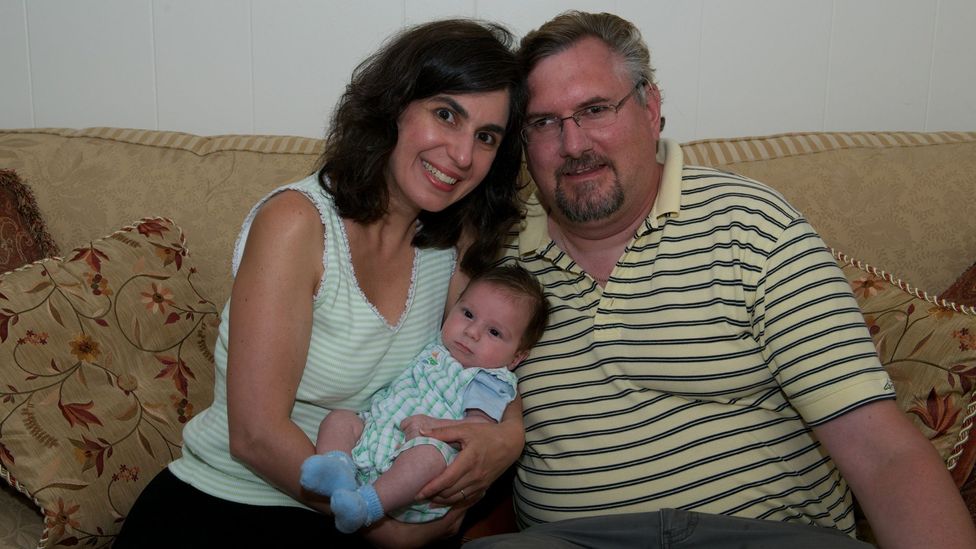 Deborah Onanian works work full-time. Her husband Eric Sticker works about 20 hours per week. (Courtesy Deborah Onanian)
Deborah Onanian works work full-time. Her husband Eric Sticker works about 20 hours per week. (Courtesy Deborah Onanian)

;