Other companies are finding their own ways to reduce their carbon footprints.
A bucolic section of a Philippine beach is an unlikely spot for an ocean polluter's second chance. But a partnership between a US carpet tile manufacturer and a local community is giving discarded fishing nets another lease on life.
Abandoned fishing nets often end up in the ocean, wreaking havoc on sea life, seriously damaging fragile ecosystems and littering beaches. But along the threatened Danajon Bank – one of only six double-barrier reefs in the world — the trashed nets are being collected and repurposed.
The initiative is pumping needed cash into the local economy and helping Atlanta, Georgia-based Interface, the world's largest carpet tile manufacturer, reduce its dependence on oil.
As part of a programme called Net-Works, Interface collaborates with local villagers to collect, clean and sort the nets. Once gathered and bundled, the nets are shipped to Aquafil, a global supplier of synthetic fibres with headquarters in Italy.
The nets are then processed and spun into yarn and incorporated into colourful, ocean-themed carpet tiles.
While Interface may be offering one of the more ambitious, and global, initiatives out there, it is not alone in the corporate world's attempts to use reclaimed products to better the environment and society — and make a profit.
It is rare to find a big-name company that doesn't have a sustainability agenda, or at least a section on its website devoted to its green initiatives.
Grumpy about green?
Few companies dispute the need for "green" initiatives, though reactions to demands for a sustainability agenda can range from "fight any change imposed on me" and "I'll take the easy wins" to "fundamentally re-thinking every aspect of my business," said Rodolphe d'Arjuzon, global head of research for UK-based independent analysis firm Verdantix.
According to Verdantix's 2012 Global Sustainability Leaders Survey, which took in 250 companies in 13 countries, some 45% of company officials said they planned to increase their budgets for sustainable product/service innovation this year.
Interface has taken one of the more aggressive approaches toward sustainability, according to d'Arjuzon, and is often cited as one of the world's most sustainability-minded companies.
In 2012, for example, 49% of the total raw materials used by Interface were recycled or bio-based, and the company is moving to eliminate the use of oil in its carpeting entirely by 2020. 
The company said it did not yet know how big of a contribution the Net-Works programme would make to its bottom line, but the use of recycled nylon yarn allows the company to reduce its dependency on oil and thereby insulate itself from price fluctuations, according to Bristol, UK-based Miriam Turner, Interface's assistant vice president of co-innovation. 
Other companies are finding their own ways to reduce their carbon footprints.
Working with teams of scientists in the US and France, 3M Co, the US-based manufacturer of essentials like Scotch tape and Ace bandages, has found a way to turn agave fibre – the bulky by-product of tequila production – into non-woven, non-flammable material, which is then used to make the company's Greener Clean line of scouring pads.
Timberland, the US-based shoe maker, produces its top-selling Earthkeepers line with soles made from recycled tires.
On a much smaller scale are companies like the UK's Elvis and Kresse, which turns the London Fire Brigade's decommissioned fire hoses into bags, belts and wallets, and has based its whole business model on incorporating reclaimed items.
Reduce… Reuse… Profit?
Net-Works started as a pilot programme with six villages, but has now expanded to 26 villages, with plans to expand from its Philippine base of operations into other coastal communities in the developing world.
Once the programme proved it could be profitable for both Interface and the villagers, it became permanent, according to Turner.
The UN Food and Agriculture Organization estimates that 640,000 tonnes of fishing gear are discarded annually. To date, nine tonnes of nets have been collected through Net-Works.
The villagers in the Danajon Bank area live at or below the poverty line, with monthly incomes averaging less than $195.
Participating villages have been collecting roughly 200kg of nets per month, and participants are paid in pesos for every 2.5kg they collect. The amount of pesos changes due to exchange fluctuations, but the company has pegged the payment to the value of rice. For example, 1kg of nets earns the peso equivalent of 1/2 kg of rice, which is enough to feed a family of five people for one meal.
Net-Works has also set up community banking systems, which allow villagers access to micro-insurance, loan and savings programmes. 
"This is not a one-off philanthropic beach clean-up," said Interface's Turner. "It's inclusive business — profitable core business that benefits the poorest."
The collected nets are still in the re-manufacturing phase, and are expected to start being incorporated into tiles in the coming months.
Once finished, the recycled tiles will be marketed and sold as part of Interface's Net Effect collection, which debuted in June in North and South America. By September, the collection will be available in Europe, Asia and Australia.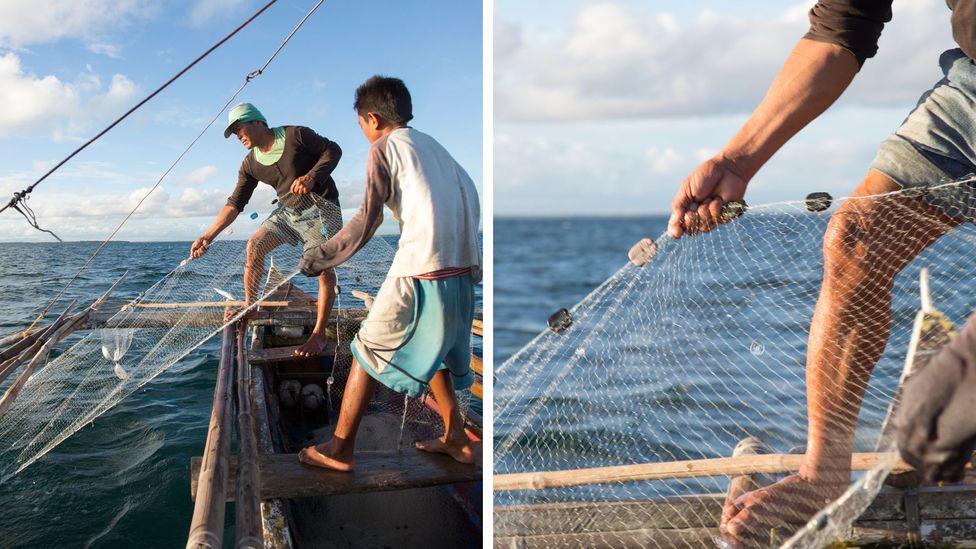 Fishermen in the Philippines gather nets on the water. (Interface, Inc.)
Fishermen in the Philippines gather nets on the water. (Interface, Inc.)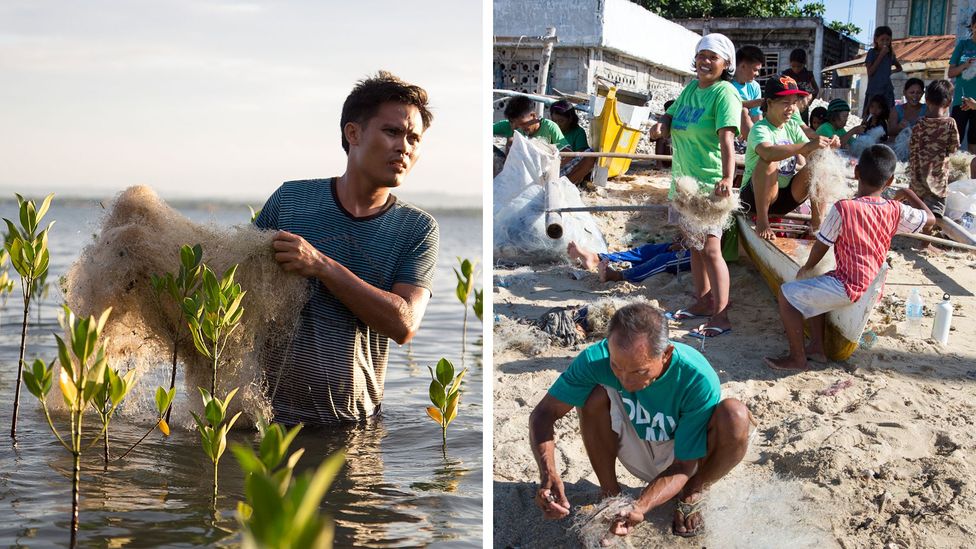 The nets are pulled from the ocean by hand. (Interface, Inc.)
The nets are pulled from the ocean by hand. (Interface, Inc.)
Fishermen sort and weigh the nets before sending them off. (Interface, Inc.)
Fisherman sort and weigh the nets before sending them off. (Interface, Inc.)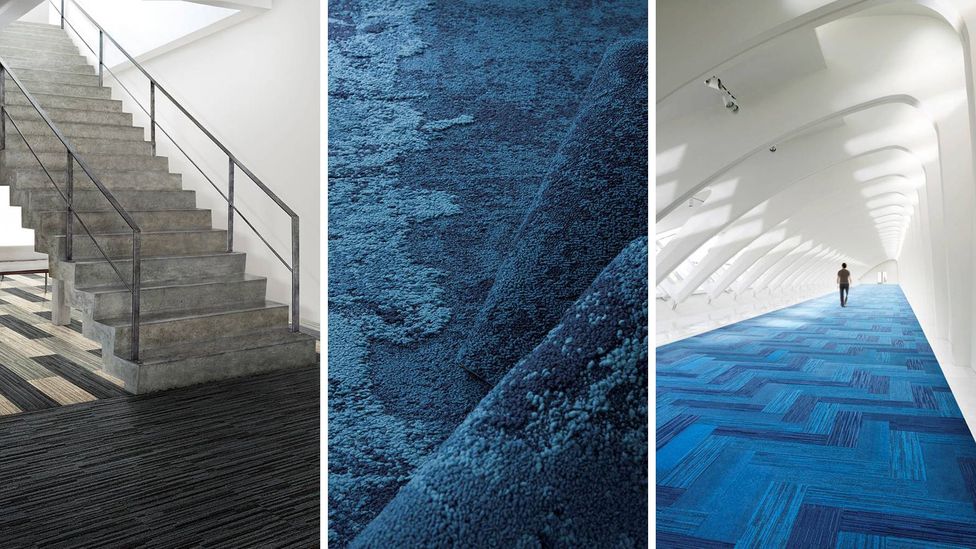 The eco-friendly finished product. (Interface, Inc. / Milwaukee Art Museum.)
The eco-friendly finished product. (Interface, Inc. / Milwaukee Art Museum.)