Not everyone is singing the praises of these brave, new workspaces.
For Anne Davis and her colleagues, moving from a building filled with closed-door offices to an open floor plan several years ago was jarring.
"It was culture shock," said the vice president of workforce support services at Sharp, a San Diego, California, health care company.
Now that people in the 1,100-employee division have had time to adjust, Davis and her team are happy with the seating arrangement. So much so that they are adding "hoteling" workstations to the mix — unassigned desks equipped with computer docking stations. Roving workers in the office for the day can sign up for the spaces as needed.
"You end up with more of an open-door policy," Davis said. "People are more apt to just walk around and say, 'What do you think about this?' So you're not isolated as much."
Globally, the move to open, collaborative work stations has been on the rise for the past five-to-10 years, said Kate Lister, president of Global Workplace Analytics, an international telework research and consulting firm based in Carlsbad, California.
European companies, long known for their collaborative, bench-style office seating, led the charge a few years before their American counterparts, she added.
According to the International Facility Management Association, 68% of North American employees work in an office with an open floor plan or open seating.  
Not everyone is singing the praises of these brave, new workspaces, however. For example, older employees, who have worked "their whole lives for the corner office," may have a harder time shifting to a non-hierarchical workplace, Lister said. The same goes for legal, financial and other professional firms, where proprietary client meetings and phone calls are the norm.
What's more, several recent studies from around the globe have blamed open offices for reducing employee productivity, compromising morale and even leading to an increase in absenteeism.
The case for collaborative space
A desire to cut real estate costs is a big driver for the shift, Lister said.
Thanks to mobile devices, remote conferencing technology and an increasingly global workforce, "people are spending 40% to 50% of their time at their desk," Lister said.
Rather than pay for all that unused space the rest of the time, companies are consolidating. This is especially true in countries that place a high premium on telecommuting, mobility and flexible work schedules, such as the US, Germany, the United Kingdom and the Netherlands.
Since 2009, Citrix, a US-based company with more than 8,000 employees in 35 countries, has converted half its office buildings into more open, collaborative workspaces. In doing so, the mobile solutions company has driven real estate costs to about 4% of the company budget, down from 6.5% , said Guy Desautels, vice president of real estate and facilities at Citrix.
But it's not just about adapting to technology and saving dollars.
"A lot of successful business now is about collaborating together in teams with colleagues, collaborating with your business partners, collaborating with your customers," said Barry Varcoe, global head of corporate real estate and facilities management at Zurich Insurance Group, a 60,000-employee international insurance company based in Switzerland.
To that end, Zurich has incorporated collaborative, open floor plans with unassigned seating into the majority of its 1,200 offices worldwide. Many workers "don't actually need their own dedicated desk all the time anymore," Varcoe said. "The nature of work is changing."
Wireless technology and cloud storage software make it easier for companies to embrace nomadic workstations, said Frank Rexach, a Shanghai-based vice president and general manager at Haworth, an international office furnishings company. Some workers may even prefer such an arrangement, he said.
"People don't want to feel handcuffed to their desk, especially the Millennials," Rexach said.
The open office backlash
Still, there's "evidence that the pendulum may have swung too far," Lister said.
Among the biggest issues: noise and privacy. As the size of workstations decreases and distractions in the office increase, employees struggle to stay focused.
Only one-in-four employees say their office environment fostered both collaboration and individual concentration, according to a 2013 study of open and traditional American workspaces by global design firm Gensler. More than half reported being disturbed by others when trying to focus.
By compromising the ability of employees to focus on individual tasks in the name of collaboration, the study concluded, the open office plan fails.
Davis, the Sharp executive, admitted that the increased noise of an open workspace took some getting used to. To ease employees into it, her company initially pumped white noise into shared spaces and reminded workers to speak quietly.
Lack of privacy can disrupt productivity in other, unexpected, ways.
Aron Susman, co-founder of TheSquareFoot, an American real estate brokerage firm that helps smaller companies find commercial space to rent in a dozen US cities, recalled a client who leased an open office space during the worst part of the economic downturn. Any time management huddled in the conference room for an impromptu meeting, rank-and-file workers would grow concerned — and become distracted from their work.
"The unintended consequences can be costly," Susman said.
A two space solution?
A happy medium between individual workspaces and open free-for-alls does exist. A mixed space that gives employees immediate access to both quiet, private spots for uninterrupted concentration and collaborative areas for conversing and working in teams, can go a long way toward resolving the tension, said Janet Pogue, global workplace leader at Gensler, the design firm.
Gensler's recent workplace study found that US employees spend a little more than half their time poring over individual tasks and a quarter of their time collaborating with teammates. Companies with floor plans that meet both needs will foster more productive, balanced employees.
"Providing a choice of where to do that [focused] work ... is really important," Pogue said.
At Zurich, open offices include traditional desks — some allocated to specific employees, some available for all — with team work areas nearby for quick, easy collaboration, Varcoe said. In addition, these offices feature living-room-style spaces for "relaxing" and private rooms designed for meetings.
"People like to feel like they have a home," Varcoe said.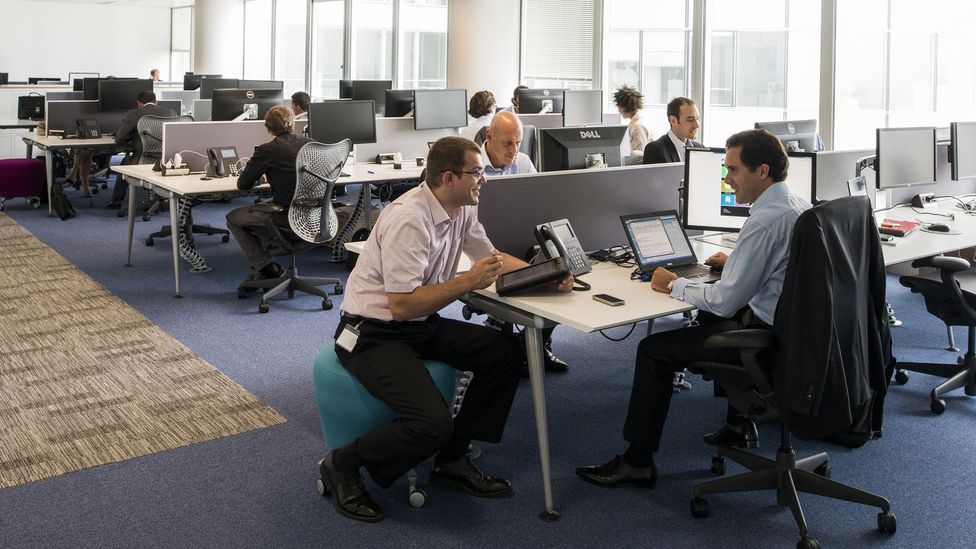 Some workers like open work spaces better than others (Photo credit: Citrix)
Some workers like open work spaces better than others (Photo credit: Citrix)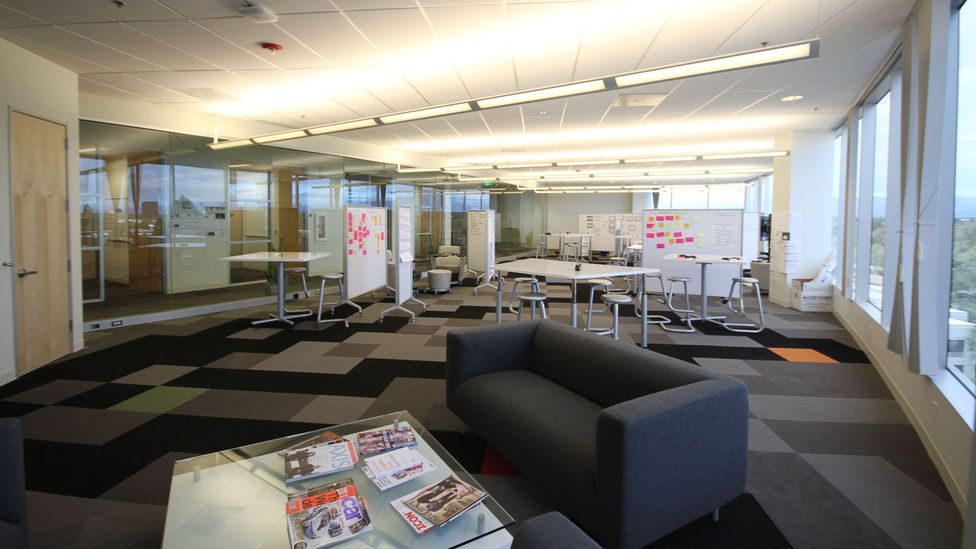 By moving to an open floor plan, Citrix cut real estate costs to about 4% of its budget, from 6.5% (Citrix)
By moving to an open floor plan, Citrix cut real estate costs to about 4% of its budget, from 6.5% (Citrix)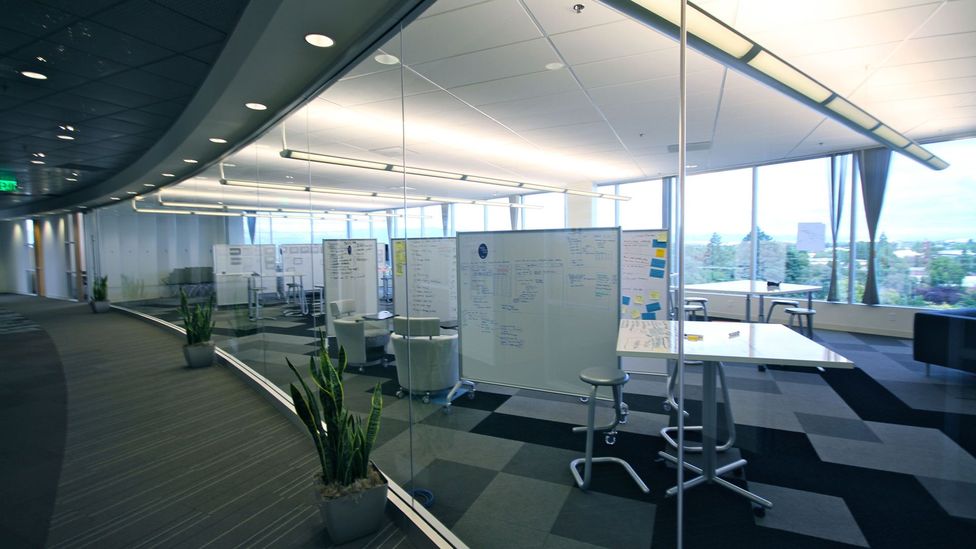 US-based Citrix has converted half its offices into open workspaces (Citrix)
Open office spaces can promote collaboration, but also be noisy (Photo credit: Citrix)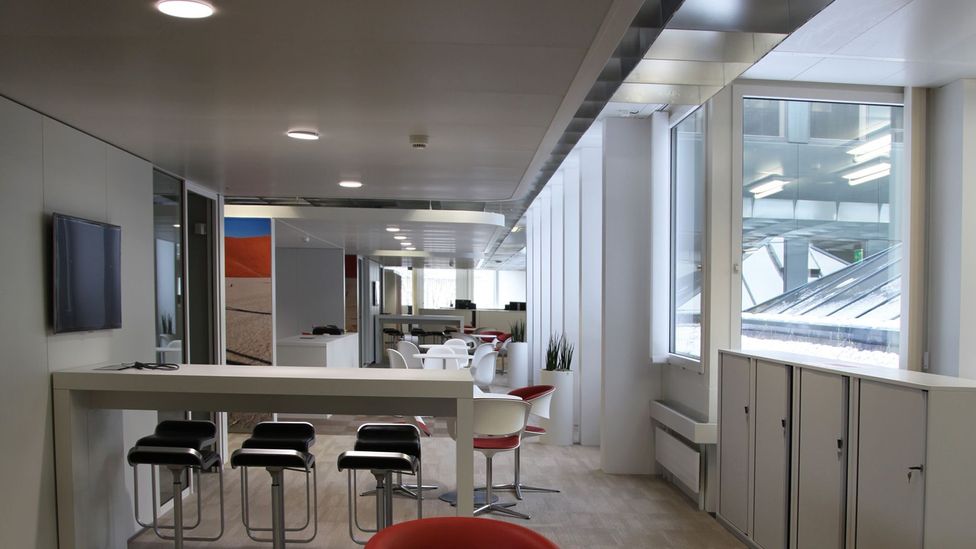 Zurich has incorporated collaborative, open floor plans with unassigned seating into the majority of its 1,200 offices worldwide (Photo credit: Zurich)
Zurich has incorporated collaborative, open floor plans with unassigned seating into the majority of its 1,200 offices worldwide (Photo credit: Zurich)