A messy desk or stinky trash can is only the beginning.
Influence & Co, a Columbia, Missouri, communications firm, prides itself on working in an open floor plan office.
"There are no assigned desks," said Melanie Janisse, director of publications at the two-year-old, 70-employee company. "Our chief executive officer has the same office space as our interns."
On the plus side, transparency and morale are high. So is collaboration.
But workspace democracy comes at a price.
"No one claims responsibility for the mess on the desks," Janisse said. "There are constantly coffee cups and papers everywhere."
The company's laissez-faire attitude toward cleanliness has extended to the garbage receptacles throughout the office, too.
"Trash cans would overflow," Janisse said. "Only when the fruit flies got bad did someone finally take it out."
Welcome to the dark side of the brave new collaborative workplace.
With more companies around the globe moving to shared workspaces, there's more opportunity for employees working in close, wall-free proximity to drive each other mad. A messy desk or stinky trash can is only the beginning. Other contentious issues: loud talkers, smelly lunches, smelly officemates, colleagues who hoard unassigned workspaces they don't even use and co-workers who leave empty or broken staplers on the desk for the next person to deal with. "A lot of this seems like it ought to be kindergarten 'How to get along with others 101'," said Kate Lister, president of Global Workplace Analytics, an international workplace consulting firm based in Carlsbad, California.
But for open office floor plans to succeed, firm ground rules on everything from cleanliness to desk hoarding to quiet hours and employee education are essential, Lister said. It doesn't matter whether it's an in-person orientation, an online video or a written manual, so long as all affected employees get trained.  
"It has to be mandatory," Lister added. "Otherwise, you're going to have that guy that hangs his jacket on the desk and ignores all the rules. And that's going to tick everybody else off. If one guy's getting away with it, then the others are going to try."
Nipping rule breakers in the bud
The more specific the ground rules, the less misunderstandings employees and managers will have about using and maintaining open office space. People need to know which rooms and work stations are available to them at what times, and for which type of activity, said Kate North, vice president of global development at e-Work.com, a company that creates web-based training for organisations with open office spaces worldwide. 
"If you're in an environment where a lot of colleagues are doing head-down work, it may not be appropriate to do a webinar in that space," North explained.
Likewise, a company can't expect employees to forego permanent desks — and all the storage they provide — without training them in the technological tools available for digital storage. "If people are burdened down by paper, they'll start claiming desk space and start squatting," North said.
George Coffin, Europe and Africa facilities manager at international audio technology company Plantronics, takes an "educate early and remind often" approach to ensuring his staff mind their manners.
When Coffin's 120-person division moved to an open office in the United Kingdom two years ago, he asked staff to either clean up after themselves or report their messes — and for that matter, any broken equipment — to facilities personnel, who would then clean or fix accordingly. Of course, not everyone followed the rules.
One group in particular regularly left a trail of used coffee cups, discarded paper and marked-up whiteboards when they left a space. Late one afternoon, Coffin discovered the group had left a mess in a conference room that group had reserved for another meeting the following morning. Coffin asked the evening cleaning team to leave the room untouched. When the careless confab arrived for their meeting the next morning and complained about the sloppy state of the conference room, Coffin reminded them it was their mess.
"Since then, that team has never given me another problem," Coffin said.
The power of peer pressure
A healthy dose of peer pressure can keep open office workers on their best behaviour, North said.
Naomi Hirabayashi of DoSomething.org agrees. To ensure a stretch of quiet, focused time to wrap up projects before each week's end, the lively, energetic non-profit has instituted "Thoughtful Thursdays." At 1:30 p.m. each Thursday, DoSomething.org goes into silent mode for the rest of the day. No talking. No taking calls in the presence of co-workers (conference rooms are okay). "It's important to have that time where everybody is hunkering down," said Hirabayashi, chief marketing officer of the 70-employee, New York City organisation, which helps young people get involved with causes important to them.
Distracting chatter has been more of a problem at Influence & Co, not for the company itself, but for the handful of other small businesses sharing the large coworking space the company occupies. "Everyone in our group is very talkative," Janisse said. "The building manager has now established 'quiet time' on Wednesday mornings so that people can actually get some work done. I'm positive it's because of our company."
Influence & Co is working on its cleanliness issue, too. This month, Janisse's boss announced a programme called "The King or Queen of Clean," which would require all employees to take a weeklong turn straightening up the company's workspace. (No word on whether this policy was prompted by the building manager, too.) To turn up the pressure, Influence & Co also uses a "jerk jar." Anyone caught leaving a mess or being inconsiderate must put $1 in the jar, with all money going toward the company's happy hour fund, Janisse said.
Plantronic's Coffin is all for peers calling each other out, but he's not keen on public shaming. Instead, when he receives a complaint about a loud or messy employee, he talks to that person's manager without naming names and asks the manager to reiterate the guidelines in question to their entire team.
The strategy is working. For the most part, Coffin said, employees are happy to police each other and take pride in keeping the building as immaculate as it was on day one."We've been in this building since 2011," Coffin said, "and I can honestly tell you that if you walked in now, you would think we moved in last week."
Follow BBC Capital on Twitter @BBC_Capital or follow us and join the conversation about this or any other Capital story on Facebook: BBC Capital on Facebook.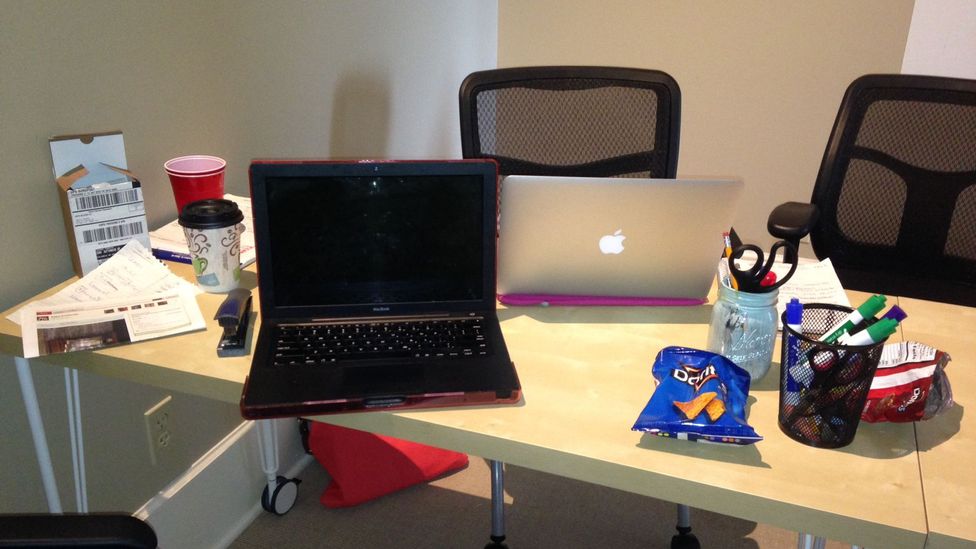 Empty snack bags and coffee cups on a shared worktable. (Influence & Co.)
Empty snack bags and coffee cups on a shared worktable. (Influence & Co.)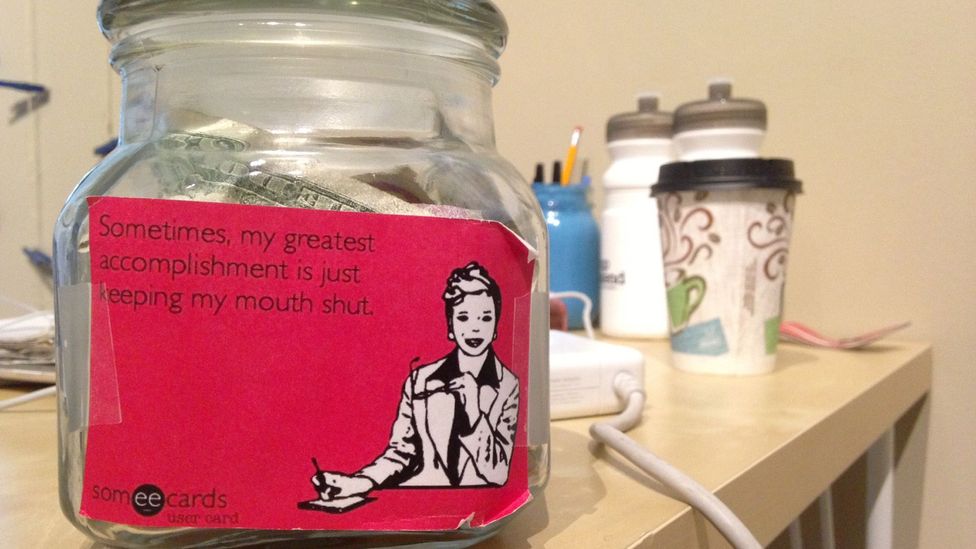 Employees contribute to the 'Jerk Jar' for a variety of offences, including messy desks and talking too loudly. (Influence and Co)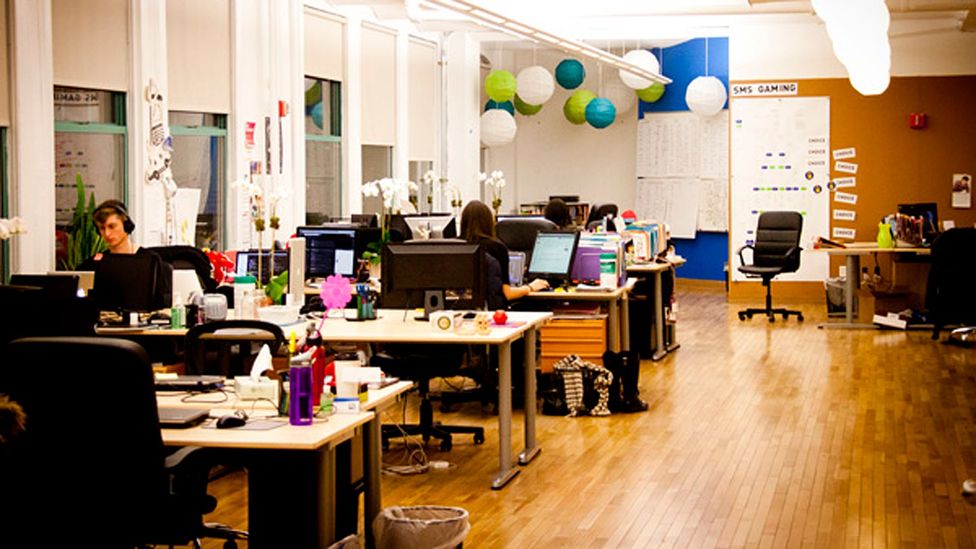 The shared office space at Dosomething.org (Photo courtesy Dosomething.org)
The shared office space at Dosomething.org (Photo courtesy Dosomething.org)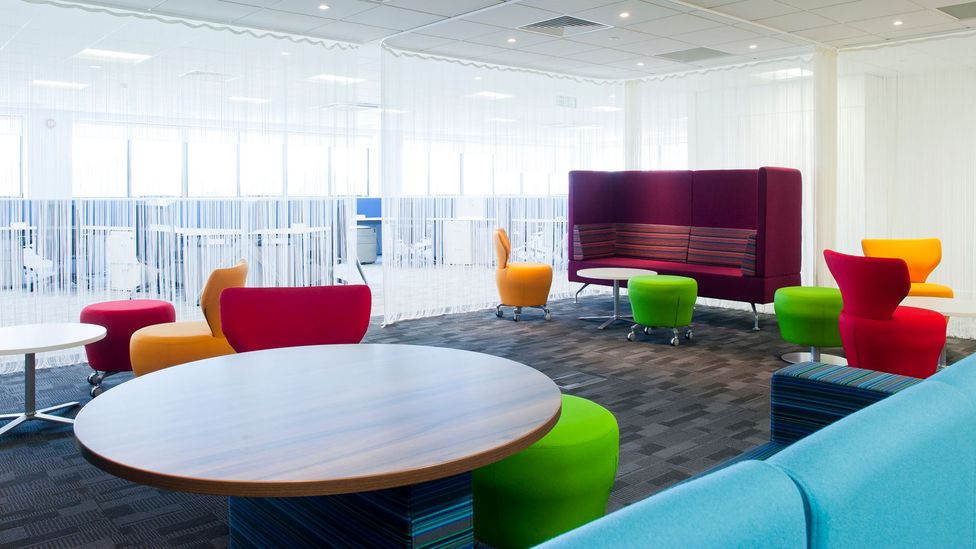 The shared space at office headset headquarters Plantronics. (Photo courtesy Plantronics)
The shared space at office headset headquarters Plantronics. (Photo courtesy Plantronics)