Editor's Note: This is the second of a three-part BBC Capital series on new strategies for women's success in the workplace.
Ambitious career women are working harder than ever to reach top jobs but getting ahead these days means rethinking how they network and carefully crafting their group of contacts.
The power of networking is a lesson women executives have learned from their male counterparts. "Networking is enormously important," said Sallie Krawcheck, the former head of Global Wealth and Investment Management for Bank of America and former chief financial officer of Citigroup. She recently bought the global women's network 85 Broads. "Women tend to recognize this later than guys do."
Experts have long believed that men and women network differently, which can have an impact on their career progression. And academic studies have found that one crucial difference between how women and men manage their careers is how they form their professional networks.
Men's networks are widely dispersed, while women tend to form their professional networks in the same way that they form personal networks, said Holly J. Falk-Krzesinski, vice president of global academic and research relations for academic publisher Elsevier BV.
In turn, women's tighter networks are built for personal support, but they often lack the wide reach of men's networks. Women's networks also are typically based on trust and first-degree knowledge, with contacts including old friends, former colleagues and other mothers from their children's schools. Often, many people within a woman's network know one another, she said.
That insularity can stop women from extending their reach outside the people they already know and also reduces the number of people who can attest to the quality of a woman's work performance. That presents problems for women who want to expand their profile beyond their current job or company.
But more and more, savvy women executives are recognising this and learning the male-specific nuances of networking, allocating time to meet new people, and looking up from their daily responsibilities to take advantage of formal networks set up on their behalf.
Expanding the spider web
Networks are most useful when they're large and involve many people who don't know one another, Krawcheck said. If everyone in your network already knows everyone else you know, your ability to hear about new jobs or ventures is limited.
"A business opportunity is more likely to come from a loose connection than a tight connection," Krawcheck said.
Her own rules for getting ahead: each month, deepen a connection with someone, and try to add a new person to your network. Those people should be at all levels, both junior and senior to you. Ignore the conventional wisdom that only people above you in the corporate hierarchy can be useful.
And maintain contact with friends, former colleagues, and others in your field but outside your company. Those people can provide a welcome outsider's perspective on what's going on in your own workplace, Krawcheck said.
The old model of networking for short-term gain — to help you find that next job, for instance — can yield immediate financial returns, but there's a new model that will pay off in the long run, said British networking expert Julia Hobsbawm, whose London-based company, Editorial Intelligence, holds conferences, salons, and other events to introduce interesting people to one another.
"Stop trying to leverage [people] and start trying to learn from them," said Hobsbawm. "You lose the certainty of the sales-based network, but you gain more meaningfully from apparently tangential connections."
What more and more women executives are realising is that formal networking, of the sort that both Hobsbawm's and Krawcheck's companies offer, is an important counterpart to organic networking, which feels more natural to many people, say experts. It's easier to form a human connection with someone on your team at work than with a person you met at an industry reception, but that more distant person might be good to know as well.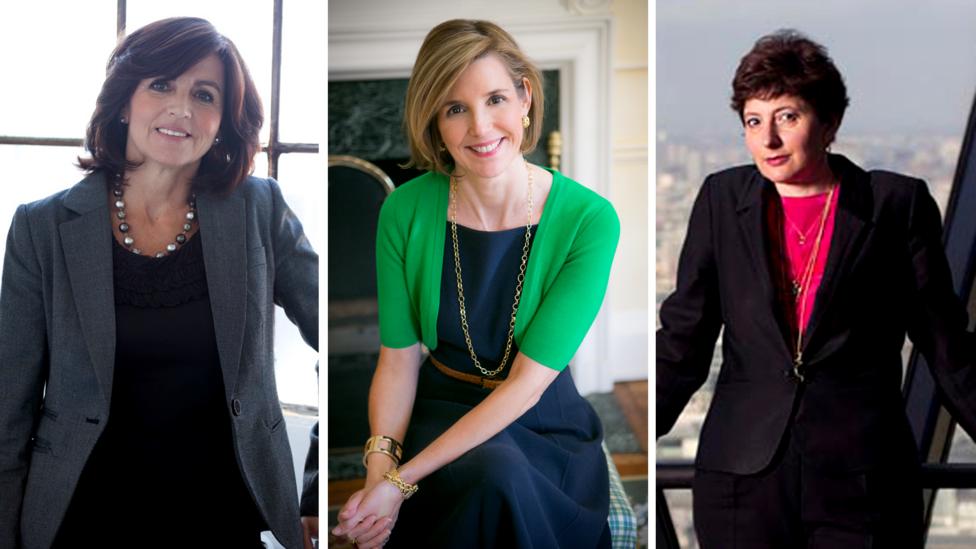 Chantal Glenisson, Sallie Krawcheck, Julia Hobsbawm.
THE NEW ART OF GETTING AHEAD: Read more...

Coming later this week...
Forget mentors, find sponsors and advisors instead
How one of Japan's top female executives made it big
85 Broads, the group Krawcheck bought, started out as a group of women who worked for global investment bank Goldman Sachs and has expanded to include women who are graduates of leading colleges, universities and graduate schools worldwide. Its 37 regional chapters host events and speaker panels and student members organise women's networking programmes on university campuses.
In academia, where Falk-Krzesinski spent the past two decades as a biology professor before leaving Northwestern University in Chicago for Elsevier a year ago, "this matters a lot, for people who can write letters of recommendation for promotion and tenure and who can say this person is the best in the field."
Male academics are more brash about approaching senior professors at conferences and within a university and tend to know far-flung professional counterparts more than women do. This means they often have an easier time finding recommenders, which translates into better chances at new jobs and tenure, Falk-Krzesinski said.
To combat this problem, Elsevier is now working on an online network for women in the science, technology, engineering and math departments at four Chicago-area institutions: Northwestern, the University of Chicago, Argonne National Laboratory and Fermilab. The network includes profiles of each of the female researchers along with details of their published research, and shows how they are connected to one another by mapping their research collaborations. The goal is to help women researchers find one another and make new connections in their field.
"My LinkedIn network tells you who I know, but it doesn't tell you how I know them or how well I know them," Falk-Krzesinski said.
Elsevier is adding entries for patents the women researchers hold and grant funding they've been awarded to the profiles, and the company is in talks to extend the project to the University of Illinois, she said.
Looking beyond the day-to-day
While these types of formal networks are taking hold in several fields, including medicine and science, women executives are often too busy to take advantage of them.
"Oftentimes women are very focused on succeeding in their current job and getting their job done well, but they may not think about who's going to open doors for me to that next opportunity," said Elissa Ellis Sangster, Executive Director of the Forté Foundation, a nonprofit organisation in Austin, Texas, which encourages women to pursue business careers.
Forté, which has awarded some $45 million in scholarships to women to get MBA degrees over the last 10 years, runs conferences and networking events for young women, in conjunction with the 30 large companies that are its partners, including Bank of America, IBM, and Intel.
The lessons Forté events try to instil in its 50,000 members: "Personal branding, storytelling, being bold and confident about those opportunities to network," Sangster said. It's all about "how networking advances your career".
Follow BBC Capital on Twitter @BBC_Capital or join the conversation on Facebook. What are your tips for successful networking? BBC Capital on Facebook.