N
Nine years ago, former US political strategist Michael Evans went on holiday to Argentina's predominate wine region, Mendoza, intending to stay for a few months. He'd always dreamt of owning a vineyard, but it seemed "financially impossible."
But when he was introduced to local winemaker Pablo Gimenez Rilli, the prospect of owning a few vines began to seem, well, entirely possible.  Evans, who once served on the John Kerry presidential campaign in the US, never left.
"I came here and found the land was cheap," said Evans, now age 48. "I could make wines that are some of the best of the world."
He bought 250 acres for himself and planned to have Rilli produce his wine.But soon after, Evans realised he could make a living off the vine life. In partnership with Riili, Evans opened a wine-growing co-operative called Vines of Mendoza. Year by year they've added acres onto Evan's original small plot of land, then sold them to other aspiring vineyard owners.
The pair now manage 1,600 acres of 17 different varietals, owned by 134 people hailing from Ecuador to Ireland, although the majority come from the US and Brazil.
For $85,000 for the first two years, Evans cares for the owner's vineyard, bottles the wine and helps design a personalised label. Owners pay an annual $3,500 maintenance fee after that.
While property in Argentina now goes for around $50,000 per acre, there are plenty of options that are less expensive, even an idyllic chateau overlooking a plot of Bordeaux. And, as Evans and Rilli have discovered, there's a whole host of sharing options.
Price points and financing
In Tuscany a one-hectare (10,000 square metres, or enough land to produce around 7,000 bottles of wine per year depending on the grape,) plot of Chianti can be had for 30,000 euro ($40,677). You can find the same sort of pricing around Vienna, Austria, too. On the other side of the world — in places you might not expect — an aspiring middle class in Mumbai fuels a growing wine sector, while China's growing reputation as a wine super power has vineyards popping up around the Ningxia in the country's northwest.
While there are bargains to be had, Diletta Spinola, head of sales for Tuscany Sotheby's International Realty, said affluent buyers looking to sweep up "top secret," or unlisted vineyards of wines like Sassicaeia or Ornellaia will pay around 100m euro ($125.6m) per hectare when the market is strong.  
To find your dream vineyard, popular real estate agencies like Coldwell Banker have either designated branches or specialists in wine regions like Sonoma, California, in the US that are knowledgeable about this market. You can also find listings at Land And Farm — where a recent listing included a 13.2 acre property with 5.4 acres of vineyard and a ranch-style house in Somerset, California listed at $499,000 — and auctions online through websites like www.vinesmart.com, also handled by real estate agents. Other websites can be found by region. Among them: Moulin.nl, which features vineyard properties in France, South Africa, Spain, Italy and Argentina and Wine Industry Real Estate, which focuses on properties in Australia and New Zealand.
Financing a vineyard purchase is not much different than buying a regular house or property, except for the Pre-emptive Right of the Neighbours statutes in some countries. These statutes give locals the chance to purchase some rural country houses or historic estates before the rest of the public in some countries, Spinola said. During this process, after the buyer makes an offer they must publish it and wait 60 days for a counteroffer from other residents living in the surrounding area.
 "In Tuscany, if you buy a vineyard you buy history," Spinola said. Some vineyards come with ancient castles or classic mansions.
Whether you plan to produce wine to sell or simply for your own consumption, as a private owner, you can make a vineyard purchase more affordable by renting out the villa to tourists for part of year or by selling excess grapes to a wine production company.
You can also go in on a purchase with friends or family. At Vines of Mendoza, for instance, a group of four college girlfriends own a section of vines together, as do a group of politicians from Washington, DC, whose vineyard at the co-operative is named DC Vines.
Higher demand for wine?
Spinola said she frequently gets enquiries from people from India looking to purchase Tuscan farmhouses and Chinese looking for large-scale estates to produce large quantities of wine that they will ship back to their homeland.
With China's annual average wine consumption growing at 7% per year, that country is on track to outplace the United States and European Union nations as the largest consumers of wine. Next to France, Australia is China's second-largest supplier of wine, according to Australia's Department of Environment and Primary Industries.
Thriving exports might give more reason to invest in buying your dream vines for winemaking, but before you dive in, there are still many factors to consider.
Beyond price, vineyard ownership involves a range of complex considerations. Do you want to produce wine as a hobby or a business? Will you want to live on an estate on site? Are you willing to pay more for higher-quality grape varietals? For hobbyists, it's best to consider buying a smaller plot of land with mature vines and learning to farm the land yourself to keep costs low. Anything more, like outsourcing the manual labour and wine production — and you'll pay more.
Hiring an agronomist to do a detailed technical appraisal of the land prior to purchase will set you back about 3,000 euro ($4,067) for a three to four hectare Tuscan property. It is important to have the vineyard assessed to ensure it does not have any pests or diseases like phylloxera — a near microscopic, sap-sucking insect that feeds on vines.
Once you own a property, Spinola said hiring a local farmer to help with upkeep and harvesting can cost 8 euro ($10.85) per hour — more if you outsource to a harvesting company.
In Vienna, winemaker Alex Zahel said one of the greatest challenges is overhead. Running a small winery requires at least five employees including a winemaker, sales person and labourers. Their salaries can add up to a combined 15,000 euro($20,338) per month. This doesn't include the cost of producing, bottling and exporting the wines.
"From the grapes in the vineyard to the wine on the table, production takes so many steps, so you will never be rich as a winemaker in Vienna," Zahel said. "But it's a wonderful lifestyle."
The vineyard life sometimes can attract other invaluable bonuses, like romance.
After American food editor Hilary Merzbacher met Zahel in New York City, their courtship entailed celebrating the fall harvest season with feasts including homemade wine and touring romantic wine regions around Austria.
In love with Zahel and viniculture, Merzbacher left the Big Apple and moved to a small countryside town in Austria, where Zahel's family makes wine just down the street. The couple will host their wedding in a chapel that overlooks the vines.
"As far as our romance is concerned, food and wine have played a big part. I'm really looking forward to getting to know the [wine] business more," Merzbacher said.
If you would like to comment on this story or anything else you have seen on BBC Capital, head over to our Facebook page or message us on Twitter.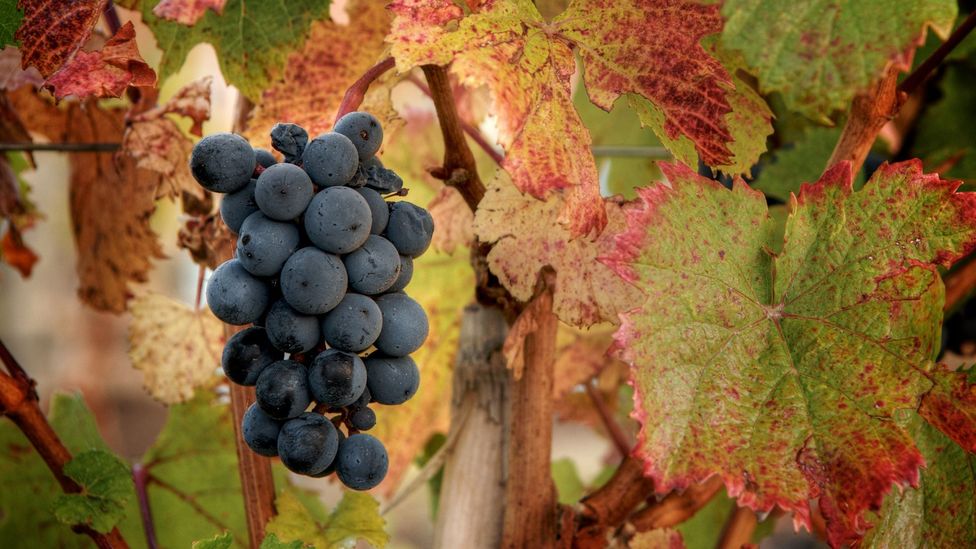 Vines of Mendoza (Michael Evans)
Vines of Mendoza (Michael Evans)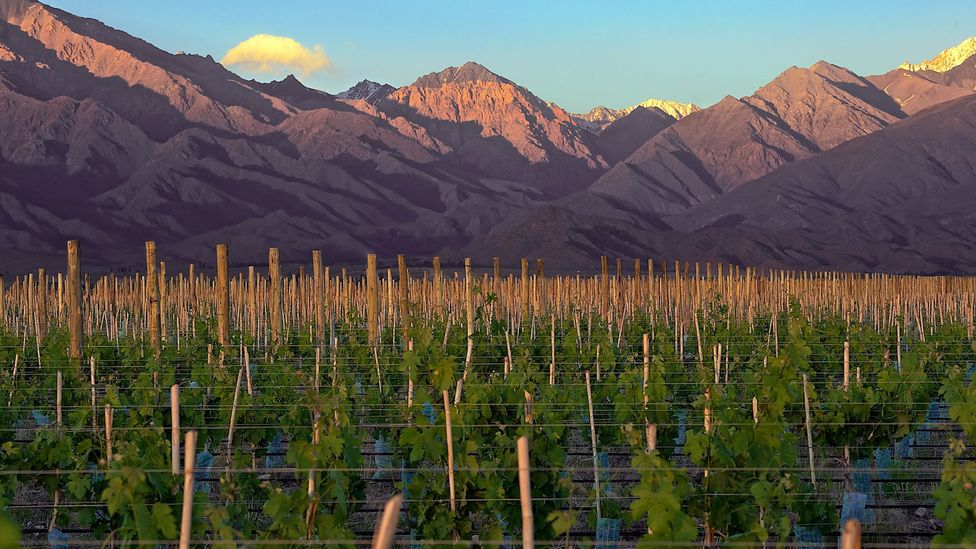 At the Argentinian wine-growing co-operative, Vines of Mendoza, owners get three to 10 acres of the vine of their choice. (Michael Evans)
At the Argentinian wine-growing co-operative, owners get three to 10 acres of the vine of their choice. (Michael Evans)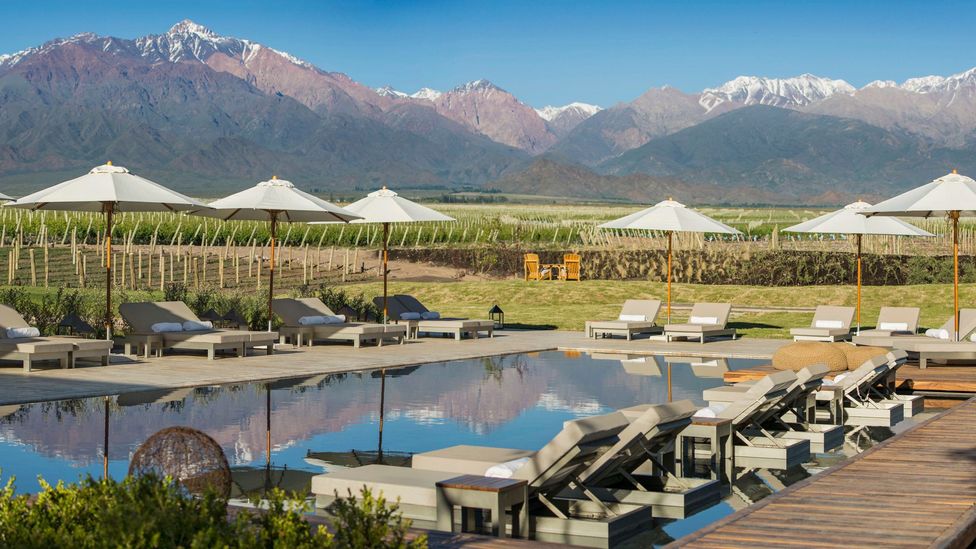 A new 22-villa resort and spa looking out at the Andes Mountains could add income. (Fede Garcia)
A new 22-villa resort and spa looking out at the Andes Mountains helps boost profits at Vines of Mendoza. (Fede Garcia)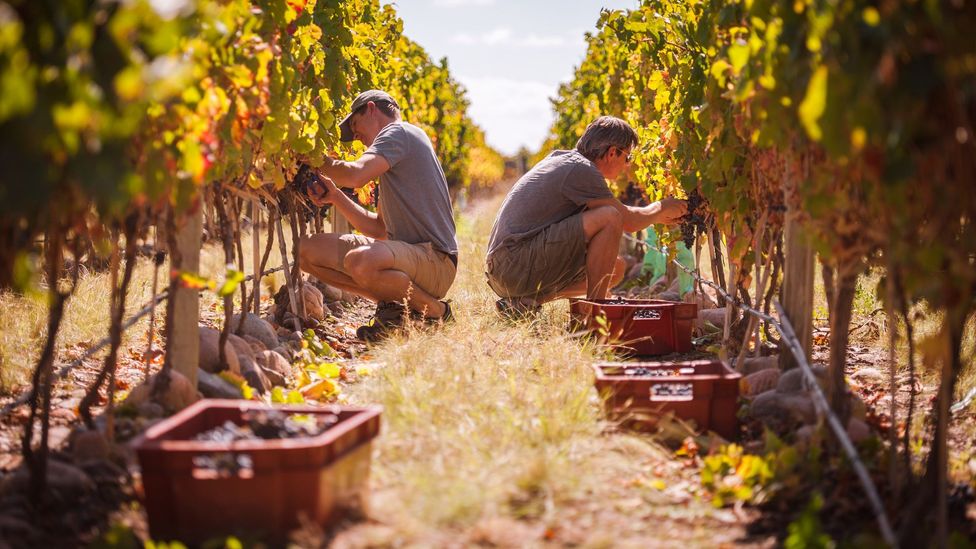 The 250 days a year of sunshine help create ideal grape-growing conditions at Vines of Mendoza. (Michael Evans)
The 250 days a year of sunshine help create ideal grape-growing conditions at Vines of Mendoza. (Michael Evans)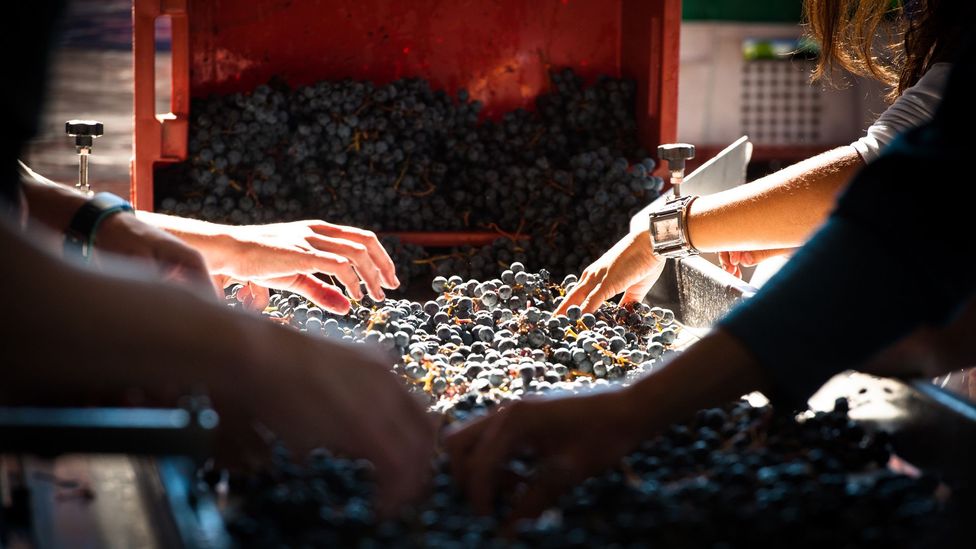 Co-op members often take part in the harvest and sorting of the 17 varietals grown at the vineyard. (Michael Evans)
Co-op members often take part in the harvest, including sorting the grapes. (Michael Evans)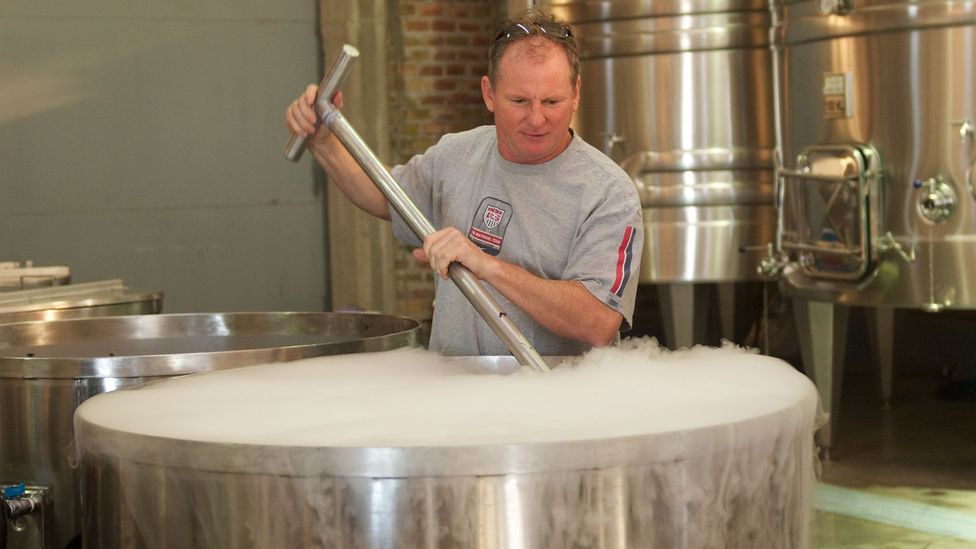 A long pole is used to break grape skins that settle on the surface during fermentation. (Michael Evans)
A long pole is used to break grape skins that settle on the surface during fermentation. (Michael Evans)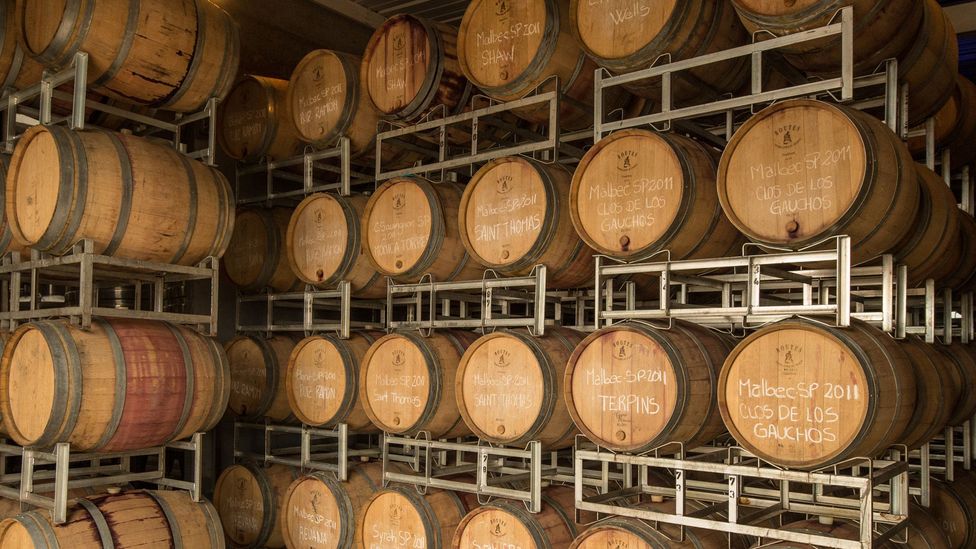 Wine marked with owners' names ages in barrels at the vineyard. (Michael Evans)
Wine marked with owners' names ages in barrels at the vineyard. (Michael Evans)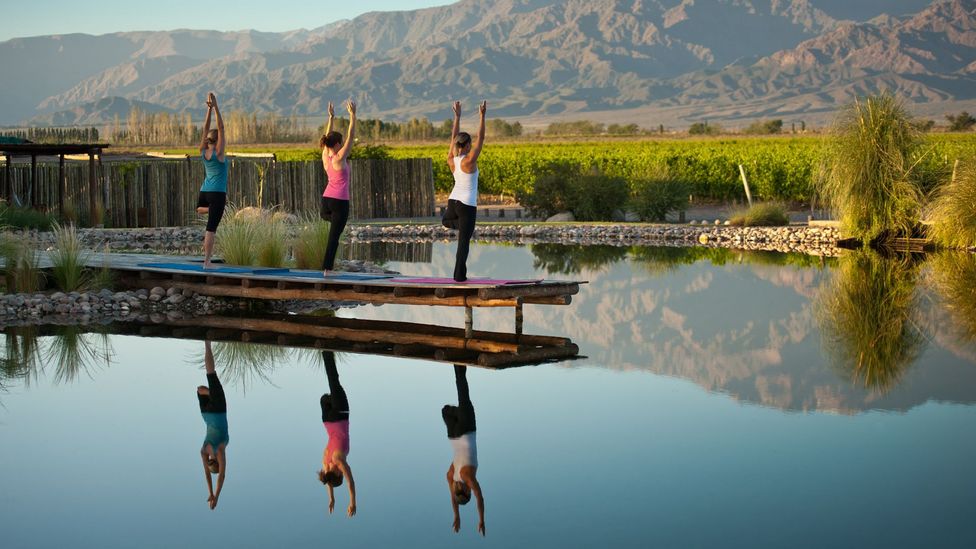 Renting your vineyard's villa or opening a resort can provide income. Yoga at Vines of Mendoza's resort. (Michael Evans)
Renting your vineyard's villa or opening a resort provides income. Yoga at Vines of Medoza's resort. (Michael Evans)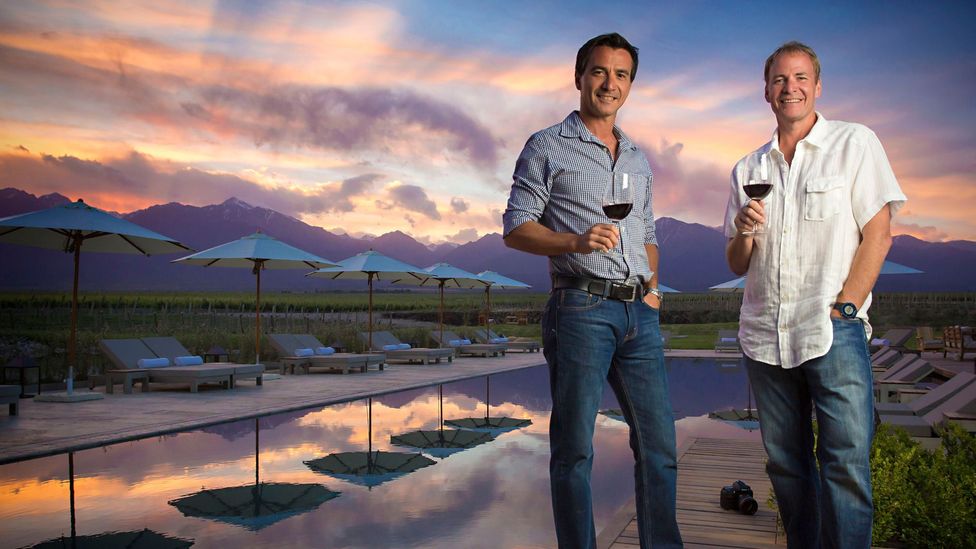 Vines of Mendoza owners Pablo Gimenez Rilli and Michael Evans enjoy a glass of wine from the vineyard. (Fede Garcia)
Vines of Mendoza owners Rilli and Evans enjoy a glass of wine from their vineyard. (Fede Garcia)