The vibrant city of Madrid is Europe's latest "comeback kid," rebounding strongly from a vicious recession. Even during the financial crisis, business travel to the city remained relatively steady, but now the global recovery is really underway these visitors are returning in droves.
The capital has a solid reputation for showing visitors a good time. The food is inexpensive and plentiful, and the nightlife lingers into the early dawn hours. Hard workers can party the night away if they so choose.
This diverse city has an eclectic mix of business at its core, from banking to textiles. Old world money and a booming tourist economy have helped the city retain its prosperous outlook, even while the rest of the country has endured recession. Its wide spectrum of home companies — including the World Tourism Organization, global broadband and telecommunications provider Telefonica, infrastructure and engineering firm Acciona and oil and gas giant Repsol — have helped the city to survive dips in the national economy.
Madrid's affordability for groups and overall tourist appeal also puts it Number 4 in the world for hosting large global events according to the latest International Congress and Convention Association (ICCA) ranking. In February 2014, Madrid will play host to the International ClassicAuto trade show, and the World Olive Oil Exhibition arrives in March.
Airport
Madrid's vast Madrid Barajas International Airport, is one of the busiest in Europe, and travellers often find the city the perfect transition point for travel between Europe and North and South America and North Africa. A taxi to the city centre, about 13km away, will cost around 30 euro ($40). The efficient and affordable Metro system — it's less than 5 euros ($7) into the city —is another option. Just remember, when travelling from the city to the airport, be sure to purchase the special airport fare. Forgetting the surcharge could add time and confusion when you prepare to exit the station.
The airport's new terminal four, (where all oneworld alliance flights come in,) has a strikingly modern design by Richard Rogers and Antonio Lamela. The terminal is divided into two sections, both of which are quite lengthy. It can take 20 minutes to walk from one end of the terminal to the other, although there are some people movers and escalators to navigate.  So it's worth bearing in mind that if you're landing at or departing from the satellite terminal, you must take the train between the two concourses of terminal four. This can increase transfer times significantly. There are numerous duty-free shops, however, selling the usual wares, free airport wireless Internet, and a few tapas cafes to pass the time.
Money matters
Cash and credit cards with a chip-and-pin feature are accepted everywhere (those without it are still taken at most shops, but not at automated kiosks and some food outlets). ATMs, or cash machines, are also widely available. You should expect to pay 1 to2 euro ($2 to $3) for your morning cup of coffee. Cafe con leche (coffee with a splash of milk) and a churro, deep-fried pastry, are the morning order of choice.
Madrid taxi fares are less than those in other European cities, but the Metro system is one of Europe's oldest and best with a significantly wide-reaching network across the city.
Cultural know-how
Spaniards are warm and very welcoming, but don't be surprised if people sometimes hold your gaze slightly longer than usual. While some people might consider it rude to stare, it is merely a local custom.
Note that promptness for work-related activities may often take a back seat to family, friends and the norms of daily life. While it is generally a good idea to be punctual, it is not at all out of the ordinary for meetings to begin late, run over time, or simply continue after-hours over a "caña" (short glass of beer) in a pub or cafe.
Hotels
Madrid has no shortage of hotels suitable for business travellers, but Westin's Palace Hotel is one of those at the forefront. The 467-room grande dame hotel sits at the edge of Plaza de Neptuno, within steps of the world-famous Prado art museum and less than 1km from Puerta del Sol and less than 2 kms from the start of the Azca district, Paseo de la Castellana, where many business and financial companies have their offices.
Guest rooms and amenities are top-notch. The hotel has everything a business traveller generally needs, including speaker phones to wireless Internet in the rooms, plus a rooftop fitness centre and a diligent concierge, handy for help with dinner reservations. The hotel's latest incarnation of Spanish tapas features new age plates designed by Chef Diego Guerrero, including salted sardines with turnaca bread and nougat foie with caramel caviar.
Another popular choice is Only You, one of the city's newest hotels located in a 19th century townhouse near the trendy Chueca neighbourhood. It has 32 designer rooms with free wireless Internet and iPod docking stations. Most useful, of course, is the freedom to check in at any hour, especially popular with business travellers.
This Chueca hotel has a striking interior with high-ceilinged atriums and contemporary artwork. Historic maps of Madrid also line the walls while guest rooms include designer bathroom products handcrafted on the Balearic island of Ibiza. The hotel's cocktail and music menu change throughout the week often to the tunes of a live DJ (don't worry the rooms are insulated to protect against any noise). So this is a great spot for travellers that enjoy nightlife as there is plenty to do within a close proximity.
Useful to know for Marriott Rewards members: Marriott Hotels moved in last year with the acquisition of AC Hotels. The AC Hotel chain has a dozen locations spread across the city including the 50-room AC Palacio del Retiro near the city's 350-acre Retiro Park and housed in a National Heritage building. While the 284-room Hilton Madrid Airport, is one of the top business hotels by the runway.
Dinner for one
DiverXO, one of Madrid's newest recipients of the Michelin Star, is one of the capital's hottest culinary spots. With only 30 seats, getting a reservation is not easy, but would certainly impress any prospective business client or partner. Chef David Muñoz delivers a fusion menu of Spanish and Asian origin, and is constantly reinventing the selection with set menu options including entrees like his famous pork skin with black sesame brioche and cherry sauce. He studied under master chefs at Nobu and Hakkasan restaurants in London.
Also check-out Chueca's Mercado San Anton which delivers some of Madrid's best culinary bargains in the revitalised artisanal market. Everything from Iberico (acorn-fed) ham and Spanish bacalao (cod) to Italian gelato and sushi is on offer in this popular community gathering space. The second floor is good for a quick tapas lunch if you don't have time for a sit-down meal. Diners can meander from one food station to another sampling dishes, or opt for a proper meal in the gourmet cafe and outdoor terrace upstairs. It is not uncommon to see business suit-clad folk pop in for a bite from nearby offices at the start of Paseo de la Castellana or along the bustling Gran Via.
A must-see in Madrid is the Chocolateria San Gines just around the corner from the Plaza Mayor. Since opening in 1894, visitors must pummel through the crowds to delve into the city's best (and most famous) churros, which are dipped into steaming cups of cafe con leche or thick hot chocolate.
Off the clock
Madrid is the only city with nine UNESCO World Heritage Sites within a two-hour travel time of the city centre. That makes for plentiful opportunities for cultural entertainment even if you have limited time. Options include the imperial city of Toledo and Segovia, site of a still-intact ancient Roman aqueduct, just 75 km away from the main business district.
If you have only an hour to spare, consider a quick visit to the Plaza Mayor. Historically, the plaza was the city's primary gathering place for social functions and festivals and is still an important hub, ringed with tourist cafes and shops. It also features complimentary wifi — so you can check in at the office while grabbing a bite or seeing the sights.
Sports fans can tour the Santiago Bernabeu Stadium, home of football team Real Madrid. A new 19 euro ($26) tour takes visitors through a museum with past players' uniforms and rows of trophies. You can also take a peek into the players' locker rooms.
Special considerations
Cuidado (careful) with the use of certain words in Spain. Even those fluent in Spanish should be aware some words used in Latin America are not common (or occasionally offensive) in Spain. While most locals are used to foreign accents, yours could change the tone of a business meeting if certain words are used incorrectly. For instance, the verb "to take" comes in various forms. In Spain, you would say "coger" for a means of transportation, but if you are giving someone something to "take," you would say "tomar." The verb "coger" can also have alternate, less appropriate meanings, so be careful if using it in a business context.
If planning an important presentation, it may be best to have a local colleague review it before hand.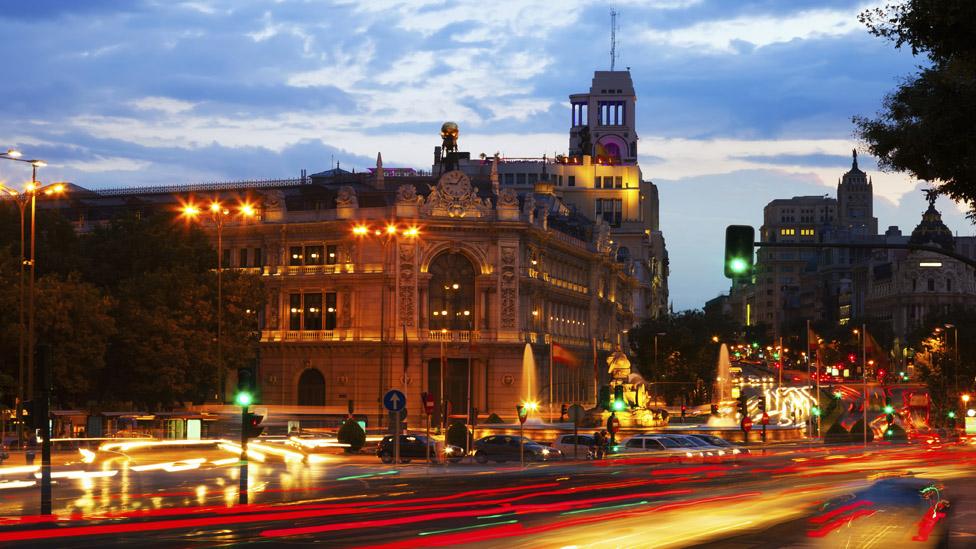 Madrid's iconic Plaza de Cibeles. (Thinkstock)
Madrid's iconic Plaza de Cibeles. (Thinkstock)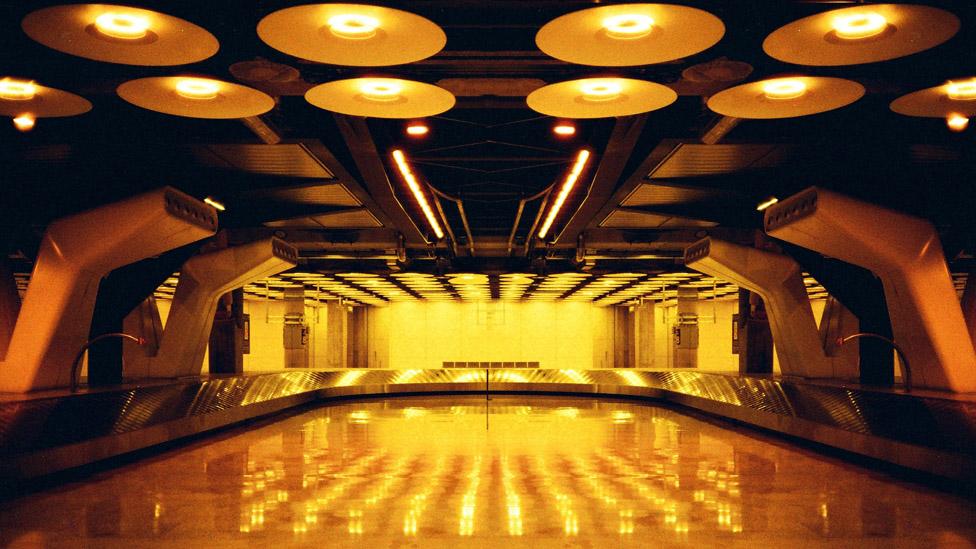 Barajas Madrid Airport's new terminal has made Madrid a travel hub. (Getty Images)
Barajas Madrid Airport's new terminal has made Madrid a travel hub. (Getty Images)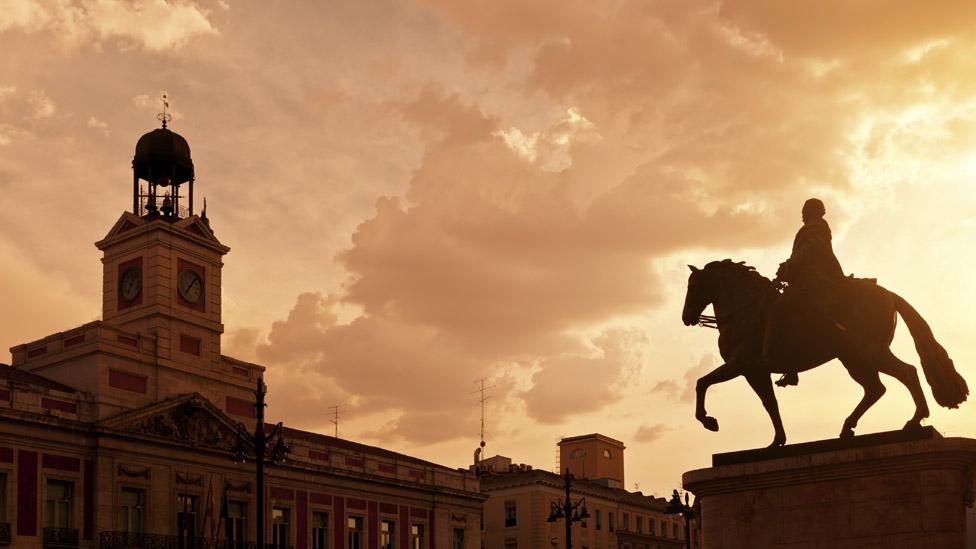 Puerta del Sol offers many hotel and culture options. (iStock)
Puerta del Sol offers many hotel and culture options. (iStock)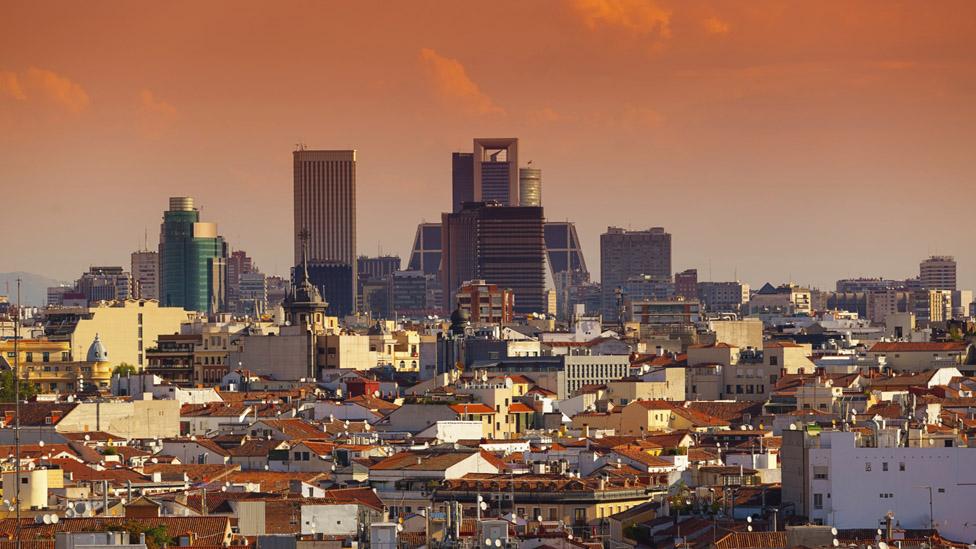 Madrid's central business district attracts multiple industries. (iStock)
Madrid's central business district attracts multiple industries. (iStock)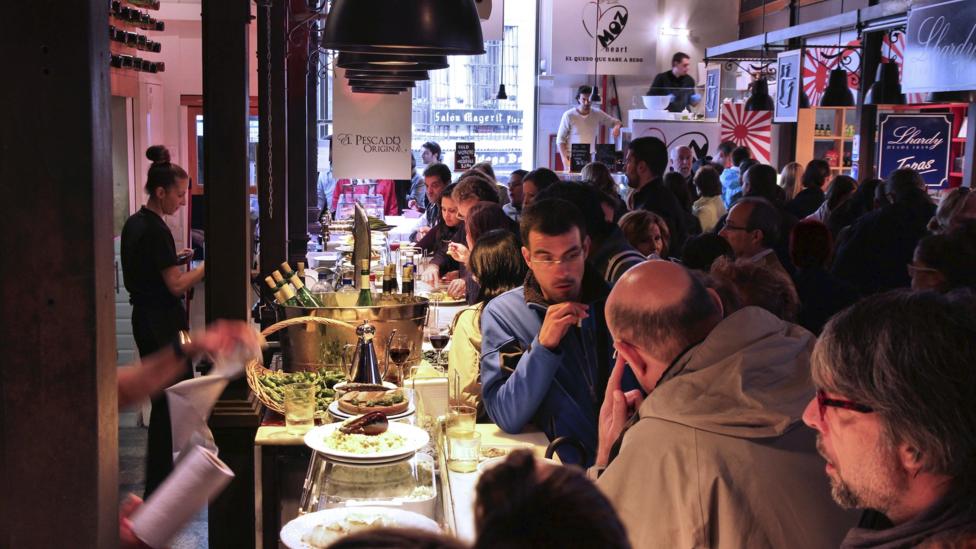 The lunchtime tapas rush at Mercado Miguel in central Madrid. (iStock)
The lunchtime tapas rush at Mercado Miguel in central Madrid. (iStock)