What's hot, what's not
Before you start collecting maps, take note.
What's hot: Rare, early maps in excellent condition, particularly world maps and those depicting the discovery of America or the fast-growing economies of Russia, China and Brazil, and whole atlases.
What's not: Modern maps sold at retailers everywhere have no financial value.
We may not use them to chart new lands or avoid threatening sea monsters these days, but we're unknowingly exposed to an increasing number of maps. We constantly note our location on our phones, in our cars and via social media. At the same time, we are also deluged with map-based infographics that chart everything from global obesity to broadband coverage.
San Francisco-based collector David Rumsey, who owns 150,000 maps and atlases dating back as far as 1700, thinks the fact that we've all become avid cartography consumers is making more people appreciate rare, historical maps too.
"In order to understand old maps, you have to be able to read new ones," he said. "Google maps just makes you more literate in reading all maps. I think that's had a huge effect."
This, and the increase in global travel which leads people to form attachments to more places, has given rare map collecting a significant boost. This could mean that the one or two old maps hanging on the wall of a travel enthusiast could have significant value for serious collectors.
Map collecting has grown particularly popular in Russia, China and Brazil, where more people are traveling more frequently, dealers say. After all, people love to keep charts of the places they love. The prices of maps featuring those countries have increased the most in recent years. "Five years ago, the 1584 map of China by Abraham Ortelius was probably worth £3,500 ($4,238)," said London-based specialist dealer Daniel Crouch. "Now it's £6,000 ($7266)."
Though this market isn't one where prices rise dramatically from year to year, rare maps from all over the world have appreciated steadily over the last 15 years, experts say.

The appeal
Rumsey loves maps that deal with the scientific mapping of the world, but those that show the history of global exploration can also be incredibly beautiful, he said. "They're really art, history and science all rolled into one object and it's hard to imagine anything else that quite captures that," he said.
Rare maps are not only fascinating objects, but very accessible to most collectors. They are widely available, easy to research, easy to display at home or to store and can be very affordable. Their subjects can range from ornate landscapes and fantastical sea monsters, such as those designed by Ortelius in the fifteenth century, to pared-down national survey maps of the eighteenth century.
Crouch, who specialises in rare maps from 1450 to 1850, sells some for as little as £100 ($121).
Museum-quality maps that are separately published, rather than removed from atlases, are valued at around £5000 ($6055).

Most coveted
The most valuable are fifteenth and sixteenth century world maps that chart our understanding of the globe before and after it was first circumnavigated and maps about the discovery of America. Maps of Russia, Brazil and China are also in high demand, particularly older examples.
The most expensive map ever sold at auction, fetched nearly $2.1 million at Christie's in 2010. It was a 1789 map of America by Abel Buell, the first published in the US. "That was a huge amount, but it was America's first national map and incredibly important," said Tom Lecky, Christie's New York head of books and manuscripts, who explained the pristine, wall-sized map was also the first to feature the US flag and one of only seven known copies.
Rare atlases can be worth even more. Crouch sold the Bologna Ptolemy atlas from 1477 back in 2007 for £2.1 million ($3.6 million)
Still, Lecky says these prices are exceptional and that even extremely rare maps in great condition are usually worth considerably less. For example, Christie's expects a 1482 map by Claudius Ptolemy, the first world map produced outside Italy, to fetch $180,000 to $240,000 in New York on April 1. "This is a conservative market and most items have comparables that you can trace, which means more measured price rises," Lecky said. Printed maps come in multiples, so collectors can usually find the most recent sales price for an edition.

Hidden treasure
Today's modern retail maps have little financial value and even eighteenth century English maps can be purchased inexpensively. "You can buy a gorgeously coloured eighteenth century map of an English county the size of a double bed for under £2000," said Crouch. "If this was from any other country, it would be much more expensive, but perhaps [the English] are a little unappreciative of our heritage."
Excitingly, though, collectors can still make important, undocumented discoveries. Crouch recently bought a large circular, astrological map made in 1455 for a monastery near Verona. "It's stunningly beautiful and there's no example in any museum," he said, adding that a private US collector bought it, but it could well have sold to a museum such as New York's Metropolitan Museum of Art.

Experts can't predict whether prices will increase, and if they do rise at their current rate, it might be a decade before collectors see much appreciation. Still, buying rare atlases is an attractive option. Many were destroyed for the sheets of maps inside them so have become rare and often more valuable than the sum of the maps they contain.

What to look for
People should buy maps in their original colour and condition, not ones coloured later, said Crouch. He advises collectors "to specialise in a region, period, a particular map maker, because you'll quickly become an expert in that area and have a coherent collection."
New collectors should explore world-class collections at the British Library in London, Bibliotheque Nationale in Paris and Washington DC's Library of Congress, in person or online. "Look around and see what moves you," said Rumsey, "but I often think people do best when they collect maps of places they know. It's one way to step into history very viscerally and see changes that have happened right where you are."
To find particular drawings, the internet is a collector's friend. Seekers should arm themselves with as much information as possible, such as the name of the map maker, the name of a map and its date. Online they can find the public and private collections that hold it, as well as dealers and auction houses. Sometimes eBay sellers have a particular map for sale, but Rumsey warns that there is more dross than quality there, so buyers should be cautious. Once they have made a purchase, collectors should keep their maps somewhere flat, dry and hang them in a UV-protected frame.
The bottom line
The map market is appreciating steadily and evidence of the growing interest in rare maps can be found in the rising popularity of Rumsey's online archive of 47,000 maps, which now attracts 2 million visitors a year. Later in 2014 Rumsey will donate all of his maps to California's Stanford University, which will open a map centre in his name. "I'm so excited that my maps will be used by scholars, but I love sharing my maps with everyone. The internet expands my collection into a very public realm. That's really fun."
To comment on this story or anything else you have seen on BBC Capital, head over to our Facebook page or message us on Twitter.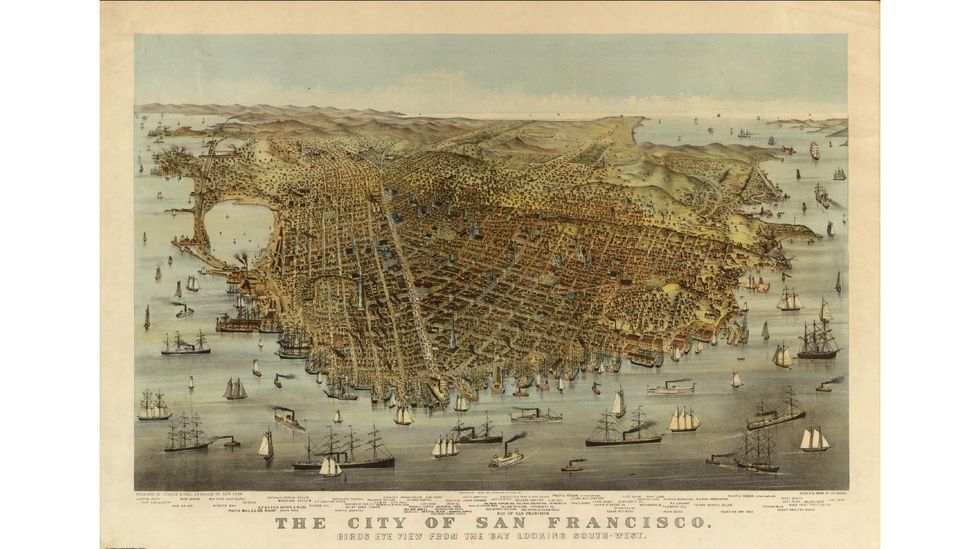 A1878 map by Charles R. Parsons from the collection of David Rumsey. (David Rumsey Map Collection)
A1878 map by Charles R. Parsons from the collection of David Rumsey. (David Rumsey Map Collection)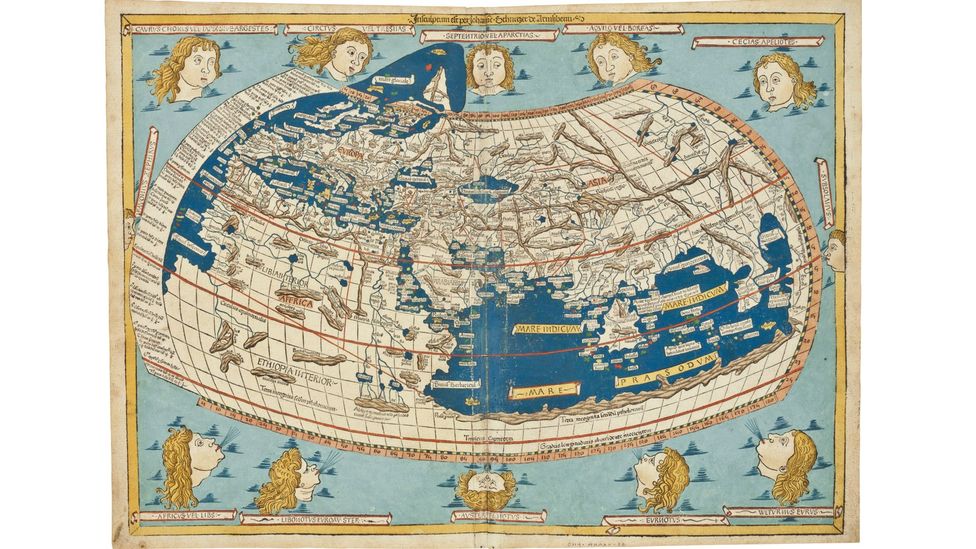 This 1482 world map by Claudius Ptolemy could fetch $180,000 to $240,000 at Christie's sale in April, 2014. (Christie's)
This 1482 world map by Claudius Ptolemy could fetch $180,000 to $240,000 at Christie's sale in April, 2014. (Christie's)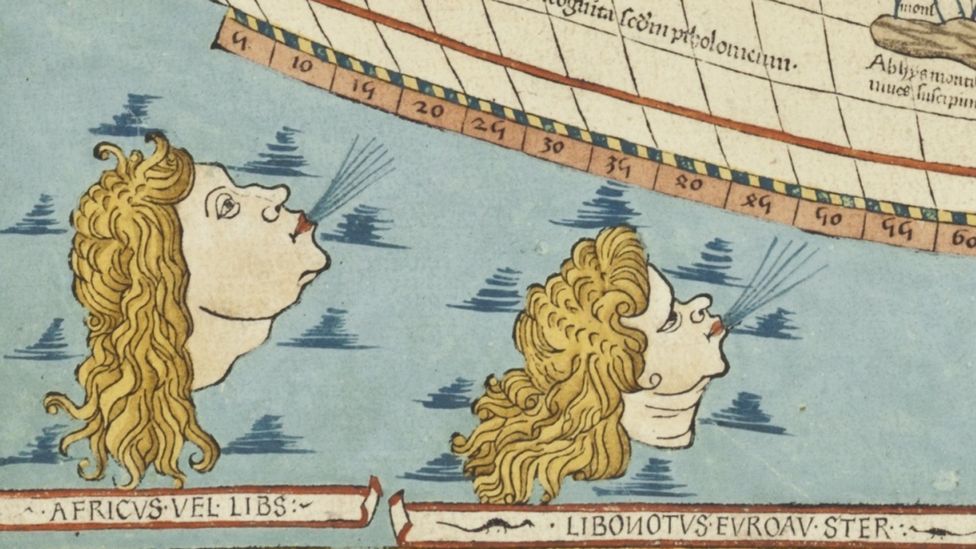 Close-up detail of the rare 1482 world map by Claudius Ptolemy (Christie's)
Close-up detail of the rare 1482 world map by Claudius Ptolemy (Christie's)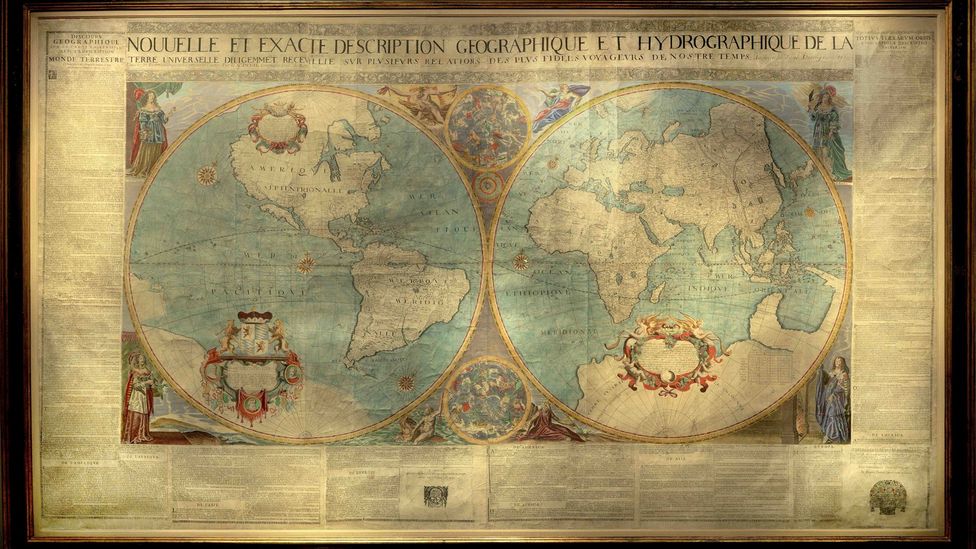 World maps charting global exploration are very collectible. Photo shows first French double hemisphere wall map, produced in 1672 by Jean Boisseau (Daniel Crouch Rare Books)
World maps charting global exploration are very collectible. Photo shows first French double hemisphere wall map, produced in 1672 by Jean Boisseau (Daniel Crouch Rare Books)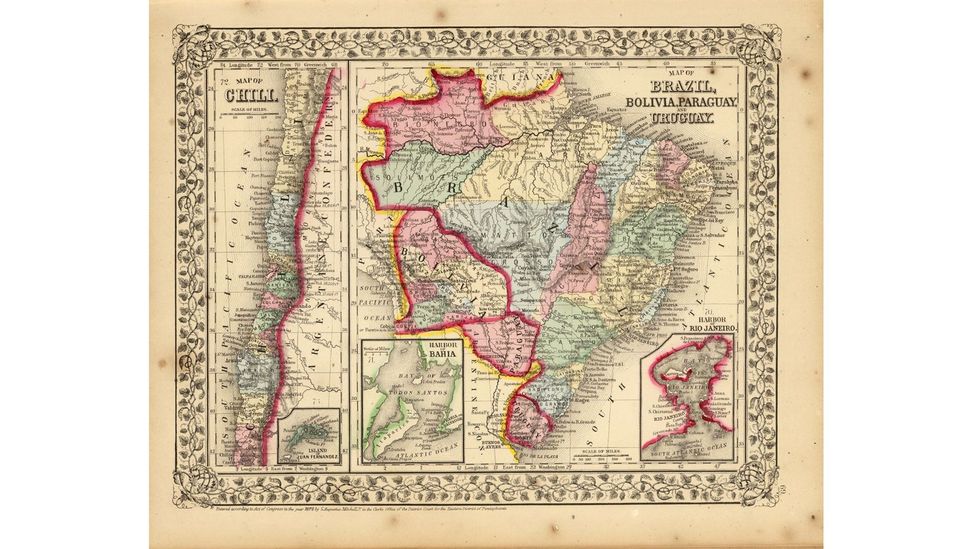 A hand-coloured map of Brazil, Bolivia, Paraguay, Uraguay and Chile by Samuel Augustus Mitchell from a 1870 atlas. (David Rumsey Map Collection)
A hand-coloured map of Brazil, Bolivia, Paraguay, Uraguay and Chile by Samuel Augustus Mitchell from a 1870 atlas. (David Rumsey Map Collection)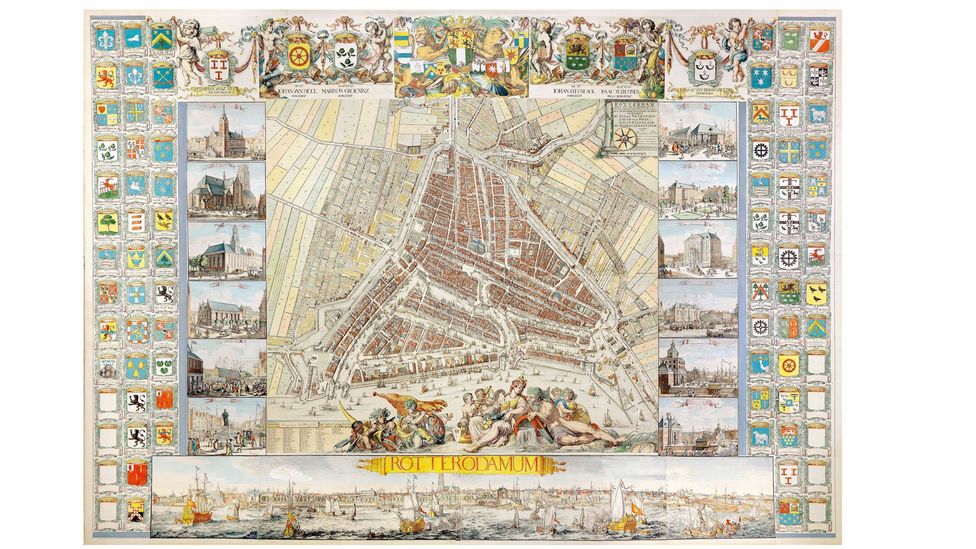 The Atlas de Vou, produced by Johannes and Romeijn de Hooghe in 1694, was the largest plan of Rotterdam in the Netherlands at that time (Daniel Crouch Rare Books)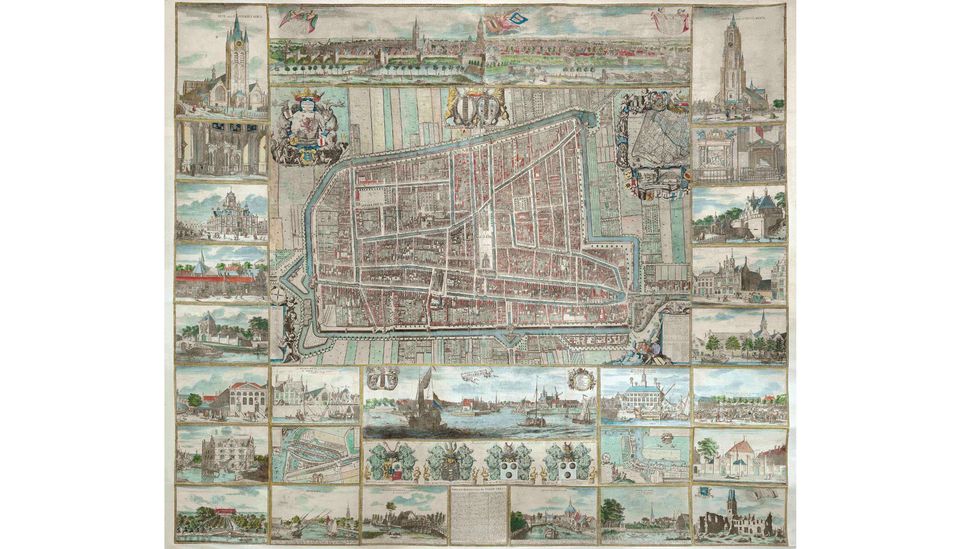 Collectors seek maps of places that are special to them. Photo shows1703 wall map of Delft, the Netherlands (Daniel Crouch Rare Books)
Collectors seek maps of places that are special to them. Photo shows1703 wall map of Delft, the Netherlands (Daniel Crouch Rare Books)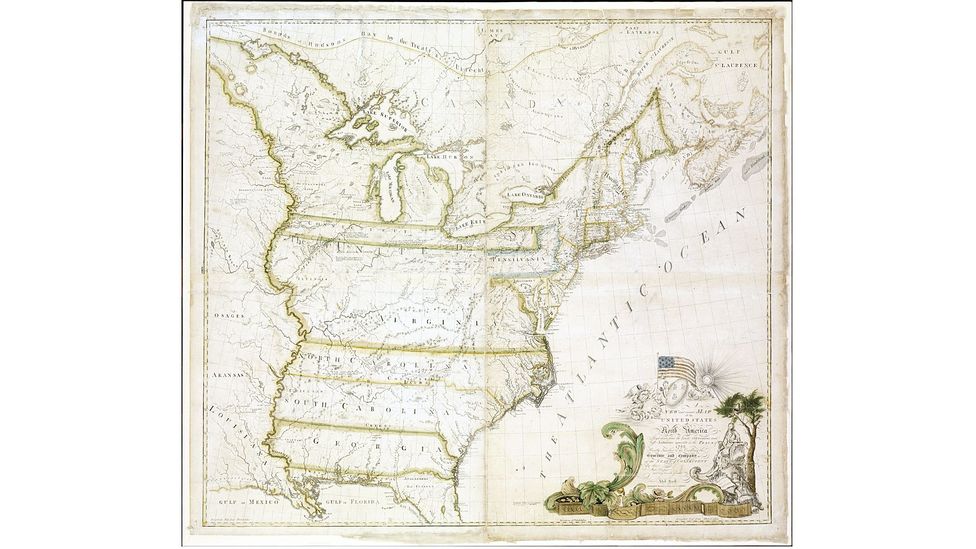 This 1784 map by Abel Buell, the first to be published in America, set a world auction record when it sold for almost $2.1m in 2010. (Christie's Images Ltd)
This 1784 map by Abel Buell, the first to be published in America, set a world auction record when it sold for almost $2.1m in 2010. (Christie's Images Ltd)