Mortal sin
Joseph Rescigno, principal conductor of Wisconsin's Florentine Opera, committed "a mortal sin" when he received his first bottle of fine wine.
 "I was 22 in 1969 and someone had given me a bottle of Lafite 1959 as a gift," Rescigno recalled. (The 1959 vintage is considered among the best wines of the 20th century). "I tasted it. I didn't like it and tasted it again over the next three days mixing it with Coca Cola….Of course, it was too young. It wasn't ready to drink at all."
The current average price of a bottle of 1959 Lafite hovers around $4,000, according to wine-searcher.com. 
It's a drip, drip process. It starts somewhere between buying a bottle or two for dinner and having a couple more bottles of a favourite vintage on hand for unexpected guests. Before you know it you're stashing cases to be savoured over a few years and suddenly, wine enthusiasts become avid collectors.
Their passion is so strong they will reach across time zones, interrupt business meetings and call from airports while rushing to catch a connecting flight just to discuss their collections.
"I remember it was in 1980, I tasted a bottle of '71 Musigny by Roumier. It was a great Burgundy and the shop where I bought it had slashed the price from $45 to $15 a bottle," recalled Joseph Rescigno, the principal conductor of the Florentine Opera Company in Wisconsin. After he first tasted it, he ran back to the store. "I bought 11 bottles. It was as much as I could afford. And to this day, my favorite wine is a red Burgundy."
Rescigno now has a 60-bottle wine cooler in his Manhattan apartment, where he spends time when he's not conducting. The Musigny is long gone. Today that bottle would sell for about $2,300, according to wine-searcher.com.
Rescigno has plenty of company these days as he seeks to replenish his stock. The internet has made research, buying and selling easy, unleashing a renewed interest in collecting fine wine. At the same time, countries such as South Korea have reduced some tariffs and duties on imported wine, spurring wider interest.
Now enthusiasts can buy and sell bottles, cases or even entire cellars of wine through a variety of outlets. Heightened interest has, however, caused some prices to soar, particularly for Bordeaux.
"Wines that I used to be able to buy for a few hundred dollars a bottle are now thousands," Rescigno said.
An art and a science
Whether you're an avid collector, an enthusiast or merely love to have a few bottles on hand for entertaining, there is an art — and a science — to finding the most valuable and delicious wines for a collection.
Before you start building that wine cellar, be honest about your personal tastes and ultimate goals. It makes little sense for someone over 65 to buy a 2009 First Growth Bordeaux that will require 25 years before it is ready to drink. For someone in their 30s, however, buying fine wines when first bottled and storing them (laying them down, in wine parlance) until they are ready to drink is a real option.
Though some consider wine as an investment to be sold later at a higher price, mere enjoyment is enough for many collectors.
"It is just the satisfaction of owning some good wines," said C Krishna Prasad, the head of pharmaceutical company Granules India Ltd based in Hyderabad, who has a 2,000 bottle collection. Prasad is a self-taught connoisseur who built his collection based on reviews, recommendations and tasting wines on his many trips abroad.
"Sometimes when friends talk about a good wine, it gives me great satisfaction if I can pull it out of my cellar and serve it," he said.
Hidden Treasures
The latest trend among collectors "is for consumable wine," said Jamie Ritchie, Sotheby's head of fine wines for the Americas and Asia, adding that people want to drink good wine without waiting. In other words, popularity is growing for bottles that do not need to age much further, rather than those that must sit around for an additional 15 years.

If you want to invest, though, Ritchie suggested buying the older Bordeaux such as'98 Haut-Brion, or Cheval Blanc. According to wine-searcher.com, the current average price for a bottle '98 Haut-Brion is $553, while the '10 is $1,185.
The '90 and '96 Bordeaux "also represent good values" for Bordeaux collectors, said Peter Mansell, senior wine specialist at Christie's auction house in London. Collectors who are more interested in drinking their wines rather than selling them years hence, should look to Grange from Australia, vintage Champagne, Italian wines from Gaja and California cults, Mansell added.
Like other commodities, wine is subject to the law of supply and demand. The Burgundy region is one-fifth the size of Bordeaux so its production of wines is considerably smaller and has always commanded a premium price — and can see bigger returns.
For instance in 2007, the average price for a bottle of Domaine Romanée-Conti was a little over $6,000. Last month, the average price for the same bottle of Burgundy was just over $13,500.
Sotheby's Ritchie, said five, ten, or 15 years from now collectors will still be hunting for the great Burgundies and Bordeaux "because historically they have always been valuable."
In particular, Bordeaux's five Premier Cru growths — Lafite, Latour, Haut-Brion, Margaux and Mouton-Rothschild — are sought.  Among great Burgundies, generally collectors covet Domaine Romanée-Conti.
"Those great wines will continue to be the basis of the (auction) market," Ritchie said.
What to look for
Provenance and condition are vital to successful wine collecting whether the collection is for consumption or investment. "The most important thing is to be able to trust the person who is selling it to you," said Ritchie.
When looking to buy, auction houses are usually a good bet. They charge commissions on their sales and make up about a fifth of the market for collectors. You can also buy from wine merchants, other collectors and when possible, directly from the wineries. The latter is the best assurance of provenance — and given the centuries of fraud (dating as far back as ancient Rome, even philosopher Pliny the Elder complained of it) — such a bottle commands a higher price.
Appropriate storage is essential. Wine has three enemies: heat, light and movement. Keep the wine at the correct temperatures, which generally means between 48 to 55 degrees fahrenheit (8.8 to 12.2 celsius), and in a place where it is not exposed to light. 
And "whatever you do, don't shake them. Don't turn the bottles in your cellar," Ritchie insisted (that is, don't take a bottle that is lying down and give it a twist). "You don't want to look at them, you want to drink them."
Many collectors have a small cellar in their homes, and use the services of a bonded warehouse to store the rest. Bonded warehouses, assume liability for the wines as well as provide the specialised storage necessary to keep them in prime condition. Storage costs are about $25 in the US, or about £10 to £15 in the UK, annually, with insurance and shipping adding another 1% to 1.5% to that cost.
If the collection is strictly an investment, don't bother building the cellar or collecting the wooden cases. Instead, leave the wine where it is, especially if it is purchased directly from the winery.
The Bottom Line
As an investment, wine collecting can be expensive, and it produces no gains, if there are any to be had, until it is sold. Unlike stocks and bonds, wine is a fairly illiquid commodity. But wine enthusiasts are a passionate group who can consume their investment.

 "I love good wine and I love good food. Sharing those is one of life's pleasure," collector Rescigno said.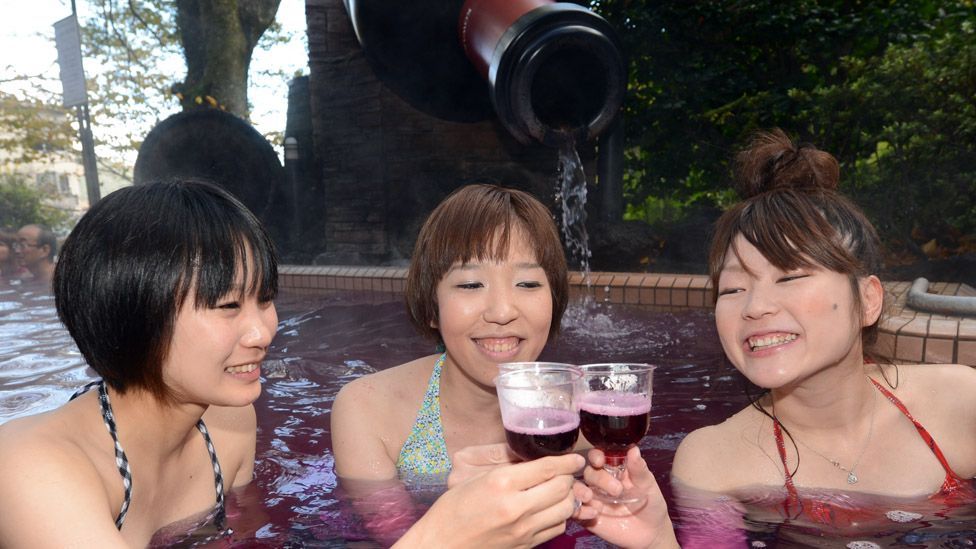 Visitors enjoy the wine spa at Japan's Hakone Yunessun resort while toasting 2012 Beaujolais Nouveau. (Toshifumi Kitamura/AFP/Getty)
Visitors enjoy the wine spa at Japan's Hakone Yunessun resort while toasting 2012 Beaujolais Nouveau. (Toshifumi Kitamura/AFP/Getty)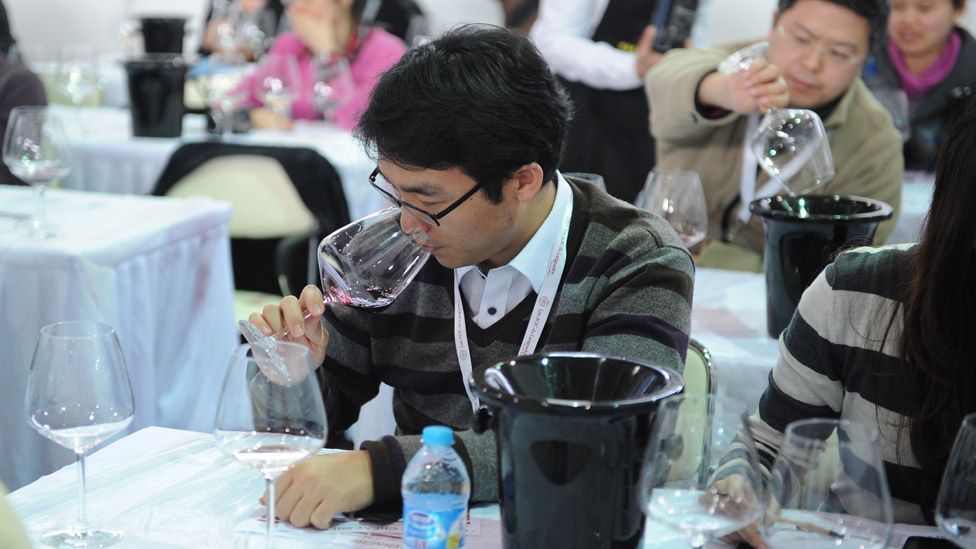 China is expected to become the world's sixth-largest wine consumer by 2014. (Peter Parks/AFP/Getty Images)
China is expected to become the world's sixth-largest wine consumer by 2014. (Peter Parks/AFP/Getty Images)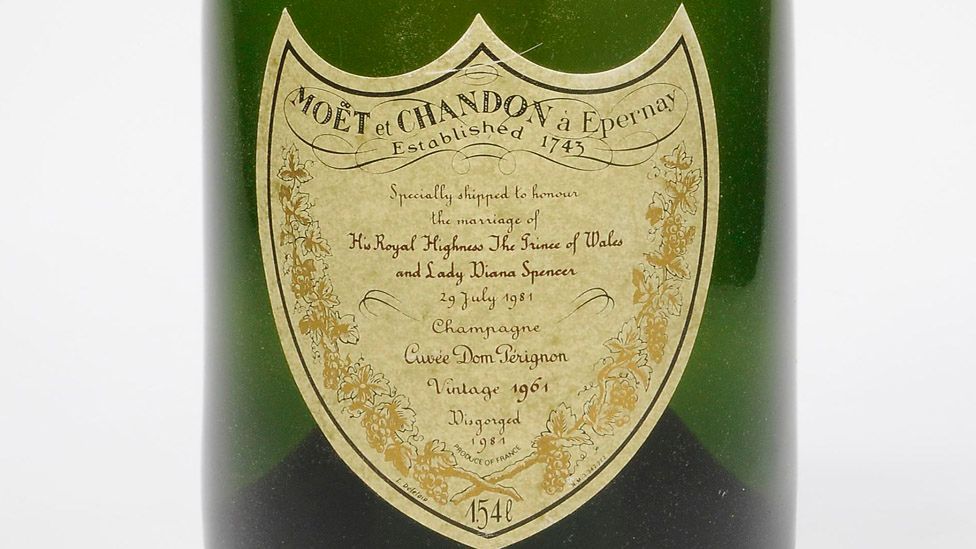 This magnum of 1961 Dom Perignon was disgorged in 1981 for the marriage of the Prince of Wales and Lady Diana Spencer. (Christie's Images Ltd)
This magnum of 1961 Dom Perignon was disgorged in 1981 for the marriage of the Prince of Wales and Lady Diana Spencer. (Christie's Images Ltd)
Buyers must scrutinise photos because bottles are rarely brought to the auction floor. Movement and exposure to light are detrimental to their contents. (Sotheby's)
Buyers must scrutinise photos because bottles are rarely brought to the auction floor. Movement and exposure to light are detrimental to their contents. (Sotheby's)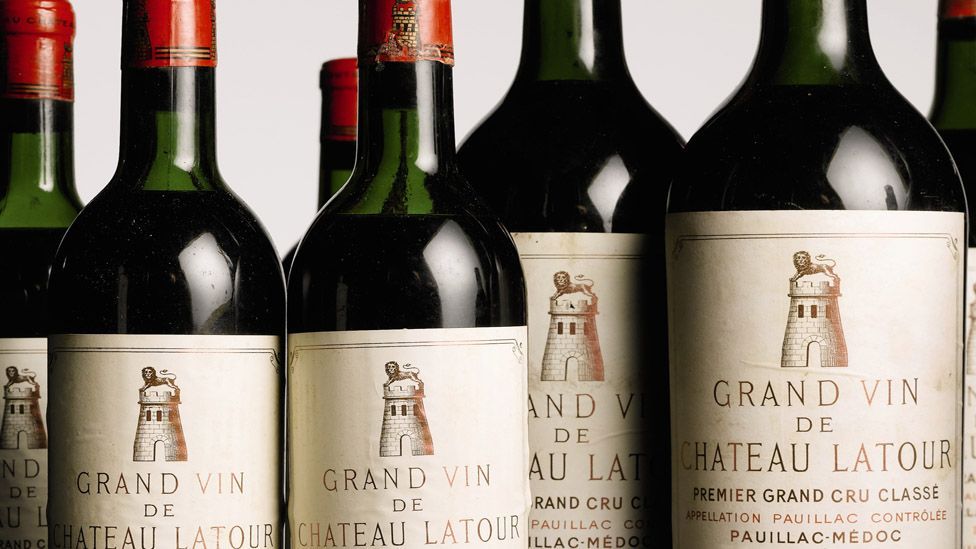 Prospective buyers can sense wine quality by seeing if there are any stains on the labels and examining the level of wine in the bottle. (Christie's Images Ltd)
Prospective buyers can sense wine quality by seeing if there are any stains on the labels and examining the level of wine in the bottle. (Christie's Images Ltd)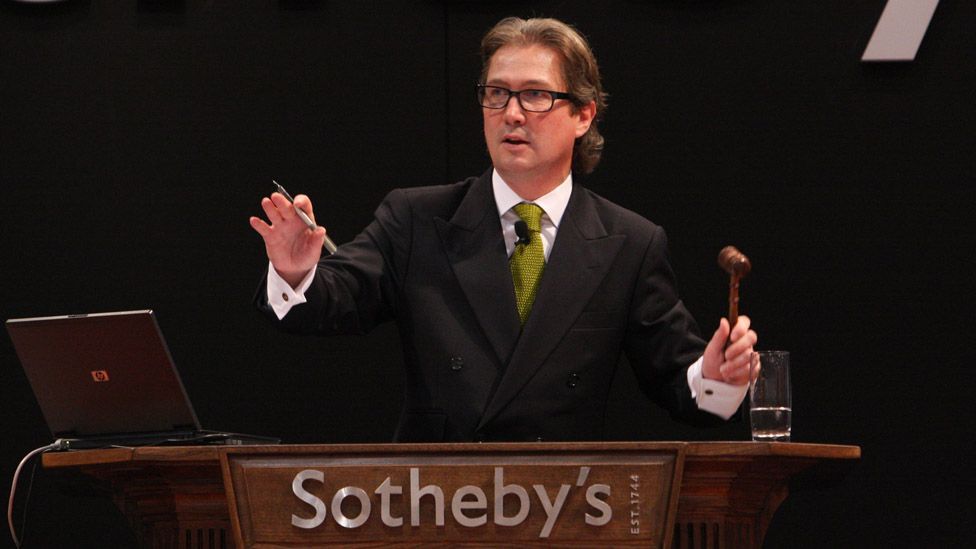 Jamie Ritchie, Sotheby's head of fine wines in the Americas and Asia at a 2010 Hong Kong auction where a bottle of Chateau Lafite, 1869, sold for HK$1.8m ($232,700). (Sotheby's)
Jamie Ritchie, Sotheby's head of fine wines in the Americas and Asia at a 2010 Hong Kong auction where a bottle of Chateau Lafite, 1869, sold for HK$1.8m ($232,700). (Sotheby's)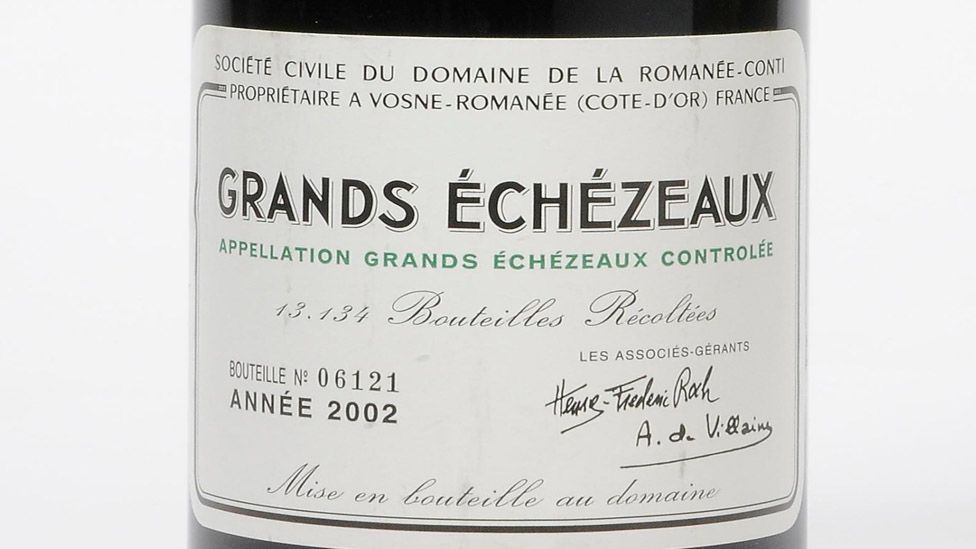 A bottle of Grands-Echézeaux, Domaine de la Romanée-Conti, 2002, could fetch as much as £750 ($1,240) in a Christie's auction in April, 2014. (Christie's Images Ltd)
A bottle of Grands-Echézeaux, Domaine de la Romanée-Conti, 2002, could fetch as much as £750 ($1,240) in a Christie's auction in April, 2014. (Christie's Images Ltd)