There was a time when Merideth Gilmor was traveling so much for work that she'd wake up and forget what hotel she was in. Or worse, what city.
Gilmor, then handling public relations for fashion label Cole Haan, spent considerable time in Asia, where the company was expanding four years ago. At the end of one such trip, Gilmor had a stark realisation on the flight back to her home in Connecticut. She was in the job she'd always pictured herself having. She was successful. But she would not be there to watch her 5-year-old start kindergarten.
"I loved my job, but I loved my family more," Gilmor recalled.
So she quit. Then in her late 30s, she gave a couple months notice, wrapped up some big projects, and left to start her own marketing and public relations firm. A month later, she was there for her son's first day of school.
Gilmor also had a stroke of luck after she quit. She had worked with tennis star Maria Sharapova at Cole Haan, and now Sharapova needed someone to do her publicity and marketing. Working with such an international name no doubt helped Gimor pick up other athletes, including several professional American football stars. She had found a way to be a mom and remain at the top of her industry.
Gilmor's experience highlights a subtle, but very real, change in how parents are now navigating family life and their careers. It used to be that many western countries saw success and parenting as separate endeavours. Families had to grapple with choosing between bath time or the boardroom. More and more, however, high-level professional parents are finding ways to balance home life with successful careers.
Smart delegation
Undoubtedly, there will some sacrifices when parents try to handle both parenting and their careers, said Ellen Kossek, professor of management and research director at the Center for Leadership at Purdue University. Most likely it will be up to you to figure it out and ask for what you need, like some flexibility in travel or workday hours.
"For senior-level managers, part of it is to think about using your best energy for your high-value work," Kossek said. "What are the things that your company believes you do well? Spend the majority of your time doing those tasks and delegate the rest."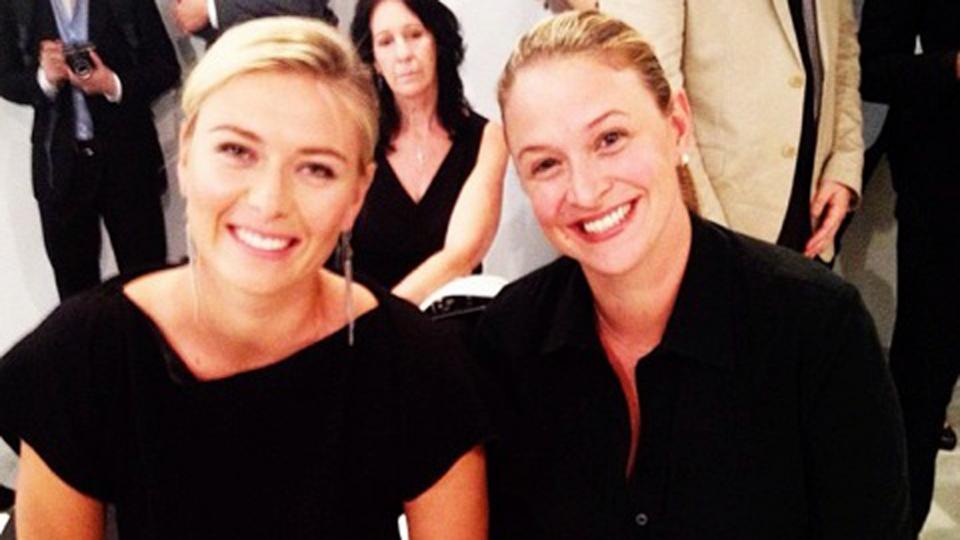 Merideth Gilmor quit her job to spend more time with her son. The next day, she landed tennis star Maria Sharapova, at left, as a client. (Caitlin Shockley)
If your current employer doesn't value a manager's need to spend time with the kids, move on. Does that sound extreme? Consider that few people nowadays spend their careers at one place. So if a move is likely down the road anyway, do it now, before your home life suffers. Even if it means taking a hit to a salary or title, working at a company that's flexible to the needs of a family means a better shot at long-term success.
The good news is that those companies do exist. Chicago-based Northern Trust Bank allows employees in its offices worldwide, even some senior-level managers, to have more flexible schedules, such working from home one day per week. US snack food maker Kraft Foods allows some employees to adjust their workweek to four 10-hour days.
Influence spreads
These reforms help companies, too, which may be why they're slowly spreading in some industries. For instance, supermarket chain Spartan Stores in Michigan found employees who were given more flexibility in their hours so they could spend time with their families were better team players, followed security procedures more closely and were more dedicated to the company.
This is something that's already well known to employers in Scandinavia and northern Europe, where businesses are most likely to accommodate the needs of parents, according to research by the Paris-based Organisation for Economic Cooperation and Development.
But the list of countries that do little to recognise the need to balance family life is far larger. It includes developing countries such as Turkey and Mexico, Asian countries including Japan and Korea, and Anglo-Saxon countries: Australia, Canada, New Zealand, the UK and the US.
For professional parents in the nations that don't put a higher emphasis on family life, have a conversation with your boss about how you'd like to see things change, said Armin Brott, who has written seven books on parenting.
But first, you'll need to figure out if you can really manage your department, run your division or handle the travel of your job if you're working a more flexible schedule. If the answer is no or not entirely, figure out how you can cut back on your management responsibilities before you approach your own boss for a flexible or different working situation — that way you've got a plan in place so your oversight of employees or clients doesn't suffer simply because you need to cut out early every Tuesday for dinner with your family.
The key is to have a management plan in place for both your time and your work responsibilities before you ask supervisors for changes. That might be the start of the biggest leadership challenge of all since it could lead to some difficult conversations. "It's a question of whether you're willing to take a risk and buck the corporate culture," Brott said. "It's hard to be really effective at both parenting and your job without learning new ways to do what you're doing."
After Gilmor quit her job to spend more time with her son, she realised she had been missing out on some simple joys. As her own employer, now she can design a schedule to make sure she's at the bus stop every morning while still responding to the needs of her clients.
For instance, Gilmor answered a call last week from a reporter looking for an interview with Sharapova while she was dropping off her son at karate class — something she couldn't have done four years ago.
The lesson for managers in the corporate world or otherwise: figure out how to balance your role as a boss and a parent — before those two worlds become too much to handle.