A higher number of women are going to tattoo removal clinics because they've experienced negative comments.
When Erik Robertson, an account executive at a San Francisco public relations agency, meets with conservative clients, he's always sure to wear a suit and tie. But with his video game client, short sleeves and an open-collar shirt are perfectly fine.
His wardrobe choices aren't just based on what the clients will be wearing. Sometimes, he also wants to conceal the tattoos covering his arms and chest because he realises they could alienate customers.
"You have to be smart and not risk offending current clients or new business prospects," said Robertson, who is 29 years old. "I'd also like to have my hands and neck tattooed, but I don't because I couldn't cover them. I'm just glad I didn't go overboard when I was in college."
Young employees are increasingly likely to have tattoos, facial piercings, or both, which often draw skeptical or even negative reactions from recruiters and managers. Although body art has become much more mainstream over the past decade, it still carries a stigma with many employers.
When the online jobs site CareerBuilder asked employers which personal appearance attributes would make them less likely to promote someone, piercings were named most often (37% of respondents), while visible tattoos ranked third (31%).
Such attitudes are clearly out of sync with changing workplace demographics. A Pew Research Center survey found that 38% of the respondents between the age of 18 to 29 in the US had at least one tattoo, and 23% had a piercing in a place other than their ear lobes.
"To attract and retain talent, businesses will have to overcome negative stereotypical views about body art," said Barrie Gross, a human-resources consultant based in San Francisco. "They need to ask whether it really matters to job performance and the company's reputation if someone has a nose ring or tattoo."
While some companies have already moved beyond perceptions that tattoos are low-class or gang-related, they still often prefer that employees conceal body art as much as possible, especially if they interact directly with customers.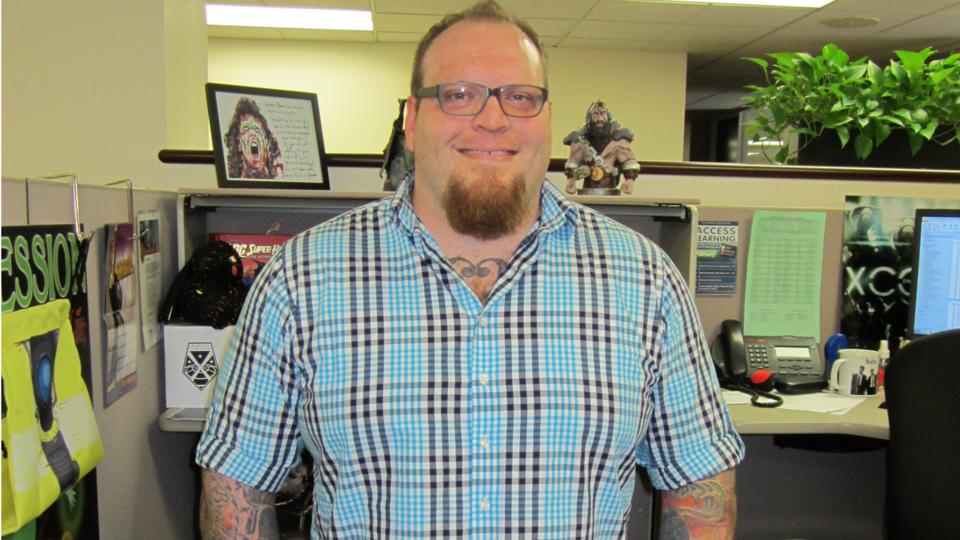 Erik Robertson, a PR account executive, hides his tattoos when meeting with conservative clients. (Courtesy Erik Robertson)
KPMG, the international accounting firm, advises its college recruits "to remove visible body piercings and cover tattoos" at work. Similarly, Macy's, the big US retailer, tells employees to avoid "excessive" facial piercings and tattoos that distract or offend customers. A Macy's spokeswoman declined to explain what qualifies as "excessive."
The degree of flexibility about body art may fluctuate with changing recruiting needs. When the US Army needed to attract more recruits for the wars in Iraq and Afghanistan, for instance, it relaxed its dress code to allow tattoos on the neck and hands. But now with troop levels on the decline, it has done an about face and banned body art in those and other locations.
Workplace crackdown
Generally, employers can enforce their dress codes, including bans on visible tattoos and piercings, without violating the law. They usually argue that body art doesn't fit the company's image or that it hurts business by driving customers away. In its dress and decorum policy, for example, the Mayo Clinic Health System says visible body art "does not project a professional appearance and is considered inappropriate."
In interviewing hiring managers in Scotland, Andrew Timming, a reader in management at the University of St Andrews, found that they harbour mostly negative attitudes toward job candidates with visible tattoos. Even recruiters who were tattooed themselves held such views. But the hiring managers told Timming they wouldn't reject applicants because of their own bias, but rather because they believed customers would disapprove of body art.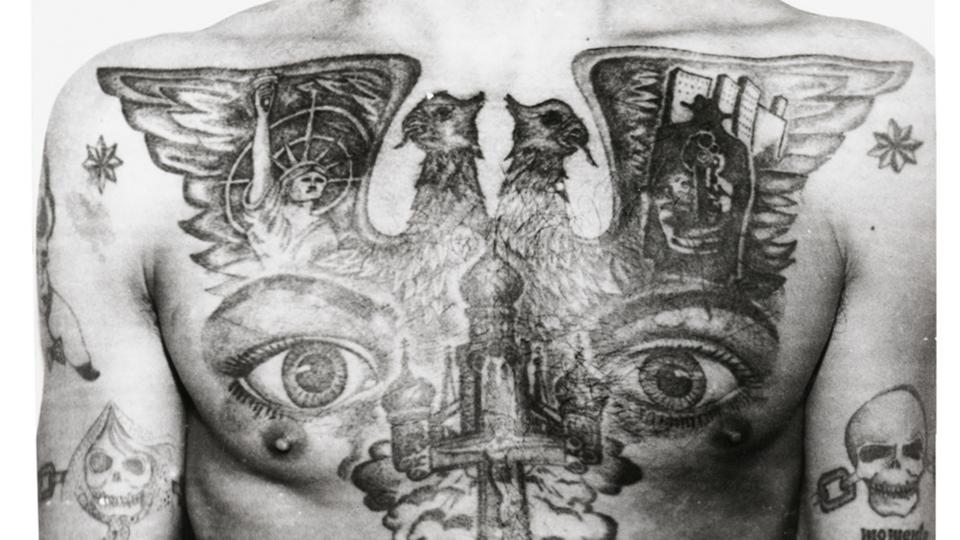 READ: Secret meanings of Russian prisoner tattoos — from BBC Culture.
That may be, but a recent arbitration case in Canada suggests that companies should back up their bans on body art with substantive evidence of its negative impact. Ottawa Hospital had adopted a dress code requiring employees to cover large tattoos and prohibiting "visible, excessive body piercings," claiming that a more professional image would increase patient confidence and improve the quality of health care.
In response to a union grievance, the arbitrator ruled against the dress code and noted that the hospital had failed to provide any legitimate reason to infringe on "employees' right to present themselves as they see fit."
Employers also risk litigation if they run afoul of religious or cultural practices that require tattoos or piercings, or discriminate against women with body art.
"People still have more of a problem with women and tattoos than with men," said Myrna Armstrong, professor emerita at Texas Tech University Health Sciences Center who has done research on body art for more than 20 years. "A higher number of women are going to tattoo removal clinics because they've experienced negative comments and had problems trying to dress in a way that covers up their tattoos at work."
Because old prejudices die hard, the safest approach for job applicants is still to conceal body art during job interviews — and even for a little while after being hired. Robertson waited six months to reveal his tattoos to his bosses and co-workers at the San Francisco PR firm. "I wanted to get established first and show upper management what I was capable of before they saw my tattoos," he said.
That's the sort of advice the University of North Carolina's career counseling office gives students who are inked or pierced. When students don't know an employer's "cultural norms related to attire and appearance, we typically advise that they err on the side of being conservative by removing piercing jewelry or covering visible tattoos as much as possible," said O Ray Angle, career services director.
Sometimes, he added, parents take action to ensure that body art doesn't endanger their children's job prospects. He recalled a student who had her shin tattooed over spring break only to have her parents pay to have it removed at graduation.
Of course, some people value self-expression and individuality so much they refuse to remove body art or conceal it. For them, it's better to reveal tattoos and piercings during the job interview to see what reaction they get.
Pegeen Reilly, for example, doesn't have any qualms about displaying the tattoos on her arm and shoulder at work and colouring her hair pink or blue. The 49-year-old senior manager at online payment firm PayPal, considers her tattoos and tinted hair part of her personal brand.
"Most people respond positively when I choose to be authentic," she said. "Sure, some companies would interview me based on my resume, but wouldn't hire me after seeing me in person. But that's okay; I don't want to be where I'm not welcome."
To comment on this story or anything else you have seen on BBC Capital, head over to our Facebook page or message us on Twitter.