Years before Yuqing "Candice" Zhang, 20, arrived in the US from Baoding, China, to attend university, her family began making financial preparations to cover the costs of studying abroad.
Planning ahead was crucial, even before the applications. Zhang estimated her family spent the equivalent of $2,000 just on preparing to apply — the equivalent of two years' tuition at some Chinese universities, she said. 
For starters, Zhang had to fly to Hong Kong to take the SAT, an entrance exam required by US universities, because it was not offered in mainland China. And while Zhang had been taking English lessons since elementary school, there was the cost of an additional training course specifically for the SAT.
"Studying abroad is a really big decision for us to make," said Zhang, who is now a sophomore at the University of Illinois in Urbana-Champaign, majoring in advertising. Another cost of studying abroad: the 24-hour trip back to China twice a year, adding $4,000 in international travel costs that students who study closer to home never have to consider.
In 2013 there were 55,000 international students enrolled in US universities, a 40% increase from just 10 years ago, according the Open Doors report published by the Institute of International Education. The increase is largely fuelled by students coming from countries in Asia and the Middle East, including large numbers from China and Saudi Arabia, according to the report. At European universities — including KU Leuven in Belgium and Maastricht University in the Netherlands — nearly 50% of the students now come from outside of the European Union.
The cost for foreigners to attend some North American and European universities can be more than 10 times the cost of attending a domestic university. But as more parents consider sending children to university abroad, understanding the educational price tag is just one factor. It's also important to consider the cultural support available for international students and the strength of the alumni network for each university.
If you plan to send a child abroad for university, planning carefully at least five years ahead of time is key. Here's how.
Five years to go
Most parents know they should start saving for college well before the child gets to secondary school, but in many parts of the world, including the Philippines, it is absolutely critical, said Efren Cruz, a financial planner based in Manila.
In parts of Asia and Africa, prices abroad can be 40 times higher than domestic schooling and financial aid is unavailable for families sending students overseas. Many families say it is worth it, because getting an education abroad can make graduates more marketable once they return to the emerging economy.
One cost to consider in the early planning: several years of additional English or math lessons, an expense that can make foreign students more competitive during the application process. In the Philippines, a private tutor for SAT math lessons can cost anywhere from 250 to 500 Philippine pesos ($6 to $12) per hour. In China, the cost for an SAT math tutor could be as high as 250 Yuan ($40) per hour, according to Universitytutor.com, a site that helps to match tutors with students.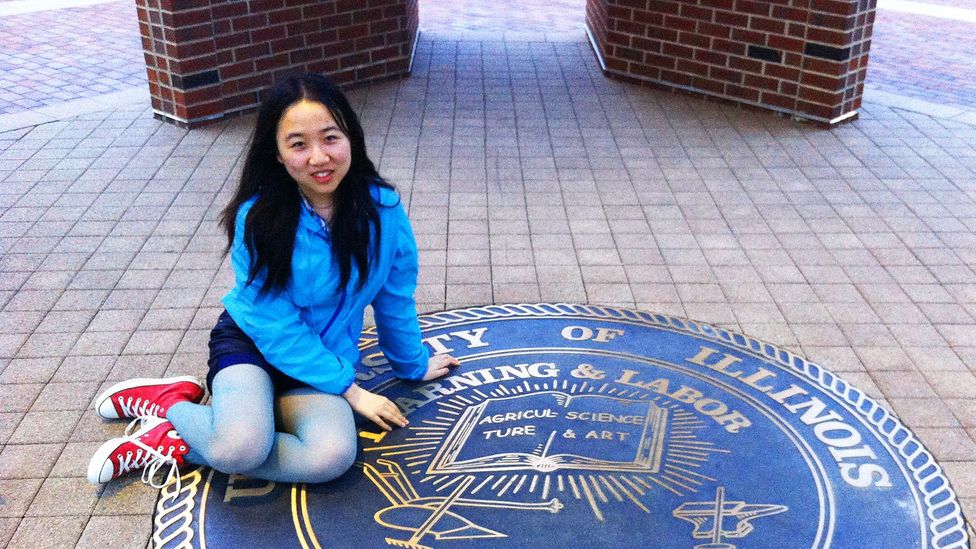 The cost of attending university in the US has been high for Candice Zhang's family in China, from $2,000 on preparing to apply to $4,000 for yearly trips home. (Candice Zhang)
More practically, when saving for college, five years before the big send-off, Seth Wee, a Singapore-based investment advisor, said it is usually smart to switch to less-risky investments and to consider the investment options available to you locally.
For instance, Singapore offers life insurance policies that cover the parents until children are considered adults, at which point the premiums are paid back to parents. This type of policy can work for many would-be international-bound students' families because it "serves both as a savings tool and also an insurance to provide a payout which should ensure that the child is able to afford higher education in the event his parent passes away before saving enough," explained Wee.
Checklist: Five Years Before 
Create a less risky long-term savings plan
Budget for and begin paying for additional tutoring
Research international tuition costs
Three-to-four years to go
Since the costs of college can vary greatly even within a single country, deciding on a per-semester budget with your children will help guide where they should apply, said David Allen, a college counsellor based in Scotland's Orkney Islands.
"Some parents don't want to talk to their kids about what [they] can afford," he said. "They don't want to admit that it put the family in financial difficulties."
Seeking scholarships reserved for international applicants can be a good way to offset some expenses, but don't plan on the extra financial help, said Cruz.
"If you do get one, that's a bonus," he said. Still, many colleges offer international students some form of financial aid in order to ensure diversity in their student body.
Instead, sit down with your family — and perhaps a financial planner — to hammer out a reasonable budget for tuition, travel and application expenses. This way you can adjust your savings or even consider part-time work temporarily to round out a budget.
Once you have a budget in mind, begin your research. It's best to start about three years before university. Ask for information on international student tuition rates, scholarships and whether or not a student who establishes local residence could be eligible for local rates after a certain number of years attending the school.
Checklist: Three-to-Four Years Before
Decide on a budget for tuition
Identify schools that offer aid for international students
Look into scholarship opportunities
Two years to go
Families with plans to send their child abroad usually hire a college or university counsellor a couple of years prior to entering university, said Allen, who works with students from Europe and South America.
Assistance on college applications can help applicants make sense of a complicated process, said Luiza Santos, 22. The Sao Paolo, Brazil native applied to 14 universities, including some Ivy League, in the US this year.
Santos paid about $3,000 to a university counsellor in order to get help completing the applications, including the essay questions, which were difficult for her to write as a non-native English speaker, she said. The advisor "helped me think outside of the box," said Santos, who is budgeting about $60,000 per year to attend college in America.
Santos also had to explain to her teachers in Brazil how to write a personal recommendation letter for her applications since doing so isn't common practice in the country.
This is also a good time to come up with a solid plan to pay tuition — well before payments are due (typically a few months before a student's first year). Most universities do not offer international financing, loan or payment plan options for tuition. Parents can sometimes secure education loans in their home countries.
"Know that the payback period is going to be long," Cruz said.
At this point, students should consider preparation courses to help them get ready for international entrance exams like the TOEFL, which demonstrates English proficiency, the US-favoured SATs, France's Baccalauréat or Germany's Abitur.
Checklist: Two Years Before
Ensure liquidity to make lump-sum tuition payments
Enlist a college counsellor to help with applications
Pay for entrance exam preparation courses
One year to go
Use this year to plan for any extras and leave plenty of time for the application process, say experts.
While you may have already saved for tuition, it is important to think about housing, application fees, travel expenses, car rentals, upgrading laptop computers or phones before leaving for school and setting guidelines on how many times a student can fly home. 
Set up airfare alerts to look for the best deals to fly to the university when it's time. A few months before the start of the semester, open a checking account in the country your child will be attending school and fund it with enough to pay for the first set of books and a few months of living expenses, plus a little cushion for the unexpected. Paying from an international account can mean extra banking fees.
Some universities require a non-refundable $400 fee to a student's university space upon acceptance. Be ready to hand it over soon after acceptance to secure a spot at the school.
Get these things out of the way to deal with the last minute necessities — like getting a student visa. It can take time and often must be done last-minute. Santos, an equestrian who hopes to major in media studies said that she, like many international students, needs a formal enrolment letter from her school of choice before applying for a visa. Santos is still waiting to hear from several schools before she makes a final decision.
"There's not a lot of time," at this stage, Santos said. "You have to plan this huge move in just a couple of months."
Checklist: One Year Before
Consider unexpected travel costs
Have upfront school fees ready
Set up a local bank account