Berlin's gritty nightlife and Bohemian character has long lured free spirits, but these days visitors to the German capital are putting down roots. Drawn to the city's low rents and vibrant culture, expats that come to visit never want to leave.  
"Berlin is one of the last cities in the Western world where you don't have every cent squeezed out of you," said Giulia Pines, author of Finding Your Feet in Berlin. While moving to the German capital may seem daunting at first — there is certainly a lot of paperwork involved — it should be fun, the native New Yorker said.
There are a few things expats should know before they open a bank account and pick out a school for their kids. The city, once dubbed by its mayor "poor, but sexy," constantly reinvents itself. Pines described her first year in Berlin as both the most challenging but also the most exciting.
If you're thinking about making the move, here's what you need to know.
Housing
Berlin's relatively modest cost of living, central European location and vast green spaces have drawn people from across the world. About a quarter of Berlin's 3.5 million residents are from another country. Housing demand from this growing population has forced neighborhoods to gentrify, pushing up rents in the process.  From 2011 to 2012, rents rose 2.4% according to BBU, a local housing lobby. Still, compared to other major cities such as London, San Francisco and New York, the city remains vastly affordable with the average monthly price for a 60 square meter (645-square-foot) apartment at around 300 euro ($425), according to the BBU.
For foreign newcomers without a job contract in hand, however, renting an apartment directly from a landlord can be next to impossible because you haven't established a financial record in the country. It's better to start with short-term sublets or flat shares. Avoid international sites like Craigslist, which can be full of scams and instead opt for local sites such as WG-Gesucht or Immobilien Scout 24.
A few basic German words are enough to help you navigate the sites, Pines said. Make absolutely sure what is included in the rent price. In Germany, rent is listed as either Kaltmiete or cold rent, which means it doesn't include utilities, or Warmmiete or warm rent, which still may not cover all of the basics. Often appliances aren't part of the contract.
When you have established a financial record in the country, it will be easier to rent directly from a landlord. You'll need to show proof of income, a credit check called a SCHUFA Auskunft and a letter from your current landlord that you are up to date on your rent.
Registering
Once you have a housing contract, you will have to register with the local authorities. That registration form is required for almost everything in Berlin, from opening a bank account to getting a gym membership.
To avoid a long wait, make an appointment at the local municipal office and come with your renter's contract, passport and marriage certificate, if applicable. While you are required to register within 14 days of moving to the city, people often let the deadline slip without major consequences. Just remember that every time you move you will have to register your new address.
Learning the language
These days it feels like you hear more English than German on the streets of Berlin. In fact many expats often get by without learning much German. Barry Baruch, an Israeli native who moved to Berlin more than a decade ago, admitted that his German is merely "OK." Baruch, a volunteer for expat networking group InterNations, said he gets by because has so many expat friends. However, basic German is a must for dealing with city bureaucracy. Learning the language is also essential for people who want to stay longer and immerse themselves in Berlin life.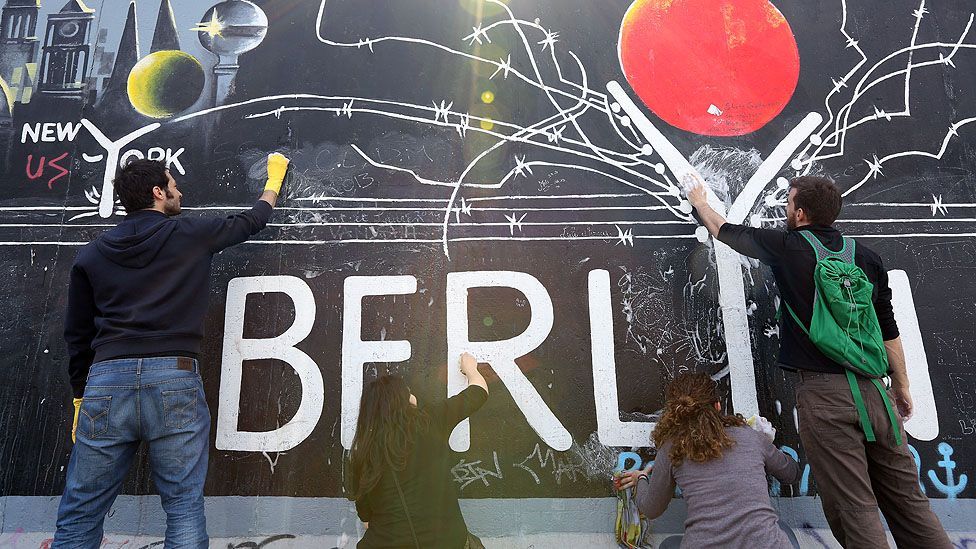 Volunteers maintain the murals of Berlin's East Side Gallery. (Adam Berry/Getty Images)
Luckily Berlin is chock full of language schools from those at Volkshochschule, or adult learning centers to private language schools like the Goethe Institute. Several cafes also host language exchanges where people can brush up on their language skills.
Finding a job
For such a bustling city, it is surprisingly tough to find a corporate job. Because many companies left Berlin for Western Germany after the Second World War, it doesn't have the traditional job market seen in other European capitals.
Banks, for example, are mostly headquartered in Frankfurt and the country's famed auto companies are in Southern Germany. While many new and existing companies, such as SoundCloud and Bombardier, are hiring, Berliners often also create their own career paths.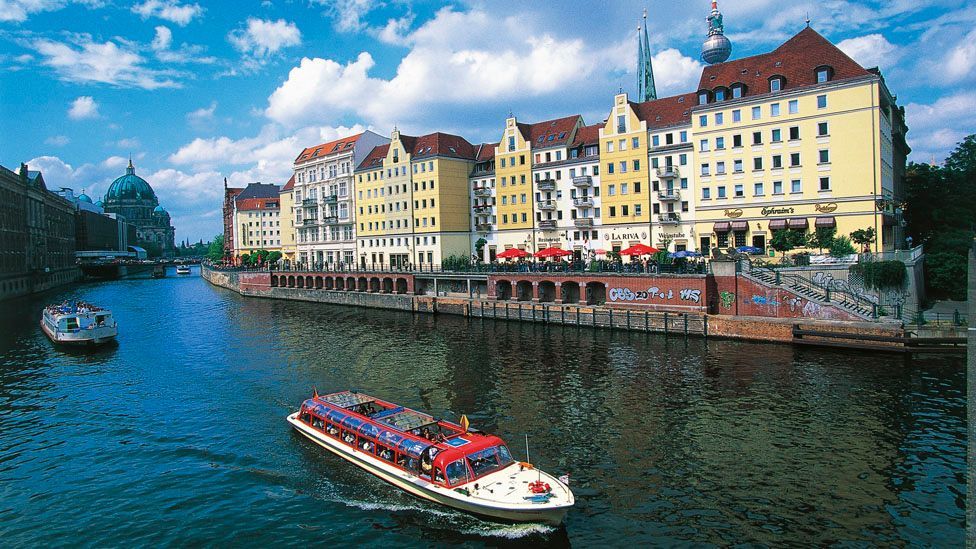 Berlin is drawing business travellers and Bohemians alike. (DeAgostini/Getty Images)
Plenty of writers, artists, photographers and even other professionals make ends meet with freelance jobs and contract work. Baruch, for example, originally moved to Berlin for a temporary job and decided to stay after the company shut its doors. He eventually started a company fixing computers and writing software for small- and mid-sized companies.
Today that sort of entrepreneurial spirit has made Berlin the startup capital of Germany, according to Berlin Partner, a group which aims to attract business to the city. It estimates that the share of newly found companies in Berlin is 50% higher than the national average. Now startups remain the best bet for finding steady employment.
They have also helped to nudge up Berlin salaries. From 2011 to 2012 incomes rose 3.1%, according to BBU.
Getting a visa
Non-European Union residents need a visa to live and work in Germany for the longer term. However, people from certain countries including Australia, the US and Canada can stay for up to 90 days on a tourist visa. Once here they can apply for a longer-term visa.
Those with graduate degrees, jobs and padded bank accounts are at an advantage when it comes to getting visa approval. Bring your registration, proof of income, bank statements, work contract and educational credentials when applying for a work visa.
Getting settled
Perhaps the most daunting aspect of getting settled in Berlin is the sheer volume of activity spread across the sprawling expanse of the city. From trendy Friedrichshain in the eastern part of the city to Wilmersdorf in the established western part, the character of every Berlin neighbourhood varies. Whatever part of the city you're in though, you are bound to stumble tons of bars, restaurants, clubs, theaters and galleries.
The city's cultural opportunities can be overwhelming, so expat magazine Exberliner is a good place to start. Blogs like Stil in Berlin and Slow Travel Berlin are also helpful resources.
Pros and cons of daily life
The tempo of Berlin varies with the seasons. Count on long, dark winters and mild, bright summers. Throughout the summer, when the sun sets around 23:00, Berlin's streets come alive with myriad festivals and outdoor events. People enjoy the sun in beer gardens, alfresco cafes and open air movie theaters. Cyclists take to the city's 700 kilometers of bike paths and picnickers gather in its 2,500 public parks and gardens.
Things take a grim turn in November, when bone-chilling winter descends. In the dead of winter, many office workers only see the sun on their lunch breaks and snow can be expected well into April. Thankfully there are plenty of cosy venues to keep you warm until the spring hits.
To comment on this story or anything else you have seen on BBC Capital, head over to our Facebook page or message us on Twitter.