W
When Salomo Jacob wants to balance work and pleasure, he heads straight for Bali.
"I could have a meeting marathon during the day and still manage to catch a sunset and fancy dinner," said Jacob, associate account director for Visicita Communication.
As the largest tourism draw for Indonesia, Bali welcomed nearly 3m foreign tourists in 2013, many of them attending business meetings or conferences on the island, including events such as the Miss World pageant and the APEC CEO Summit which drew world leaders to discuss Asia-Pacific trade and investment opportunities.
There is no slowdown on the horizon. Indonesia as a whole is projected to become the seventh-largest global economy within the next 20 years, according to a McKinsey Global Institute report, pegging it larger than Germany or the United Kingdom. With its substantial population, Indonesia is placing emphasis on, not just tourism, but also on labour-productivity improvements. Exports are important, but the country's growing middle class will propel it forward, the report said.  
"Recent elections in Indonesia will help to fuel the economy," said Jacob. ""Doing business in Bali keeps getting better with the new airport and highway that connects the airport with town."
Airport
Denpasar Ngurah Rai airport is the island's primary international gateway. The airport's new terminal that opened last October is a far cry from its overcrowded former structure. The new building is fully air conditioned with numerous duty-free shops, including local products such as Indonesian batik fabrics or colourful sarongs.
Arrivals from most nations should have $25 ready before proceeding through immigration as entry visas must be added to the passport. Euros and Indonesian rupiah are accepted, but US dollars are preferred here to standardise the process.
Have the cash on hand as there is no ATM nearby. As well, expedited greeting services, which bring you to the front of the line, are worth it for those who prefer to avoid long queues. These are available in advance from most major hotels for a fee.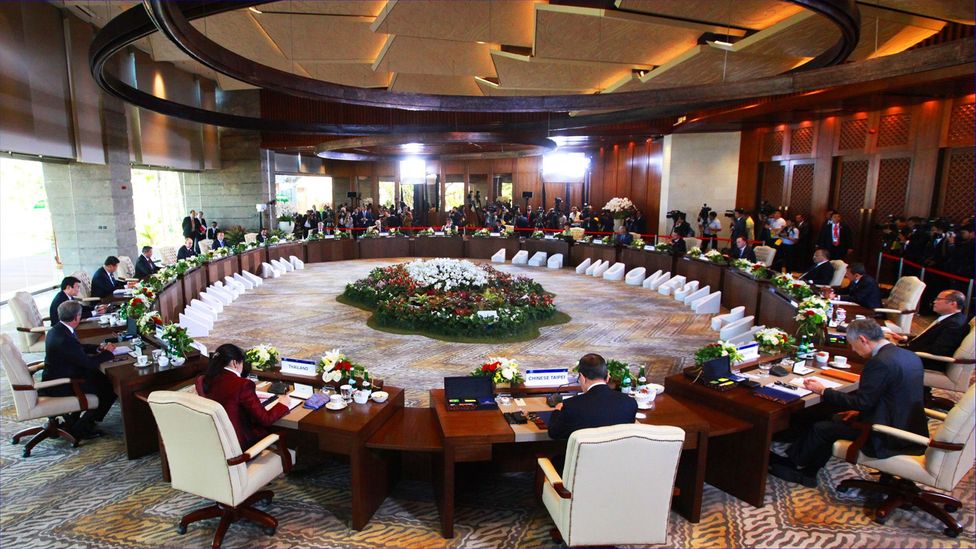 Business travelers are flocking to Bali to participate in global conferences like the APEC CEO Summit (Getty Images).
Before leaving the country, passengers must also pay a departure tax of 200,000 rupiah (about $17). Unlike the entry visa, this must be paid in local currency (credit cards aren't accepted).
Take an official airport taxi from the stand outside the arrivals hall. Expect to pay between 200,000 to 250,000 rupiah (about $17 to $21) for a taxi from the airport to the stretch of hotels closest to the Nusa Dua Convention Center.
Money matters
The rupiah is the local currency but US dollars are widely accepted — and often preferred with roughly 12,000 rupiah equalling $1. Many stores, taxis and cafes accept US or even Australian dollars. Cash is king. Credit cards are widely accepted at hotels, but aren't always an option at tourist shops and cafes.
Bali remains an affordable island, which is perhaps why it draws so many international visitors. A fresh seafood platter and glass of Indonesian wine (the grapes are imported, but wine is local) runs less than $20 at a beachfront cafe in tourist-friendly Jimbaran Bay.
Cultural know-how
Camera-toting visitors have endless opportunities to snap a photo, but it is best to ask someone for permission first if they will appear in a photo. Also, use your right hand to eat, shake hands, offer business cards or point. Like in many Muslim cultures, using the left hand for these things is considered taboo as it is the hand traditionally used for to clean oneself.
Hotels
The Nusa Dua area, 8km from the airport, is home to most international chain hotels including the 636-room Grand Hyatt and the main convention centre. But Jimbaran Bay, 7km from the airport, is  a more intimate setting for events  away from the main strip of high-end hotels.
The new 282-room Rimba Resort, surrounded by greenery and forests, opened in time for the APEC CEO Summit last autumn and is where executives held their pre-conference planning sessions. Its eco-friendly decor, using wood recycled from old Balinese fishing boats, marks the open-air lobby and public areas. Ground-floor rooms offer direct access to one of the hotel's six multitiered swimming pools, making them especially popular. And an onsite greenhouse and organic fruit garden continue the focus on sustainable living.
Its neighbour Ayana Resort shares facilities with Rimba, including 15 restaurants and a host of new meeting facilities for as many as 800 people. Ayana's newly opened 180-degree panoramic pavilion sits perched on a seaside cliff, and has quickly become touted as Bali's most exotic venue. This resort also features a private-access beach giving its guests more exclusivity during their time off.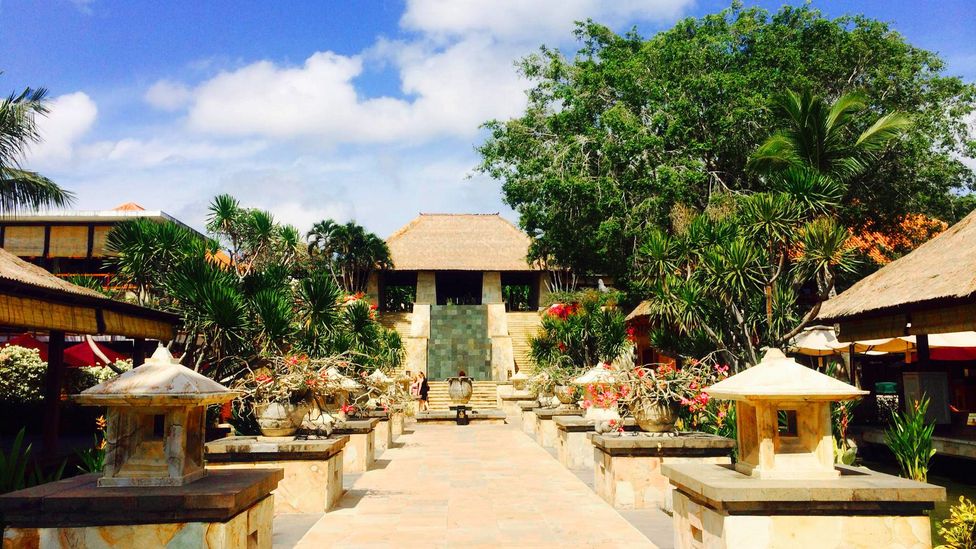 Sitting on a seaside cliff, Ayana Resort is one of Bali's most exotic venues for business (Ramsey Qubein).
Dinner for one
Indonesia's largest Chinese restaurant, Ah-Yat Abalone, opened at Rimba Resort in 2013. Diners feast their eyes on 100 types of live seafood swimming in built-in tanks around the dining room before sampling tasty dishes like dried abalone, king scallops and cod. Nine private dining rooms are ideal for private meetings or conference groups, and the proximity to the local fish market ensures the freshest catch on the menu.
Rock Bar at Ayana is considered by many to be the hippest night spot in town. Advance reservations are a must. A glass-lined bar mere feet above the crashing waves below make this possibly the most photogenic lounge and bar in Bali and an ideal place to impress a client or give your camera a workout.
"The unique rock-setting … makes for the best spot to view Bali's magical sunset," said Zanna Conlin, owner of Active Escapes, who regularly visits Rock Bar.
Off the clock
For spiritual sanctuary, head to Ubud, a town 39km from the airport. As the only Hindu island among Indonesia's archipelago of 14,000, the temples in Ubud are a unique place to visit. For yoga and meditation, Ubud offers dozens of options, with the spiritual healer and yoga sessions at the Four Seasons Ubud popular with Westerners. Also popular are the town's night markets for local handicrafts like woven bags or artwork.
Special considerations
Follow the advice of a hotel concierge if dining in town. While there are plenty of reputable options in the Nusa Dua and Kuta Beach areas, most international visitors aren't accustomed to the local bacteria or water, which can lead to a case of "Bali Belly." Stick to drinking bottled water, always provided for free in hotels.
To comment on this story or anything else you have seen on BBC Capital, head over to our Facebook page or message us on Twitter.