D
Do you sleep with your smartphone or tablet by your bedside? Do you check your email, Facebook page or Instagram the moment you wake up? Do your family members implore you to look up from your phone?
You might need a digital detox.
Constant use of email, social media and constant news feeds can be damaging to one's health, according to several recent studies. Internet addiction disorder is now a recognised problem. Indeed, when frequent internet users turn off their devices, they undergo withdrawal symptoms similar to those experienced by drug users, according to a 2013 study at Swansea and Milan Universities.
But what if you simply can't muster the personal willpower to take even a day or two away from your screens? You're not alone — and plenty of businesses are looking to capitalise on your digital dependence. From weekend detox courses in the countryside to remote farms in the Philippines and even tech-free urban retreats, dozens of getaways have sprung up around the globe to help people kick the device habit, at least temporarily.
The unplugged weekend
Best for: those who want to stimulate the senses in a bucolic setting
Cost: £200 ($333) which includes all accommodation, food and activities.
For Kim Beckett, 28, who works as an insurance broker from Uxbridge in London, it was the realisation that she was virtually addicted to WhatsApp and other social media that prompted her to relinquish her phone and laptop and enrol in a tech-free workshop weekend in the Brecon Beacons in Wales.
Called the Unplugged Weekend, the course, which takes place in a private house in the Welsh hillside, is aimed at digitally-addicted executives.
"When guests arrive at Unplugged Weekend we have a phone handing over ceremony to begin the digital detox," said co-founder Lucy Pearson. "Everybody sets their intention and we chat about what they hope to get out of the weekend. Then everybody…  put(s) their phones in a trunk, which we lock away for the weekend."
There are no televisions or landline phones on premises, but there are clocks and music.
That's just the start. The programme is designed to help participants reconnect with their own thoughts by offering classes in mindfulness, meditation and even laughter therapy.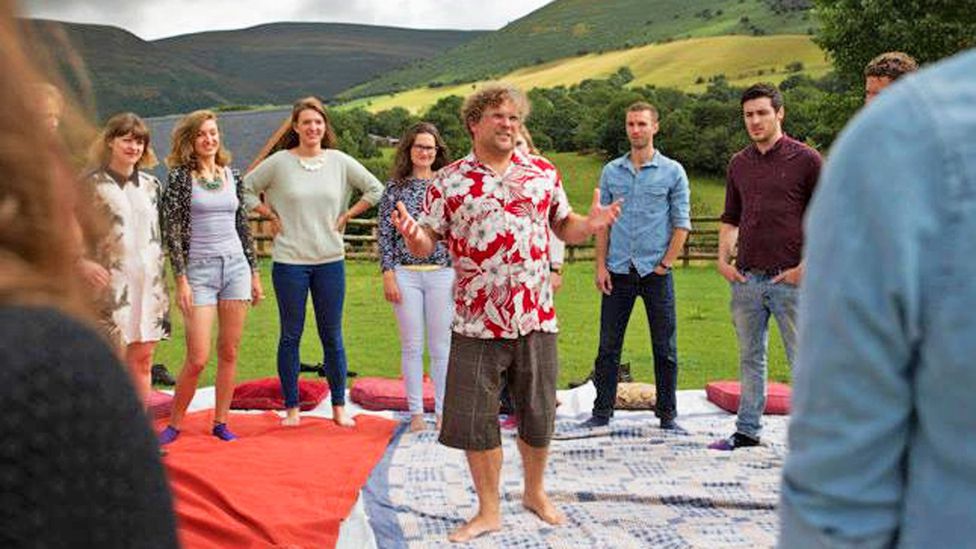 Gelotologist Curly Steve Patterson leads a Laughter Yoga workshop at Unplugged Weekend in Brecon Beacons, UK (Gareth Iwan Jones Photography).
"It was a bit strange at first," said Beckett of letting go of her devices. "However… you soon learned to switch off and not be constantly connected to the outside world."
Weekend guests are literally taught how to fill their time with things other than social media and surfing the internet. Aside from classes in drawing and meditation, hikes and yoga are also encouraged.
"The absence of phones mean guests are much more social and can have uninterrupted conversations with each other," Pearson said.
Beckett turned her phone back on after her Brecon Beacons weekend with some reluctance.  "I didn't want to be that person again, constantly going through my phone," she said. The biggest benefit: she learned to re-connect with people.
"Most people, when they feel awkward or bored, get their phone out," Beckett said. Now she is much more mindful of getting lost in her devices. "Rather than going on my phone, I am going to make an effort to look around me. You realise you miss so many things that are going on right in front of you."
Luxury detox
Best for: those who cannot quite relinquish everything
Cost: $1,480 for two nights at the W Maldives; £2,048 ($3,400) per person for six nights at The Farm in San Benito
At the W Retreat Maldives, a Robinson Crusoe package transports guests to their own private island. There is no mobile phone or wireless signal, no landline telephone, no television.
A bed is set up under a thatch roof. Dinner is served by a private chef, who cooks up a candlelit barbecue before returning in the morning with a mountain of tropical fruit for breakfast.
The Farm at San Benito in the Philippines offers an environmental detox package, focusing on relaxation and expelling all traces of radiation from the body using ionised detox foot-baths and skin detoxifying treatments.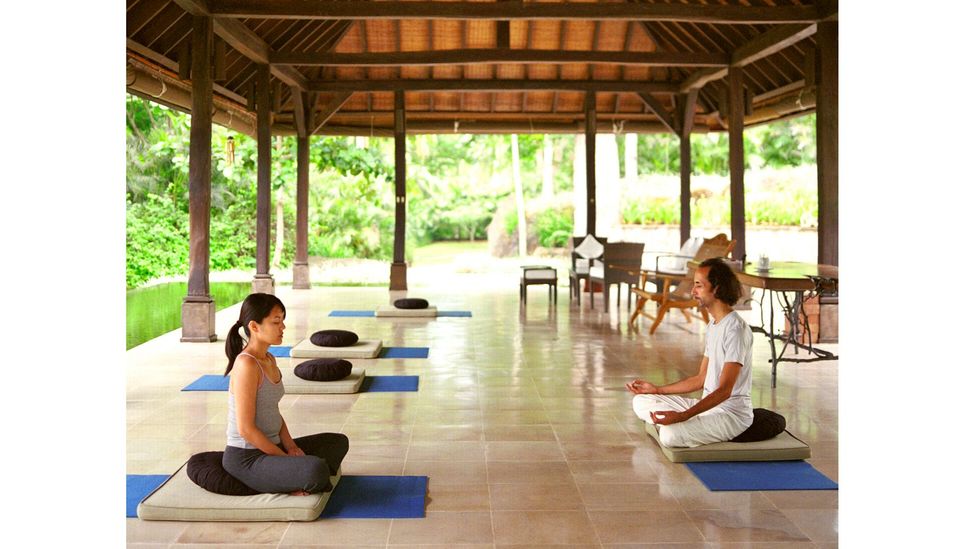 The Farm at San Benito in the Philipines hosts a digital detox program that expels radition from the body (Getty Images).
The World Radiation Society estimates that most people in the world receive about two millisieverts of  background radiation each per year.
Use of phones, computers and wi-fi is strictly prohibited for guests. Instead, guests can fill their days with colon hydrotherapy sessions and wheatgrass infusion therapy.  
Cold turkey plunge
Best for: serious addicts who need tough love
Cost: $210 Canadian dollars ($192) per night at Echo Valley
During digital detox weeks at Echo Valley in British Columbia, Canada, servers are disconnected and the television antenna is removed. Getawat leaders even block satellite signals, the only link to the outside world in the area.
"In a surprisingly short time, after being disconnected from the digital word, people go back to what is more natural for us all, which is to connect with nature, to appreciate unpolluted air and crystal clear water, to hear the sounds of birds and the breeze passing through the trees, and at night discovering more stars than one could ever hope to see in the city," said owner Norm Dove.
Detoxing guests can instead occupy themselves with yoga or nature trail walks, guided horseback rides and fly fishing lessons. Other fun activities: gold panning and tours of the Fraser Canyon. There is also family style dining for all meals.
"Solitude, connecting with yourself, and nature, is becoming harder to attain and, as such, can be considered a luxury.'' Dove said.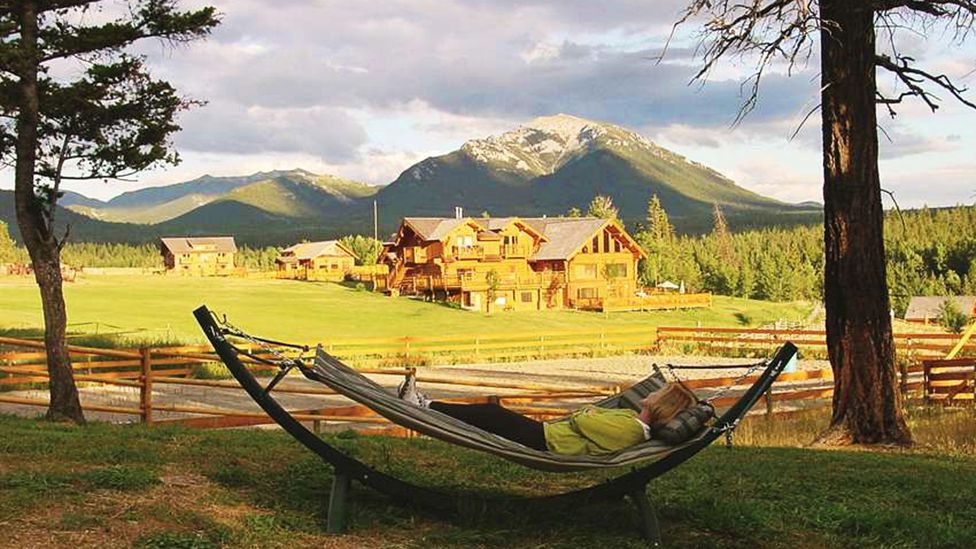 Echo Valley focuses on reconnecting with nature at its scenic camp in British Columbia, Canada (Echo Valley).
See the sights, device-free
Best for: Those who want to unwind in an urban setting
Cost: 175 euro ($233) per person, and up per night for the Westin in Dublin; from $289 per room per night at the Renaissance in Pittsburgh.
When guests check in to the Westin in Dublin for the hotel's digital detox package, they are expected to turn in their devices at reception.
In exchange, they receive a printed walking tour of Dublin, a tree planting kit for when they return home and a board game. There is also an in-room massage and a white tea candle.
The Renaissance in Pittsburgh allows those who are gadget-weary to focus on the city's gems by removing all tech temptations (phone, computer, tablet) upon arrival. There is no television or phone in the room. Instead, guests are offered board games and cards to help them relax the old fashioned way.
Detox with your colleagues
Best for: Over-connected tech workers
Cost:  from $450 to $750
Work causes most of us to be glued to our digital devices, so it makes sense that our employers should also help us disconnect from them — and reconnect with each other.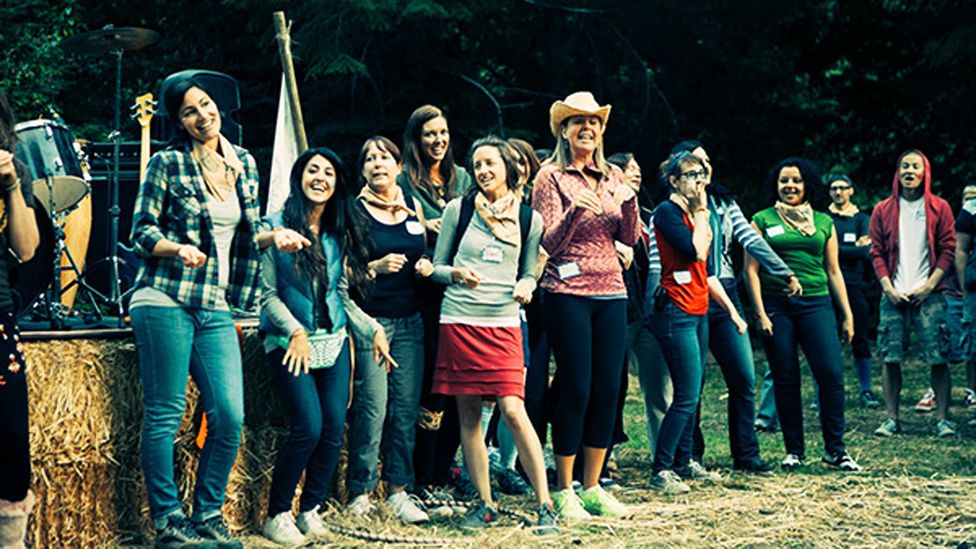 Advertised as summer camp for adults, California's Camp Grounded is a popular retreat for Silicon Valley employees (Digital Detox).
The Digital Detox Retreat in California holds device-free workshops and retreats for corporate groups including technology denizens Airbnb, Apple, Twitter and VMWare. Started by couple Levi Felix and Brooke Dean in 2011, the company holds about 10 retreats per year, hosting 7,500 people and extolling the benefits of temporarily going tech-free.
Activities include morning journaling, posture and breath work and art and writing workshops, as well as stargazing.
The group also hosts Camp Grounded, a device-free "summer camp" for adults that run in several four-day sessions—including lessons on digital detoxing, yoga, meditation and gourmet meals, for $570, plus some fees.
Among the rules for the camp: no talking about work whatsoever, no gadgets or devices (including iPods, eBooks, digital cameras and calculator watches), and leave time behind (no watches or alarm clocks — although sundials are encouraged).
Have you ever done a digital detox? What was the hardest part? To comment on this story or anything else you have seen on BBC Capital, head over to our Facebook page or message us on Twitter.