T
Tracey Stensaas' elderly mother moved in with her nine years ago after Stensaas' father died and money was tight for her mother. Fortunately, it was a natural transition. Stensaas' daughter was leaving for college, so as one family member moved out, another moved in.
I never had the empty nest
"I never had the empty nest," said Stensaas, 49, who lives in Arizona in the US.
Stensaas relies on non-medical home caregivers to help with her mother, age 87, while she's at work and credits the living situation with the fact that her mother is still here today.    
Households comprising more than one generation are becoming an increasingly common solution to the need to care for an aging parent. In the US, 57 million Americans (about 18%) were in a multi-generational household in 2012, according to Pew Research — twice the number in 1980. In Australia, the number is one in five, according to the Australian Research Council. In the UK, more than 500,000 households have three generations in them, a 30% rise in the last 10 years, according to the Office for National Statistics.
"Moving in an older family member can seem like an attractive option, and in many cases it works well," said Caroline Abrahams, charity director at Age UK. "But it's important for you to be realistic and make sure you all have the same expectations. Take your time to consider all the options and the practicalities involved."
Here are a few things to keep in mind:
What it will take: Some frank discussion, patience, sensitivity and the ability to compromise.
"Having an older relative live with you can be a big undertaking for both parties, meaning big changes to your routine and possibly your daily life," Abrahams said. "It's important to fully consider what your relative will need from you — for example, help attending medical appointments or assistance around the home — and how that might impact your work and social life." 
How long you need to prepare: The longer you have, the better.
"Unfortunately a lot of people really are thrown into this, whether because of a health or financial crisis of a loved one," said Amy Goyer, an expert on aging and families with the US's AARP, an organisation focused on those 55 and older. "But if it's something you're looking at down the road, you can't start thinking about this too early."
Do it now: Talk about it. Everyone should be on the same page about what living with an older relative involves, including any children who are still in your home.
"You need to take their needs into consideration as well, and look at how it's going to affect the whole family system," Goyer said.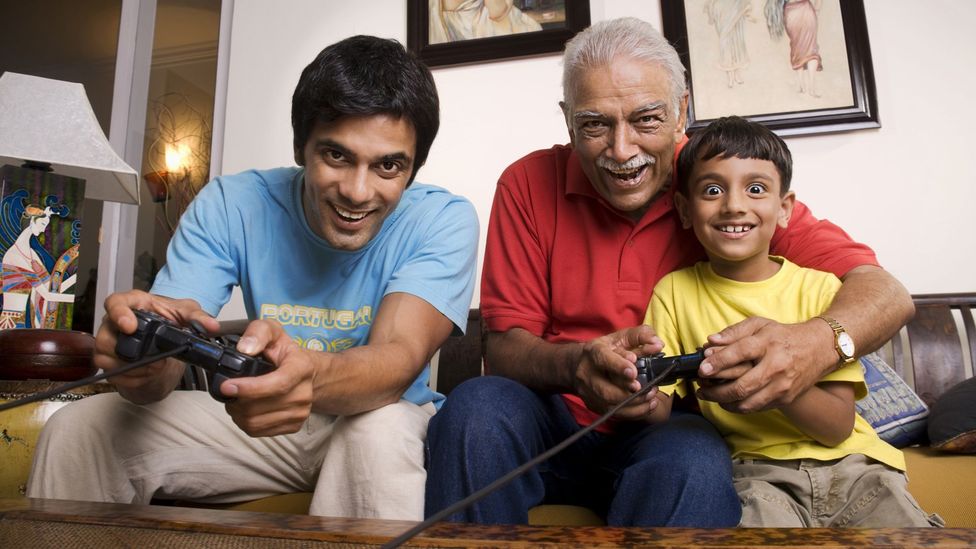 Living with your parents can be challenging, but it has its bright spots. (Thinkstock)
It's also critical to have an open discussion about money. "Finances are the thing that can cause the most resentment and strain if everybody isn't on the same page," Goyer said. Some people split costs down the middle, from the mortgage to the groceries, while other people divvy the expenses up by person. Sometimes a parent will pay a flat amount each month.
"Whatever you do, you want to make it as simple as possible so you're not spending a ton of time on the financial aspect every month," Goyer said. "It's also a good idea to be transparent about what's going on so siblings don't get resentful."
Check in with your other half. Consider your significant other's feelings, and avoid taking them for granted.
"Caregiving is really hard on the caregiver, but also hard on the spouse," said Andy Cohen, CEO of the US's Caring.com. "We've seen caregiving lead to increased rates of divorce. Make sure your spouse is ready and take care of your own health, as well as your own relationship."
Make room and value privacy. Your mother probably doesn't want to be in the tiny bedroom right next to yours.
"In some Australian homes, granny flats with separate bathroom, kitchen and bedroom are constructed under the family home," said Michael O'Neill, chief executive of National Seniors, a not-for-profit consumer lobby for over-50s in Australia.
Consider family schedules and boundaries. It's probably obvious that a shared bathroom is a source of conflict, but surprisingly high on the list of other annoyances are television and kitchen use. Talk with everyone about space and timing. Who will make dinner? When will you eat? Will your kids wake up your mother if they come in late? Will your father make you crazy if he watches the news at top volume every night?
"Having boundaries is really important," Goyer said. "One of the most difficult things is that you feel like you've lost a sense of privacy. You may have to think outside the box about how you're going to use your space."
Keep safety in mind. If you're moving a parent in for the long haul, you may need to make changes to prevent accidents later. Grab bars in the bathroom, a walk-in shower and a stair-free entrance to the home are all things that may be necessary.
"The cost of renovating for future mobility needs is often a costly surprise," said Shannon Lee Simmons, a financial planner with Simmons Financial Planning in Toronto. "When no previous plans are made, expensive renovations may need to happen quickly. Without proper financial planning, this can be very scary for everyone."
Do it later: Take time off. One of the reasons a parent moves in: they need your help. Even if that turns out to be minimal, it is something added to your roster of responsibilities. One of the pitfalls of caregiving is the tendency to let your own health and mental wellbeing slide.
"Make sure you take time for yourself to exercise and take vacations," Cohen said. "You can get respite care where you have a caregiver come in for a weekend while you and your spouse get away. Having a senior in your house is 24-7 so you need to get some breaks along the way."
Chat with a financial professional. "There can be tax implications if you are renting property to an older parent and you will be liable for income tax on any rent," Abrahams said. It's also wise to make sure that your parent is spending down her assets in the right way, if you are concerned about her qualifying for a service such as Medicaid in the US.
Consider estate planning. Is your mother's will up to date? What about other relevant legal documents, such as powers of attorney? "Sometimes, the children who have lived with parents for many years feel entitled to a larger share of estate assets down the road, or parents wish to give them a greater share," Simmons said. "This can lead to nasty arguments between siblings later on. Have the conversation now with all parties involved."
Have a plan for the future. "Be realistic that the day may come when your elderly parent may need more care than you can give," said Deborah Stone with the UK's MyAgeingParent.com. What will you do if your parent's health takes a turn for the worse or if you can no longer handle the level of care that's required?
"I don't think anybody really anticipates just how difficult it can get," Stensaas said. "There were a lot of nights when I was literally sleeping on the floor of my mother's bedroom because if she tried to get up she would fall. The care can get very, very intense."
Do it smarter: Be realistic. If you and your father mix like oil and water, think hard about living together.
"If the parent and adult child have never got along very well, preparing for such a move could be a huge temptation to try to force a relationship to work that never worked previously," Stone said.
"Be sure to look at all the options," Goyer said. "If there are other alternatives where your loved ones can be nearby and get care, that would be the second choice. You're still able to be very involved." 
If you would like to comment on this story or anything else you have seen on BBC Capital, head over to our Facebook page or message us on Twitter.