The ultimate competitive advantage beyond strategy is the people you attract and the culture you create.
In 2004, just a year after Vishen Lakhiani started online education company MindValley in New York, everything went topsy turvy.
US immigration authorities didn't extend his visa. The entrepreneur wouldn't be able to stay in the country, but he still had ambitious plans to grow his company into a digital publishing powerhouse. Rather than give up, Lakhiani moved the company to Kuala Lumpur in his native Malaysia.
"If I couldn't be in Silicon Valley," he said, "I would figure out how to build a Silicon Valley-style company in Malaysia."
Malaysia, however, was facing a massive brain drain at the time, with the number of skilled Malaysians moving abroad tripling between 1990 and 2010, according the World Bank.
Undeterred, Lakhiani was keen to attract international talent to a destination often deemed as remote. Today MindValley, which has revenues of more than $20 million annually, has about 200 employees from dozens of countries, with more than 150 of them working at its main office in Malaysia.
How, exactly, did Lakhiani get the best and brightest to flock to a place where locals were fleeing?  A mix of flexibility, fun and hiring for talent and not specific roles were at the core, something that's also been a successful recipe for other companies in attracting employees to far away locales.
Culture as a competitive advantage
Because recruiting the right candidates in Malaysia was a challenge, Lakhiani set about finding ways to create a company culture that attracted and nurtured talent from all over the world.
The phrases "J-O-B is a dirty word" and "Have fun like nobody's watching" are the main message on MindValley's career website. And a YouTube search of "MindValley" and "Cover Letter" turns up thousands of video applications from candidates the world over.
 "Everything starts with culture," said Lakhiani. "The ultimate competitive advantage beyond strategy is the people you attract and the culture you create. You can have a crappy product and a lack of sales, but if you have the right people, they will find a way to fix that."
In the book The Culture Cycle, Harvard professor James Heskett found that an effective company culture can contribute to as much as half the difference in operating profit between organisations in the same industry because of lower turnover and higher productivity.
What's the draw? Employees at MindValley work flexible hours and attend companywide retreats on luxurious resorts in places like Bali and Phuket. On the first Friday of every month, employees set aside their usual tasks to spend the day reading or taking classes from other employees.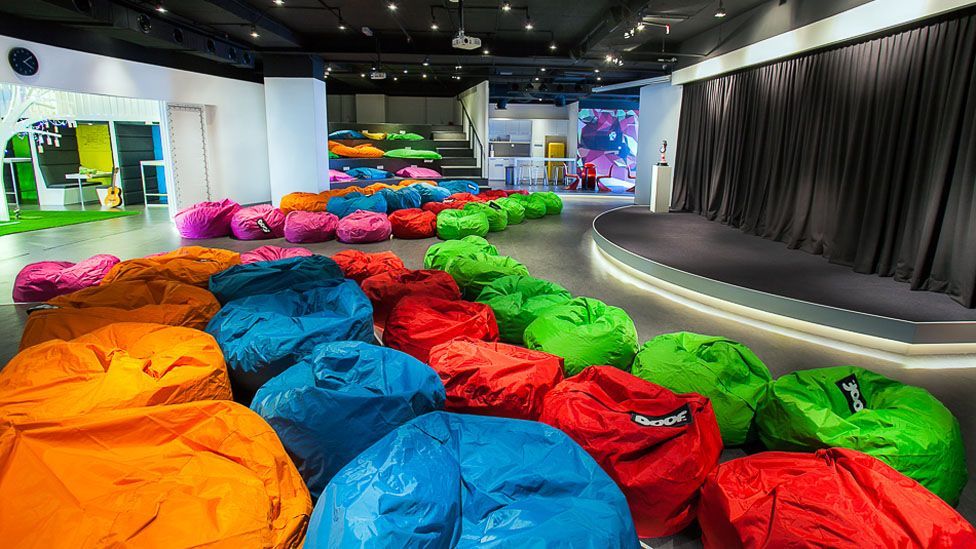 One of the draws of MindValley is the fun corporate culture. (MindValley)
The company even has its own secret society called SPLASH (Society for Platonic Love, Appreciation, Smiles and Happiness) that surprises employees with things like free movie tickets and parties. In 2010 Lakhiani built an open office with indoor hammocks, a tree house and meditation room.
This focus on happiness, flexibility and fun in the workplace may sound extreme, but other companies in remote parts of the globe have used similar tactics to overcome the challenge of attracting and retaining employees.  About one-third of the 34 employees at Great Harvest moved to Dillon, Montana, in the US to work for the bakery franchise company, said community manager Debbie Huber.
Huber said potential recruits are often attracted by the company's mission statement, which starts "Be Loose and Have Fun," but they stay because they have they have the chance to explore different roles.
"We have a lot of autonomy in how we do our jobs," said Huber, who has held a number of different positions in her 20 years with the company. "People always have challenging new projects to work on."
Be yourself
Hiring differently is also a key way MindValley and other remote firms find they can stand out to top recruits.   
Lakhiani and his team, for instance, worry less about filling specific roles and instead looks for employees who fit into the company culture. Ezekiel Vicente started at MindValley three years ago answering phones — he was hired in part because of his energy and willingness to try new things, said Lakhiani. Now Vicente, originally from the Philippines, is the company's head of technology. "I like that the company gives people a chance to explore and figure out what they want to do in life," he said.
Last year MindValley turned its attention homeward in a bid to attract Malaysians, hosting events for local entrepreneurs, designers, students and others at its meeting space called "The Hall of Awesomeness."
When senior partner Veena Sidhu started at MindValley five years ago, she was only one of six other Malaysians at the company. Now there are more than 20 locals. "I see myself staying at this company for the rest of my life," said Sidhu, who is on her fourth job at the firm. "My best friends and soul sisters are in this company and I have the freedom to be who I want."
More than just a job
Company culture was the primary focus of NRI Distribution's three co-founders, who started the warehousing and fulfillment company in 1997 in Kamloops, British Columbia, about 350 km from Vancouver in Canada, in order to break out of a toxic work environment.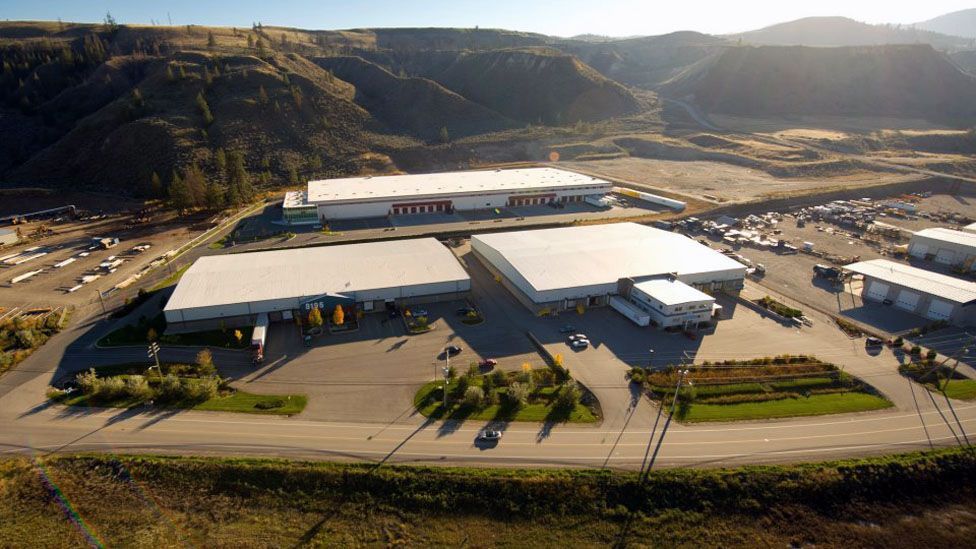 At its core, NRI Distribution in Kamloops, British Columbia, about 350 km from Vancouver in Canada, is family friendly. (NRI)
"We started with a theme of being able to enjoy going to work," said co-founder Bruce Churchill. The company, which employs 250, including more than 150 people in its main Kamloops office, looks to employees for suggestions on how to refine the work environment.
"Our philosophy is that if it makes people's lives easier, then why not do it?" said human resources director Dean Stainton.
NRI Distribution started a family friendly 9:00 to 14:00 shift so that parents could drop off and pick up their kids from school. Employees can bring their dogs to work and there is a children's daycare on site. They are encouraged to volunteer and donate to local charities.
Every year the company gives out two volunteer awards with winners receiving an all-expenses paid two week trip to volunteer for their cause.
As Stainton puts it: "We want to make sure everyone understands that the job is more than a paycheck."
To comment on this story or anything else you have seen on BBC Capital, head over to our Facebook page or message us on Twitter.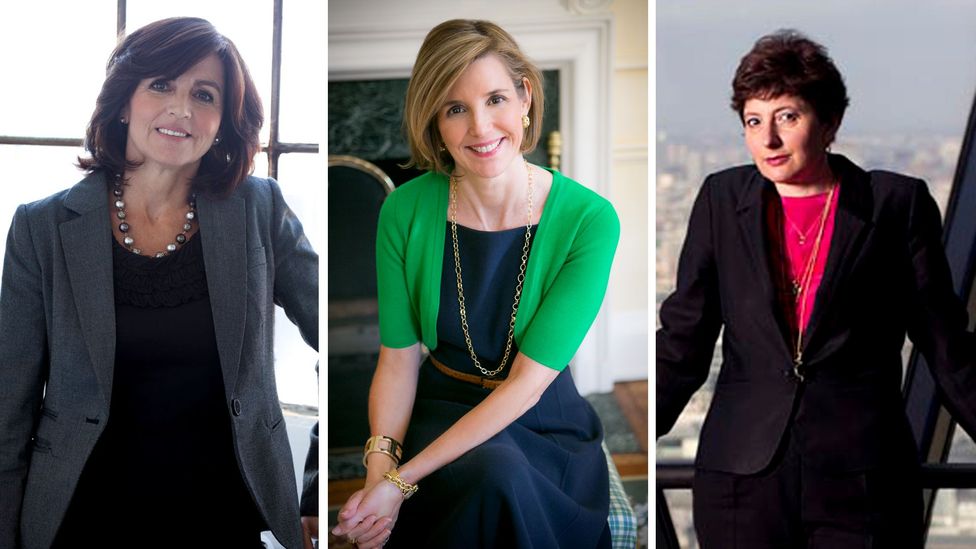 Chantal Glenisson, Sallie Krawcheck, Julia Hobsbawm.