Jordan Geller, a lawyer by training, has turned his back on courtrooms. After passing the California bar exam in the early 2000s, he realised the legal life was not for him and decided to follow his passion for another type of court altogether — the basketball court.
No, not as a player. Geller, 37, is a full-time reseller of Nike sports sneakers.
Geller makes a living "flipping" new shoes online where collectable sneakers can sell for thousands of dollars. He also makes money by selling off some of his collection of more than 2,000 pairs. This unusual profession has earned him media attention, as well as enough money to live "comfortably" upon, though he declines to specify his income.
Geller has appeared on the US reality show "Pawn Stars" and been entered into the Guinness Book of World Records with the world's largest sneaker collection: 2,388 pairs, all Nike brand and all in his shoe size (US 11.5).
"I'm not a very fashionable guy other than my shoes, but sneakers are the one accessory I look to for flair," Geller said. "It started off with a pair here and another pair there and it just grew and grew."
Geller is one of a growing number of people who've turned their sneaker-collecting obsession into a profitable side business.
Fueled by limited-edition releases from companies such as Nike, the secondary market for sneakers is booming. Indeed, it's now estimated to be worth upward of $1bn according to figures compiled by Campless, a research firm that tracks data about collectible sneakers and the industry.
"It's all about supply and demand," Campless founder Josh Luber explained. "The people who create the supply — most specifically Nike and Jordan Brand, which Nike owns — are very good at regulating supply to stay below demand in order to ensure that there is, at retail, a complete sellout of those sneakers. This, in turn, generates an artificial secondary market."
With more companies replicating Nike's model and a host of celebrities inking collaboration deals, sneakers are no longer simply a sporting accessory worn on your feet. They're a hot commodity with the potential to be a slam-dunk investment.
The appeal
If there was a moment when sneakers made the big leap from accessory to collectible, it was the day Michael Jordan stepped onto the basketball court in 1984 in his Air Jordan 1s. Twenty-nine editions later, Air Jordan remains the gold standard by which every other shoe is compared and a staple of most collections.
Melbourne collector Matt Fabris, 28, has about 450 sneakers split between a display on his bedroom wall and a humidity-controlled storage unit nearby.
"As a kid the initial appeal was wanting to be like Michael Jordan and wanting to wear what he had," Fabris said. "As an adult … sneakers have become kind of like a time stamp. They bring back so many good memories and have this sense of nostalgia."
Fabris was able to turn his love of sneakers into a fulltime job nine years ago after he assumed the alias Sekure D and began customising shoes. The in-demand artist now collaborates on footwear with the very brands he loved as a kid, such as Nike, Jordan Brand, Puma and Adidas.
When brands first started collaborating with artists in the late 1990s, it birthed a new era of limited-edition releases. Prices shot up, the collectable market blossomed, and two decades later, luxury fashion houses such as Chanel are sending $4,000 limited edition sneakers down the runway.
"The market has absolutely transcended in the past decade," explained Niranjela Karunatilake, a producer at London-based creative agency U-Dox and one of the authors of the book Sneakers: The Complete Limited Editions Guide. "Sneakers are not so much a performance-based sportswear anymore; they are a fashion piece and an artistic statement even. They are so many things to so many people."
Most coveted
A person who collects, trades or admires sneakers as a hobby is known as a "sneakerhead." When it comes to gossip within this tight-knit community, it doesn't get much juicier than that day in November, 2013, when American rapper Kanye West severed his creative partnership with Nike and hooked up with rival Adidas instead for a reported $10m.
The value of West's Nike Air Yeezy sneakers (six in total across two editions) skyrocketed almost overnight.
"The 'Red Octobers' were the last sneakers Kanye did with Nike … so if he doesn't go back to Nike again, these would probably stack up quite a bit over the next five years," Karunatilake said. The shoes initially retailed for $250 and have resold on the secondary market for as much as $11,100.
Karunatilake believes another good investment shoe is the Nike Air Mag. Nike is expected to re-release the Air Mags with self-tying power laces next year in honour of the film that inspired them, Back to the Future Part II, which was set in 2015.
Matt Powell, sports industry analyst with consumer market research firm NPD Group and author of the Forbes column Sneakernomics, said that for collectors, retro Air Jordans are probably the safest bet from year-to-year.
"They're relatively scarce in relationship to other styles," he explained. "Nike will often do a re-release of retro Jordans that could be 50,000 pairs or so, and those sell out the moment they're released. The initial prices are in the $150 to $175 range, but you'll see them go on the resale market immediately for two-, three- or even four-times the retail price.
"Unrequited demand is a big concept in what makes all of this work," Powell added.
Hidden treasure
Collaborations between sneaker brands and a handful of boutique retailers including Undefeated in Los Angeles and Kith NYC in New York are an emerging trend.
"This is a tactic that a lot of non-Nike brands have been doing to try and make a splash in the secondary market," said Campless's Luber. "They use premium materials to justify a retail price well above the average, and, because these shoes are so limited to begin with, they grow in value on the secondary market at a quicker rate than your average Nikes or Jordans."
The Asics Gel-Lyte III Salmon Toes, for example, were a collaboration between Ronnie Fieg (of Kith NYC) and Asics that retailed for $130. They have sold on eBay for as much as $2,025. According to Luber's calculations, Fieg's myriad collaborations have brought shoe-flippers a total resell premium of $575,000 on eBay alone at an average markup of 92%.
The bottom line
As a rule of thumb, new releases happen almost exclusively Saturday mornings at 08:00 EST. If it's a big release with a high anticipated resale value (a sneaker attached to a major basketball player such as LeBron James or Kobe Bryant, for example), it's not unusual to see lines forming outside of stores days in advance. Purchasing online is virtually impossible.
If you're buying sneakers for investment purposes, it's best to store the shoes inside the shoebox in a climate-controlled environment with no light. Once you put your feet inside the sneakers they become used goods and the value diminishes.
While keeping shoes for a short period of time may bring a larger return, it's best not to wait too long if you hope to make a profit. "Even if you don't wear your sneakers, they degrade. The rubber crumbles. The glue comes undone. After a certain amount of time, a sneaker is only valuable as a pure collectable," Luber explained.
Campless tracks eBay auctions to help determine a sneaker's market value. Online tools, such as KicksWorth, and mobile apps including Sneaker Price Guide are also decent for price comparisons.
Roughly a quarter of all sneaker re-sales occur on eBay, but attending a sneakerhead swap meet can be a great way to get to know the community and assess the value of your collectables. Popular meetups include Sneaker Con and Sneaker Summit in the US, Crepe City and Sneakerness in Europe, Sneaker Freaker Swapmeet in Australia, and Sneaker Pimps, which tours the globe from Brazil to Japan.
These meet-ups provide a platform for sneakerheads to socialise offline. They also present a chance to wear a pair of sneakers that's been hidden in a climate-controlled basement waiting for its moment in the sun.
To comment on this story or anything else you have seen on BBC Capital, head over to our Facebook page or message us on Twitter.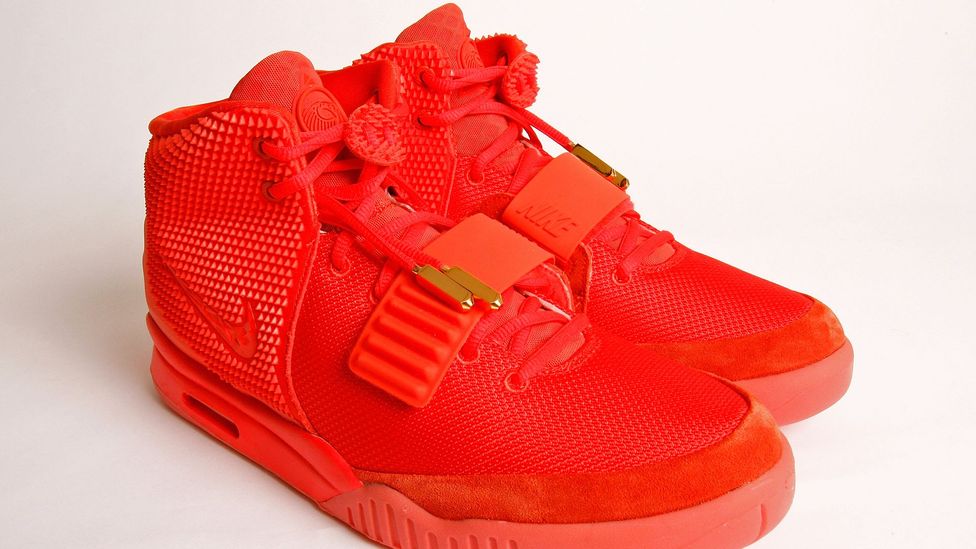 The Nike Air Yeezy 2 Red October is one of the most sought after shoes on the secondary market. (Mike Lawrie/ Getty Images)
The Nike Air Yeezy 2 Red October is one of the most sought after shoes on the secondary market. (Mike Lawrie/ Getty Images)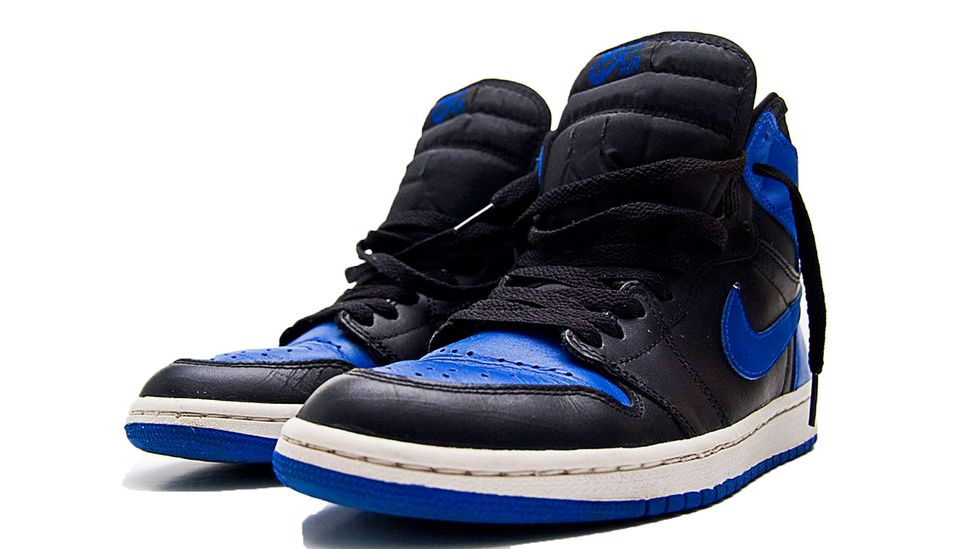 Sneakers became hot collectibles after the release of Michael Jordan's Air Jordan 1. (Creative Commons)
Sneakers became hot collectibles after the release of Michael Jordan's Air Jordan 1. (Creative Commons)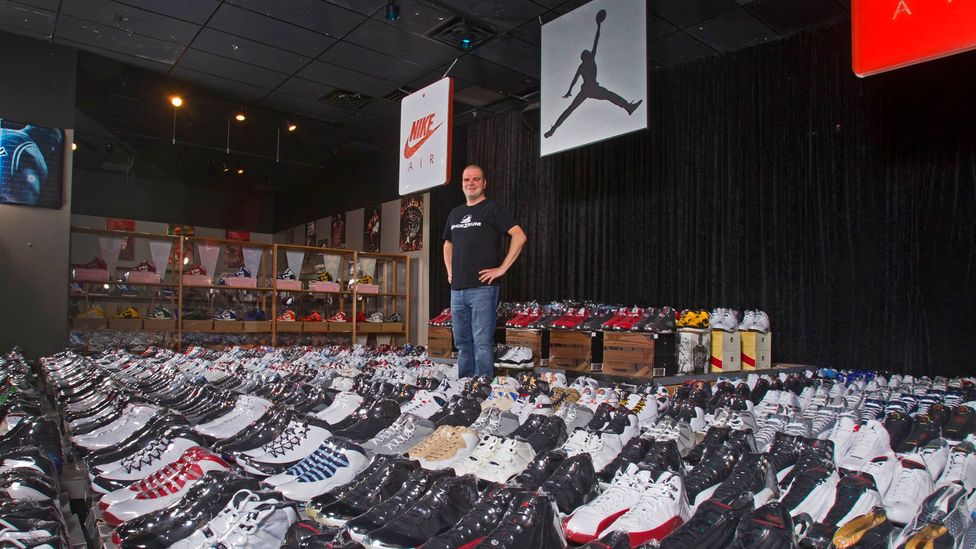 Jordan Geller created the world's first Nike museum from his collection of more than 2,000 sneakers. (ShoeZeum)
Jordan Geller created the world's first Nike museum from his collection of more than 2,000 sneakers. (ShoeZeum)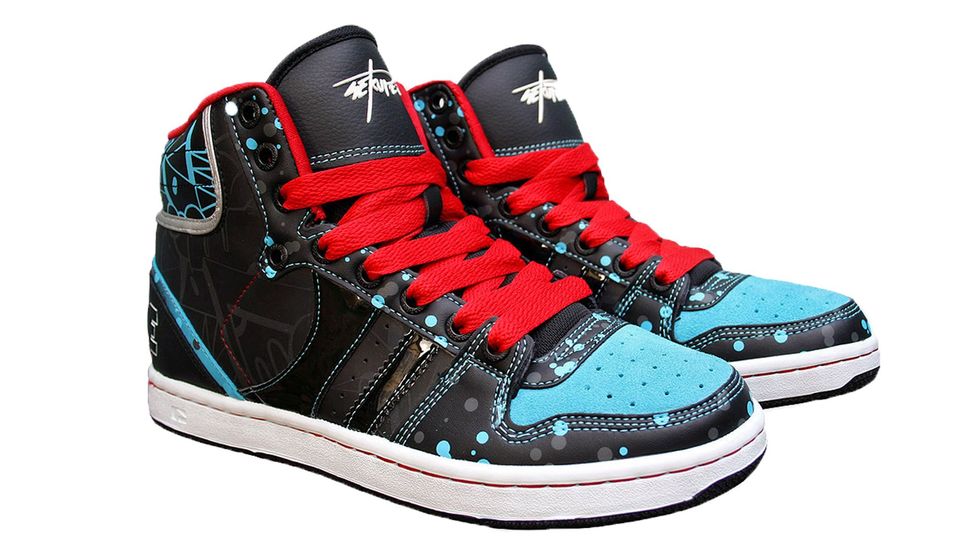 This Globe x Sekure D Destroyer is a collaboration between Globe and artist Matt Fabris. (Sekure D)
This Globe x Sekure D Destroyer is a collaboration between Globe and artist Matt Fabris. (Sekure D)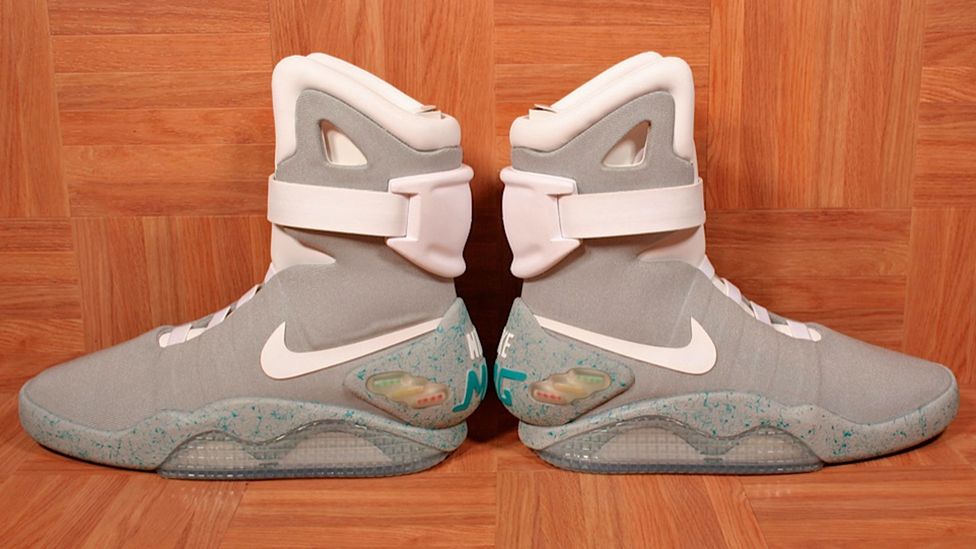 Nike is expected to re-release Air Mag sneakers in honour of Back to the Future Part II, set in 2015. (Jordan Geller)
Nike is expected to re-release Air Mag sneakers in honour of Back to the Future Part II, set in 2015. (Jordan Geller)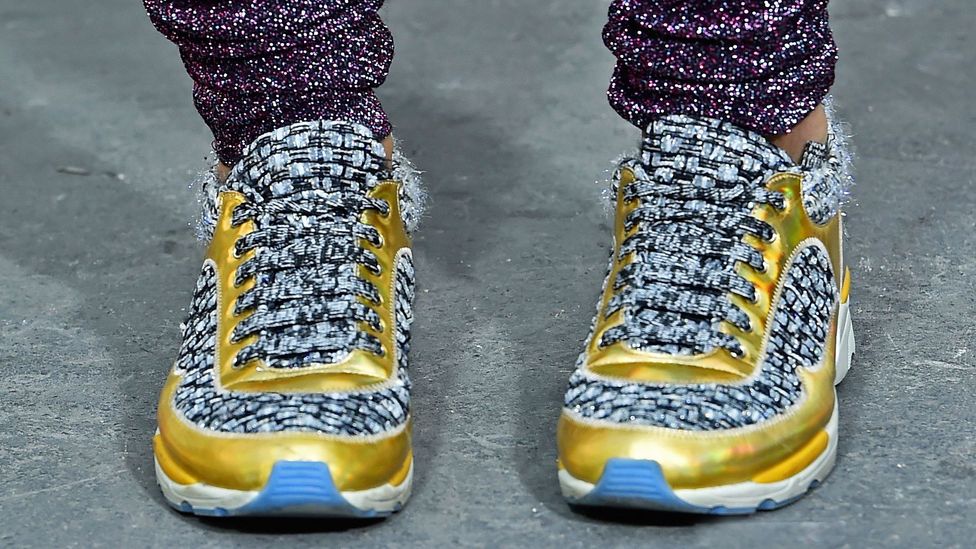 Chanel was one of the many fashion houses that showed designer sneakers in 2014. (Pascal Le Segretain/ Getty Images)
Chanel was one of the many fashion houses that showed designer sneakers in 2014. (Pascal Le Segretain/ Getty Images)