E
Editor's Note (24 December 2016): In the spirit of Christmas, we've brought back a popular holiday story from years past.
Every morning, Paul Brown waves to Santa Claus, who occupies an office downstairs from his own, conveniently located on Saint Nicholas Drive in North Pole, Alaska.
Growing up in Fairbanks, just 22 kilometres south of the Christmas-themed town, Brown's family regularly passed through North Pole en route to their vacation cabin, meandering about streets like Snowman Lane, observing light poles painted like candy canes, listening to Christmas music that played in shops even during summer. Never mind that this North Pole, with a population of just 2,214, is actually 2,700 kilometres away from the geographic North Pole.
It's a novelty for a lot of people to find out they can get into the Christmas spirit in June, July and August.
Today, the 35-year-old Brown runs Santa Claus House, a year-round Christmas store that opened in North Pole as a trading post in 1952, with his wife, Carissa, the original storeowner's granddaughter.  
From the "official" home of Santa Claus, Rovaniemi, Lapland, to Santa Claus, Indiana, Christmas-named and themed-towns endure their own set of challenges. Some you might expect, such as navigating extreme weather conditions and handling hundreds of thousands of letters to Santa.
Their biggest hurdle, though, is justifying year-round operation when their business model is seasonal. For some who live in these holiday towns, the reindeer sleigh rides, access to candy canes in July and a front row seat to the Northern Lights in places like Finland and Alaska make riding out the major economic fluctuation worthwhile.
Meanwhile, business owners come up with creative solutions to make it through the year such as shuffling permanent staff around different departments, or even inventing different activities onsite. Some of the towns also have tourism boards that maintain active social media campaigns and promote local job listings to keep people coming.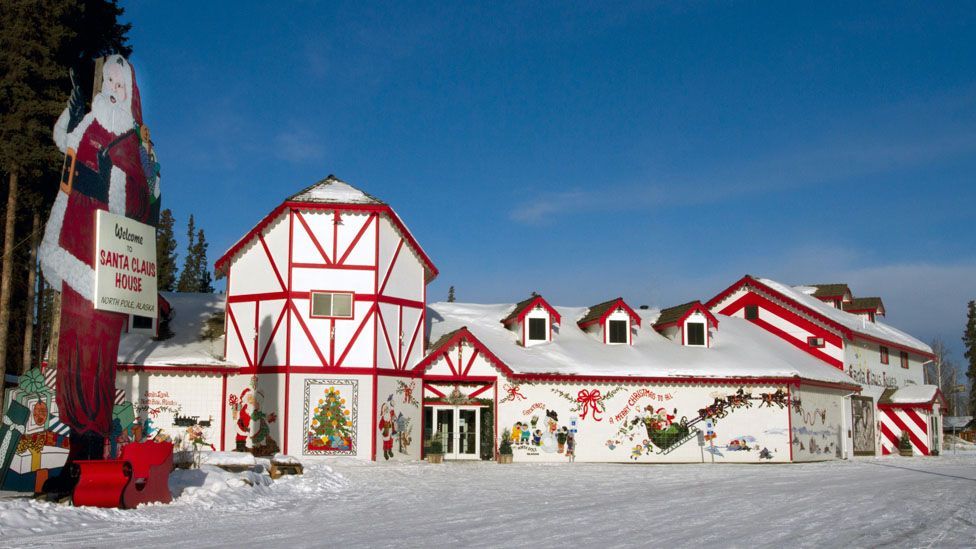 Santa Claus House in North Pole, Alaska, is open year round. (Santa Claus House)
Some businesses close during the coldest months of winter and reopen in summer to capitalise on influxes of tourists that come to town for non-holiday reasons, including festivals or visits to theme parks. And while you might find it odd to go holiday shopping in summer, some tourists think otherwise.
"It's a novelty for a lot of people to find out they can get into the Christmas spirit in June, July and August," Brown said. "We are year-round business, but we go 100 miles-an-hour during summer with a lull in October that lets us regroup before Christmas."
Twelve months of Christmas      
Lured by seasonal activities like visiting Santa's reindeer farm on a snowmobile or shopping in Santa's village, thousands of tourists pour annually into Rovaniemi, Finland, known as "The Official Hometown of Santa Claus." Information Elf Sonja Alaraatikka said Rovaniemi sees 10 times as many visitors during winter than in other seasons.
To cope with the influx, Alaraatikka said local businesses hire temporary employees, many of them students and teachers who have time off from school for holiday break.
"In one weekend in December, our store can do the business we do for all of May or even more," said Shelly Haibari, a store manager at the Santa Claus Christmas Store in Santa Claus, Indiana.
These temporary seasonal jobs can be good news for jobseekers, too, like Haibari whose part-time holiday job eventually turned full-time.
Haibari said as of last year the store now closes from January to May because its owners discovered, after four years of business, it wasn't worthwhile to stay open during those months. Haibari said the store draws considerable traffic in the summer months because of the nearby Holiday World Theme Park, a major tourist attraction that is open May through October.
 "Generally the town all does well at certain times then, together, business drops at certain times," Haibari said. "But the good times are what carries us through the entire year."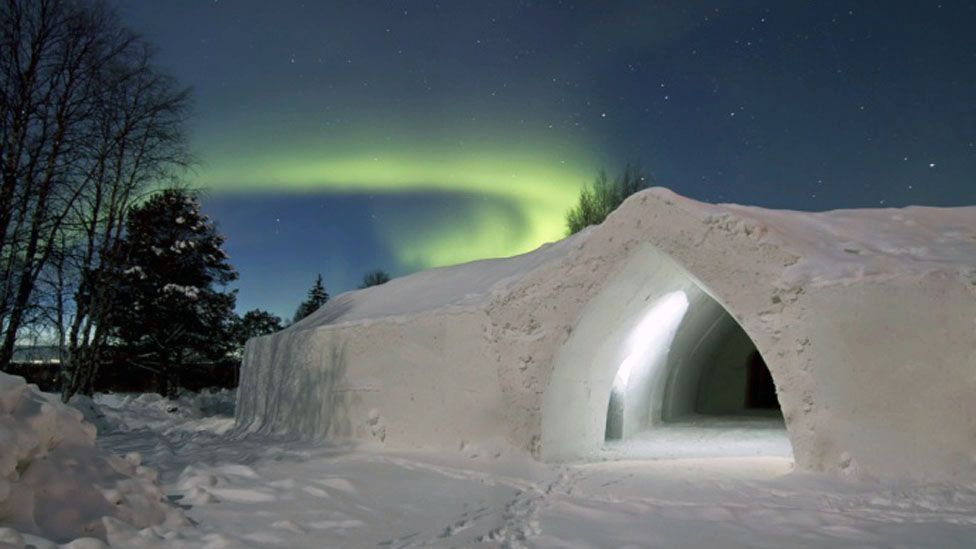 Northern Lights are one draw to Lapland, Finland. (Arctic SnowHotel & Glass Igloos)
Other companies in Christmas towns stick it out the entire year.
Heidi Haavikko co-owner of Arctic SnowHotel and Glass Igloos in Finland said while they sometimes earn close to nothing in May, they've coped with slower periods by diversifying their business. The boutique hotel 26 kilometres outside of Rovaniemi, added a sauna, a restaurant and bar to draw additional patrons who don't want to pay 125 euros ($155.41) to overnight in their ice-carved hotel. During the summer, when the hotel rooms melt, Haavikko said they host special events like weddings onsite (by request only).
"This is a very hard business," Haavikko said. "[My husband and I] are working at least 400 hours a month at the moment to keep it profitable.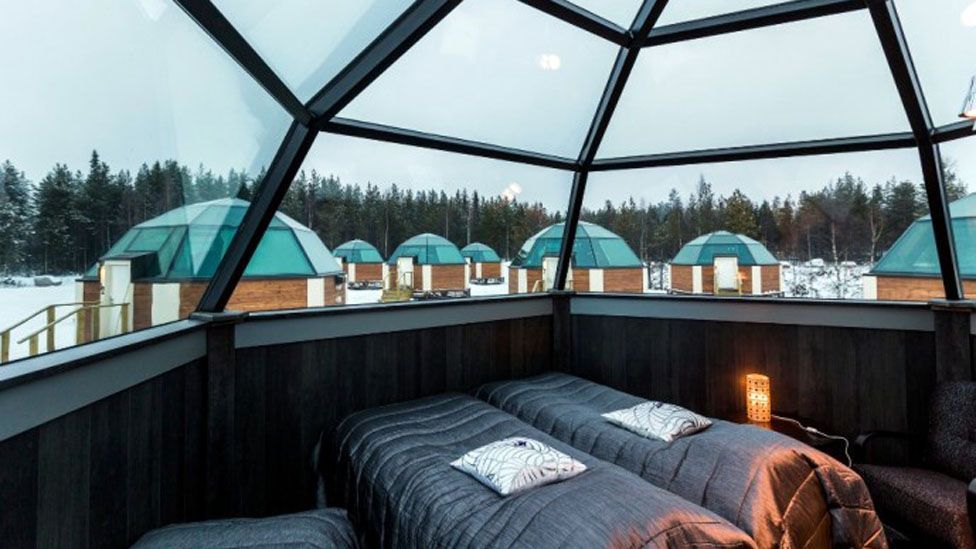 Glass igloos in Lapland, Finland, offer one way to view Northern Lights. (Arctic SnowHotel & Glass Igloos)
Meanwhile in North Pole, Brown said many people close their businesses and go on holiday in January and February when temperatures hit -45C (-49F) and the sun only stays up four hours per day. Going away can save money that would otherwise be spent on utilities; residents in interior Alaska can spend between $6,000 to $15,000 per year on oil heating depending on the size of the home, Brown said.
Not your typical town
Be warned: just because a town bears a holiday moniker, doesn't indicate year-round merrymaking, as is the case with Christmas Island in Australia or Christmas, Florida.
"It's just a normal town with a permanent Christmas tree," Chelsea Brooks, Recreation Leader at Fort Christmas Park in Christmas, Florida, said. "Every now and then we get people that come by expecting to see a lot of Christmas decorations or asking for a themed restaurant, but we just don't have those things."
While tourists with high expectations are often disappointed by the small town, many people make the trip specifically to christen their letters with a rubber stamp that reads, "Greetings from Christmas, Florida." According to the post office, revenue doubles in December, when they stamp 20,000 cards and letters per day with their special postmark.
"It gets really busy at the post office because it's the thing to do," Brooks said. "People come from all over just for that, even out of state."
To comment on this story or anything else you have seen on BBC Capital, head over to our Facebook page or message us on Twitter.