When Stephane Deneux, a 38-year-old Parisian entrepreneur and restaurateur,  booked a holiday in Miami with his wife and children last June, little did he dream that less than a month later, he would end up buying a split-level three-bedroom architect's house in Coconut Grove, the city's palm-shaded hip enclave.
But it didn't stop there. Working closely with Barnes International, the luxury real estate company who sold him his home, Deneux is now getting expert advice on filling those white walls and is investing in cutting-edge pieces created in public locations, known as street art.
"For me, it seemed logical and very practical to have several experts within the same company, and particularly in art," said Deneux, owner of a trendy cantina-bar in Paris' 5th arrondissement. "Today, people are buying new apartments. But once they're in front of those huge blank white walls, they're going to have to put something on them."
Offering an all-in-one approach is the latest trend among realtors that goes beyond just handing over the front door keys. Indeed, it is morphing luxury real estate into a new form of bespoke.
"That means advice on everything from property management, yacht brokerage and private jets, to building an art collection or purveying a wine cellar with all the top vintages from Bordeaux and Burgundy," said Thibault de Saint-Vincent, 51, founder of Barnes International, who launched the company with his British wife Heidi Barnes in 1995. They have recently created a global art advisory division to help homebuyers navigate the art world.
"Our services are for high-end clients who may already be art collectors, but not exclusively," said Sebastien Laboureau, the French-born chief executive officer of Barnes, which has almost 60 offices in 11 countries, including France, China, Russia and Switzerland.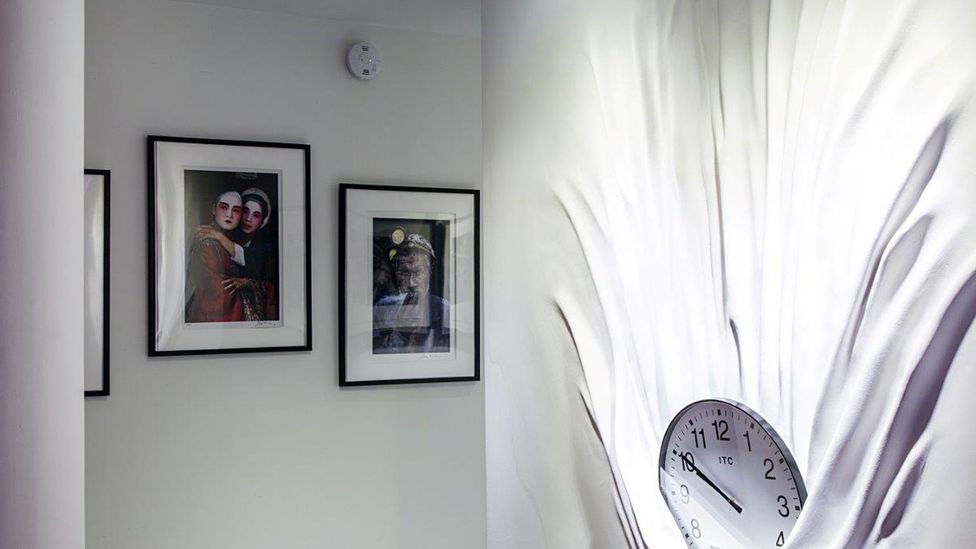 Art is displayed on the walls of a Barnes client's home. (Alex Kotlik)
Spotting new trends is one of their many missions. "For example, street art is a really a hot segment of the art market," said Laboureau. "You can easily purchase a work from a very well-known artist that may sell anywhere from $10,000 to $15,000."
Barnes doesn't broker art deals but instead puts clients in touch with the appropriate vendors. "It's a matter of coordinating the vast art network throughout the US, China, Europe and Latin America, and getting to know your client's tastes," Laboureau said.
'Wealth and beauty'
Collecting is more than a trend now, according to Laurent Broda, an art collector who owns homes in the US, France and China. "Real estate and the arts are today the two best ways to create wealth and beauty," said Broda, who regularly consults with Barnes. "You can maximise your assets — you just need to have access to the right person to build a portfolio within your budget, or the right collection for you. It's a lot more exciting than stocks. Art can be an excellent investment, but even more importantly, it's about passion and joy."
In a global economy where expats move from one country to then next, and switch one culture for another, customisation goes a long way.
"We have one client… who heads one of the largest shipping companies in China," said Patrick Baseden, manager of Barnes Investment Bankers department and former owner of Montesquieu Vins & Domaines. "He just bought a mansion in the very posh area just by avenue Foch in Paris and has asked us to assist him in several areas beside our core business. That includes finding a multilingual staff, offering advice in interior design, wine acquisition and purchasing a mix of Chinese antiques and French classic pieces."
Street art mural, Make Tea Not War, by Bambi, acquired by Barnes. The wall was to be destroyed but the artist agreed to make a replica for Barnes. (Fine Art Auction Miami)
Century-old established real estate companies such as Sotheby's (whose world-wide offices aren't under the same ownership as Sotheby's Art and Auction department), are continuously involved in property transactions that also require financial expertise of art or furniture. "There's a kind of synergy between us and Sotheby's auction experts and when it comes to helping a client understand the value of what he has to sell," said Frank Sylvaire, president of Paris Ouest Sotheby's International Realty. "But he can also get advice on something he'd like to buy, whether it's a painting by a master or a small engraving."
Similarly, Christie's International Real Estate works in close collaboration with Christie's Art and Auction (owned by the same group since 1995) when it comes to filling a newly bought home with collectibles that are both visually appealing and wise investments. "It's not only art hanging on the walls," said Joachim Wrang-Widen, senior vice president and regional director of Christie's Real Estate in Europe, the Middle East, Russia, India and Africa. "Christie's auction house has over 80 departments — furniture, watches, wine, sculpture, silver, jewellery, chandeliers, cigar humidors. You name it, we probably sell it."
Still, the company focuses on what it knows, particularly when it comes to advising clients, Wrang-Widen said. "We introduce a real estate client who wants to become a collector to the relevant specialist department," Wrang-Widen said. "We'll find out what he's after: 'Are you into Dutch old masters or contemporary art? Do you want to have furniture that can take the wear and tear of your bulldog who likes to chew on things, or is there no danger of your Louis XVI chair being torn to pieces?'"
To comment on this story or anything else you have seen on BBC Capital, head over to our Facebook page or message us on Twitter.