S
Santiago may not boast the panache of Rio de Janeiro, the grandeur of Buenos Aires or the history of Quito, but the Chilean capital trumps its regional rivals with its flourishing business sector.
Tucked below the towering Andes mountains, this seven-million-strong powerhouse is known as the "business suit of Latin America". It is home to a quarter of the companies on the S&P Latin America 40, two of the largest multinational retail companies in South America (Cencosud SA and SACI Falabella) and a budding tech industry under the new Start-Up Chile program.
The region's lucrative mining sector lures business travellers from across the globe. Copper, lithium and other mineral exports have turned Chile into the most stable and prosperous nation in Latin America, according to the Organisation for Economic Co-operation and Development, while an influx of fresh cash from foreign investment has both enlivened Santiago's cultural output and emboldened its culinary and artistic enclaves like Bellavista, Lastarria and Barrio Italia.
Santiago is no longer the boring backwater visitors zipped through en route to Patagonia, Easter Island or the deserts of the north. "Santiago is a very grown-up city," explained Franchesca Olivo, 31, who travels throughout South America to consult with clients for a New York City-based financial institution.
The Chilean capital just added to its skyline the tallest building in South America, the 64-storey Gran Torre, which is part of a new business and commercial complex that also boasts the continent's largest shopping mall. Throughout the city, there are plenty of amenities to please travellers on business.
Airport
Comodoro Arturo Merino Benitez International Airport, commonly known as Santiago International Airport, lies about 15 kilometres northwest of downtown. It receives about 15.3 million passengers per year (making it Latin America's eighth busiest airport) .The international terminal lacks many business-friendly amenities such as free wi-fi or workstations, but Starbucks and Dunkin Donuts offer wi-fi to customers. LAN, Avianca, American Airlines and Delta have VIP lounges.
Isolated by the Andes to the east and the Pacific to the west, Chile protects its endemic flora and fauna fiercely. Customs officials x-ray luggage to ensure no foreign fruits, seeds, cheeses, meats, vegetables or non-processed animal products enter the country. Visitors from Australia, Canada and Mexico must also pay a reciprocity tax ($117, $132 and $23 respectively) before clearing customs (US citizens no longer have to pay the $160 fee because Chile entered the US Visa Waiver Program in 2014).
Outside of rush hour, the journey from the airport to downtown should take anywhere from 25 minutes in a taxi (18,000 pesos or $30) to an hour in a shared van such as TransVip (7,000 pesos or $12). TurBus (2,000 pesos or $3) and Centropuerto (1,500 pesos or $2.50) are the cheapest options, but will drop you on the western side of Santiago far from the central business district of Las Condes. You can purchase tickets for any of these services in the booths just outside of customs.
Once in town, Santiago boasts South America's busiest and most extensive metro system. It's clean, efficient and the quickest way to get around — though taxis are quite affordable and, particularly during rush hour, much more comfortable.
Money matters
The Chilean peso will test your math skills on a daily basis with 613 pesos equating to $1. After doing the arithmetic, you'll likely find that Chile is more expensive than elsewhere in Latin America — though that doesn't mean Santiago will break the bank. A business dinner for one with wine at a midrange restaurant won't set you back more than 20,000 pesos ($32), including the 10% tip. Chile is a credit-crazed country, so you'll have no problem paying with plastic. Many cashiers will ask if you want to pay in "cuotas" (instalments), as is customary, but you can decline.
Cultural know-how
It's good etiquette to greet everyone in the room in both business and social settings. A handshake is standard between men, otherwise a kiss on one cheek (generally the right side) is customary when both arriving and departing. Also, don't be alarmed if someone refers to you as "the gringo." The word doesn't have a negative connotation here, and Chileans will often use it endearingly when discussing people from Australia, North America or Europe.
Chileans typically eat four meals a day, with "once" (or "elevenses," referring to tea time in British fashion) falling roughly between 17:00 and 20:00. Lunch starts late (about 14:00) and dinner even later (22:00), with most restaurants serving food well beyond midnight. "Sobremesa," literally "over the table," refers to the art of conversation after a meal, so don't expect to leave the table until long after your food is digested. Also, don't expect the bill to come until you ask for it.
Hotels
A section of the Las Condes neighbourhood known as Sanhattan is home to the majority of Santiago's businesses and international hotels, including the slick, ultra-modern W Hotel. The W is a favourite among business travellers not only because of its convenient location, fully equipped business centre and tech-friendly amenities, but also because it is a place to see and be seen in the city. The rooftop infinity pool boasts panoramic views of the Andes, while three restaurants serve up ceviche and other local favourites paired with pisco sour and the best from Chile's famed wine regions.
A funkier option for millennial business travellers is the Aubrey, Santiago's first boutique hotel, located in the bohemian barrio of Bellavista. This converted 1920s-era mansion is ideally situated beneath Santiago's largest park, Cerro San Cristobal and next to some of its best cafes and bars on Pio Nono street. In addition to a pool, restaurant and piano lounge, the Aubrey offers free parking, free wi-fi and printing and business services for executive guests.
Dinner for one
Most people have heard of Chilean wine, but how about Chilean cuisine? You'd be forgiven for drawing a blank, but chef Rodolfo Guzman is out to change that by introducing visitors to ingredients native to Chile at his restaurant in the upscale Vitacura neighbourhood. Each plate at BORAGó is the result of foraging trips east into the Andes or west along craggy coastal beaches. Diners tackling the Endemica tasting menu can expect courses served on anything from tree bark to a bed of moss.
Liguria, meanwhile, is a Santiago institution with three branches in Providencia and El Golf serving up Chilean classics like "machas a la parmesana" (pink clams smothered in parmesan) and "chupe de jaiba" (crab casserole). With walls lined with vintage posters and Chilean memorabilia, the tables inside are as sought after as the ones on the patio outside.
Empanadas are Chile's quintessential fast food staple, and La Punta has the tastiest oven-baked turnovers in town. La Punta is famous for its shrimp and cheese empanada, but the "pollo al merquen" (chicken in a smoky Chilean spice) is another standout.
Off the clock
If Chile is known for something around the globe, it's likely its contribution to the wine world. Sample some heavy-hitting reds from the nearby Colchagua Valley at Bocanariz, a new edition to Santiago's uber-hip Lastarria neighbourhood. Unlike most places in town, this "vinobar" offers top-end wines by the glass. Scroll the chalkboard for the daily selection of Carmenere, Chile's signature grape that was, until 20 years ago, thought to be a variety of Merlot.
Santiago lacks the magnificent colonial architecture of Buenos Aires or Lima, but it does have some great museums and theatres. Best among them are the Museo Chileno de Arte Precolombino, which surveys pre-colonial indigenous American art, and Centro Cultural Gabriela Mistral, which houses art, theatre and dance behind a striking copper facade.
Special considerations
Santiago lies in a scenic valley between the Andes and Coastal mountain ranges, but its idyllic setting became something of a trap after the city grew into an industrialised metropolis. The capital's notorious smog problem has gotten a lot better in recent years, but don't be surprised if the Andes suddenly disappear into a brown haze on the horizon, particularly in the winter months. Business visitors should bring some allergy medication in case the air pollution overwhelms them. Chances are, however, they'll find Santiago's Mediterranean climate and 300 days of sunshine per annum quite agreeable.
To comment on this story or anything else you have seen on BBC Capital, head over to our Facebook page or message us on Twitter.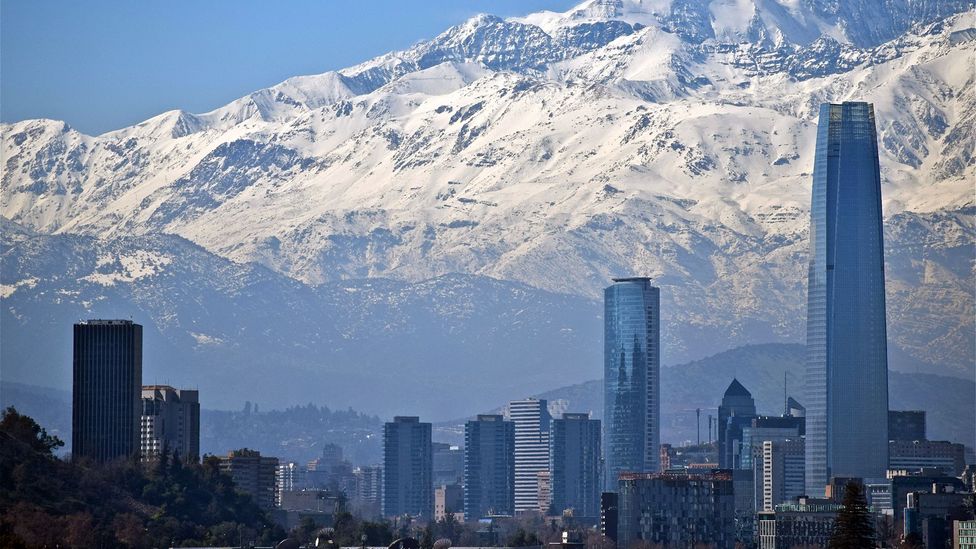 Gran Torre, the largest building in Latin America, is dwarfed by the Andes mountains. (Mark Johanson)
Gran Torre, the largest building in Latin America, is dwarfed by the Andes mountains. (Mark Johanson)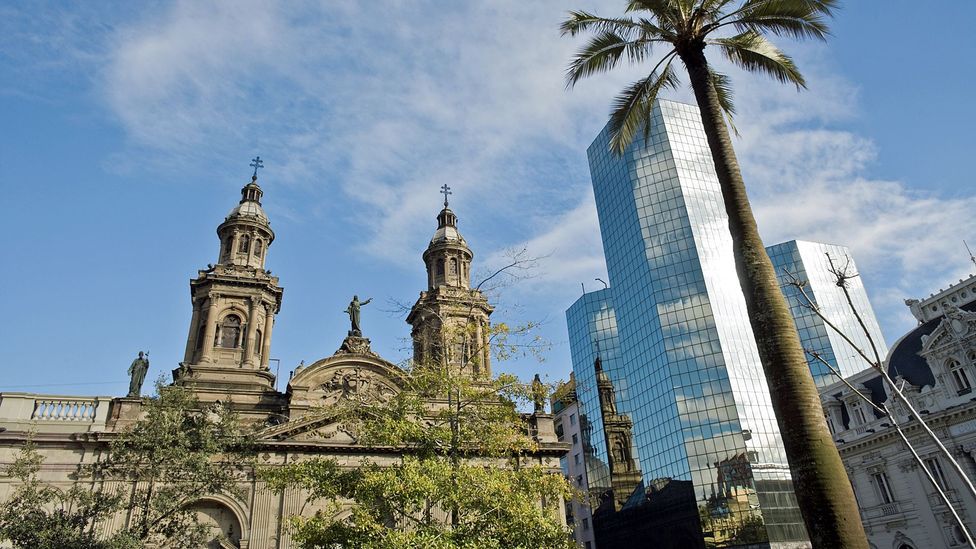 Santiago's historic buildings coexist with evidence of its rapid economic growth. (Thinkstock)
Santiago's historic buildings coexist with evidence of its rapid economic growth. (Thinkstock)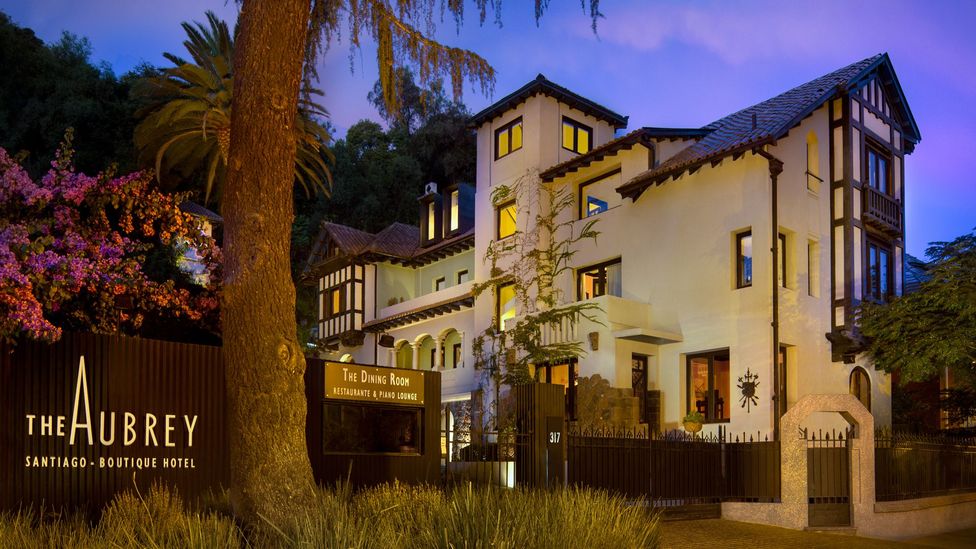 The Aubrey, which has services geared for business travellers, is Santiago's first boutique hotel. (James Florio).
The Aubrey, which has services geared for business travellers, is Santiago's first boutique hotel. (James Florio).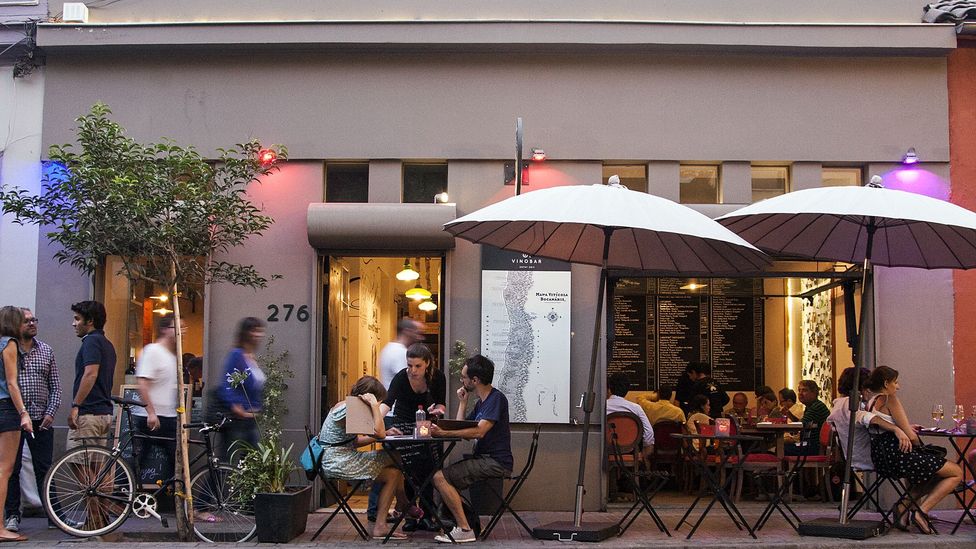 Bocanáriz is a new "vinobar" offering a selection of more than 400 Chilean wines. (Bocanáriz)
Bocanáriz is a new "vinobar" offering a selection of more than 400 Chilean wines. (Bocanáriz)