It's going to be a (graduating) students' market for the next 15-plus years.
Times are good at the Wisconsin School of Business.
In a positive sign for its newly minted graduates, job postings so far in 2015 are up 36% from the year before. What's more, the Madison, Wisconsin-based university hosted more than 300 companies during a career fair in December, where recruiters competed for top talent. The school's master of business administration programme expects the best results in years in placing graduating students in full-time jobs.
Other business schools are reporting similar upswings.
Why so much optimism? A US economic recovery has boosted consumer confidence and company profits. That means corporations feel more comfortable about creating jobs and filling headcount left open during the economic downturn. Business students are now more hopeful about their employment prospects — and earning potential — than at any time the past decade, business school executives say.
"The bottom line is, as the economy gets stronger, corporate recruiting gets stronger," said Steve Schroeder, assistant dean of the Bachelor of Business Administration programme at the Wisconsin School of Business.
The US economy grew 2.4% in 2014, the best year-over-year growth since 2010, according to government figures. And, the Consumer Confidence Index, an indicator of optimism about the US economy, in January rose to 102.9 — its highest level since August, 2007.
To be sure, not all industries are thriving, and some economists point to signs that the recovery may not be as robust as it appears. But business schools are nonetheless reporting a strong market for new graduates.
Schroeder said the hiring of Wisconsin graduates is reaching pre-2008-recession levels. Better yet, he expects the momentum to continue in the coming years as companies scramble to fill gaps left by retiring baby boomers.
"It's going to be a (graduating) students' market for the next 15-plus years," Schroeder said.
Job offers are flowing
Barbara Hewitt, senior associate director of career services at the University of Pennsylvania's Wharton School, said only 4.2% of last year's graduating class of seniors were still seeking employment four to six months after graduation. That number was among the lowest she has seen in 20 years at the school, and she said 2015's figure is likely to be similar.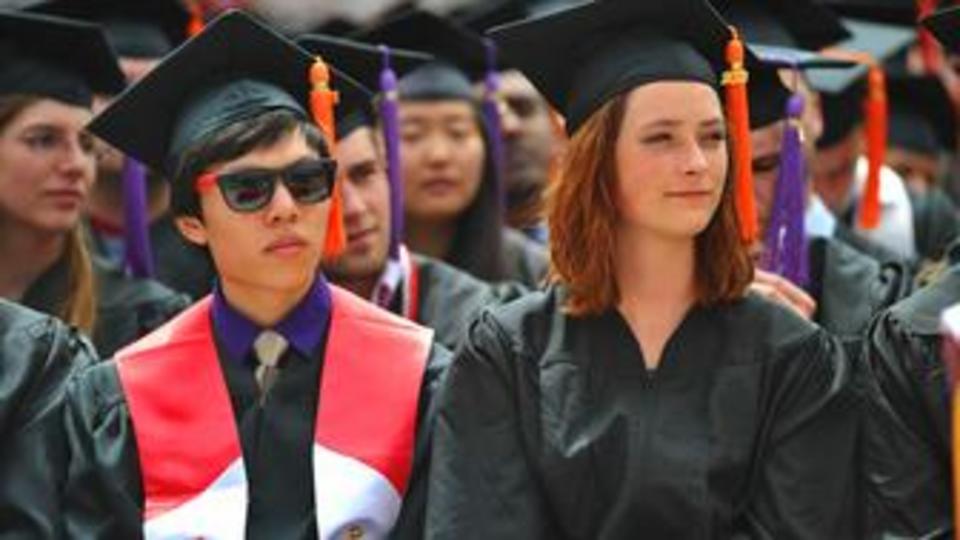 (Mandel Ngan/AFP/Getty Images)
At Emory University's Goizueta Business School, in Georgia, 72% of graduating seniors in 2015 already have job offers, said Pam Brown, senior director of the school's career management centre. At the same time in 2014, the number was at 62%.
The improvement was partly due to employers both starting their recruiting process earlier and extending offers earlier than they have in the past, Brown said. In addition, some Goizueta students received offers from high-profile employers such as investment bank Goldman Sachs Group Inc and e-commerce company Amazon.com Inc, which hadn't previously recruited at the school.
"I think companies are behind the eight ball, still catching up from layoffs and lower hiring years," Brown said.
US employers added 257,000 jobs in January, marking the 11th straight month that more than 200,000 jobs were created — the best such streak since 1994. The private sector has created 11.8 million jobs during a record 59 straight months of job growth, according to US government figures.
Where the jobs are
Demand is strong for newly minted MBAs. Nine in 10 companies that intend to hire MBA candidates said they will bring on as many, or even more people in 2015, than they did the year before, according to a 2014 survey of 169 employers conducted by the Graduate Management Admission Council. More than half planned to increase starting annual salaries. The positive outlook was driven by the fact that nearly two-thirds of the employers surveyed said their companies were growing.
Students at the University of California's Haas School of Business are feeling optimistic about their job prospects, said Julia Min Hwang, executive director of career management services and corporate engagement. Because the school is close to Silicon Valley, technology accounts for more than 40% of hiring. This year, Hwang said more students are looking at opportunities with startups.
For Wisconsin graduates, the number of MBA positions in internal strategy, health care and technology are all growing, said Joe Protopapa, director of MBA career management. At Goizueta, jobs for graduates in technology, consulting and financial services are all seeing strong growth, said Wendy Tsung, associate dean for MBA career services. Health care, pharmaceuticals and energy are also expanding, she said.
Companies are ramping up their recruiting efforts earlier to target MBA students, Tsung said. She said more companies are looking to retain former interns to fill full-time jobs — and companies that may not have hired interns in the past are building a programme to avoid missing out on potential hires. Some companies are launching programmes for incoming MBA students as a strategy to identify talented candidates before they even set foot on campus.
One such company is accounting and professional services firm PwC. Ryan Rogers, PwC's advisory MBA recruiting leader, said the company in 2014 launched a program in which they selected four students for a two-week internship prior to enrolling in their MBA programs.
PwC this year aims to hire 20% more MBAs and 40% more undergraduates than last year, Rogers said, driven by growth in its advisory practice and the recent acquisition of the management consulting firm Strategy&. In order to compete with other hiring firms, the company is establishing its presence on campus earlier in the school year and aiming to move more quickly in its interviewing and hiring decisions.
"It remains a very competitive marketplace," Rogers said. "We're seeing talent with opportunities in other industries. Students have a lot of options these days."
To comment on this story or anything else you have seen on BBC Capital, please head over to our Facebook page or message us on Twitter.