E
Editor's Note (26 March 2016): This weekend, families will gather in many countries across the world for Easter. Catering for a crowd means less time relaxing – so many people choose to hire private chefs. With that in mind, we've brought back this article for those looking for a holiday free of cooking.
When Steve Harris hired a personal chef three years ago, he didn't know what to expect.
As a single dad to an eight-year-old son, he didn't want to rely on takeout food or his son's babysitter for dinners. So, instead, the busy lawyer enlisted personal chef Marina Berger, to develop a nutritious menu and cook in his kitchen. The cost? $790 per week, plus food or kitchen essentials, which Berger orders and pays for online with Harris's credit card.
Berger visits Harris's Manhattan apartment twice per week, each time preparing three nights of meals with enough for leftovers, packaging them in individual containers for easy reheating. Harris brings any leftovers for lunch and wouldn't consider giving up the service.
Harris, 60, says he has lost "about 10 pounds" from eating healthier. The personal chef has also stocked Harris's kitchen with cookware including vegetable slicers, a heat-resistant spatula and a roasting pan.
As private chef services grow in many parts of the world, tapping into a luxury long accessible mostly to the elite is becoming easier, and in some cases, more affordable. In the US alone, there are 9,000 personal chefs serving 72,000 customers, a number that is predicted to double in the next five years, according to the American Personal and Private Chef Association.
These days there's a strong divide between professional chefs and other household help. Full-time chefs who live outside a client's home can earn anywhere from $65,000 to $180,000 per year, said Christian Paier, founder of Private Chefs Inc, an agency with 4,000 chefs around the world. The majority of chefs do not live in, he said. In the Middle East many chefs, however, get free housing and receive salaries about 20% less than chefs in North America. Personal chef services are still about 15% cheaper than the average in North America than in Asia and South America, he said.
From the high-end to weekly meals prepared at once, buying private chef services is more accessible than ever.
Choosing a chef
Before Paier will add a chef to his roster for clients, they go through a rigorous interview process, where Paier looks at both the chef's professional background along with their personality to ensure a fit. A chef needs eight years of experience along with a culinary degree or apprenticeship to qualify, too. Customers often ask that chefs sign non-disclosure agreements to protect their privacy, so trustworthiness is key.
While some chefs sign up with services like Private Chefs, others market directly to consumers and can be found online through their websites.
For full-time placement, customers typically contact household staffing agencies to find a chef and can expect to pay 15% of the first year's annual salary or a fee upwards of $10,000 to get started. The matchmaking process can take weeks and focuses on both food tastes and personality.
"Some clients spend more time with their chef than their own spouse," said Paier. Expect a personal chef to have more advanced training compared to household cooks, who might take on other duties including cleaning and childcare.
Other chefs, like Berger, are hired to come-and-go a few times a week. Many chefs also specialise in at-home formal entertaining, coming to a home only as-needed for dinner parties.
You can expect a private chef to be fairly health conscious and to plan out healthy dishes. That's in large part because many who hire chefs eat out several times a week as it is and want the food at home to be better for them than the typical restaurant meal, said Berger, who has been a private chef in New York for eight years.
"A lot of people I cook for would eat out all the time," if they didn't hire a chef to come to their homes, she said. Berger, like many chefs, emails them a menu for approval a few days ahead of time and shops for ingredients the same day she prepares the meals. Customer favourites include: chilled pistachio soup, salmon kebabs and caramel apple tarts.
Options to consider
In the Middle East and Asia, many middle-class families already enlist domestic help to cook and clean, but recently there is a greater demand for gourmet chefs, said chef Tomas Reger, who works in Dubai, typically crafting special occasion meals for families, from surprise dinners for a spouse to bigger parties.
Rather than taking on a full-time role, Reger has worked alongside a family's "house" cooks for several weeks to train them in gourmet techniques inspired by French cuisine that they did not learn during their own informal training. Other times, he spends a couple of hours with the house cooks to help perfect a recipe he'd previously cooked for the client.
For one dinner — a surprise for a husband — Reger prepared four courses, including foie gras with apricot and cardamom, and red snapper. For special dinners, Reger charges 450AED ($122) per person. Reger generally prepares food ahead of time in a rental kitchen and arrives about two hours before the meal, with meat stocks, fish that's already filleted and marinated meats, which he then cooks in the client's kitchen.
In parts of Asia, business executives are also hiring private chefs for one-off meetings and events, said Crystal Chua, owner of My Private Chef, a Singapore-based agency that allows customers to hire chefs for one-off corporate dinners. Prices start at $195 per person for a four-course meal and includes table setting and other setup along with professional servers.
While served at home, the service has the feel of restaurant and chefs are encouraged to introduce their menu before serving. Privacy is crucial and some clients wish to have little communication with the chef. When it comes to cuisines, "opposites attract," Chua said. "Foreign guests often request Asian cuisines while Asian guests ask for European menus."
Before hiring a fulltime chef, understand their breadth of experience and how it matches your own culinary needs. Many have worked in hectic kitchens and can cook a wide assortment of dishes throughout the year, said Reger. Some customers pay for a few test meals or tastings in addition to conducting a formal interview to make sure both cooking and personality styles are compatible. Those employing a chef on a fulltime basis must pay taxes and health insurance.
For many busy families, hiring part-time help can be the best fit. Expect to pay upwards of $250 for half a day's cooking (which can often result in two meals for the week) or at least $50 per hour to supplement your own cooking with three professionally-cooked dinners per week and $200 more for additional lunches. Most clients settle a weekly bill with the chef that includes a fixed day rate along with food costs.
Have you ever tried a personal chef service? What was the experience like? To comment on this story or anything else you have seen on BBC Capital, please head over to our Facebook page or message us on Twitter.
A chef preps a side dish in a client's kitchen. (Credit: Alamy)
A chef preps a side dish in a client's kitchen. (Credit: Alamy)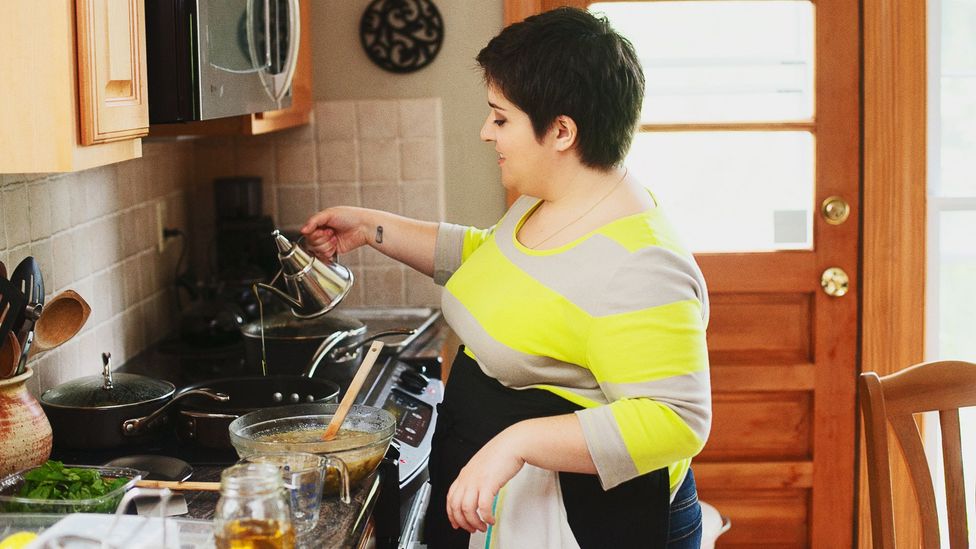 Marina Berger spends about six hours preparing three meals for a client. (Credit: Tanya Isaeva)
Marina Berger spends about six hours preparing three meals for a client. (Credit: Tanya Isaeva)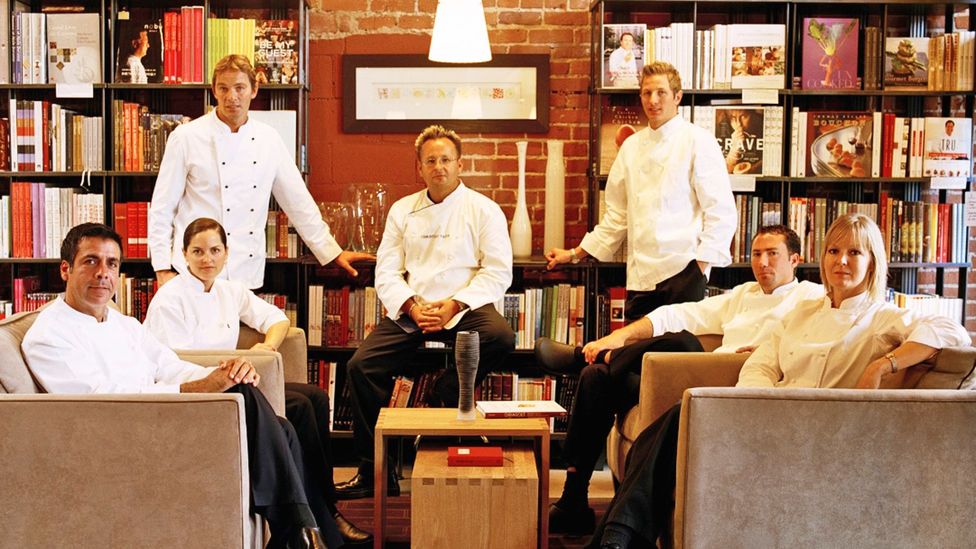 Private chefs who work with Christian Paier's firm must have extensive training. (Credit: Private Chefs Inc)
Private chefs who work with Christian Paier's firm must have extensive training. (Credit:)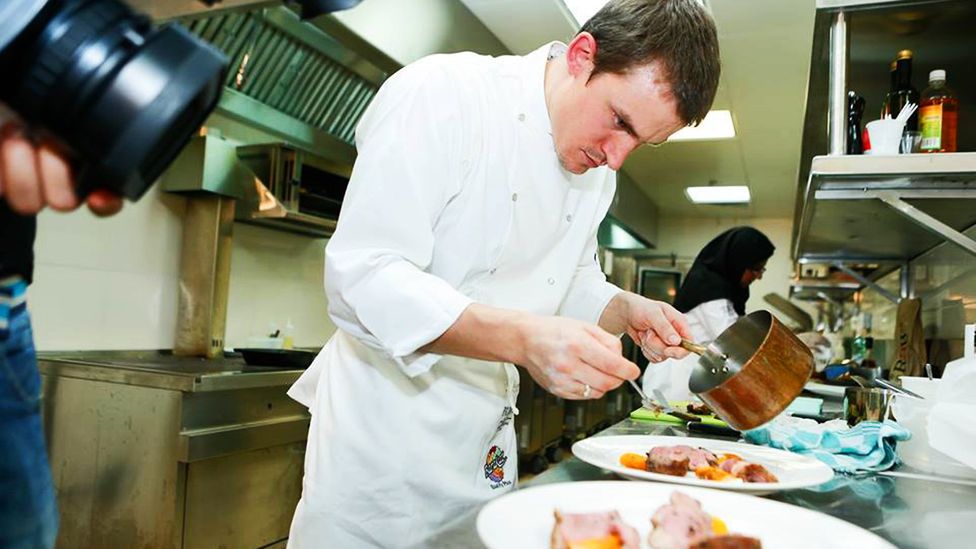 Tomas Reger sometimes works with cooks to build their skills. (Credit: Neil Walton)
Chef Tomas Reger sometimes works with cooks to build their skills. (Credit: Neil Walton)

;