I don't dress to fit in, I dress to stand out.
Is there a must-have accessory for powerful women?
Some rely on a strong cuff bracelet. Others insist on a unique pair of shoes or a certain style of suit. But Ilaria Alber-Glanstaetten, the head of corporate and brand communications at luxury carmaker Ferrari in Maranello, Italy, dons a scarf to announce who she is.  
"In the world I'm in, fashion and luxury, having things that show that I'm an insider and in the know is important," said Alber-Glanstaetten, who pays as much as $700 for her scarves made of pashmina, cashmere or silk.
Why scarves and why now? In part, women are taking a softer approach to corporate style, said Donna Loveday, co-curator of the exhibition Women Fashion Power at the Design Museum in London. Scarves are appearing more on women's necks in the boardroom, the statehouse and the office as a way to express personality. Powerful women who routinely wear scarves include Christine Lagarde, managing director of the International Monetary Fund and Paris mayor Anne Hidalgo.
In some cases, expensive wraps also broadcast economic standing.
"Women used to dress to blend in in a corporate environment," said Loveday. "Now they don't feel the need to disguise or conceal their femininity anymore."
Wei Sun Christianson, co-chief executive officer of Morgan Stanley, Asia Pacific, based in Beijing, China, is one of the political and business leaders whose outfits are included in the museum's exhibition.
"Wei Sun Christianson has a very high-profile senior role," said Loveday. "She loves wearing scarves. For her, a piece of vintage jewellery or a brightly coloured scarf is a way of expressing her personality. Similarly, the tie for a man is sometimes a means of injecting some of his personality."
It is less common for men to make a statement with a scarf. Perhaps that is why Greek Finance Minister Yanis Varoufakis sparked comment recently for attending emergency talks on his nation's debt with a Burberry scarf, rather than a tie, draped round his neck.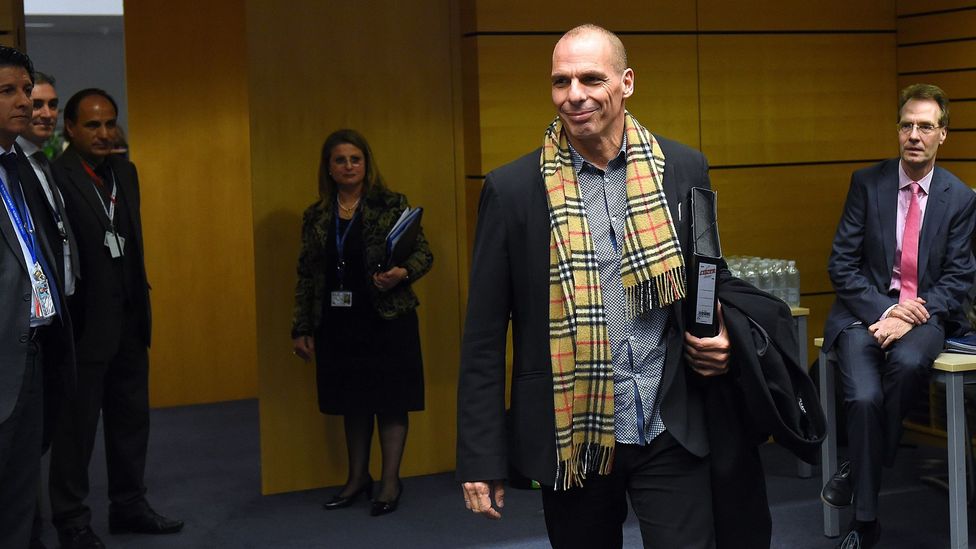 Greek Finance Minister Yanis Varoufakis has been criticized for wearing an expensive Burberry scarf. (Credit: Emmanuel Dunand)
Hidalgo, the mayor of Paris, does not face the same criticism. "She'll wear a dark jacket and trousers but she has a selection of scarves — silk and woollen — and will always use a scarf to give herself a boost," said Loveday.
Dr Genevieve Bell, vice president of Intel Labs in Oregon in the US, also participated in the museum's exhibition. "She told us, 'I walk into a room to give a presentation and often it's full of men. I don't dress to fit in, I dress to stand out,'." Loveday said.
What a scarf does for you
Can clever accessorising really help your career? And how can you be sure your neckwear is sending the right message?
For starters, a scarf draws attention to your face.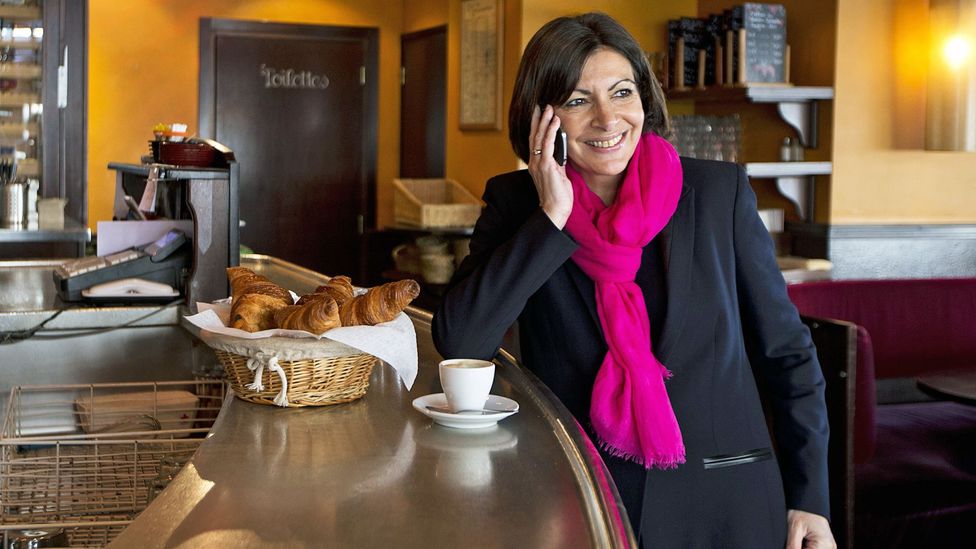 Mayor of Paris, Anne Hidalgo, often wears chic scarves. (Credit: Joel Saget/AFP/Getty Images)
"Research does show that women look at the face of people they are interacting with, but men don't much," said Dr Carolyn Mair, reader in psychology at London College of Fashion. "A scarf would help draw men's attention to the face, and that way you get better communication."
A vivid accessory also brightens up the sombre clothes often worn in offices. "A scarf lightens the outfit and takes off the severity," Mair said. Whether we like it or not, being seen as attractive brings advantages, said Mair. "We make our decisions on whether we like someone in less than a minute. So if we can draw attention to something bright about the face which lifts the features… then the person interacting with us will perceive us as more attractive and pay more attention to what we say."  
Attractive people are also — rightly or wrongly — viewed as being more honest, she said.
Unravelling the dress code
Every style choice sends a message. That's obvious when you consider a well-known person who, say, wears a pair of glasses that have become his signature or the executive who is known for bow ties.
"One piece of clothing equals one word in a sentence," said Mirella Zanatta, associate director of programs at brand consulting company Corporate Class Inc in Toronto, Ontario. "Wearing the right scarf in the right way will make you appear to be a refined person who has put thought into your outfit," said Zanatta, who is also president of the Canadian chapter of the Association of Image Consultants International.
Surprisingly, there is also a connection between clothing and performance, said Mair. "When you believe a garment has some attribute — for instance it belonged to someone you admire — it can increase your cognitive abilities," she said. A 2012 study, known as the lab coats study, found that "people who believed a coat they were wearing belonged to a doctor performed better in attention tests than when they believed they were wearing a (house) painter's coat."
For women on tight budgets, a luxury-brand scarf can be a visible, but less expensive way to signal their fashionable aspirations. A Hermes silk scarf, for example, sells for $450 on the company's website.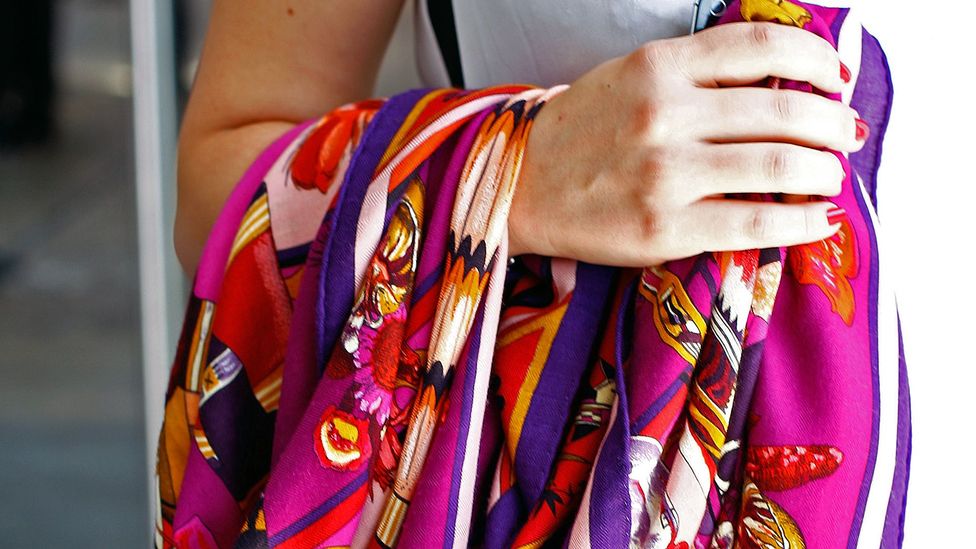 Expensive wraps can broadcast economic standing. (Credit: Caroline McCredie/Getty)
Stick to patterns familiar to that label to ensure that they are easily recognisable, said Zanatta. "If you see someone wearing a Hermes scarf, the implication is that they are successful because they wouldn't be able to buy it otherwise," she said.
Dos and don'ts
Zanatta, who owns about 50 scarves, advises having an expert or perhaps an honest friend help you choose hues that complement your skin tone.
"The right colour will make you look healthy, well rested and vibrant," she said.
"If you have a fine bone structure… go for a fine fabric," Zanatta said. Natural fabrics such as silk, cashmere and linen are best. "They are going to look better, they drape better and they will wear better."
Match your style to your workplace and your career level. "Wearing a big, draped scarf sends a message that you're comfortable, approachable and warm," she said, adding that style works well in relaxed work environments, such as information technology.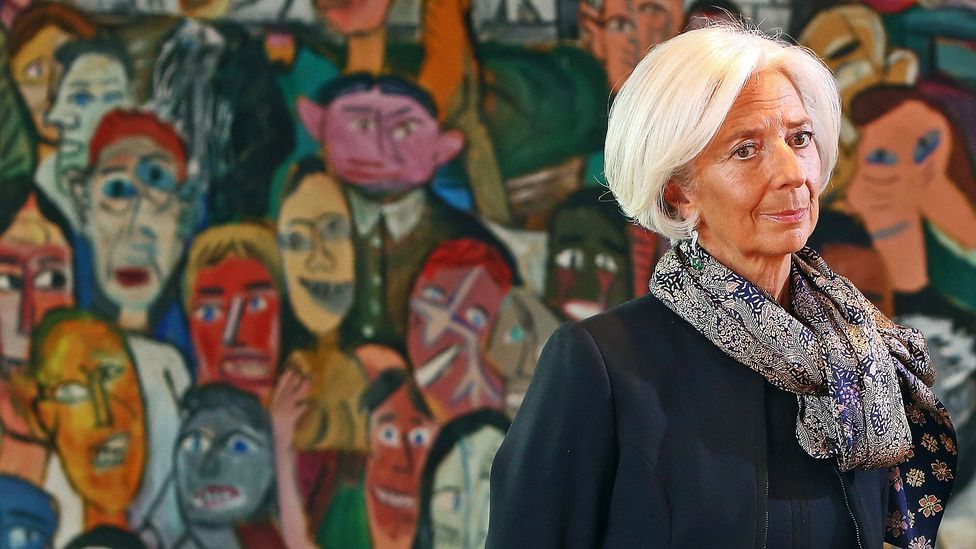 Powerful women who routinely wear scarves include Christine Lagarde, managing director of the International Monetary Fund. (Source: Adam Berry-Pool/Getty Images)
"But in a more formal corporate environment, less is more," Zanatta said. "When working with a high-level corporate client, I would wear a scarf with my coat, but not with my suit, unless it was a silk scarf worn underneath like a camisole."
While you might fancy the flowing, flamboyant scarves worn by the IMF's Christine Lagarde, think hard before you copy her look, especially outside Europe. "Most women are trying to get as much credibility and authority as they can and a large scarf diminishes that," said Zanatta.
Above all, choose something that you love and makes you feel confident.
Alber-Glanstaetten said her favorite scarf currently is a playful, dog-print one. "Every time I wear it I get compliments," she said. "It's a great talking point and it adds pizazz."
To comment on this story or anything else you have seen on BBC Capital, please head over to our Facebook page or message us on Twitter.