Q. Our company's sustainability programme helps people in the communities where we manufacture. To advertise this to clients, we have produced literature that includes photos of smiling farmers, children and similar images. But these pictures weren't taken at our project sites; they're stock photos. Are we obligated to show what's actually happening at our sites? More generally, what's the ethical line between advertising and reality?
A. There are two questions here: whether using stock photos instead of real photos is wrong, and whether it's in poor taste.
"There is nothing wrong with using stock photos to enhance your message or promote a programme," said organisational consultant Steve Nguyen by email. But the people in charge of the sustainability campaign should think hard about the risks, said Nguyen, who is based in Dallas, Texas, in the US, and how true to that message the images are.
Nguyen cited a 2014 incident in which UK newspaper The Daily Mirror used a stock photo of a small girl crying to illustrate a campaign to fight poverty. The image was a classic heartstrings-tugging photo, the kind that typically accompanies an appeal for charity.
"The problem was that the girl in the photo was not even British, and perhaps most important of all, she wasn't crying because she was poor," Nguyen said, citing a Guardian article. Rather, the girl, an American, was crying because she saw an earthworm, and her mother, a photographer, snapped the photo. After the photo was revealed to be a family snapshot and not a portrait of a child in poverty, readers felt deceived and The Daily Mirror came under fire from media critics and blogs..
A similar problem reportedly struck the Montreux Jazz Festival in Switzerland in 2013 when an advertisement for a kindergarten at the festival used a photo of a young boy. Festival organizers later said the employee responsible didn't know the image was of Gregory Villemin, a French child who was kidnapped and murdered in 1984 in a famous unsolved case.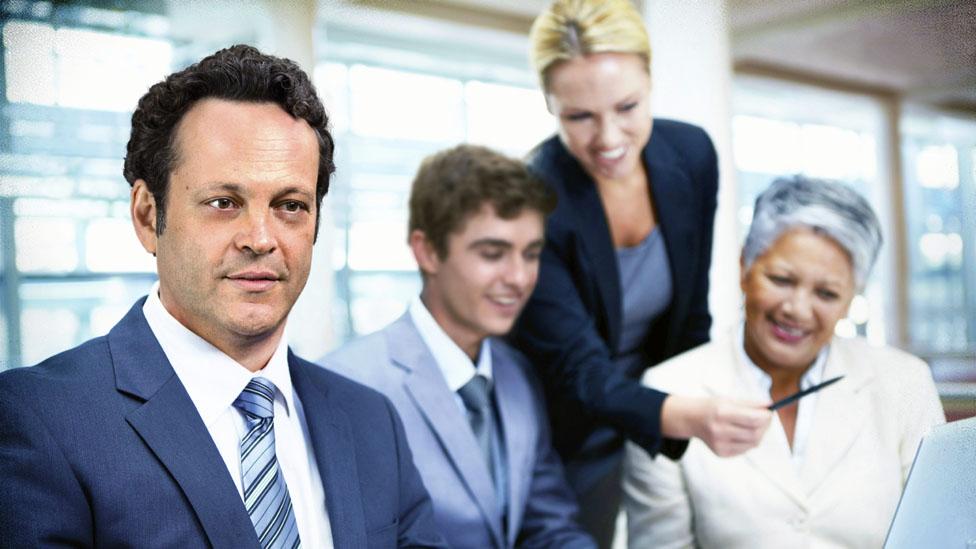 Actor Vince Vaughn appears in a marketing spoof for the film Unfinished Business (Credit: Global Stock/iStock by Getty Images)
Could the same thing happen to your company? If customers, vendors, potential business partners feel you're being dishonest or somehow misleading them about the results of your sustainability programme, you may be opening yourself to reputational risk.
While it is easy to find and purchase high-quality photos, you might alienate readers who think your images are fake or irrelevant if you choose those images poorly.
While it is easy to find and purchase high-quality photos, you might alienate readers who think your images are fake or irrelevant if you choose those images poorly. Make sure the photos you chose are accurate for the sentiment being expressed. Read the captions that accompany the stock photos carefully to make sure they are not news photos linked to important news events. Also consider geography; don't show farms in the mountains when your sustainability sites are in a flat area.
Another potential pitfall: "The stock photos you're using are most likely used elsewhere online or in print to endorse or communicate a different message from yours," he said. You can do a Google image search to find out where the same photos have been used elsewhere, and for what.
Hiring a photographer to take photos at your project sites has advantages and disadvantages, Nguyen said. There will be no doubt that your photos are real, and your firm will gain credibility if its captions explain the programmes being shown, or you include a section in the brochure about the photographer's visit to the site. You'll be helping your brochure's readers to understand the story of your program and the people behind it — in this case, the farmers and other workers.
Be sure to hire an experienced photographer. One who specialises in studio portraits, for instance, may be ill-suited to capture documentary-style snapshots needed to accurately tell your story. Review photographers' credentials much in the way you would any other contractor. And remember that someone outside the area may approach your campaign with a fresh eye, capturing the moments locals may take for granted.
Be mindful that there could be privacy or legal problems with using program participants' images. If the company decides to shoot photos, be careful, he said: "If not properly vetted and if there's an unsavoury background or behaviour associated with the 'real' person, you could damage your sustainability program or undermine your message."
From an ethics standpoint, you will be in the clear if you caption and credit the photos appropriately, noting whether they are stock photos or whether they show images of your site.
Work Ethic is a twice-monthly column on BBC Capital in which we consider the ethical and interpersonal dilemmas that workers face around the world. We welcome knotty questions from readers at workethic@bbc.com
To comment on this story or anything else you have seen on BBC Capital, please head over to our Facebook page or message us on Twitter.