What's hot
Rare, cone-top cans made of heavy gauge steel from the 1930s are much sought-after and command a high premium, as do British beers cans from the World War II era. Cans from the 1960s that feature models and tourist locations are considered works of art.
What's not
Most new cans, made of aluminium, which can be bought at off licences and supermarkets.
I get the same kind of thrill and enjoyment that others may get from looking at works of art, architecture or even pictures of pretty girls.
When Jeff Lebo started collecting beer cans, he wasn't legally old enough to drink. That didn't stop him from joining neighbourhood kids to collect empty beer cans from the roadsides.
Over time, the curious appeal of the colourful cans grew into a life-long obsession.
"I was surprised at how many different labels could be found and I wondered how many different cans there were in the world," he said in an email.
Lebo, a Pennsylvania resident, who now runs a landscape design and contracting business, said he believes his collection of beer cans is the largest of its kind in the world. He's collected 87,000 tinnies of all types and sizes from around the globe, some of which date as far back as 1935. He's paid as much as $3,500 for a single item, and his collection was recently appraised at $1.6m.
There isn't a place he won't go to score a prized tinnie. His pursuit of vintage British cans — his favourite — once took him to the UK where he spent a month hunting for rare beer cans produced between 1936 and the mid-1960s.
Feeling thirsty? Read more:
"During World War II, most of the early UK cans were melted down for the war effort, making them very hard to find nowadays," Lebo said. His search even took him to the depths of the Scottish lochs in the dead of winter.
"Because of the lack of light and oxygen at the bottom of the lakes, the cans remain preserved in surprisingly good condition for their age," he said. "So I decided to rent scuba gear and search in Loch Lomond... This was January, so the water was ice cold."
His efforts were in vain, but it did little to dampen Lebo's enthusiasm. He spent the following weeks crisscrossing Britain attending antique fairs and visiting more than 200 antique shops.
"After an entire month of searching throughout England, Scotland and Wales, I came away with exactly zero cans for my collection," Lebo said. "While this was extremely disappointing, it did make me appreciate how rare many of the British cans in my collection actually are."
The appeal
The heyday of beer can collecting was between the late 1970s and early 1980s, said Lebo. However, the hobby is enjoying a renaissance fuelled by the ease of connecting with other enthusiasts online and the growing trend of microbreweries.
 "Many new collectors are now coming into the fold through the craft beer culture," said Lebo.
Although the vast majority of collectors are older men living in North America and Europe, there are collectors worldwide, some of whom are women.
Nick West, assistant marketing manager at Lloyds Banking Group, in England, began collecting in 1975, at age 16. Since then, he has had to move houses to accommodate his burgeoning beer can collection. Now he lives in a five-bedroom Victorian house in a small town near Bristol, where his collection of 7,500 cans is displayed in a floor-to-ceiling arrangement on purpose-built shelving in two of the bedrooms.
 "There has been a number of big disagreements [with my wife] when I have spent large sums of money on cans," said West in an email interview.
For him, the appeal is visceral.
"I love the variety of designs and the feel of a can in my hand," he said. "I love looking at pictures of older and rarer cans and get the same kind of thrill and enjoyment that others may get from looking at works of art, architecture or even pictures of pretty girls."
West has spent around £30,000 ($46,000). The most expensive item he owns cost £1,240 ($1,900), a cone top Felinfoel pale ale, Britain's first beer can.
Many collectors don't look for a monetary return on their purchases.
"The collection is not an investment," said André Marques from Brazil, who owns 4,000 beer cans. "It pays for itself since it provides a lot of memorable moments, friends from around the world, and the thrill of planning to get a can from a distant country."
He collects Brazilian cans, and OCOC cans, which stands for "one can from each country" in collectors' parlance.
Most coveted
Cans that have the greatest desirability and value are generally older beer vessels that are considered works of art such as the 'Lager Lovelies' cans printed with photos of beautiful women, produced by Scotland's Tennent's Lager.
"Older cans are highly contested and can fetch extremely high prices," said West. "The earliest cans were cone tops. These cans were in existence from 1936 to the mid-1950s."
If a can has a spout or if it required a can opener to get at the contents, chances are it will have some value, said Lebo. But if it has a modern opening mechanism, like a tab top or stay tab, then it isn't likely worth much. 
"If a can is made of lightweight aluminium, it's probably too new to be of any value, but if it's very heavy in construction, then it may very well have some value," he added.
Like any collectible, though, rarity dictates the real value.
Marques says he has one of the rarest Brazilian cans in the world. It's an Alterosa beer can, which he got after negotiating with the brewery's former chief executive officer who held onto a specimen for more than 30 years after their production stopped. He won't reveal the price, but conceded, in an email interview, he paid "a lot more than rationality would allow".
Guides that can help aspiring collectors value their purchases include the two produced by the Brewery Collectibles Club of America (BCCA) titled United States Beer Cans, Volumes 1 & 2.
Where to buy
"Ebay always has a ton of cans listed," said Kevin Kious, BCCA office manager. Seekers can also visit local shows such as CANvention, an event held yearly in different US locations.
New cans can be purchased for about $2 at off-licences, supermarkets and pubs. Older and rare cans, which range in price from just under $100 to more than $1,000, and some worth tens of thousands, can be found at auction houses such as Preferred Auction Company in Canada, Bonhams in the UK, or at collectibles shows like the one organised by the Australian Beer Can Collectors Association (ABCCA). Traders such as Steel Canvas in the US are good options. Magazines like Collectors Weekly can also educate, inspire and guide.
How to care for them
Cans that are rusty, dented or faded aren't worth as much as pristine versions.
"Don't let them get damp, which causes them to rust, or expose them to strong sunlight, which will cause them to fade," said West. "Ideally, they should be stored in a dry, dark room with a consistent ambient temperature."
As if you ever needed an excuse to knock one back, preserving full cans are a no-no. "They will develop leaks and rust and the extra weight isn't good for your shelves," said Kious in an email. "Also, keep them out of smoke-filled rooms or they will get nicotine stains."
Some collectors apply wax to the cans to avoid rust and cover them with protective plastic wraps. "If you have valuable cans, it's also good to have a dehumidifier," said Kious.
The bottom line
Kious said collecting is mostly a passion, but added there is potential for value growth.
"Qualities that make a can desirable include such factors as condition, rarity and good graphics that give it appeal to a cadre of collectors," he said.
Lebo has found a profitable use for his assortment. Recently, he raised about $200,000 by selling the cans to some collector friends. Funds will go toward constructing an eco-resort in Central America. "So, I'm basically trading some old beer cans for an ocean-view resort in Uvita, Costa Rica," he said.
To comment on this story or anything else you have seen on BBC Capital, please head over to our Facebook page or message us on Twitter.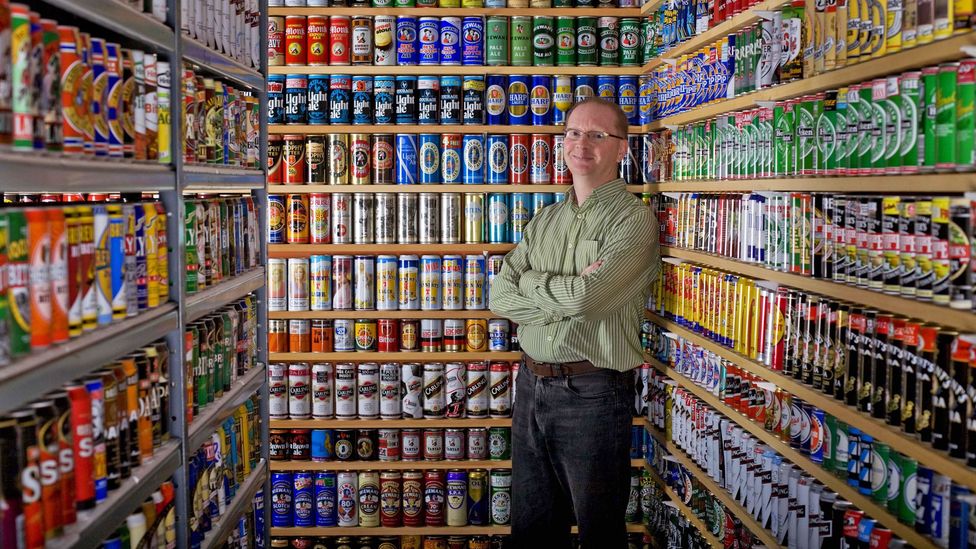 Nick West and his wife have had some "big disagreements" over his spending. (Credit: Nick West).
Nick West and his wife have had some "big disagreements" over his spending. (Credit: Nick West).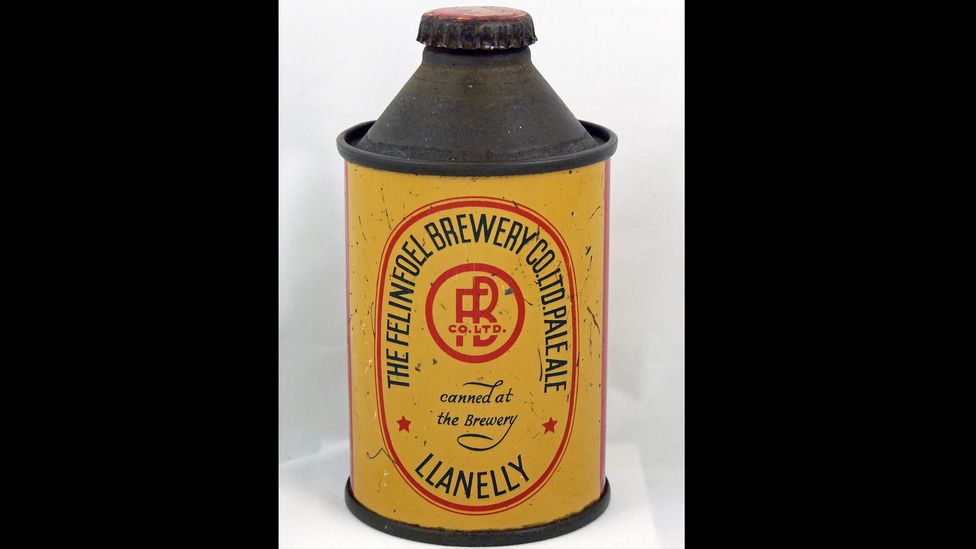 This cone top Felinfoel pale ale, Britain's first beer tinnie, is worth about £1,240 ($1,900). (Credit: Nick West)
This cone top Felinfoel pale ale, Britain's first beer tinnie, is worth about £1,240 ($1,900). (Credit: Nick West)
André Marques has about 4,000 beer and tries to find one from every country. (Credit: André Marques)
André Marques has about 4,000 beer cans and tries to find one from every country. (Credit: André Marques)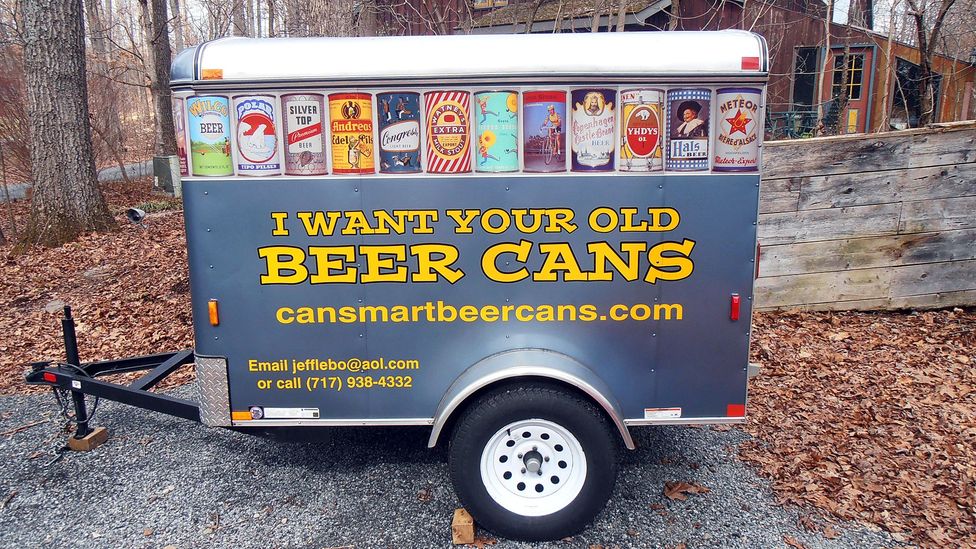 Jeff Lebo believes his collection is the largest in the world. (Credit: Jeff Lebo)
Jeff Lebo believes his collection is the largest in the world. (Credit: Jeff Lebo)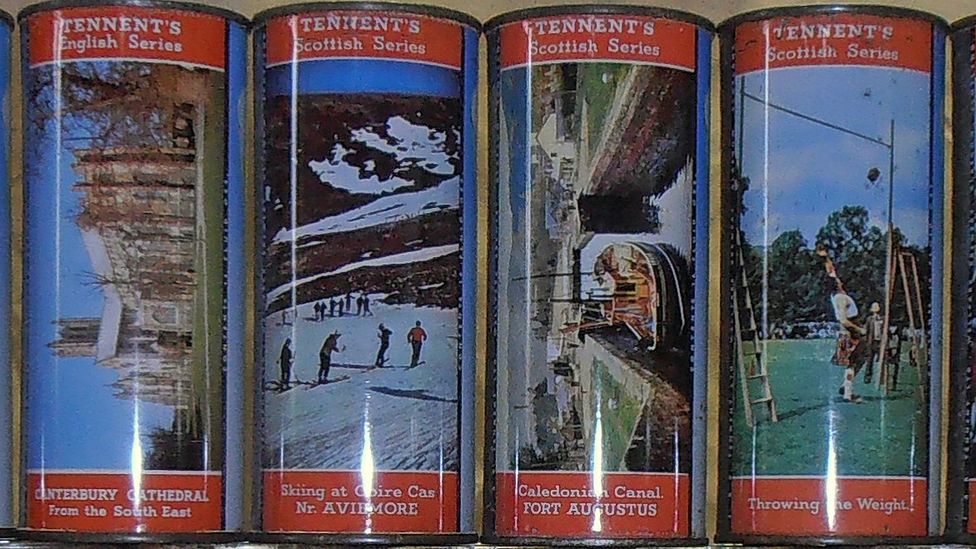 Older beer cans that are considered works of art can fetch "extremely high prices". (Credit: Jeff Lebo)
Older beer cans that are considered works of art can fetch "extremely high prices���. (Credit: Jeff Lebo)