S
Samuel Baron has downsized his property at the age of just 26.
The urban studies student at Simon Fraser University in Vancouver, Canada, has traded his 55.7sq metre (600sq foot) Edmonton apartment for a 23sq metre (248sq foot) micro-flat downtown.
He was determined to live closer to Vancouver's city centre — Canada's hottest property market — and cut out his transport expenses. He achieved both, but the trade-off was space. He now pays $1,000 Canadian ($800) per month in rent in a part of town where the average-sized bachelor pad rents for as much as $1,500 Canadian ($1,200) a month.
Baron isn't concerned about space.
"Between work and school, I'm rarely home," said Baron, in an email interview. "My suite functions as a place to simply store my possessions, and for sleeping, because I live in a neighbourhood that has plenty of coffee shops, restaurants and pubs."
While the tiny house movement has been well documented, a bigger idea for smaller living space is on the rise: that of the micro-condo or tiny apartment. Driven by housing shortages and an affordability crisis in cities across the globe, these pint-sized pads — also referred to as "apodments," micro-digs, nano-suites and micro-lofts — are being planned and promoted by developers both as luxury rentals and as an affordable entry into competitive housing markets.
They offer living spaces of less than 46.5sq metres (500sq foot) and are becoming popular with entry-level income, young professionals who want to be close to urban conveniences, job opportunities and city life in places like New York, London, Paris and Vancouver.
Rising property prices in big cities have squeezed many homebuyers out of the market. The average price of a new home in Toronto is $733,578 Canadian ($588,164), in London it's £534,000 ($794,549), in New York City's Manhattan borough it's $710,000, in Sydney, A$811,837 ($617,000) and the average costs just less than $1m in Singapore. The micro-condo offers an affordable alternative.
Crunched for space
Like many others, Baron doesn't mind trading apartment space for the buzz of city living and said "my neighbourhood functions as my living room, blurring the lines between public space and private space."
Young people in many areas want to live in the city as they want to be where the excitement is, and embracing this Lilliputian living choice is one way to afford it.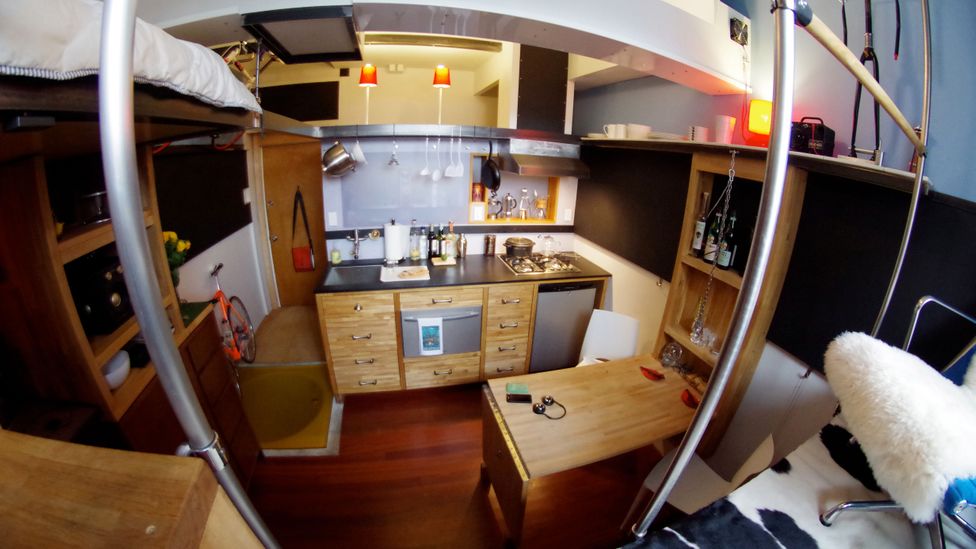 Others want to move out of the suburbs, cut down on debt or simplify their living arrangements with fewer possessions.
A report from American consumer research company, Neilsen, showed 40% of Americans between the ages of 18 and 36 prefer to live in urban areas instead of the suburbs. In the UK, a Knight Frank study found 54% of 18 to 24 year olds were happy to consider living in a studio flat that makes living in central locations more affordable. And in Australia, Slater & Gordon's Conveyancing Works research revealed 18 to 24 year olds ranked proximity to the central business district as a top priority when looking for real estate.
Living small grows up
New York City, no stranger to cramped, high-density living, will open the doors of a pioneer project, called My Micro NY, at the end of 2015.
The 11-floor tower will have so-called nano-units ranging from 24sq metres (260sq foot) to 33.5sq metres (360sq foot), which will rent for $2,000 to $3,000 a month.
But, these high-spec micro digs will be different from the stereotyped New York "shoe box", said the building's project manager, Tobias Oriwol of Monadnock Development. "We've built to optimise every inch of space inside, so there are no unused nooks and crannies," he said in an email interview.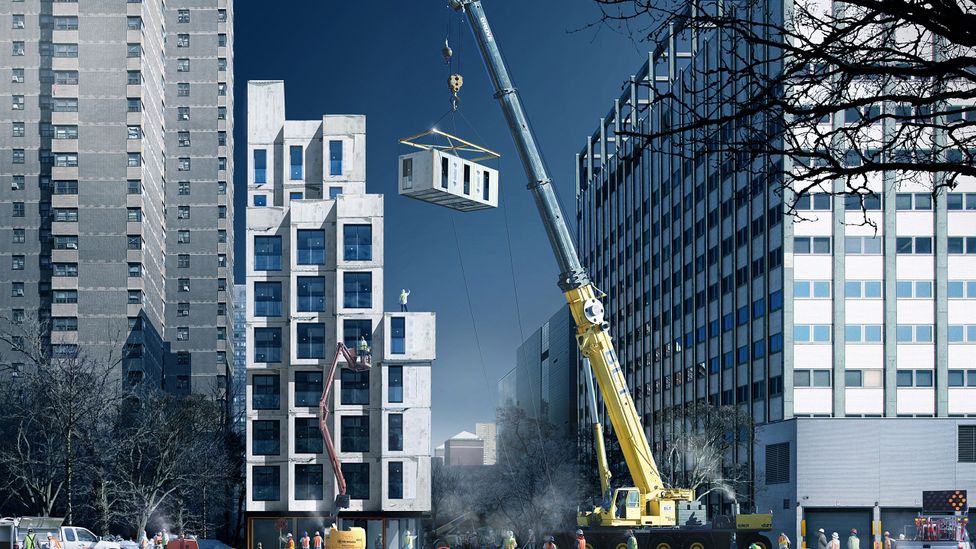 (Credit: My Micro NY, Monadnock Development )
Similar projects are being developed in the UK and Canada, too.
David Wex, partner at Urban Capital, developers of Toronto's first micro-condos, Smart House, said there is plenty of interest from students, downsizers, and those who are tired of long commutes.
"Torontonians know what it means to have great stores, cafés and bars outside their door," he said via email. "For those looking for a central location, [flats of] this type, design and price point is a great option."
Urban Capital has sold 220 of 250 units currently under construction. They range from 26.7sq metres (288sq foot) to 72sq metres (778sq foot) and are priced between $250,000 Canadian ($200,000) and $550,000 Canadian ($440,000).
In London, apartment developer Pocket Living is selling 38sq metres (409sq foot) units between £190,000 ($282,000) and £260,000 ($386,000) in boroughs inside Zones 1-3 like Hackney, North Camden, Lambeth and further out in Lewisham.
Lucian Smithers, sales and marketing director at Pocket Living, prefers to describe the properties as compact rather than "micro."
"Service charges are kept to a minimum at around £100 ($148) per month, and the majority of this cost is taken up by the building insurance," said Smithers via an email.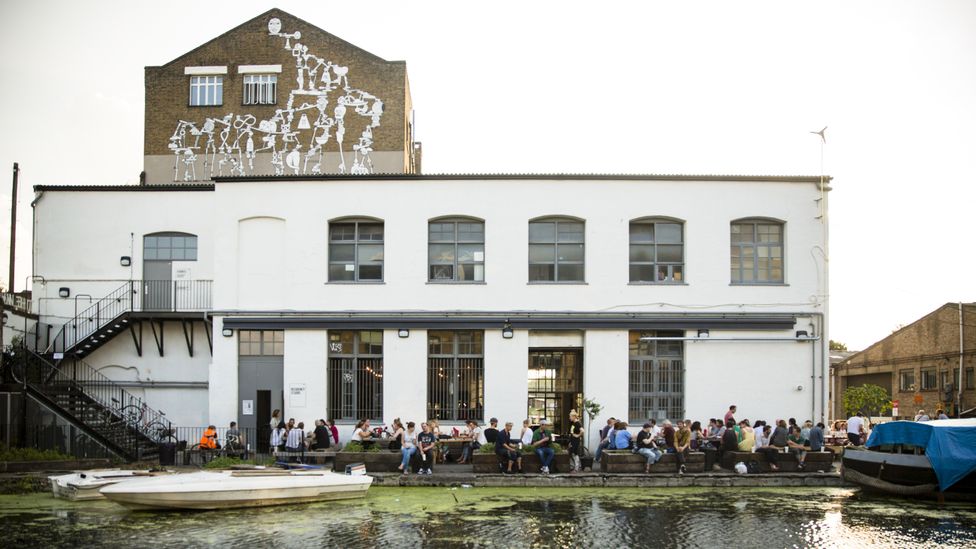 Inner London locations near popular bars and restaurants (Credit: Pocket Living Ltd)
"London is one of the biggest global cities so it will always attract more people than it can comfortably house," he said.
Pocket Living plans to finish 50 units in 2015, nearly 250 in 2016, and about 400 the year after.
Also betting big on this new asset class within the residential market is Realstar Living, a UK subsidiary of Canadian landlord Realstar Group.
The demand for affordable, fit-for-purpose accommodation near work is endless in cities where land is in short supply, said Ryan Prince, vice chairman at Realstar Group, in London, UK, via email. Realstar's development in London's Stockwell Park is offering micro-apartments near transport for under £1,000 ($1,500) a month, he said.
Realstar buildings typically accommodate 100 to 300 units and have shared spaces, such as a common room, gym and storage.
And the trend doesn't just apply to young people. Prince said many empty nesters have been selling their houses in the suburbs to buy a place in the city.
Inside a micro-condo
The bulk of these housing solutions tend to be utilitarian with little room for gimmicks, but often incorporate some ingenious space-saving.
The downside of this miniature living is that tiny places can quickly become chaotic if they're not well-designed, said Steve Sauer, designer and owner of the Pico Dwelling, a 17sq metres (182sq foot) micro apartment in Seattle.
"Built-in furniture is important, and dual-use installations like furniture-as-structure and convertible pieces that serve multiple functions are especially useful in small dwellings," he said in an email interview. Chairs, for example, have many uses and also serve as shelves, and clothes hangers.
And high-end finishes matter. Sauer, whose day-job involves commercial airplane interior modifications, said he avoids materials like laminates that wear out quickly due to a smaller surface area.
He favours strong, forgiving materials that look good and work well under a continuous accumulation of wear. "Solid wood, solid counter-top, solid plastic sheet, glass, carbon and stainless steel. Loose furniture pieces are less critical, because they can be replaced," Sauer said.
Wex said micro-condos developed by his company maximise storage by making every inch count. "Closets use all available cubic footage and then optimize their function with shelving all the way to the ceiling, built-in drawers, and efficient hanging areas," he said.
For Baron, the only niggle of living small is having to constantly shuffle his three bikes around the space. "There is a storage locker in the basement, but it only holds one bike," said Baron who even got rid of his car to accommodate micro-living.
Follow BBC Capital on Twitter @BBC_Capital or join the conversation about this or any other Capital story on Facebook: BBC Capital on Facebook.