W
When it comes to meetings, an increasing number of workers are ditching the conference room and heading outside.
The walking meeting, favoured by tech executives including Jack Dorsey of Twitter and Mark Zuckerberg of Facebook, went viral after management innovator Nilofer Merchant's 2013 TED talk espoused the benefits. The video got 1.7 million views and started a movement of sorts — a way for colleagues eager to solve problems while moving around outside rather than gathering around a desk.
Endless meetings are the scourge of many offices, a sort of professional penance. And just one bad meeting — one that lacks a focus or action items at the end, or where creativity is quashed — can ruin your entire day.
It's no wonder, say experts, that people resort to playing games on their smartphones or checking email during these confabs. Standing meetings, which some companies have adopted to hasten the end of the gathering, only solve part of the problem.
That's where walking meetings come in. In addition to the known health benefits, taking time for a short stroll can boost creativity and help brainstorm an existing problem, without distractions from electronics. And without a PowerPoint to ignore, seat-jockeying to do, or superfluous chit-chat from attention-seekers to sit through, there's room to converse, potentially creating a constructive and informal way for colleagues at different levels to discuss important issues without being bogged down.
There's some evidence it works. A 2014 Stanford University study of 176 college students found that those who walked instead of sitting came up with more creative responses to answers on tests that are used to measure creative thinking.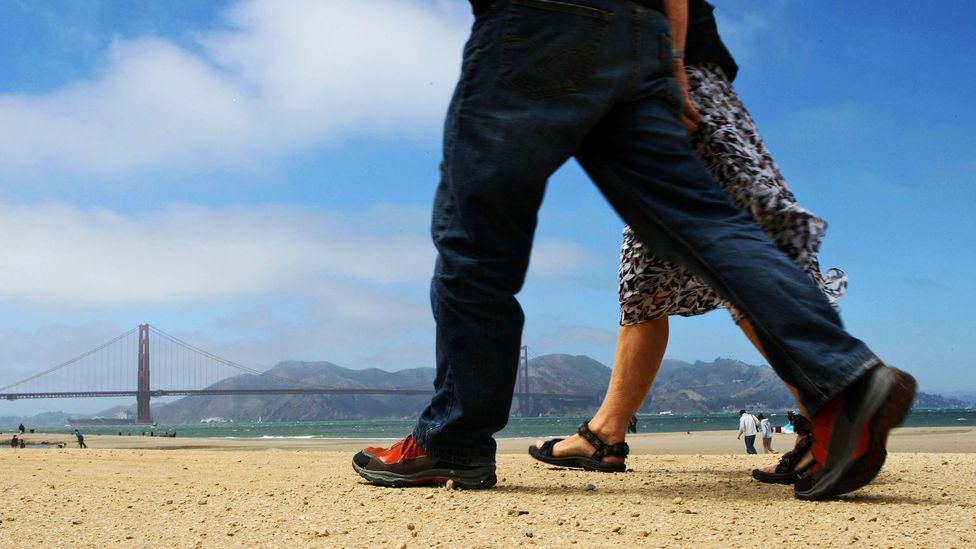 (Credit: Justin Sullivan/Getty Images)
"People are far more comfortable walking, and there's better quality of conversation," said Phil Jones, managing director for office technology vendor Brother UK Ltd who hosted his first walking meeting a year ago. "You get more of a human connection."
So, how, exactly, do you host a walking meeting?
How to do it
For starters, don't create a route from scratch as you walk. It's less stressful and more productive to lead a colleague along a well-timed path, said Jones.
 "The last thing you want to do is distract your meeting with, 'where should we go next'," he said.
Before his first stroll with colleagues, Jones timed himself to create a 30-minute route near his office in suburban East Manchester in the UK. Nowadays he holds one or two walking meetings a week along the same 30-minute path and takes another lap for longer hour-long meetings.
Narrow down the agenda to just one topic in order to keep the meeting short and to cut down the need to take notes, suggested Stephen Waddington, London-based chief engagement officer at Ketchum, a public relations firm.
"Walking meetings don't work for 10-point agendas," he said. Send a note to participants to set the meeting's agenda and write out the intended outcomes to prevent participants from feeling anxious about not taking notes during the walk.
It's easiest to start with a group of two or three people, to ensure no-one is left out of the conversation, especially if there's no room on the sidewalk to create one long row, said Natalie Wilkins, a management coach in St Cergue, Switzerland. An outdoor route near a park or another place that's relatively quiet is best.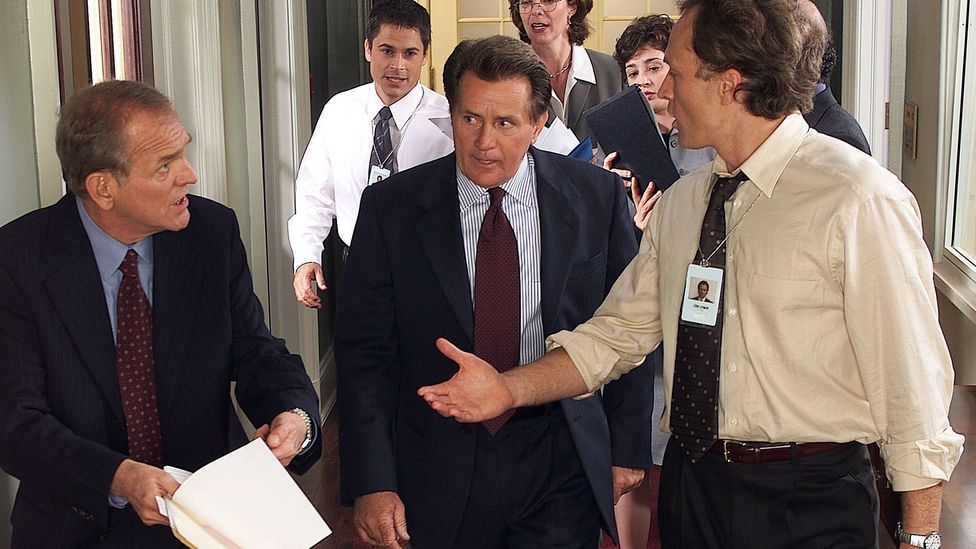 Problem solving with just a few steps? The art of the walk and talk, on display during a scene of the US show West Wing. (Credit: Warner Bros Television)
Start small and go deep
Rather than carrying a notepad or a phone, focus on "good deep conversation," Jones said.
If colleagues are joining him for the first time, Jones tells them to leave electronics behind or put away smartphones during the walk, but he allocates 10 minutes of desk time after the meeting to tie-up loose ends and create a follow-up plan for the conversation.
Those who regularly conduct walking meetings say they find the meeting style effective —especially for potentially awkward conversations, said Waddington, who remembers a mentor calling a walking meeting to raise issues that Waddington hadn't been aware of. Since colleagues are looking ahead at the route, the less formal and private atmosphere of the outdoors combined with "the lack of direct face-to-face contact makes it easier to deal with sensitive issues," he said.
Grab a raincoat?
One downside to a walking meeting, particularly if they grow to more than two or three people: being able to hear each participant as you walk. While visual aids can distract and bore people, sometimes they do help explain a topic. But they can't be used in walking meetings. That's why Wikins recommends not using walking meetings to introduce complex new concepts.
One of the more practical considerations of holding a walking meeting is sizing up attendees for both their dress (such as appropriate footwear or a warm jacket) and physical abilities, said Ted Eytan, physician director of the Center for Total Health with Kaiser Permanente in Washington, DC, who has been conducting walking meetings for the last 10 years.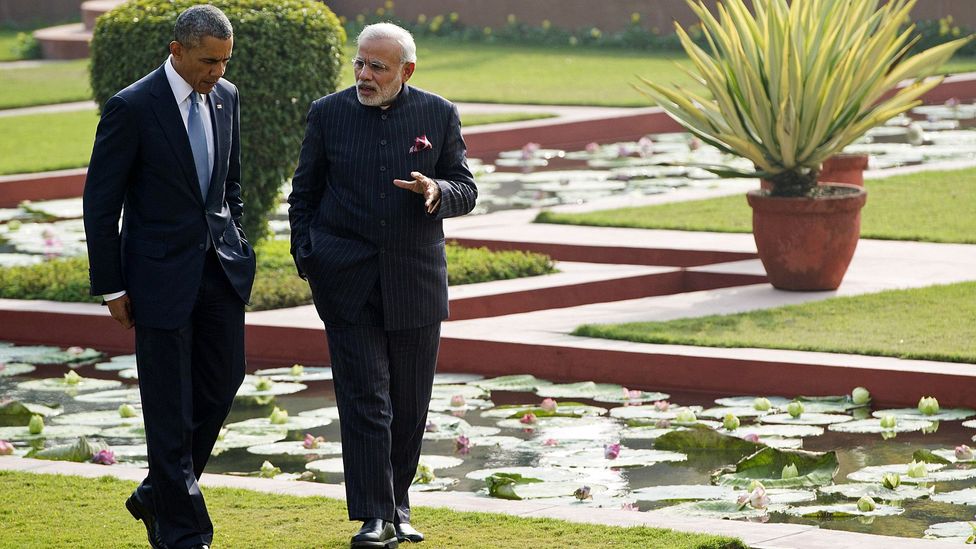 US President Barack Obama takes a walking meeting with Indian Prime Minister Narendra Modi. (Credit: Saul Loeb/AFP/Getty Images)
Before he invites someone for a stroll, Eytan makes sure the invitees are dressed for the outdoors and are comfortable taking a walk. He's well prepared even to walk and meet during inclement weather. During a drizzly meeting in Seattle, for instance, Eytan took turns holding the umbrella with another colleague. The experience provided a memorable backdrop for an in-depth discussion, he added.
Despite this extra preparation, Eytan said so far his colleagues have jumped at the chance to walk outside during a long day at the office.
"The most boring thing is sitting in a room and staring at someone for half an hour," said Eytan. "If you tell me it's a walking meting, it's overall a bright spot in the day."
To comment on this story or anything else you have seen on BBC Capital, please head over to our Facebook page or message us on Twitter.