H
Houston philanthropist Becca Carson Thrash made her first foray into haute couture clothing more than 15 years ago, after being seduced by a pair of Christian Lacroix pants embroidered with Lesage beading.
On a whim, Carson Thrash had attended the designer's couture show after a personal introduction by a longtime client. There she saw the pants strutting down the runway and immediately made an appointment to visit the showroom for a fitting. Similar couture pants sell for more than $60,000 in today's prices.
She now owns more than a dozen pieces by designers such as Giambattista Valli, John Galliano and Alexander McQueen, including luxurious evening dresses and an alligator jacket. Most pieces are stored in her well-ventilated walk-in closet and are packed with tissue paper to hold their shape or carefully hung on a life-size mold.
"These are exquisite pieces of art," said Carson Thrash the 60-year-old wife of an oil executive.
For diehard fashionistas, collecting and wearing haute couture is the ultimate status symbol. The made-by-hand clothing cannot be purchased in stores. Instead, buyers must have insider knowledge and connections to just learn what's for sale. In some cases, they schmooze directly with ateliers. The result? A one-of-a-kind piece that was fitted by the atelier's 'firsthand' or 'premiere'  — industry titles for the most senior fashion house staff  — and created by specially-trained artisans.
Couture items take months to create, require up to 150 measurements and entail multiple fittings. They cost anywhere from $50,000 for a simple pair of pants to $300,000 for an elaborate beaded evening dress, said Valerie Steele, director of the museum at the Fashion Institute of Technology in New York, which hosts couture exhibits.
Modern couture customers are looking for pieces that are less formal than those popular prior to the 1980s. "People don't have that much call for ball gowns anymore," she said. Instead, the modern couture shopper favours exclusive cocktail dresses or finely tailored jackets.
While modern couture remains a bastion of millionaires, there are several options for those on limited budgets to experience, or purchase, some exclusive garments.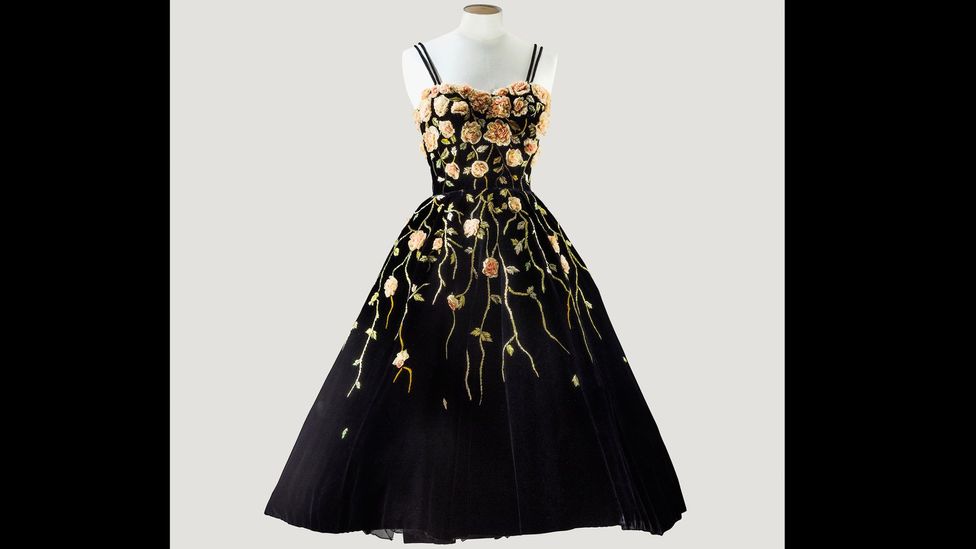 This Balmain velvet cocktail dress is embroidered with chiffon roses by Lesage. (Credit: Sotheby's/Art digital studio)
How to find it
"The word couture gets thrown around a lot," said Robb Young, a consultant for luxury brands based in London and global markets editor at the Business of Fashion website. But haute couture is determined by the trade union Chambre Syndicale de la Haute Couture, which produces an official list of brands. The strictest definition requires the fashion house to be headquartered in France. This means most ateliers are located in Paris and show their wares to clients and fashion press there twice per year in January and July during haute couture fashion week.
The haute couture arms of prestigious brands, including Christian Dior, Chanel and Valentino, are based in France and have artisans who hand-make custom couture from the finest materials.
Recently, many smaller designers, some based outside of Europe and not formally recognised by the Chambre Syndicale, are emerging. Younger couture houses led by designers such as Lebanese Rabih Kayrouz, Dutch Iris Van Herpen and Indonesian Biyan Wanaatmadja are becoming popular with younger collectors, said Young. Many apprenticed with Paris-based fashion houses and returned to their home countries where demand for couture is growing, he added.  
Recently, more patrons are emerging from China, Russia and Saudi Arabia, said Young. In the Middle and Far East, "women regularly get together for high-society events," he added. "There's more of an expectation to be dressed to the nines."
The months-long process
Getting a couture piece starts with a personal introduction to a fashion house premiere from a department store buyer or a well-connected stylist. An alternative is purchasing directly from the designers during the fashion week — if you are invited. For each potential customer, the fashion houses "do their due diligence to see if you have the lifestyle and the means," said Carson Thrash. This often includes a Google search, plus discreet enquiries.
Designers treat their couture clients like royalty, said Mark St James, a Toronto-based fashion blogger and stylist whose clients wear couture. Still, financing is not available and most clients pay 50% prior to the sale and 50% prior to completion of the item.
Prices are never advertised and must be discussed directly with the company. For subsequent purchases, the firsthand at each fashion house often keeps a life-size mold of a customer's body to reduce the need for re-measuring a loyal customer. For those who can afford the price tag, "couture is there to add an air of prestige," said St. James.
Not everyone who can afford exclusive garments will be selected as a customer. Garments serve as walking advertisements and brands are protective of who is wearing their finest wares.
Dying art or long-term investment?
Since couture garments are created for a specific person, there's only a small resale market. Couture is more of a style statement and status symbol than a financial investment for both customers and the fashion houses, said Steele. "The couture really loses money for the company, but it helps show the ultimate in craftsmanship and creativity," she said.
Still, some investors are drawn to the exclusivity and craftsmanship. In July, Sotheby's in Paris will auction haute couture from the private collection of Didier Ludot, a vintage fashion dealer. Items include couture pieces such as a Pierre Balmain cocktail dress from 1953 and a cage corset from Yoji Yahmamato from 2006. "They are all beautifully hand finished," said Kerry Taylor, a vintage clothing auctioneer who is hosting the auction alongside Sotheby's. Prices for dresses are expected to reach 10,000 euros ($11,120) for the vintage evening gowns. 
Affordable couture
For those who can't afford $70,000 for a dress, there are a few options.
In the last decade, there's been a rise in what's known as demi-couture fashion, which is created using the same hand-made craftsmanship of haute couture but without individual fittings. Department stores including Neiman Marcus in the US, Colette in Paris and Harrods in London, sell demi-couture which is made to fit standard sizes and costs 10% to 20% of the price of couture. Demi-couture can be ordered through the retailer directly, as it isn't usually stocked on the shop floor. It's often possible to finance the purchase using a store credit card.
Demi-couture pieces generally appear on the runways alongside the ready-to-wear collections.
For fashion lovers unwilling to pay even the slightly reduced price of demi-couture, Taylor regularly sells previously-worn vintage couture clothing at auctions for less than £1,000 ($1,500) per item. Though items were made to fit a specific body type, many of the sizes fall into a standard 36-inch bust and 28-inch waist, and can be tailored to fit a larger or smaller body. "People shouldn't think it's all worth a fortune," she said.
For an even more economical glimpse at the craftsmanship, visit a museum such as the Palais Galliera in Paris or the Metropolitan Museum of Art's Costume Institute in New York. Both museums regularly exhibit couture gowns. Just seeing them on display can be enough to get your couture fix. "A lot of the pieces are not meant to worn, they are works of art," said St James.
To comment on this story or anything else you have seen on BBC Capital, please head over to our Facebook page or message us on Twitter.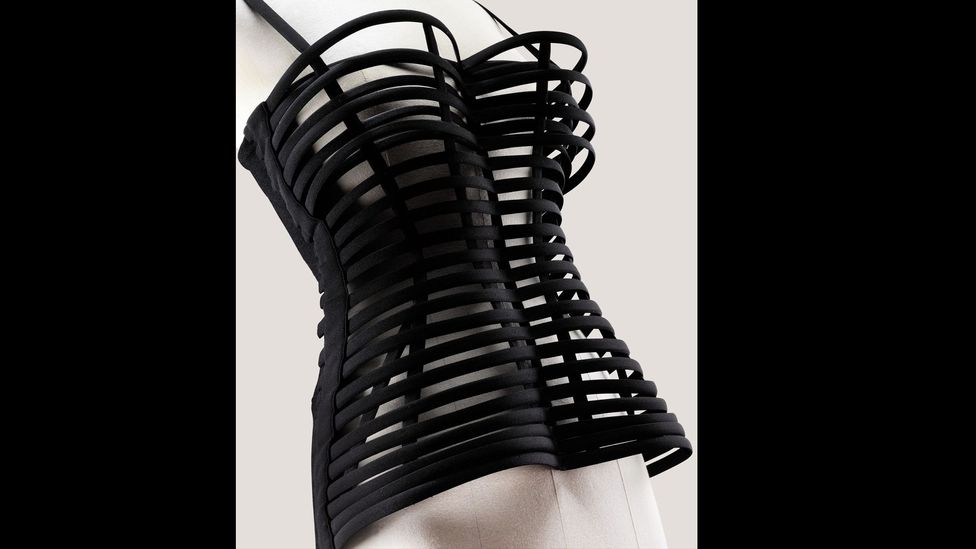 This 2006 Yamamoto corset is estimated to sell for 1,500 to 2,000 euros at auction. (Credit: Sotheby's/Art digital studio)
This 2006 Yamamoto corset is estimated to sell for 1,500 to 2,000 euros at auction. (Credit: Sotheby's/Art digital studio)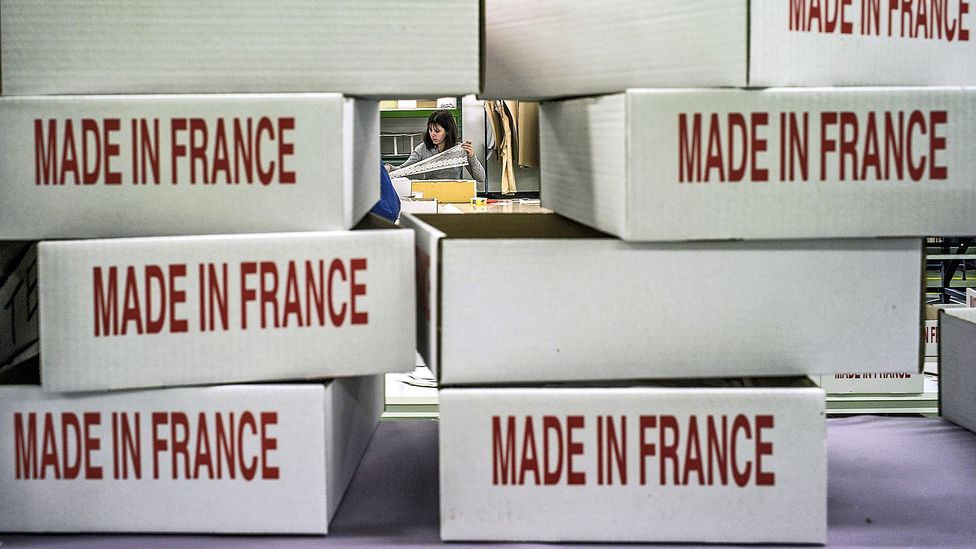 A fashion house must be based in France to meet the strictest definition of couture. (Credit: Jeff Pachoud/AFP/Getty Images)
A fashion house must be based in France to meet the strictest definition of couture. (Credit: Jeff Pachoud/AFP/Getty Images)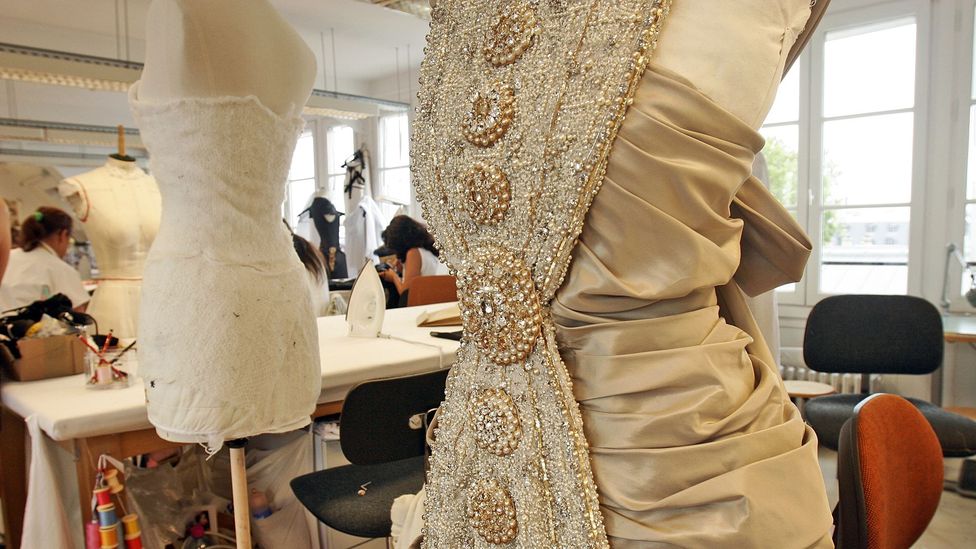 Chanel artisans hand-make couture from the finest materials. (Credit: Francois Durand/Getty Images)
Chanel artisans hand-make couture from the finest materials. (Credit: Francois Durand/Getty Images)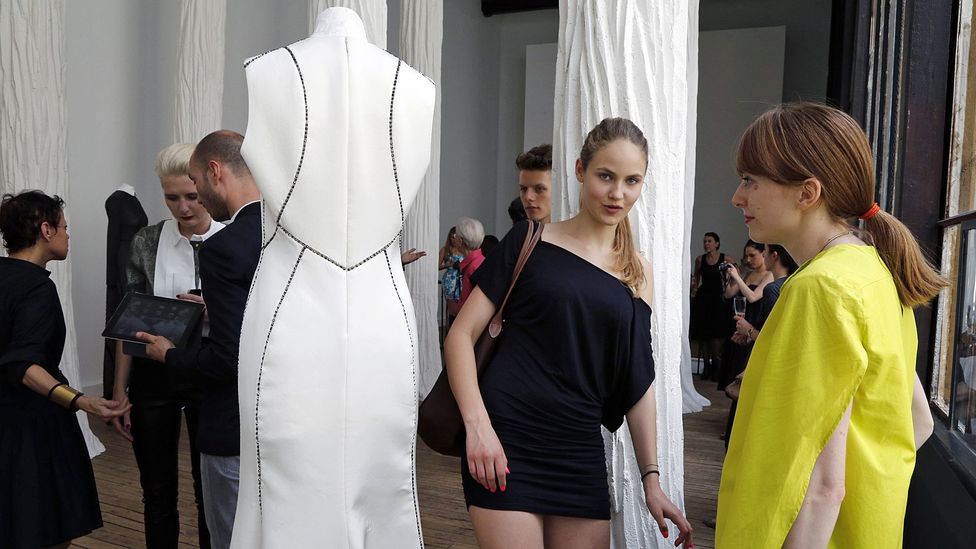 Women scrutinise a dress by Lebanese designer Rabih Kayrouz. (Credit: Francois Guillot/AFP/GettyImages)
Women scrutinise a dress by Lebanese designer Rabih Kayrouz. (Credit: Francois Guillot/AFP/GettyImages)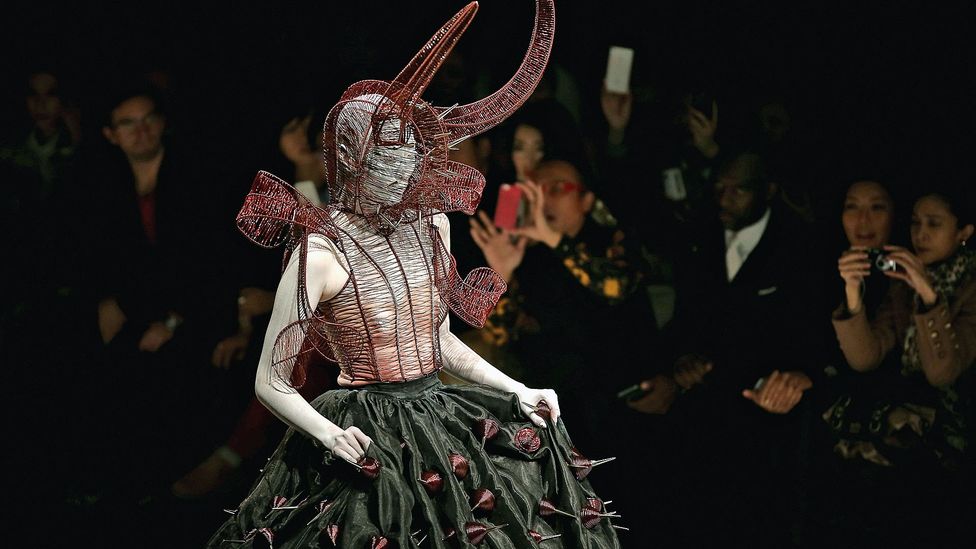 Chinese patrons make their picks from the Hu Sheguang Haute Couture collection. (Credit: Feng Li/Getty Images)
Chinese patrons make their picks from the Hu Sheguang Haute Couture collection. (Credit: Feng Li/Getty Images)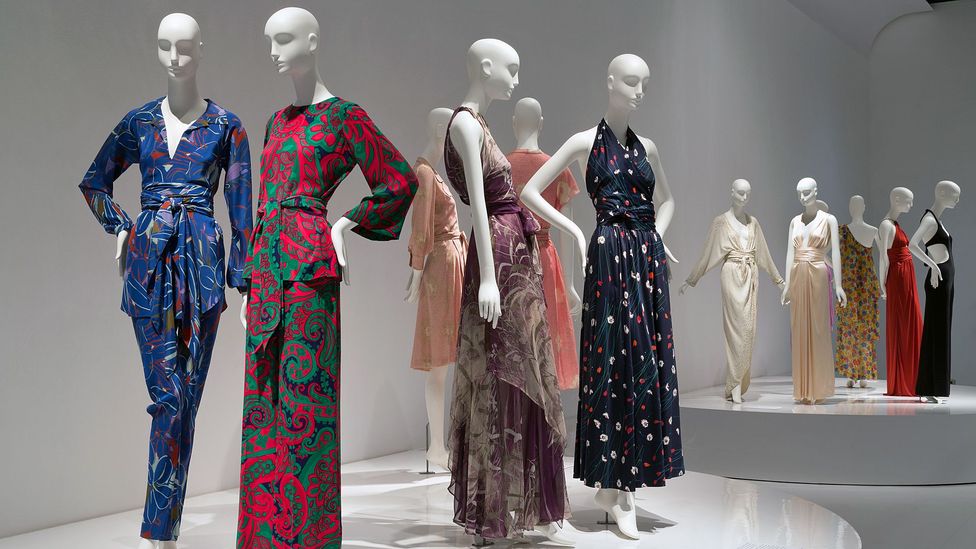 Museums are a fix for those who love, but can't afford, couture. (Credit: Fashion Institute of Technology)
Museums are a fix for those who love, but can't afford, couture. (Credit: Fashion Institute of Technology)