Worried about breaking the ice? It never fails to know a little bit about hockey.
The snap of rodeo cowboy whips, the drone of oil pumpjacks… the hum of money?
Calgary, in western Canada, is becoming known for more than its famous Stampede festival, professional hockey team and its profitable oil and gas industry. Thanks to its lack of provincial tax, "Cowtown" is also becoming a haven for commerce and cultural activity. That's bringing herds of business travellers to the region.
The city, in the province of Alberta, has the largest concentration of head offices and small businesses per capita in Canada (over 125 are based in the city). Nearly every major oil and gas company has offices here, along with affiliated industries that include everything from engineering companies to consulting firms. And according to Calgary Economic Development, the city has more millionaires than any other Canadian major city, on a per capita basis. Job growth is intense with nearly 24,000 jobs produced in 2013, almost 11% of Canada's job growth numbers.
This business base translates into a higher personal income per capita, the highest of Canada ($57,000 according to the Conference Board of Canada), and it trickles down to create a variety of fine dining, shopping, art, and entertainment venues that become enjoyable diversions — and a reason to return — for the thousands who visit Calgary on business every year. Also aiding travellers, one in five residents can count a language other than English as their native tongue (more than 120 languages are spoken in total).
Don't expect suits everywhere. This city is a casual, easy-going place. Even during the week, it seems that anything goes when it comes to professional attire.
"The business community, with its legendary ability to do business on a handshake, fosters a collegiality and a respect for new ideas," said David Farran, president and co-founder of Alberta's first craft distillery Eau Claire Distillery, in an email. "I am impressed with the caliber of the entrepreneurs and professionals searching for new opportunities here."
Airport
Calgary International Airport in 2013 was labelled the fastest growing airport in Canada, and it handled more than 14.3 million passengers. It is one of only three Canadian airports to offer service to both Europe and Asia.
It's important to remember that if returning to (or transferring through) the United States from Calgary, immigration formalities for the US are completed before departing Canada. While this saves time upon arrival, it means extra time is needed before departure. Allow two hours to check in, clear immigration and customs, and airport security.
A 30-minute taxi ride to hotels downtown costs about $45 Canadian dollars ($37). Bus services also run regularly every half hour and it takes roughly 40 minutes to reach the city centre.
Money matters
The Canadian dollar is worth almost $1 US dollar, which makes it easy for many foreign travellers to decipher the exchange rate. Calgary is not an expensive city. A smoothie and sandwich at The Core shopping complex downtown cost about $12 Canadian ($10). Popular clothing retailers and bookstores in the same facility are no more expensive than counterparts in New York or Los Angeles.
Cultural know-how
Canadians are easy going, but also known for being direct. They say what they mean and mean what they say. Calgary, especially, is known for being casual and unpretentious. It is not uncommon to have a meeting in a cafe or bar to discuss business. Worried about breaking the ice? It never fails to know a little bit about hockey, a national pastime. Home team, Calgary Flames, has a passionate following.
Hotels
185-room Hotel Arts is known for its swanky outdoor pool scene in seasonal weather where a DJ livens up the see-and-be-seen patio. Business travellers appreciate the free wireless Internet, Aveda toiletries, and popular, new Yellow Door Bistro restaurant for entertaining clients. Meeting rooms encircle the pool patio and are bedecked with local art pieces.
Celebrating its centennial anniversary, the 407-room Fairmont Palliser is the city's grand dame. Its public lounges and bar are where power deals are sealed amid the turn-of-the-century decor. Also fully renovated with new decor, it is worth springing for the Fairmont Gold level to gain access to the panoramic penthouse lounge for buffet breakfasts and evening snacks. Lightweight packers can take advantage of the fitness programme that allows frequent guests to borrow workout attire or even store their own gym gear at the hotel year-round.
Dinner for one
Charcut, located at the base of the city's top boutique Le Germain hotel, is the brain child of Top Chef Canada runner-up Connie DeSousa. Famed for its house-butchered meats and farm-to-table menus, the 45-minute, $15 business lunch ($14) is a favorite of downtown business people who are in and out after a hearty, five-course meal. Arrive early to secure a spot at the kitchen bar to watch the chefs in action.
Asian fusion cuisine is one of Calgary's specialties. Recently opened, Anju is a modern Korean eatery that puts a new spin on traditional dishes. Perennial favorites are the Korean barbecue wings and the bibimbap (a hot stone rice bowl with spicy meat and vegetables).
For a fast lunch, arrive early to grab one of the first spots in line (people start lining up at 10:00 before the 11:00 opening) at Shiki Menya, the brainchild of a father-son team of Japanese chefs that have turned this ramen noodle shop into one of Calgary's most talked-about lunch spots. With only 150 bowls prepared daily (fresh noodles made in house and soup stock that marinates overnight), this small shop sells out quickly. Order the Chili Goma noodle bowl with chopped pork in a spicy peanut broth, which is the best seller.
Off the clock
Calgary's craft brewing scene is one of the fastest growing in Canada. Whether alone or with colleagues, National on 10th is an entertainment complex like no other with a massive warehouse bar and cafe serving more than 60 regional brews. Comfort food includes Canada's famous poutine (gravy-soaked fries with various toppings) and a variety of flat breads. Downstairs, a bowling alley entertains while the upstairs Bourbon Room is a more sophisticated respite to sip specialty cocktails and chat about work.
If time is not of the essence, rent a car or hop the Brewster bus to Banff (less than two hours' drive) for amazing mountain views. The bus drops off at Fairmont Banff Springs, a UNESCO World Heritage Site worth exploring. Any meal at Bow Valley Grill in view of the mountain range is worth it, and anyone who has the time should stay the weekend to ski, hike, or explore the wilderness.
Special considerations
Canadian immigration is notoriously strict — with officials often asking numerous questions about the purpose of one's visit. Foreign business travellers should come prepared with adequate documentation of their intended activities, and be prepared for additional queries. This is standard and a common complaint of business travellers.
Once in Calgary, the high altitude means that the air is particularly dry. Be sure to stay hydrated during meetings or if taking advantage of the longest urban bike pathway system in North America. Stock up on hand lotion or lip balm, too. Many hotels will provide humidifiers upon request.
As expected, winters can be especially cold, but  the city's office buildings, hotels, and shopping and dining venues are connected by the Plus 15 Skywalk (it is 15 feet above ground, hence the name). The world's largest indoor pedestrian pathway network allows people to travel in air conditioned comfort throughout the year.
Do you agree with our advice for business travellers to Calgary? What would you add? Share your insights on Facebook page or message us on Twitter.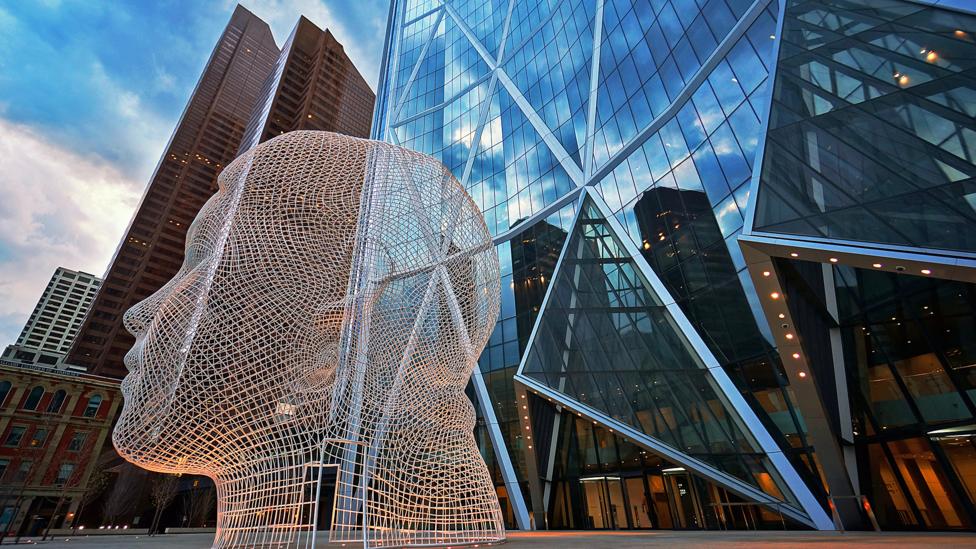 This sculpture, named Wonderland, greets those working in downtown Calgary. (Credit: AB Canada/Getty Images)
This sculpture, named Wonderland, greets those working in downtown Calgary. (Credit: AB Canada/Getty Images)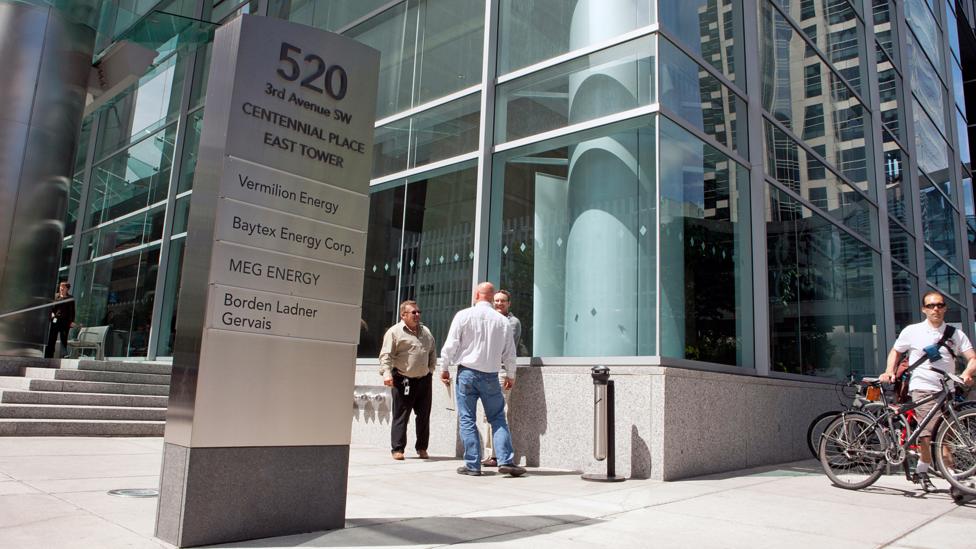 Calgary is the headquarters for numerous oil and gas companies. (Credit: Alamy)
Calgary is the headquarters for numerous oil and gas companies. (Credit: Alamy)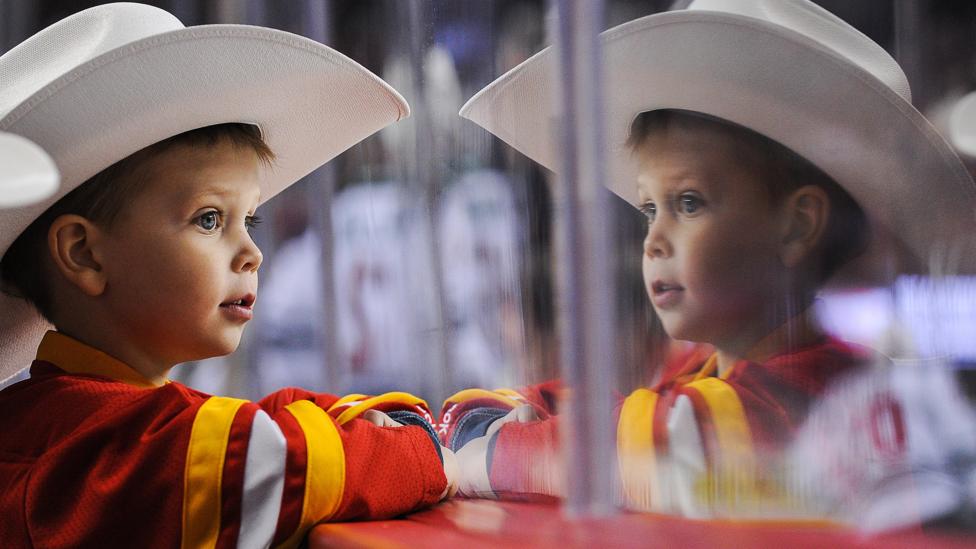 Fans of the Calgary Flames hockey team start early. (Credit: Derek Leung/Getty Images)
Fans of the Calgary Flames hockey team start early. (Credit: Derek Leung/Getty Images)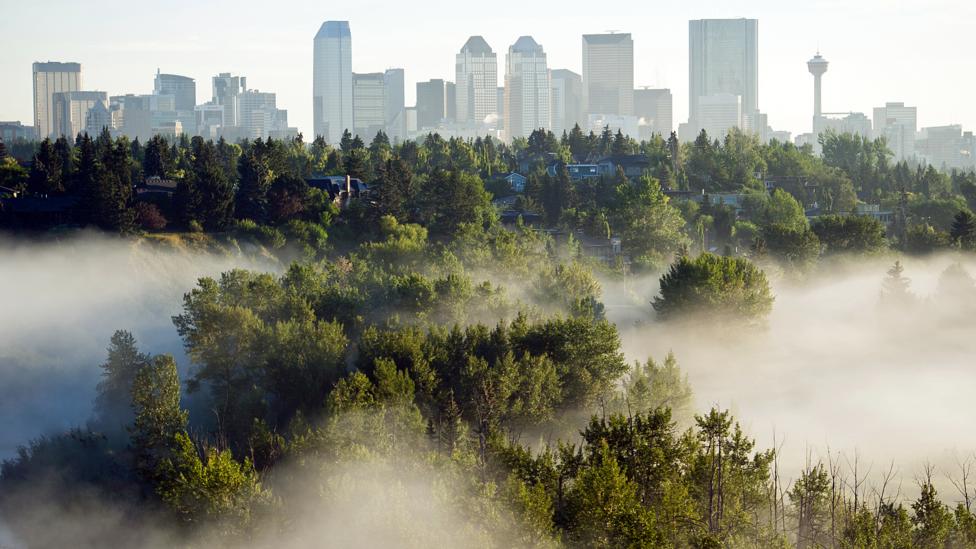 Calgary winters are harsh but early summer days make residents forget. (Credit: Getty Images)
Calgary winters are harsh but early summer days make residents forget. (Credit: Getty Images)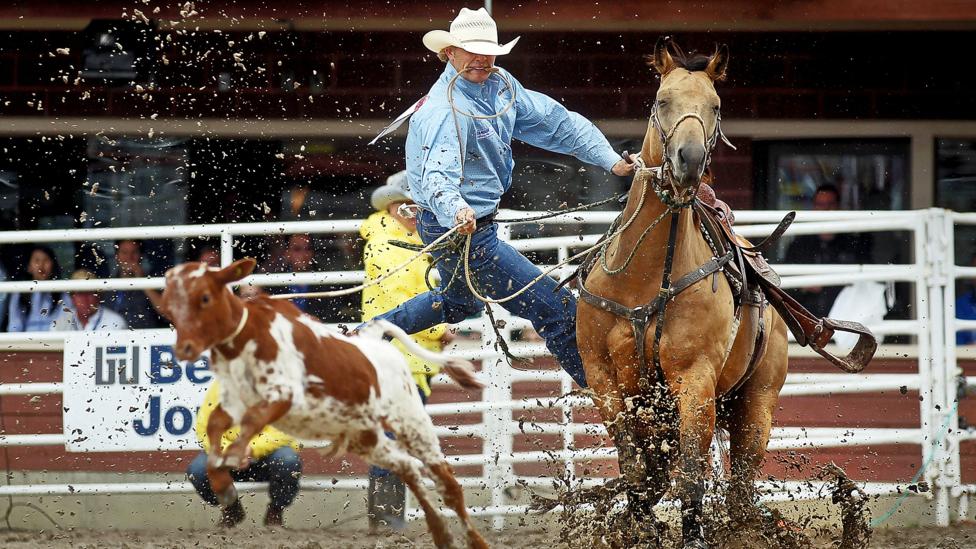 The Calgary Stampede is Canada's largest annual rodeo and draws more than one million visitors. (Credit: Mario Tama/Getty Images)
The Calgary Stampede is Canada's largest annual rodeo and draws more than one million visitors. (Credit: Mario Tama/Getty Images)