W
When New Yorkers Ashley Bartner, 34, and her husband Jason, 35, quit their jobs and moved to a farm in Italy in 2007, they knew they'd be starting from scratch.
The couple had fallen in love with Italy during their honeymoon and decided it was perfect for the more rural lifestyle they craved — even though they didn't speak the language. Bartner hoped her previous work as a marketer in the hospitality industry and her husband's career as a chef could help them transfer their skills to the farm.
"We just felt like we hadn't gotten our hands dirty," Bartner said.
The couple figured running a bed and breakfast as part of a smaller "lifestyle" or "hobby" farm (a small farm where the income from the land is not the sole means of making money)in an inexpensive location in Italy would allow them to carve out their respective careers  while achieving their dream of living in a rural idyll.
Neighbours taught them how to plant alfalfa hay to feed the horses and cows and they soldiered on despite a steep learning curve for raising chickens.
How to find it
The couple worked with an agricultural real estate agent to find an agritourismo, a bed and breakfast with a working farm,about 2.5 hours east of Florence in the Le Marche region. The search took less more than a year, but the couple travelled to Italy from the US four times to look at properties.
The Bartners, who originally wanted to buy, were surprised to find properties for rent that offered a better business opportunity than purchasing land outright. So, after much research, they settled on a 250 acre eight-year lease, which allowed them to invest in infrastructure and take a chance on creating a farm — rather than spending their savings on a down payment for a mortgage.
Now, they offer farm stays and cooking classes for guests who are charged about 180 euros per night to stay in one of five apartments in their bed and breakfast.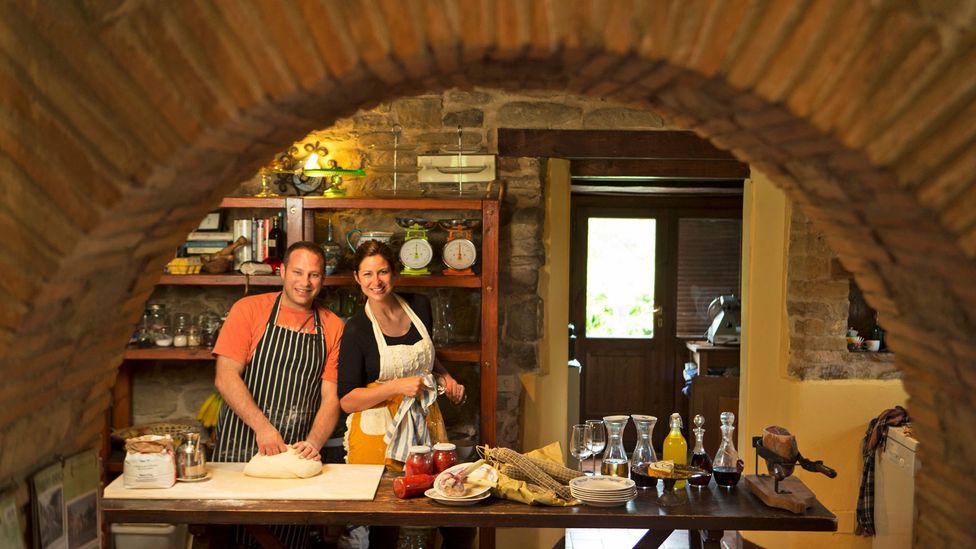 To bring in income, the Bartner's farm has a bed and breakfast. (Credit: Alessandro Moggi)
The lifestyle, while demanding, is more affordable than living in a big city. "A one bedroom apartment in Brooklyn… was twice the price to have a farmhouse in Italy," said Bartner, who declined to reveal the rental costs.
Is it for you?
Many first-time farmers are not prepared for the financial investment, graft, and learning curve involved in turning their love of farming into a lifestyle.
Still, many regions are seeing an uptick in farming as a career for younger folks. In North America, farming is becoming more diverse. The number of US farmers younger than 35-years-old increased 10% between 2007 and 2012, according to census data from the US Agriculture Department. In the European Union, reforms put through in 2014 mean more subsidies are available to support young farmers.
More importantly, the low cost of rural land compared to property in urban centres can make launching a farming business accessible.
"You don't have to buy a big piece of land and pay big money for it, you can [buy] a relatively overlooked piece of land that's really a gem," said Fraser Bliss, a Vancouver, Canada-based consultant who helps working professionals purchase hobby farms.
How to buy it
First-time farmers often purchase a rural property as a primary residence and invest their own money in creating a farm. Most lenders do not provide additional financing to help build a business, so many hobby farms are self-funded with profits generated from the sale of produce.
Large international realtors, including Christie's, have real estate agents who specialise in ranch and farming properties. But, do your homework before buying. Consider the property's water storage — crucial for areas that get little rain — micro-climate and the development costs of the area, said Bliss, who works with clients on choosing quality farmland.
There are many costs involved in running a farm including water bills that can be higher than expected, leasing farming equipment (which starts at $1,500 per year for basics like used tractors, trucks) and hiring hourly paid farm hands (which cost anywhere from $100 to $150 per day) to help during the busy seasons. However, some countries offer tax breaks for owning a farm that can offset these costs.
And, once a farm starts to sell produce or hire help, most insurance companies require additional farm insurance beyond a simple home-owner's policy.
Number crunch
New farmers often make the mistake of over-investing in the original land or property, rather than saving income to develop their farming capabilities, Bliss said.
"The land should be what you invest in the least," he said, adding that it should make up less than 50% of the original investment. As you move forward, comparing how much money is earned per crop can help make your farm viable. "You can turn away crops that don't make you any money," Bliss said.
Create a list of realistic goals for the farm. When compared to commercial farms, hobby farms or lifestyle plots have  five to 60 acres available for farming. Often, farmers generate a supplemental income outside from the farm.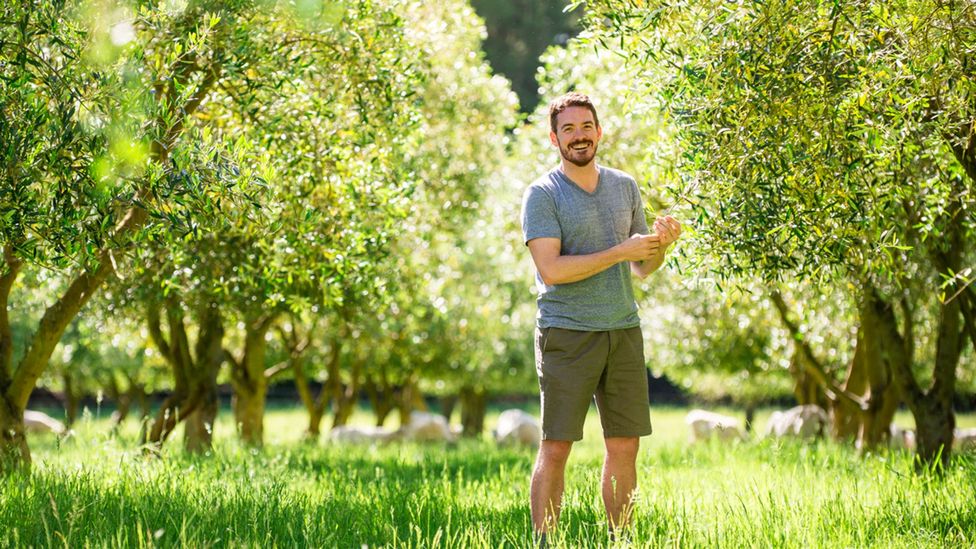 Jared Gulian, an olive farmer in New Zealand still has a day job. (Credit: Mike Heydon)
Jared Gulian, an olive farmer outside of Wellington, New Zealand still commutes to the city for his day job as a product manager for an online auction company. And, each year, the 47-year-old Gulian and his partner sell 300 litres of the artisanal olive oil to nearby restaurants and stores for 19.00 New Zealand dollars ($13.52).
While Guiian won't reveal how much he paid for the 20-acre farm, he said the olive oil sales help offset the monthly cost of maintaining the property. "We're breaking even," said Gulian, who purchased the property in 2006. "It's not a money-maker."
He said that he was realistic about the farm lifestyle and knew when he purchased the property that he would need to work a regular job too in order to maintain the farm. He also wrote a book published in 2013, Moon Over Martinborough: From Michigan to the Wairarapa. How an American Boy Became a Kiwi Farmer, about the farm and said it's also been a source of farm-related income.
Land and sea
For others, farming has helped facilitate a career switch. Former high-tech executive Narendra Varma, founder of the Our Table Cooperative, left his job at Microsoft because he eventually hoped to transition into a career doing sustainable agriculture.
He spent $1.3m on a 60-acre farm 15 miles outside of Portland, Oregon, in 2010 and now has 14 employees.
He hopes selling boxes of locally grown produce and having an on-farm grocery will offset operating costs and expects to break even in 2016. Varma, who works on the farm fulltime, raised another $650,000 from private investors to pay salaries and keep the business running.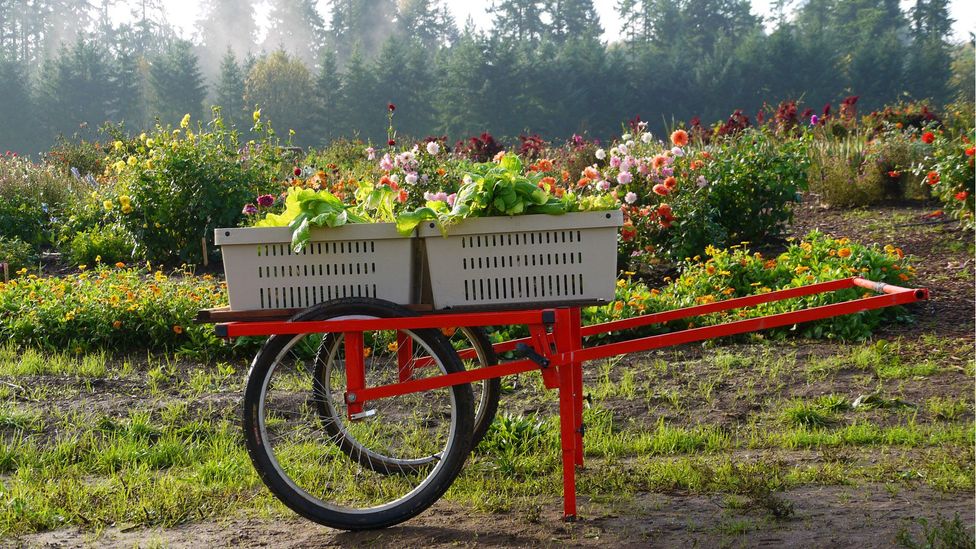 A former hi-tech exec founded Our Table Cooperative outside Portland, Oregon. (Credit: Machelle Varma)
A focus on sustainable agriculture has meant foregoing the use of most chemicals. "You have to use mechanical means to farm [organically], a lot of that ends up being manual labour," he said.
Some farmers are turning to aquaponics, a system of farming aquatic animals hydroponically, without ever leaving the city.
In Berlin, Nicolas Leschke, cofounder of ECF Farmsystems, an aquaponics farm and farmer's market produces 30 tons of pink perch each year to sell directly to consumers. After building a smaller prototype of the farm and running it for almost a year, Leschke and his partner secured 1.6m euro in investment from a seed round comprised of a clean-tech venture capital fund and an angel investor to build out the 1,800-square-metre farm (in addition to office space) within Berlin's city limits.
Try before you buy
For total newbies, global organizations, including WWOOF, which stands for Worldwide Opportunities on Organic Farms, and Growfood, match volunteers with farmers anywhere in the world, allowing would-be farmers an opportunity to experience what it takes first-hand.
In exchange for farm work, volunteers get room and board with farm stays lasting several weeks on average. Summers can be especially busy when crops mature, farmer's markets are underway and more tourists visit.
During the busiest months, Gulian houses three farmers each day. They do five hours of daily unpaid farm work in exchange for room and board. The visitors have helped Gulian expand his farm beyond its 500 olive trees.
The farm now has grazing sheep, pigs, fig trees and tomatoes. For the first time this year, Gulian was able to make a dinner entirely from the produce and animals raised on the farm.
"It's incredibly rewarding," he said.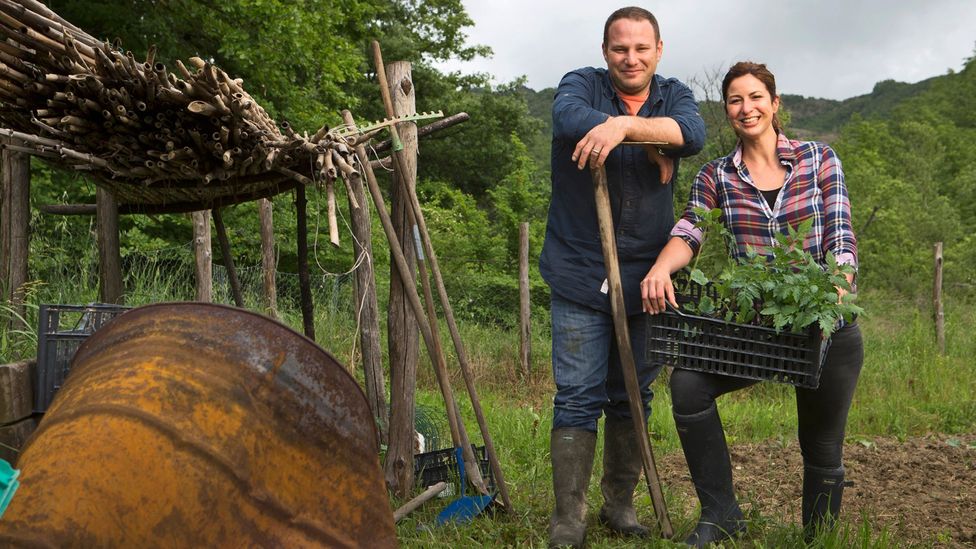 Ashley and Jason Bartner left New York City for a farm in Italy in 2007. (Credit: Alessandro Moggi)
Ashley and Jason Bartner left New York City for a farm in Italy in 2007. (Credit: Alessandro Moggi)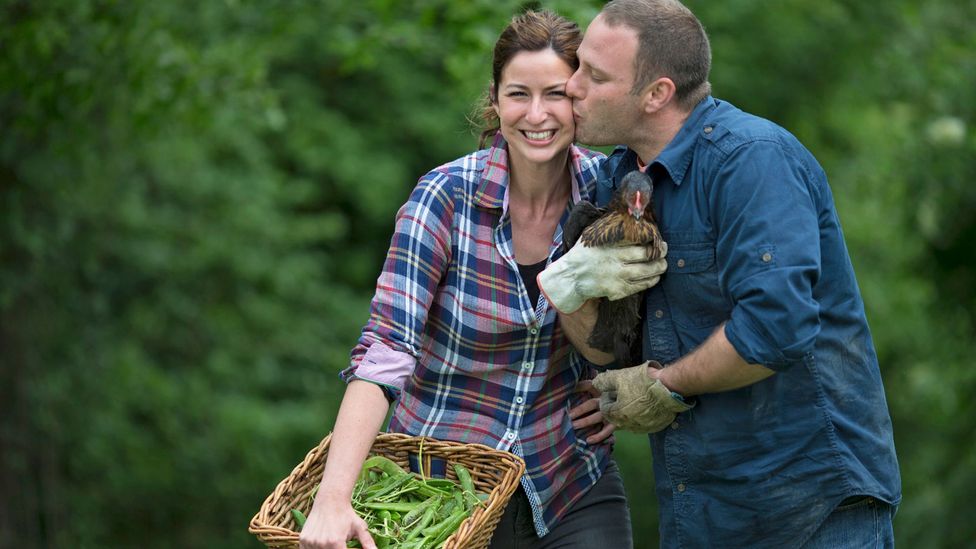 The Bartners had a steep learning curve for raising chickens. (Credit: Alessandro Moggi)
The Bartners had a steep learning curve for raising chickens. (Credit: Alessandro Moggi)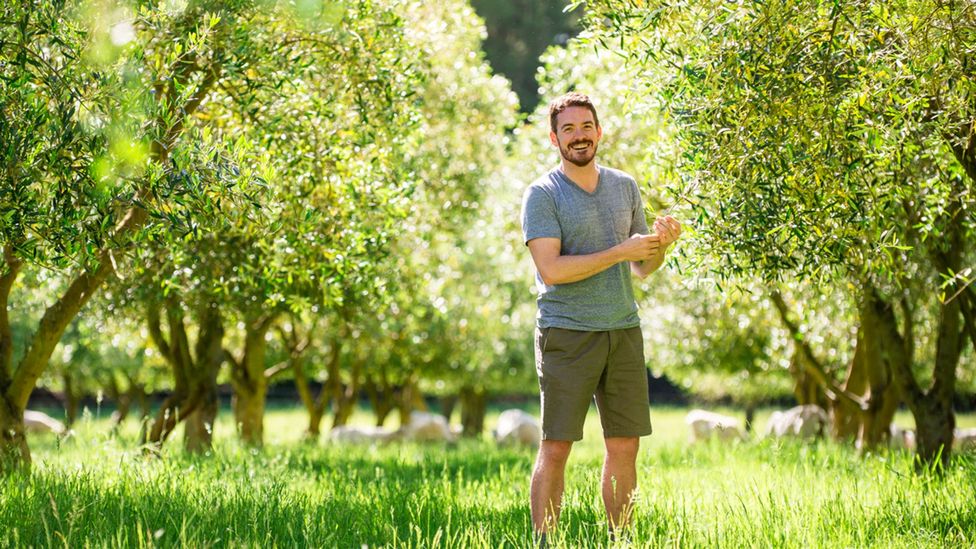 Jared Gulian, an olive farmer in New Zealand still has a day job. (Credit: Mike Heydon)
Jared Gulian, an olive farmer in New Zealand still has a day job. (Credit: Mike Heydon)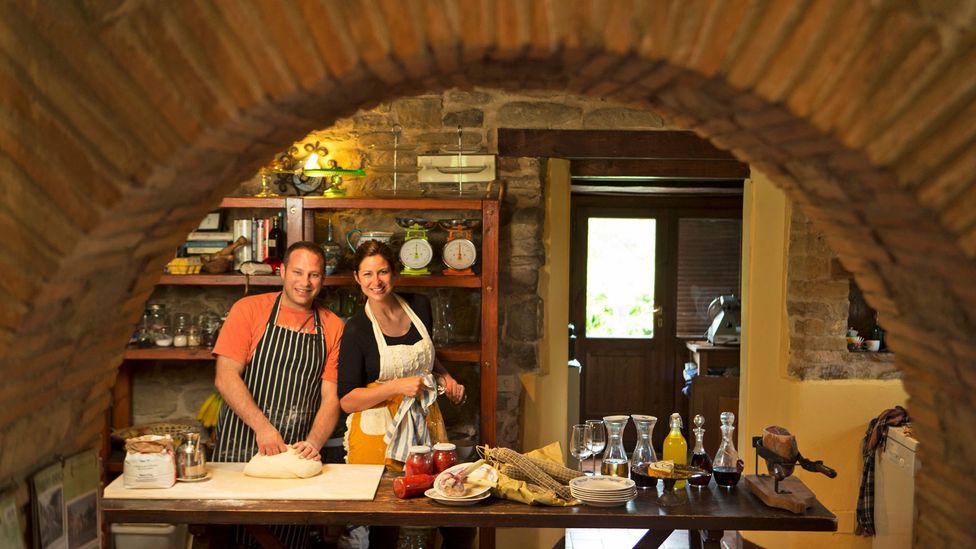 To bring in income, the Bartner's farm has a bed and breakfast. (Credit: Alessandro Moggi)
To bring in income, the Bartners farm has a bed and breakfast. (Credit: Alessandro Moggi)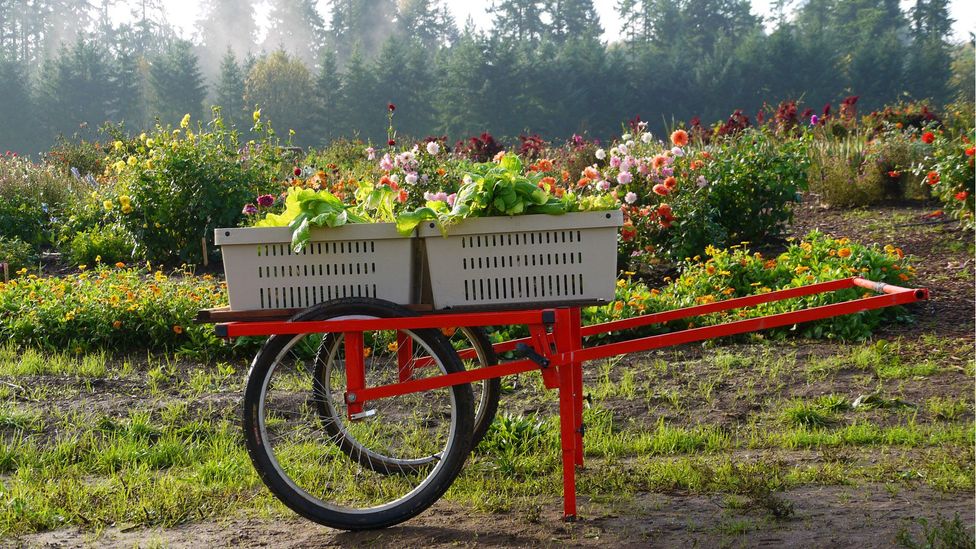 A former hi-tech exec founded Our Table Cooperative outside Portland, Oregon. (Credit: Machelle Varma)
A former hi-tech exec founded Our Table Cooperative outside Portland, Oregon. (Credit: Machelle Varma)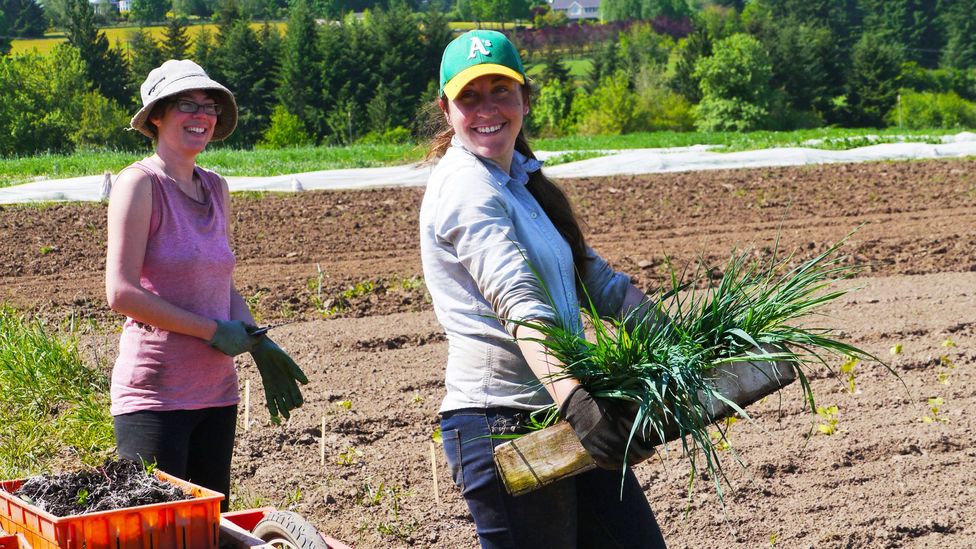 Narendra Varma raised $650,000 for salaries, costs until he breaks even. (Credit: Machelle Varma)
Narendra Varma raised $650,000 for salaries and other costs until he breaks even. (Credit: Machelle Varma)