W
When Neal and Maddie Love heard that the itty-bitty town of Wauconda, Washington, 38 miles from the Canadian border and "in the middle of nowhere", was up for sale, they knew it was for them.
"It's God's country, it's beautiful here," said Maddie Love. "This is the Old West."
After a 2010 eBay auction of the town closed and the leading buyer's bid fell through, the Loves purchased the four-acre Wauconda for $360,000 from Daphne Fletcher, who had owned it since 2007.
The Loves got a café, a gas station, a post office, a four-bedroom house, and even their own postal code: 98859. They sold their home and most of their possessions to finance the town, which they planned to run and make their permanent home. But the dream didn't work out. Now the Loves are getting ready to sell Wauconda and move once again: this time to North Dakota where Neal Love has found steady, well-paying work, something Wauconda wasn't able to give him. Even so, for many, the appeal of owning your own post code is strong. And others have found more success.
Over a couple of years, buying individual properties as he went, Italian-Swedish businessman Daniele Kihlgren purchased much of the Italian hamlet of Santo Stefano di Sessanio in the Abruzzo region and successfully turned it into an "albergo diffuso" or scattered hotel. Rather than build a single, new structure, different parts of the hotel are spread among the town's buildings. It has been a financial and cultural success with many tourists spending the night. Kihlgren now has a second town, also in Italy, which he is leasing in exchange for restoration.
"[These] hotels are well known all over the world because they are unique and they offer an experience completely different than a standard hotel," said Michele Centonze, Kihlgren's sales and marketing manager. On TripAdvisor, Sextantio Albergo Diffusio receives four-plus stars with many visitors focusing on the unique experience. "We were absolutely blown away by the prospect of sleeping in a part of a castle perched on a hill in Abruzzo," said one. "We weren't disappointed as the room was everything we had hoped."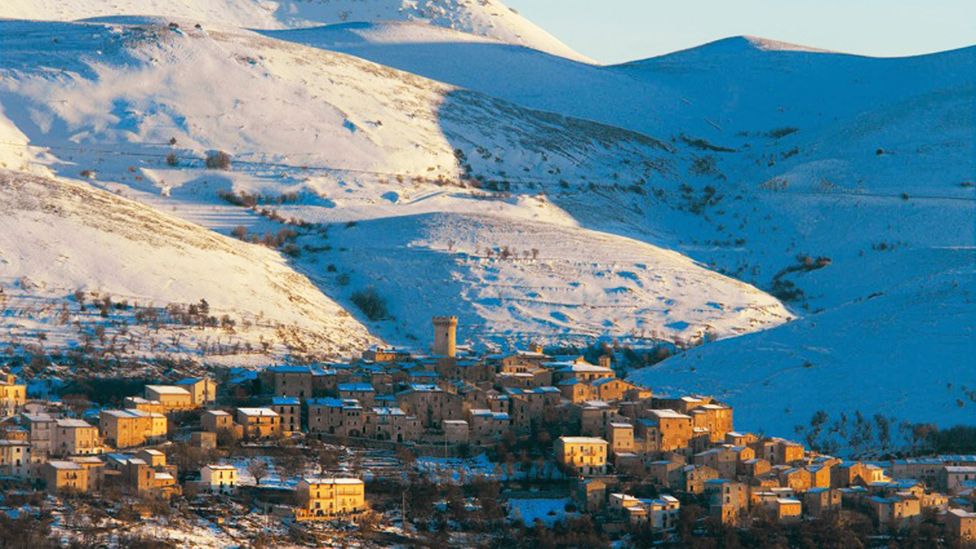 This Italian village was purchased piece by piece. (Credit: Sextantio Group)
Proceed with caution
For some, the draw of owning a town is financial. They plan to run it as a business or they simply want more bang for their buck — purchasing an entire town for the same price or less than a single property in an urban centre.
For example, with 550,000 euros ($619,300), you could buy a three-room apartment in Paris' second arrondissement or a 500-square-foot co-operative apartment in New York's Chelsea neighbourhood. Or, you could purchase Valle Piola, an entire medieval village in one of Italy's largest national parks and only two hours by car from Rome, which is on the market for the same price.
For others, like the Loves, there is romanticism in owning a town.
And, for others, it's about ego, said Louis Fisher III, national director of Sperry Van Ness Auction Services LLC in Boynton Beach, Florida. Talk about dinner party conversation. Think:  "I just bought a town so I can name it after my grandson."
But as many current and former town owners can attest – the reality is harder than the allure might betray. And, there aren't many footsteps to follow since it is such a unique investment; towns for sale are far and few between.
In 1989, American actress Kim Basinger plunked down $20 million for the town of Braselton, Georgia, 60 miles from Atlanta. She ended up selling it five years later at a huge loss due to financial problems she was having. And in 2011, the small town of Courbefy, France, 280 miles southwest of Paris, sold for roughly 520,000 euros ($585,520) to Yoo Byung-eun, the South Korean owner of the sunken ferry Sewol, who planned to build an environmental, artistic and cultural project there. He has since died, and the project is now on hold.
The moral: proceed with caution. But if you're not deterred, here's a handy guide to buying your very own town.
How to find it
Whatever your reasons for buying a town, much of the challenge is not in the cost – but finding one for sale to begin with.
"It's not like I have a database that I call my VIP town buyer list," said Fisher. So, where do you start?
Occasionally, towns are listed on eBay or other auction sites – but there isn't a particular category for them. Narrow down the geographical vicinity where you would like to purchase a town and then contact real estate agents in the area. "Otherwise, you're looking for a needle in a haystack," said Fisher. Also, because of their novelty, towns that are listed for sale are often covered by the media, and many buyers find out about them that way.
Multi-purpose second life
That was the case for the Valle Piola, which is currently for sale on eBay and has been featured in numerous European publications.
On the market since 2013, the village has piqued the interest of a number of prospective buyers, according to Fabio Pisi Vitagliano, a member of the four-person, private Valle Piola Rebirth Team, which owns Valle Piola. Potential buyers' ideas for the town have spanned everything from a boutique hotel, to an artistic village, an eco-friendly village, and a rehabilitation centre.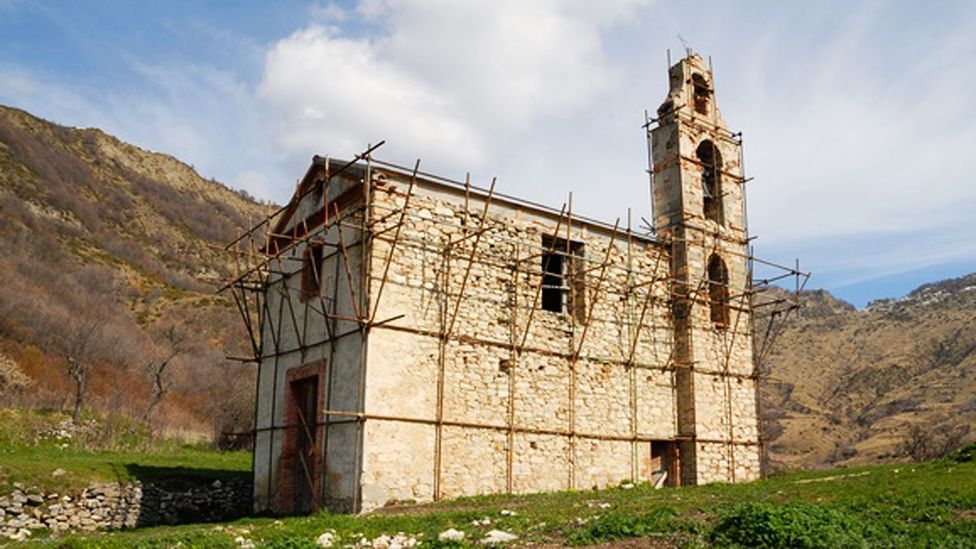 Valle Piola, two hours from Rome, is on the market for 550,000 euros ($619,300). (Credit: Alessandro de Ruvo)
Vitagliano and his team believe it would work best as a tourist destination with accommodations that are spread throughout the village but are interconnected, much the same way Sextantio Albergo Diffusio works.
It's been a labour of love to piece the town back together. Three of the four team members grew up in the area and decided to buy the abandoned village with the idea that they could sell it to investors. But it was difficult tracking down the properties' owners because the village had been abandoned in the 1970s, and parts had been divvied up among different groups.
While Vitagliano is confident Valle Piola will sell, for now, the 15-building village is deserted, and parts of it are crumbling. "We would like to give it a second life and see the area flourish again," said Vitagliano in an email.
On the higher end of the property spectrum is 62-acre Johnsonville, Connecticut, a former mill town currently for sale for $2.3 million. While not an official municipality (it is located in the town of Moodus), Johnsonville still feels complete, with a general store, chapel, meeting house, school house, barn, tavern, office, and a covered bridge. It is two hours from New York City and Boston.
Johnsonville was purchased by the Meyer Jabara Hotels in 2001 with plans to turn it into a 55-plus community. But for numerous reasons, including the economic climate after the September 11 attacks and the global recession, the development never happened. "We weren't looking to buy a town. The property came to us, and we fell in love with it," said Justin Jabara, the company's operations manager. "I've had many a picnic there."
"It's a unique piece of land," said Jabara, adding there are many possibilities for its future use. It has already been used as a movie set and as the backdrop for a music video. Other possible uses are as a prep school campus, a bed and breakfast, a destination development, or even a drug treatment facility. Currently, it sits vacant.
The property came very close to selling last year during an online auction on Auction.com – but the sale fell through. "It was a new experience, so exciting and so fun to work on," said Jim Kelly, the real estate agent who is listing the village with Connecticut-based Figure Eight Properties.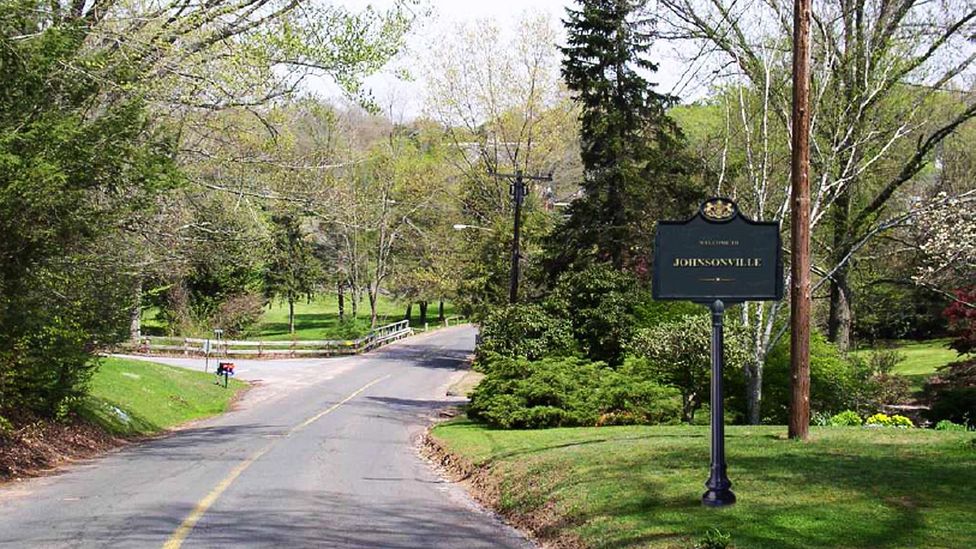 The 62-acre town of Johnsonville, Connecticut in the US is on the market for $2.3m (Credit: Meyer Jabara Hotels)
How to buy it
If you're thinking of taking the plunge, vetting is crucial, for both the buyer and the seller. One of the first things to look at is whether any municipal bonds have been issued for the town, according to Fisher. "Ultimately, they will have to be redeemed" – in other words, paid back. These bonds are typically issued for expansion projects, such as parks or amphitheatres. Fisher also suggested assembling at least a three-person team to help with the vetting process: a real estate attorney, a surveyor and an environmental consultant.
Many "towns" listed for sale are not really towns at all, but clusters of buildings that make up a certain geographical area.  So, there are certain details you'll want to make sure are already in place, according to David Olsen, a commercial broker with Coldwell Banker in Rapid City, South Dakota.
"You've got to have water, you've got to have sewer, and you have to have a fire department," said Olsen, who was the broker in the $799,000 sale of the town of Scenic, South Dakota, in 2011. If the town already has a postcode, you'll most likely be able to keep it, but otherwise a new one is virtually impossible to get.
In real estate for more than 20 years, Olsen said he hadn't sold a town before or since the Scenic sale. But he's had a number of inquiries from interested buyers looking to purchase towns. One woman called a few months after Scenic sold. She was very disappointed to hear that someone had already bought it, remembered Olsen. She told him that she had wanted to buy it for her husband for a Christmas present. "He always wanted to be mayor of his own town," she said.
Buyer's remorse?
For Fisher, buying a whole town has a lot of potential pitfalls, one of the biggest being not be able to determine your return on investment.
"You don't have typical comparables like you do in commercial real estate," he said. "With a town, you [probably] don't have any data or documents to rely on."
"You'll want to have a vision for the future," said Susan Wachter, a professor of real estate and finance at the Wharton School of the University of Pennsylvania. How are you going to pay for ongoing maintenance? Will the town generate its own income? And, should you want to sell, what is your all-important exit strategy? "How and when are you going to sell it," Fisher asked.
In the case of the Loves' purchase of Wauconda, not everything turned out to be as it seemed. Almost as soon as they arrived, they had to close down the store and café for five months because the well, which was the main water source for the town, needed to be replaced. And they found out that they had paid a lot more than the property was worth at the time, according to Maddie Love. Neal Love ended up having to take a job for much of the year in North Dakota to help pay for the cost of the new well.
"It has been a labour of love and hate," she said. "If we had to do again, I don't know if we would."
To comment on this story or anything else you have seen on BBC Capital, please head over to our Facebook page or message us on Twitter.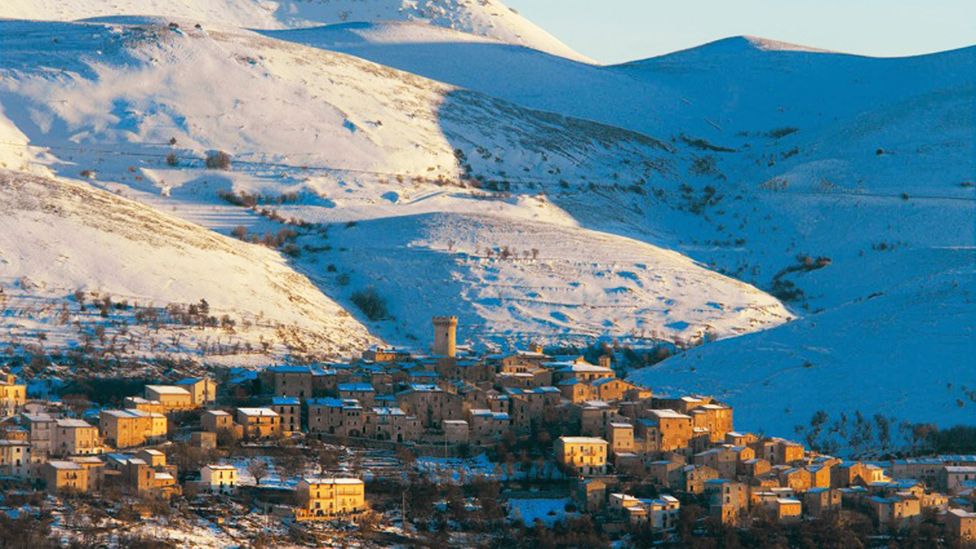 This Italian village was purchased piece by piece. (Credit: Sextantio Group)
Owners purchased an Italian village piece by piece, turning it into a hotel. (Credit: Sextantio Group)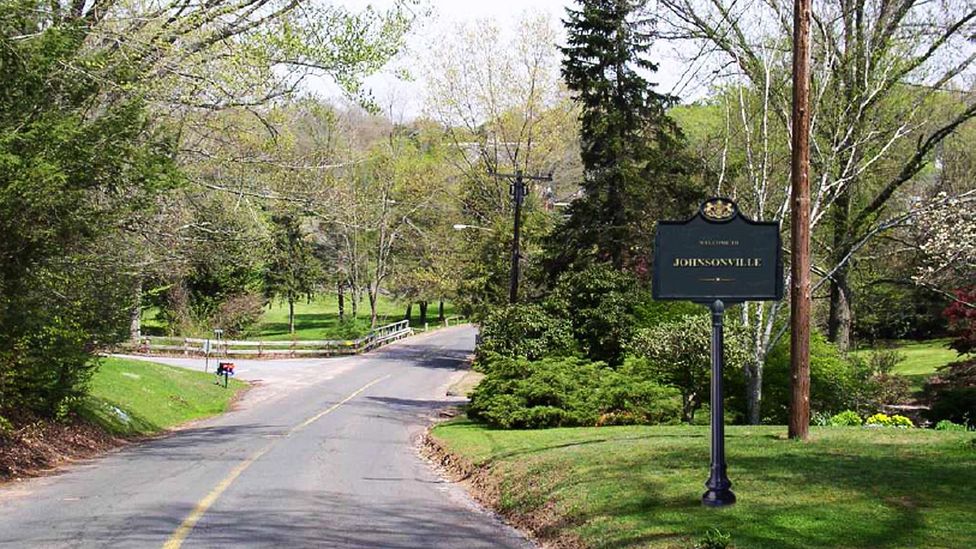 The 62-acre town of Johnsonville, Connecticut in the US is on the market for $2.3m (Credit: Meyer Jabara Hotels)
The 62-acre town of Johnsonville, Connecticut in the US is on the market for $2.3m (Credit: Meyer Jabara Hotels)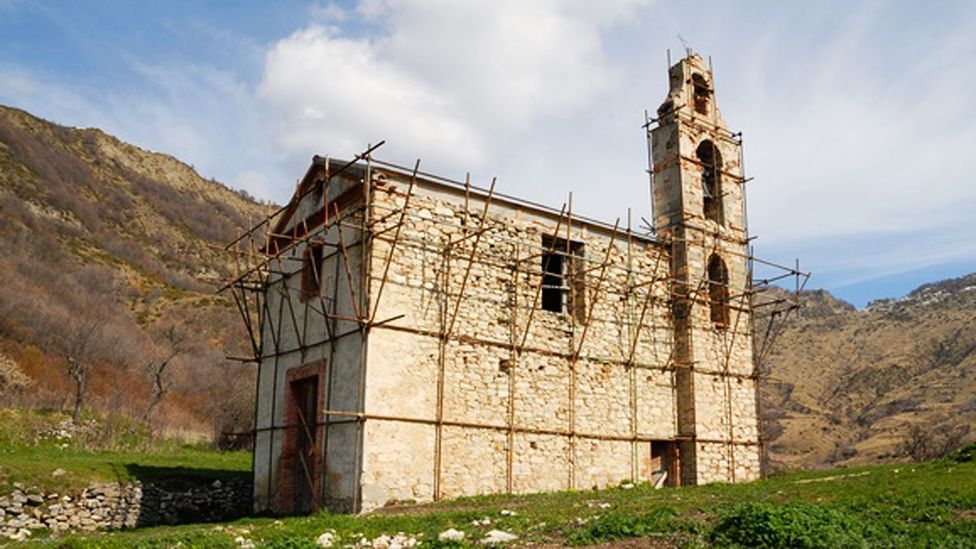 Valle Piola, two hours from Rome, is on the market for 550,000 euros ($619,300). (Credit: Alessandro de Ruvo)
Valle Piola, two hours from Rome, is on the market for 550,000 euros ($619,300). (Credit: Alessandro de Ruvo)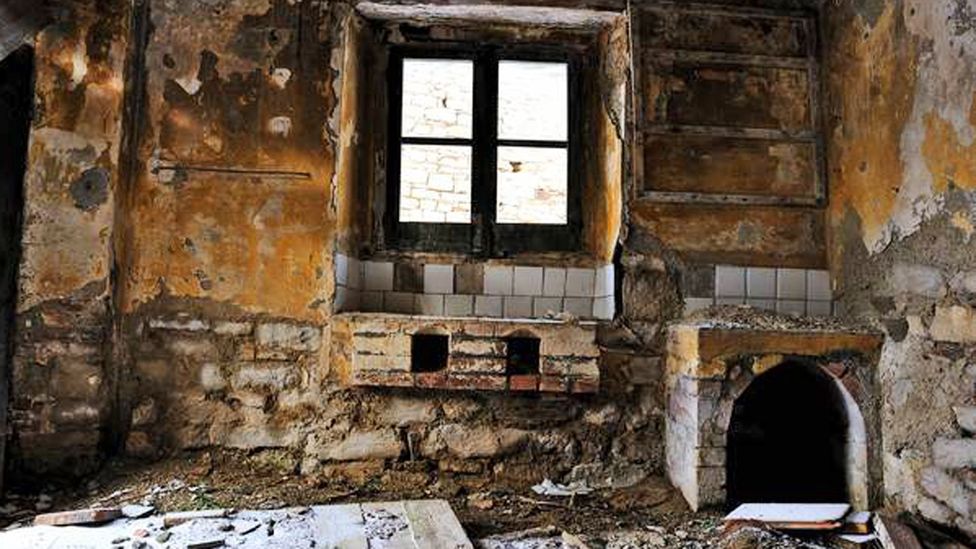 Renovating the medieval village will be costly for Valle Piola's new owners. (Credit: Alessandro de Ruvo)
Renovating the medieval village will be costly for Valle Piola's new owners. (Credit: Alessandro de Ruvo)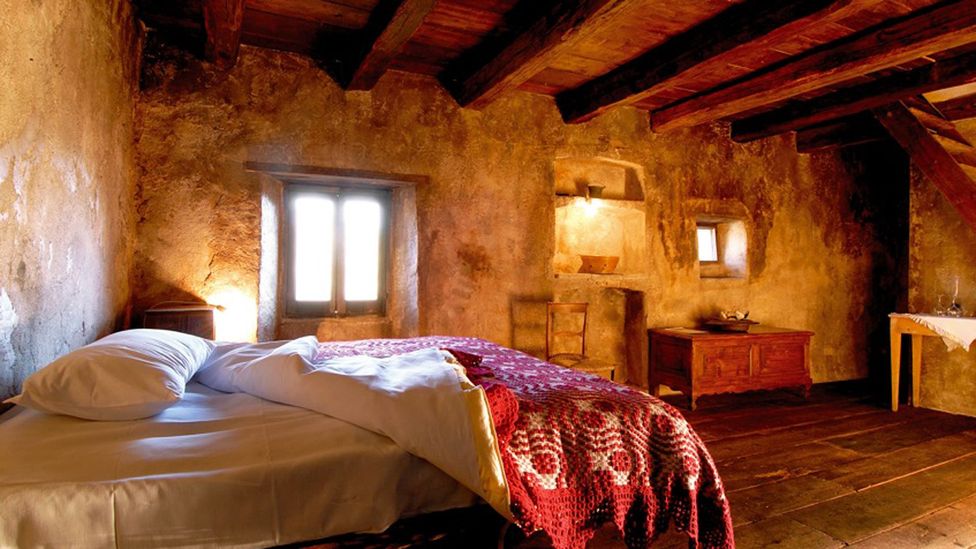 With investment and time, owners beautified Santo Stefano di Sessanio. (Credit: Sextantio Group)
With investment and time, owners beautified Santo Stefano di Sessanio. (Credit: Sextantio Group)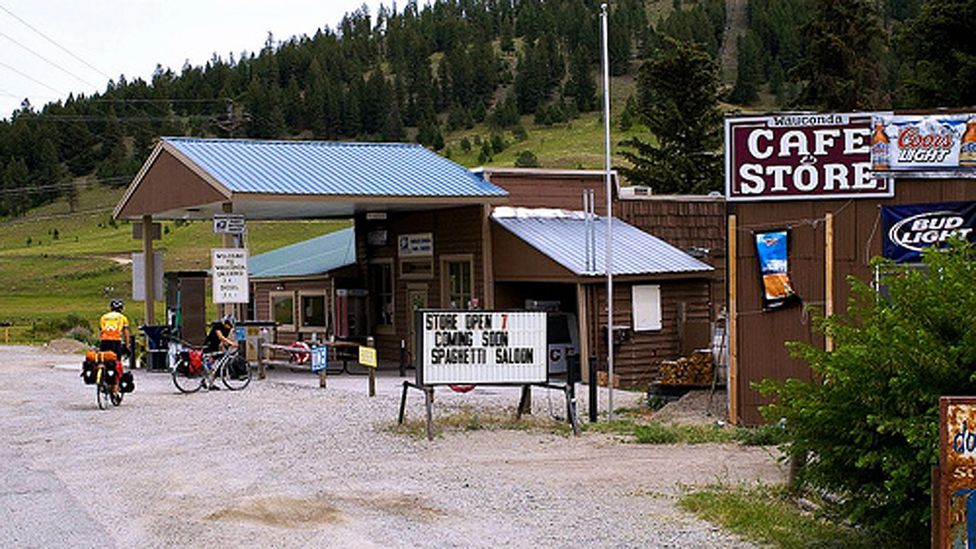 Wauconda, Washington in the US is for sale for the second time in eight years. (Credit: Creative Commons)
Wauconda, Washington in the US is for sale for the second time in eight years. (Credit: Creative Commons)