It's really changed my entire life.
Nestled amongst the nondescript concrete buildings of Silicon Valley, home to start-ups and tech giants, are a surprising number of churches and temples.  
They cater to the highly successful and wealthy population of the world's tech capital. It is surprising because this is a region that is known for its agnosticism, rather than religiosity.
"Silicon Valley attracts people with a type-A personality," said Skip Vaccarello, author of Finding God in Silicon Valley. "[That type has] the lowest number of people that go to a church on any Sunday. The gods become the things like money, technology, success and so on."
A recent survey listed San Francisco, Oakland and San Jose as having the least church-going population of any place in America.
That churchless image belies the modern reality: new places of worship in Silicon Valley and the broader Bay Area are attracting enthusiastic congregations. For some, there appears to be a yearning for a spiritual experience that cannot be achieved in the workplace or home.
Churches, temples and other places of worship are popping up in office parks, warehouses and community centres.
"A lot of people come out here and they find that you're making more money than you know what to do with, you're being promoted to a position greater than you ever thought you could be, but it's not really fulfilling your soul," said 25-year-old Austin Walterman, who works in the video game industry.
The term, Silicon Valley, was coined in the 1970s and refers to the high concentration of technology-based industries in a sprawling region to the south of San Francisco. It includes cities such as Palo Alto, Mountain View, Sunnyvale and San Jose. The area is a financial powerhouse with a gross domestic product on a par with some of the world's biggest economies.
San Francisco, a major financial centre in itself, serves as the gateway to Silicon Valley. 
Hunger
As the tech boom took hold, downtown San Francisco became more synonymous with a craving for wealth than a craving for spiritual fulfilment. But the city's back streets provide the unexpected setting for a new evangelical Christian ministry, Epic Church.
This church bears little resemblance to some of the more traditional places of worship, such as Grace Cathedral, in San Francisco's Nob Hill neighbourhood. But it has struck a chord with lonely souls from the city and others who spend their days working in Silicon Valley.
Established in 2011 by Pastor Ben Pilgreen, the church put down roots in a modern building, just to the south of the city's Union Square. The only clue to its existence, behind a large glass door, is a small sign propped up on the pavement.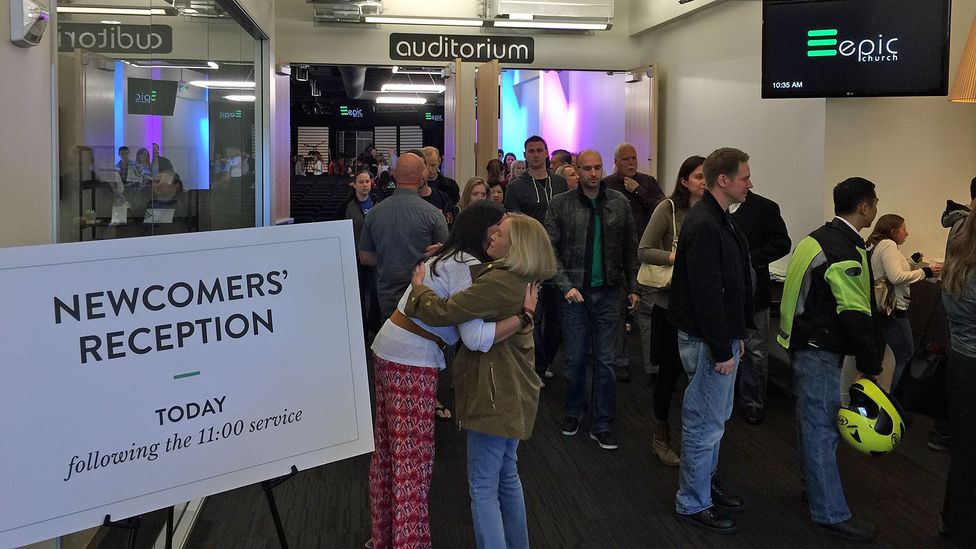 The Epic Church congregation is growing. (Credit: Peter Bowes)
Worshippers arrive in jeans, shorts and flip-flops. Parents check their children in on iPads while others head to a large glass-fronted "connection centre" for group discussions. Inside the main hall, the band warms up in preparation for the service.
The congregation of about 500 people is enthusiastic and growing in size.
"It tells you that there's a hunger," said Pilgreen. "You've got overnight millionaires from the Facebook and Twitter stock IPO-ing in the last couple years. And you've got people that are incredibly successful, and many of those are the kinds of people here at our church. It's this yearning for something more."
Though Walterman, who works with video games, has what he describes as the job of his dreams, he began attending church because there was something lacking in his life.
The church has "made me a better leader in the tech industry," Walterman said. "It's made me a better friend to those around me and it's really changed my entire life."
Surprising locales
Silicon Valley's subtle churches span many faiths and levels of belief and crop up in the most unusual of settings. Given that garage workshops are synonymous with the tech culture, it's not surprising that some warehouses are now places of worship.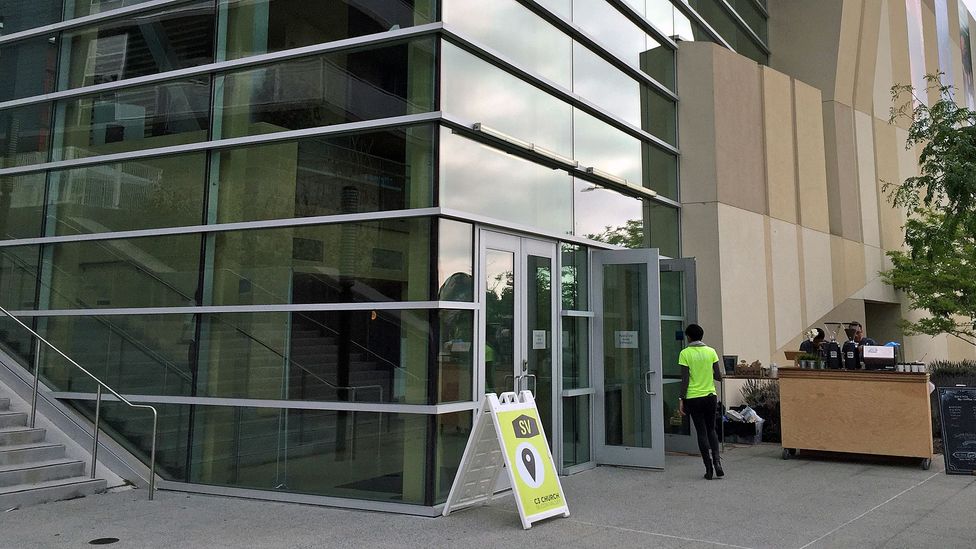 Places of worship are popping up in office parks. (Credit: Peter Bowes)
"It's not like these buildings are your traditional temples with domes and minarets," said Professor Philip Boo Riley, who has been teaching religious studies at Santa Clara University since the late 1970s.
"Across the street from the [Chung Tai] Zen Center [In Sunnyale] is a new Hindu temple," Riley said. "I think the Hindus are in sort of a building boom. Down the street from the Hindu temple is a Korean Presbyterian church. You wouldn't notice all this, because it looks like they're a kind of nondescript office space."
Much of the capital to build or expand existing premises has come from the donations of successful entrepreneurs. The wealth of Silicon Valley has allowed one-time struggling Hindu temples to expand into flourishing focal points of the community.
"I would say in the 30 or so years that I've been here, what's really become clear to me is there's a whole lot more diversity," said Riley. "It's not necessarily visible, but there's a whole lot of religious presence here."
The Indian community is integral to many of the innovations that have taken place in Silicon Valley. A UC Berkeley study found that Indian entrepreneurship, between 2006 and 2012, accounted for 32% of immigrant-founded companies in the area. Some of the community's brightest technicians have become billionaires.
Sunnyvale Hindu Temple recently underwent a $2.4m renovation and re-opened with a grand worship hall complete with dozens of ornate marble idols of Hindu gods and goddesses.
"We have come (from) 10,000 miles away and we have brought our home here," said Annapurna Devi Pandey, a professor of anthropology at the University of California, Santa Cruz. "We know that our children will be brought up, will live here, so we want to make a place for them too."
The "no religion" church
In Palo Alto, deep inside the valley, the C3 Church (Christian City Church) promotes itself with the slogan, Not Religious? Neither Are We!
Every Sunday, 3C sets up colourful flags outside an office building, where rents space from a Jewish community centre. 
The atmosphere inside its dark auditorium is more akin to a nightclub than a church. The high-energy approach is the brainchild of Pastor Adam Smallcombe, an Australian who moved to Silicon Valley with the sole purpose of setting up the church.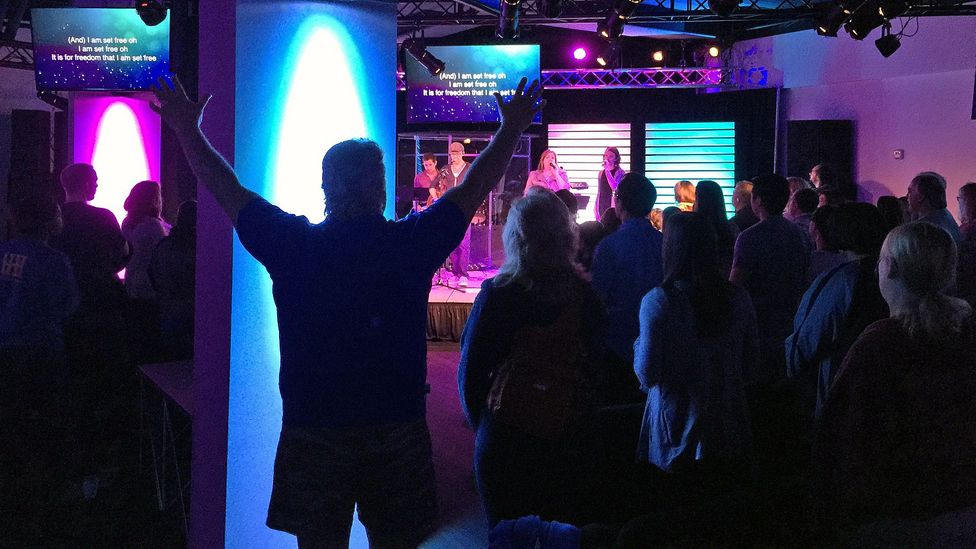 More like a nightclub than a church. (Credit: Peter Bowes)
"We wanted people to find just that they can belong regardless of what they believe," said Smallcombe. C3 is "not religious" in its activities and does not conform to "what the government would determine as a religious organisation," he said. Instead, "we have that centred belief in our church, that it's often community before Christ."
Vadim Lavrusik, a product manager at Facebook, attends 3C with his family. He says the church reflects the entrepreneurial culture of Silicon Valley where "thinking out of the box" is applauded.
"You're encouraged to think about things, and figure things out," he said.
Religious or not, the church-goers of Silicon Valley appear to have called a truce with their community's go-getting, win-at-all-costs culture. Embracing spirituality has become easier and less stigmatised in this data driven society.
Silicon Valley can be a "self-centred" world where people get caught up with the "next greatest technology and building the next company," said author Vaccarello. That is not always a recipe for happiness, he adds.
Vaccarello, after not attending church for many years, now chairs the Silicon Valley Prayer Breakfast, a meeting of like-minded entrepreneurs.
"I sensed that something was missing," he said.
To comment on this story or anything else you have seen on BBC Capital, please head over to our Facebook page or message us on Twitter.