Most decisions in management require thoughtful reactions and long-term thinking, not quick responses.
Chef Miguel Garcia was just minutes away from the start of a five-course, 550-person banquet for the Montecristo Cup Conference + Golf Tournament in Puerto Rico. That's when he discovered something was wrong with the artichoke soup.
A junior chef had mistakenly used the root vegetable salsify, which meant the huge batch needed to be made again, from scratch. It would now be a struggle to serve the courses on time. Garcia had to act quickly. But first he needed to deal with the junior chef who had erred.
"Early in my career, I had chefs throw plates on the floor and yell and fire people on the spot," said Garcia, who is now the executive sous chef at the Aruba Marriott Resort, helping to oversee a kitchen of 136 employees. "But you learn you're going to gain more by being patient and helping your workers."
Garcia and the junior chef started peeling artichokes. He enlisted two chefs from the pastry line to help and got his saucier crisping up bacon. In the end, 50 gallons of artichoke soup was ready just in time to follow the salad course, which kept the high-profile dinner to its tight schedule. 
Garcia's patience with his employee is a lesson good managers need to master. But the idea of reacting in a measured fashion, thinking a problem through before acting, and waiting is not always our immediate to a high-pressure situation.
Fighting your instincts
Being patient goes against our most basic instincts, said Peter Bregman, a New York City advisor to CEOs and their leadership teams. An area of the brain called the amygdala produces the "fight or flight" response when we are placed under stress and means we are programmed to react impulsively. But giving in to our basic instincts is exactly the opposite of how bosses ought to act.
"Most decisions in management require thoughtful reactions and long-term thinking, not quick, knee-jerk responses," said Bregman, author of a book about how a short pause and a single breath can be all that it takes to change counter-productive behaviours. 
Many managers feel like they ought to respond quickly and always have the answer. However, this can create the situation where employees believe the only way to reach a conclusion is to bring it to their manager.
Instead, good bosses teach their staff how to make decisions on their own, Bregman said. That will encourage more creative solutions and a workforce that feels empowered to take things on themselves.
That's not easy. It means that, when an employee brings you a problem, you might need to let them figure it out for themselves, even if you already know the solution. But grappling with an issue will teach someone far more than if someone simply handed them the answer.
"It takes an incredible amount of self-restraint to use this as a teachable moment," Bregman said. "On a very basic level, we need patience to take a deep breath and slow down and say, 'What's the best outcome for what's in front of me?'"
The start-up dilemma
Mikkel Svane and his partners at Zendesk learned patience when creating their start-up back in 2007. They first ran the company, which sells cloud-based customer service software, in a home kitchen in Copenhagen, Denmark, with about $50,000 from their own savings. The funds were running out quickly when an angel investor offered them $500,000 in seed money.
Initially, Svane and his partners saw the investment as a quick way to bring their software to market. But the more they looked into the investor, the more questions they had. "He just tried to leverage the deal for his own benefit," said Svane, Zendesk's CEO. "You know it will give you a lot of heartburn to take the money, but saying no will also give you heartburn."
In the end, Svane convinced his partners to say no. They struggled on for another six months before raising operating money from friends and family members. It was enough to keep the company going until they found investors that were a better fit in California and moved the company to San Francisco. Last year, the now publicly traded company had $127m in revenue and served 57,000 customers in 150 countries.
"Building a start-up, you have to have patience, because it takes forever," Svane said. "You have to constantly feel like you're pushing forward, but you also have to have the patience to make good decisions."
It's a lesson Garcia learned years ago. Garcia came to cooking later in life, after trying law school in his native Dominican Republic. After finishing culinary school, he got a job at a hotel restaurant, starting on Christmas Eve.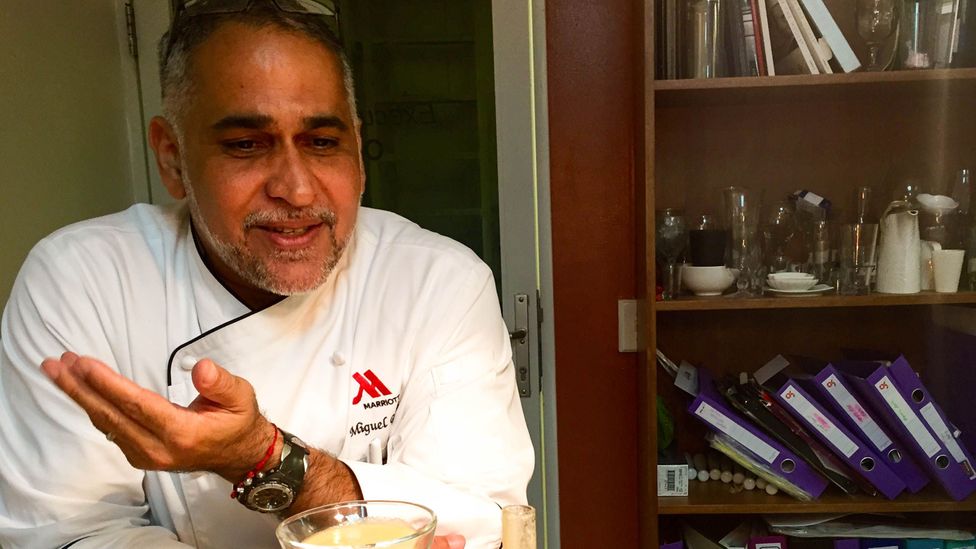 Chef Miguel Garcia learned the value of patience after his first assignment in a hotel kitchen. (Credit: Eric Barton)
His first assignment: peel and prepare 25 cases of artichokes, the same vegetable that would confuse his own employee years later. The chef showed Garcia one time how it was done and then left him to finish the rest.
"That was trial by fire," Garcia said. "I learned right there that cooking takes patience. If you work too fast on artichokes, it cuts up your hand. And pulling out the choke, it's not easy. It's all patience."
So when his sous chef messed up the artichoke soup before that big banquet, Garcia knew it was patience that would help him succeed. "If you get into a big argument, yelling and screaming about 'Why did you do that?,' what good will it do you?" Garcia said. "You're just wasting your time. Instead, you just need to fix it."
To comment on this story or anything else you have seen on BBC Capital, head over to our Facebook page or message us on Twitter.