Hit by a sniper's bullet at the pinnacle of his career, US Marine Corps veteran Derek Herrera turned misfortune into his life's work.
A
As a US marine serving in Afghanistan, Cpt Derek Herrera was, by his own assessment, at the "pinnacle of his career". But everything changed 14 June 2012, when he was shot by a sniper while leading a special operations team on patrol in Helmand province. He was paralysed from the chest down.
His military career was over, but his life was not. Herrera decided to leverage his experience with paralysis in the business world, getting a master's of business administration and then launching his own medical technology business.
I'm not going to sit and feel sorry for myself.
His inspiration came when he became the first person in the US to own the ReWalk wearable robotic exoskeleton, developed in Israel, which enabled him to walk again and gave him a sense of purpose.
"I was fortunate to be injured in this decade and in this time because there's so many advancements in technology that are really impacting and disrupting and completely changing the way people recover and rehabilitate," Herrera said.  "Mentally it showed me that I didn't have to accept the way things were — that I had the power and the capacity and the passion to change things and to help people in the process, just like myself."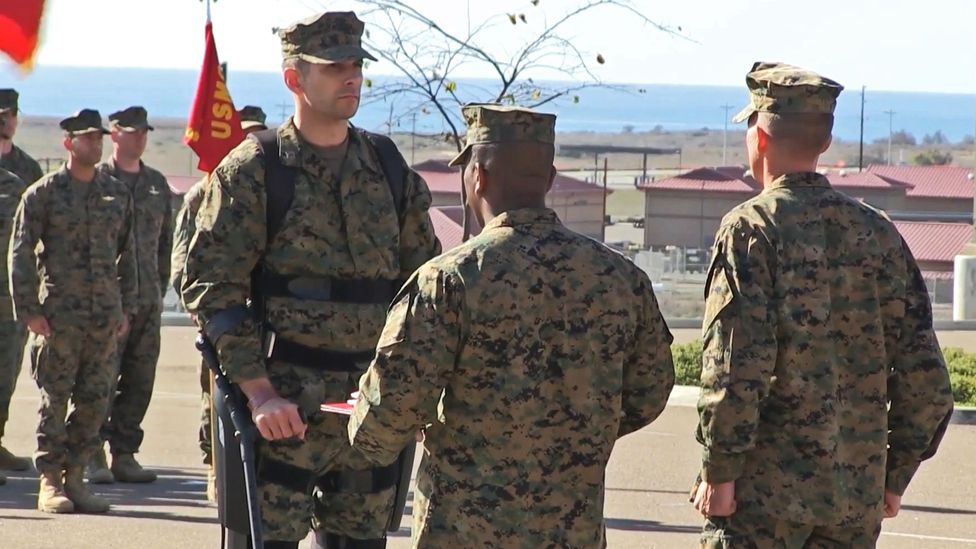 Derek Herrera was among the first to "walk" with an exoskeleton. (Credit: Sgt Scott A Achtemeier)

Just three years after his injury, in July 2015, Herrera graduated from business school at the University of California, Los Angeles in the US and soon after launched Spinal Singularity. The company aims to develop technologies to improve the quality of life for people with spinal cord injuries and diseases. To start, Spinal Singularity is developing a semi-permanent, fully internal catheter which would replace conventional catheters made for a single use.

"One of the biggest problems I faced during my recovery was bladder management," he said.

Neurogenic bladder, as the condition is known, can affect people with Alzheimer's, stroke, Parkinson's, dementia, multiple sclerosis, amyotrophic lateral sclerosis (Lou Gehrig's disease), spinal cord injury and other neurological disorders.

Currently patients use disposable catheters, several times a day, to empty their bladder.  The goal, says Herrera, is to allow them to catheterise themselves only once a month instead of two to three hundred times per month.

"I'm not going to sit and feel sorry for myself or worry about the fact that somebody shot me, or that I'm injured or that I can't do certain things," Herrera said.

BBC Capital spoke to Derek Herrera at the OCTANe's Medical Device & Investor Forum in Irvine, California. Click on the arrow above to watch.

Video produced by Peter Bowes

Filmed and edited by Tim Myers

;