How to get your hands on your very own pink sparkler
When John Picone, in his mid-sixties, treats his three daughters to their annual pre-Christmas jewellery shopping trip, plain white diamonds no longer dazzle them. 
Over the years, the retired construction business owner from Long Island, New York, has been polishing an interest in rare coloured diamonds, particularly pinks, which can, on average, hold up to 20 times the value of a white diamond.
 "We look at white diamonds as being very ordinary now and there's so many of them around," Picone said. 
In the Manhattan showroom of JFINE, a boutique diamond firm in New York specialising in rare fancy coloured diamonds, Picone looks on fondly as his 30-something daughters consult with designers. One daughter selects a shark's mouth pendant design in yellow gold, then picks out diamonds of different colours to insert as the teeth.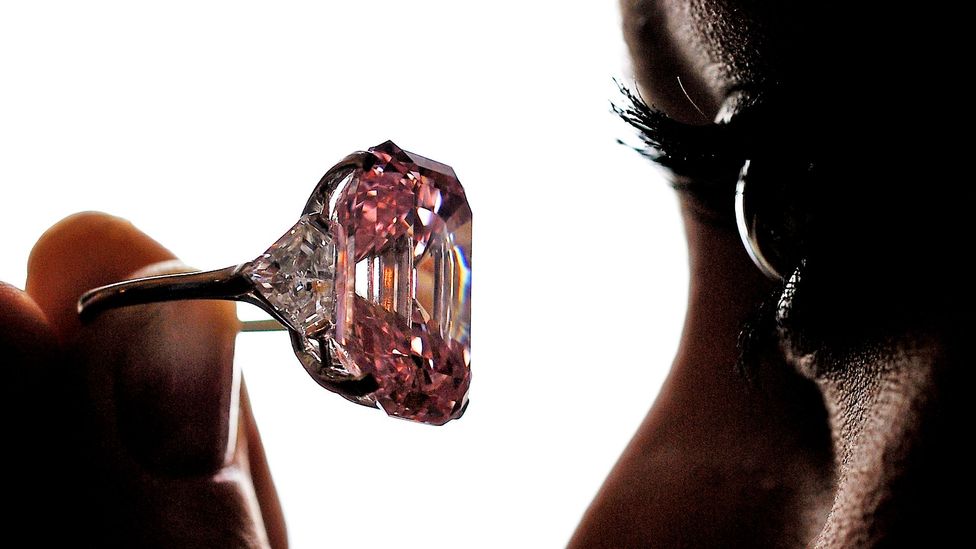 Pink diamonds come in a range of shades. (Credit: Getty Images)
As well as spending around $1m on rings, bracelets and necklaces for his wife and daughters over a period of years, Picone has paid out a similar amount for loose stones. In buying and selling pinks, reds (the most valuable type of pink diamond), blues and greens, he reckons he's seen an average return of 40% to 50%, usually over one to three years.
The hunt for pink
Only one in 10,000 diamonds mined has a trace of colour. Of these, a very small percentage are pinks. Unlike other coloured diamonds, such as blues and yellows, which take their hue from chemical impurities that absorb light, scientists are not yet certain about what makes pink diamonds pink. The current theory is that their colour comes from the effect of severe underground pressure altering the molecular structure of the stones.
And, not all coloured diamonds are rare. For instance brown diamonds, now marketed as "chocolate diamonds" in shades of champagne, latte and cognac, are the most common type of coloured diamond and have been widely employed for industrial use.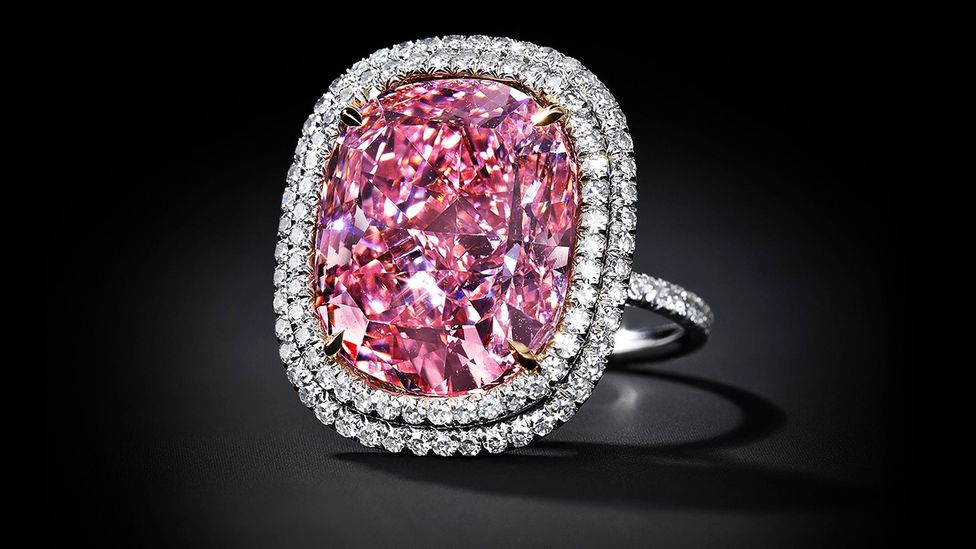 Known simply as the PINK, this 16.08 carat stone is expected to fetch between $23m and $28m at auction. (Credit: Christie's)
Historically, pink diamonds have come from India, South Africa, Brazil and Indonesia. But today 90% of the world's supply comes from Rio Tinto's Argyle Pink Diamonds mine in Perth, western Australia — a mine that started production in 1983 and is set to close in 2020.
While the biggest volume goes to Japan, where the tiniest accent of pink is symbolic of perfect love, the largest market in terms of value is the US, said Josephine Johnson, manager of Argyle Pink Diamonds. Buyers in India are also taking an interest in them, while in China, deep-hued pinks, classed as reds, are popular because the colour is associated with good fortune, she said. Over the past decade, Argyle pink diamonds have delivered 15% to 17% appreciation per year, she said. While you can acquire a 0.02 carat stone for around $250, the costliest change hands for millions of dollars.
What to look for
White diamonds are judged mainly on what are known as the four Cs: colour, clarity, cut and carat weight. The first three characteristics are each classified in a grading system with a flawless colourless 'D' stone with excellent cut being the finest. With pink diamonds, however, colour outweighs every other factor.  Ranging in hue from light champagne and cherry blossom shades to purplish and deep reds, it is the strongest and darkest shades that are most sought after. "The greater the saturation of colour, the greater the value," Johnson said.
From light champagne and cherry blossom shades to purplish and deep reds, it is the strongest and darkest shades that are most sought after.
"Pinks come in what I call a whole variety of different flavours," said Jordan Fine of JFINE who is also president of the Natural Color Diamond Association. "It's important to pick a colour that inspires and motivates you. Don't just look at one stone. Look at what flavour speaks to you."
When it comes to budget, the decision is often between depth of colour and size, he said. "Do you want a larger stone with less colour or a smaller stone with more colour?"
As well as the strength of the colour, other aspects such as hue, intensity and brightness all play a part in determining value, he added.
Provenance is also important, with a clear chain of custody commanding a premium, especially given concerns about the so-called "blood" diamond trade, whereby their sale is used to fund civil war and also human rights abuses in countries such as Angola and the Central African Republic. If in doubt about where a stone has been sourced, ask the seller for a human rights due diligence report.
With Argyle Pink diamonds, "we track all the way from the mine through to the end," said Johnson. "The rough comes to us, we polish it in-house and laser-inscribe it on the girdle with a unique identification number which you need a loupe to see."  The mine issues a certificate for each diamond so that buyers can always check that a stone matches the description in the document, she added.
What it's worth
At JFINE in New York, you can pick up a 0.03 carat Argyle pink diamond ringed with white diamonds on a snowflake necklace for $3,000, or shell out more than $2m for the ultimate vivid pink diamond.
The nature of how pink diamonds are mined means that large carat stones are the rarest of the rare and are beginning to fetch the same stratospheric prices as fine art masterpieces. 
In almost 250 years, for instance, only four pure vivid pink diamonds of more than 10 carats have appeared at auction. 
In almost 250 years, for instance, only four pure vivid pink diamonds of more than 10 carats have appeared at auction. The latest is a 16.08 carat cushion-shaped stone that fetched just more than $28.5m at Christie's Magnificent Jewels sale in Geneva on November 10 
"This is the Mona Lisa of diamonds, a super-rarity," said Rahul Kadakia, Christie's international head of jewellery. What makes it so exceptional is that whilst most pink diamonds have a colour modifier such as purple, orange or brown, this particular stone has no trace of a secondary colour, he explained. Offered for sale as the PINK, it was immediately renamed The Sweet Josephine by Joseph Lau, the Hong Kong property billionaire who acquired it.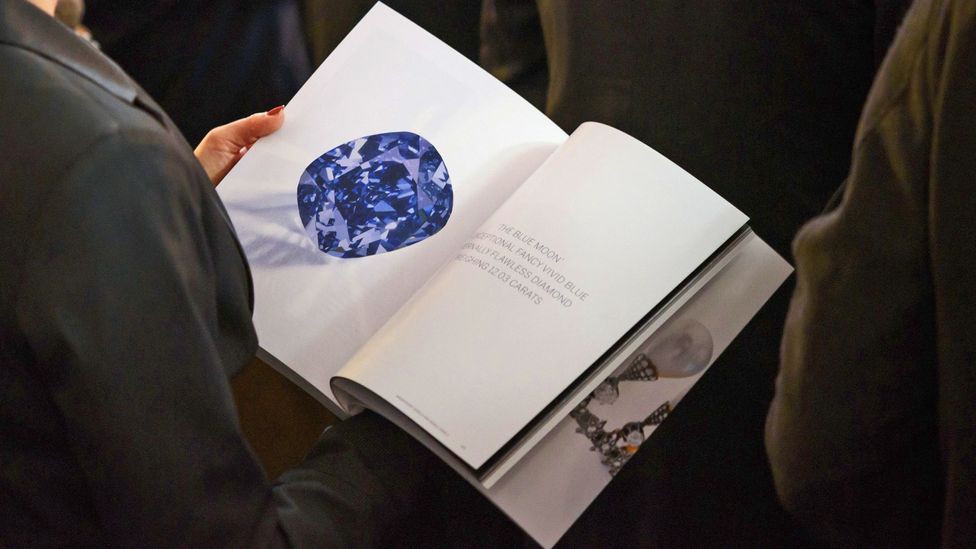 This rare blue diamond sold for a record $48.5m at auction. (Credit: Getty Images)
Two days later, Lau also put in the winning $48.4m bid for a cushion-shaped 12.03 carat fancy vivid internally flawless blue diamond which he renamed Blue Moon of Josephine. The stone was sold by Sotheby's in Geneva, which declared the sale a new world auction record for any diamond of any colour.
Where to buy it
Pink diamonds are on offer at well-known jewellery houses such as Graff and Tiffany & Co, and online at luxury retailers such as 1stdibs.com. Argyle Pink Diamonds also works directly with around 30 jewellery ateliers worldwide, a list of which can be consulted at Argyle Pink Diamonds.
Each year, around 200 collectors and traders are also invited to buy the finest stones directly from the mine by sealed bid. This year's sale of 65 diamonds totalling 44 carats featured the Argyle Prima, a 1.20 carat pear-shaped fancy red.
How to look after your sparklers
It's not so much care that diamonds need, as security. "Diamonds are one of the hardest materials we have. All that will cut a diamond is a laser or another diamond," said Fine. "They're very resilient. The key thing is safety, which means security and insurance."
If you have a vault or a safe, use it. And make sure you have photographs and documentation. "The fact that Argyle stones have a lot number and accompanying certificate is very useful for insurance companies," Fine said.
You take a large chance but the rewards can be tremendous.
As far as the safety of pink diamonds as an investment is concerned, Kadakia is brimming with confidence. "With the way the coloured diamond trend has been going the price will only go up between now and the next ten years. It's a very secure, very portable investment," he said. 
A word to the wise
Be that as it may, this is a sophisticated market to be approached with caution. Picone, who buys and sells individual stones, said, "When you're dealing with something this expensive my advice is to start slow. Buying the raw stone and being able to forecast its value is very complicated. There are very few experts who really know what they're doing. You've got to find one and put your trust in them. 
"When you resell, to find the right person who wants to buy such an expensive stone can take three years."
Picone speaks from experience. His interest in diamond collecting began about 15 years ago when he was first bedazzled by coloured diamonds. He started by buying jewellery for his wife and investing in loose stones for himself. Then eight years ago, after his daughters had graduated from university and embarked on their careers, he started the family tradition of yuletide jewellery shopping.
Meanwhile, he continued investing in loose stones. On two occasions he bought pinkish-red stones and took the risk of having them recut with the aim of having them reclassified as reds. In each case, the cuts were successful. "We lost weight, but by making that change to red the stone can double to quadruple in value," he said. "You take a large chance but the rewards can be tremendous."
To comment on this story or anything else you have seen on BBC Capital, head over to our Facebook page or message us on Twitter.