Fika, a Swedish custom where people gather to eat, drink, and talk, is a welcome workplace tradition in the country. But, as Elizabeth Hotson finds, it's catching on around the world.
I
In Sweden, it's obligatory to eat coffee and cake. No, really.
At many companies it's mandatory for all workers, from Malmo to Stockholm, to have a designated time during the day to sit down and do fika.
Fika — which roughly translates from Swedish as drinking coffee, munching sweet treats and chatting — is as much a part of the working day in Sweden as emailing and fixing the printer.
It's like going to the pub in other countries.
"It's deeply ingrained in our culture." said Matts Johansson, founder of Da Matteo, a coffee chain based in Gothenburg. "Most Swedes have fika several times a day, whether it's at the weekend or during the week. It's about spending time with people, eating lovely homemade baked goods and drinking great coffee. It's like going to the pub in other countries."
Many Swedish firms have mandatory fika breaks and employees are given free hot drinks. But do all these regular chat breaks make for a more efficient workforce?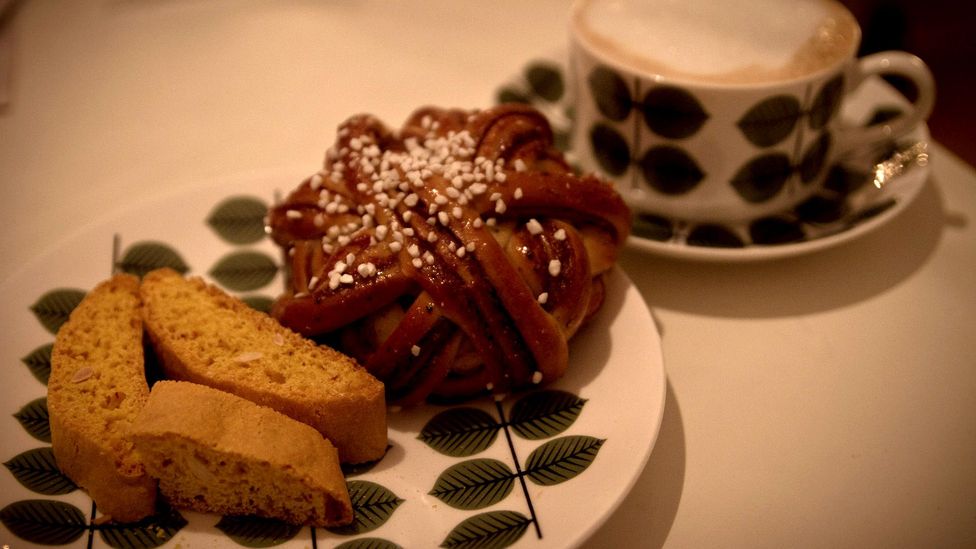 Sweet treats and coffee are a fika staple (Credit:Flickr/Andreas Ivarsson/CC BY 2.0)
There isn't a caffeine index as such, but the Organisation for Economic Co-operation and Development (OECD) does publish productivity data.
Analysing productivity by employee in 38 countries, 2014 data reveal Sweden comes in at a respectable number 11. Sweden's coffee-quaffing neighbour Norway is the second most productive nation, behind champs Luxembourg, while the workhorses of the US are fourth. Long-lunching France is seventh — far ahead of Japan (20th) and Korea (30th), two countries known for long work hours.
Going global
Coffee breaks are so important to the Swedish that even the country's mega-brand, Ikea,has a paragraph about on its corporate website: "More than a coffee break, fika is a time to share, connect and relax with colleagues. Some of the best ideas and decisions happen at fika."
Andreas Astrom, from the Stockholm Chamber of Commerce, agrees.
"Swedish management style differs to most other countries. It's flat and not very hierarchical," Astrom said. "When you have flat structures it's important to listen to everyone and through the communal nature of fika, chatting between employees and management is encouraged. It's a great way to get everyone's views on how companies are run."
If I can do this right, I can be another Richard Branson, become a fika billionaire.
And more recently, the trend has gone global. These days the aspirational, affluent, New Yorker, Londoner or Sydney-sider doesn't just pop out of the office for coffee — they might sneak 15 minutes and go for fika. It's less about grabbing a shot of caffeine on the go and more about scheduling pauses in to the day.
Lars Akerlund has built a business empire on fika. He relocated to New York City from Sweden in 2001, opening his first cafe, FIKA, near Central Park in 2006. He now has 17 cafes with another two on the way. One of the most popular menu items is a coffee and home-made cake or chocolate. It's something that lends itself to savouring rather than devouring on the hop. So what inspired his burgeoning empire?
"I loved New York but when I moved here, outside the chain stores I couldn't find a good coffee. The West Coast was full of great places for an espresso, so I knew there was potential. I saw a huge gap in the market and I thought, if I can do this right, I can be another Richard Branson, become a fika billionaire."
Some people thought we were Swiss and asked for chocolate.
Akerlund didn't just want to bring great coffee to New Yorkers, he wanted to give them a new perspective on life.
"With fika, the idea is to sit and enjoy your coffee and bun, even it's for 10 minutes," Akerlund said. "In New York it was all about grab and go but I thought that if I offered something really good I could change people's way of doing things, make them stop and relax."
He got up at 4am every day to bake everything fresh. The coffee was from a speciality roaster in Brooklyn and chocolates were made on site. So how did New Yorkers react?
"At first some objected to the price. We were charging $2 for a drip coffee when they could get it for $1 next door," said Akerlund. "So I gave them a free cup. They liked it and came back."
In Manhattan at least, FIKA has become an institution and it even has its own award-winning chocolate factory — the chain's salted caramel won gold in the 2014 International Chocolate Awards. Perhaps, though, Akerlund's biggest achievement is persuading busy New Yorkers to take a breath and stop during the working day, Swedish style.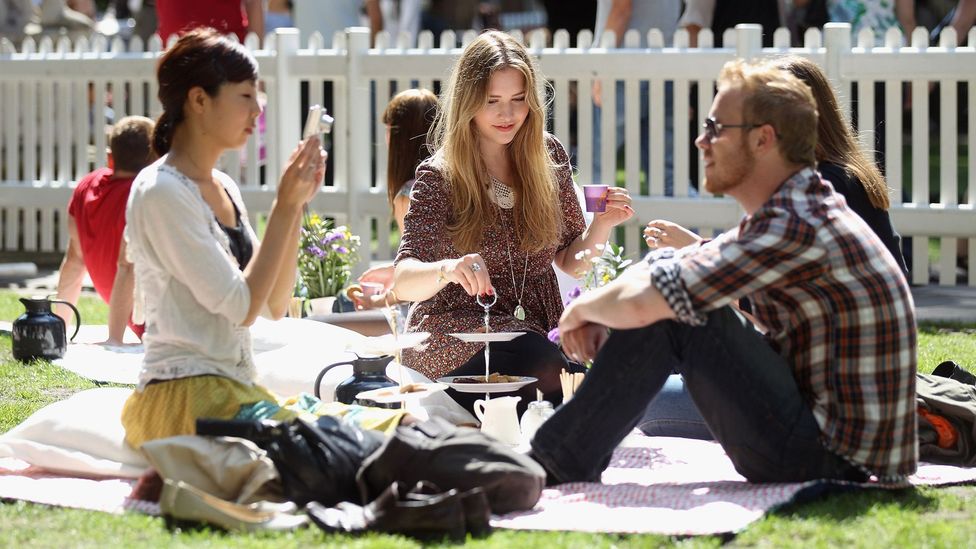 Members of the public enjoy a traditional fika picnic in in 2011 in London (Credit: Getty Images)
Fika has also left its mark in Australia. While the sun shines on the improbably beautiful sand of Manly beach, Sydney, a little corner of Sweden sits snugly around the corner. In 2013, Fika Swedish Kitchen opened its doors to a bemused public, as co-founder Diana Chirilas explains.
"We initially catered to mainly Swedish expats. Aussie-born locals poked their heads in and said 'Swedish, what do you mean Swedish?'," she said. "Some people thought we were Swiss and asked for chocolate."
Changing tastes and attitudes
But attitudes are changing, Chirilas said.
"Everything Scandinavian is trendy. There are Nordic movies and TV dramas, Swedish design shops have opened and people are curious," she said.
In Walthamstow, suburb in London, Swedish café Bygga Bo has taken the idea behind Fika and extended it to incorporate an entire lifestyle.
"Bygga Bo means 'to build a nest' and for me fika means cosy, relaxed and homely," said Malin Hamilton, who opened the shop with husband James in 2013.
"We started the business by opening up our own house as a fika pop-up with coffee and cakes. It went well and we decided to do it full-time. We now have a Swedish lifestyle shop with a bit of everything including ceramics, candles and clothes so people can have that fika feeling whenever they want."       
Husband James says there's also been a change in consumers' expectations, with people tiring of mass-market products and requesting one-off, carefully crafted goods.
"Fika fits into that mentality. We bake all our cakes, the accessories we sell are all handmade and people really appreciate it. They see it as aspirational."
To comment on this story or anything else you have seen on BBC Capital, please head over to our Facebook page or message us on Twitter.
Fika tradition
A traditional fika consisted of seven homemade cakes. But is that overkill in today's grab-and-go workplace?

"Historically you'd have seven different kinds of cakes and it was a kind of competition as to who made the best," said Johansson. "Now you don't have to go to those lengths but some people still do. It really depends on how ambitious you are."

;