Usually associated with a long-gone era, butlers are among Britain's hottest commodities: half of those trained in the UK work abroad and the best easily earn $150,000 or more.
D
Downton Abbey may reference an era a century past. But Carson's real-life butler descendants – armed with Blackberries as well as silver polish – are more stylish than ever.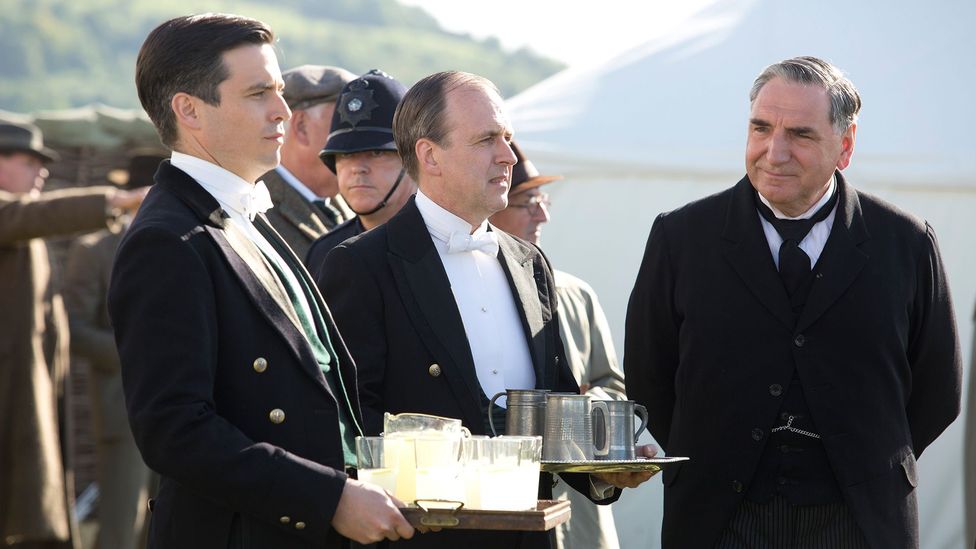 Downton Abbey's runaway popularity may have given a boost to the butler profession (Credit: ITV)
About 350 to 400 butlers are trained each year in Britain, estimates Gary Williams, former head butler at the Ritz and now principal of the British Butler Institute. Of these, only about half stay in the UK, he says. The rest go overseas, particularly to increasingly middle-class China and to the oil-rich countries of the Gulf.
Butlering in Bahrain?
Roughly 30% of the people hiring British butlers are in the United Arab Emirates, Qatar, and Saudi Arabia, says Swedish-born Sara Vestin Rahmani, who runs the British Butler Academy. Like the British Butler Institute, the Academy is London-based but offers courses worldwide.
Employers are a mixture of royals, sheikhs and oil proprietors, with an average of at least three houses – and 15 staff per home, Rahmani says.
Employers are a mixture of royals, sheikhs and oil proprietors – Sara Vestin Rahmani
In the UK, salaries average from £40,000 to £50,000 ($57,000 to $71,000), Williams says. Pay is slightly higher in the Gulf, says Rahmani, where butlers' pay averages £65,000 ($93,000) per year. This is tax free and with bonuses "the norm", she adds.
But the pay then soars for 'super-butlers', who are those boasting good references from the stateliest hotels or from the royal family and who work for particularly wealthy overseas 'principals' (how butlers refer to their employer). They might easily earn £100,000 to £110,000 ($143,000 to $157,000).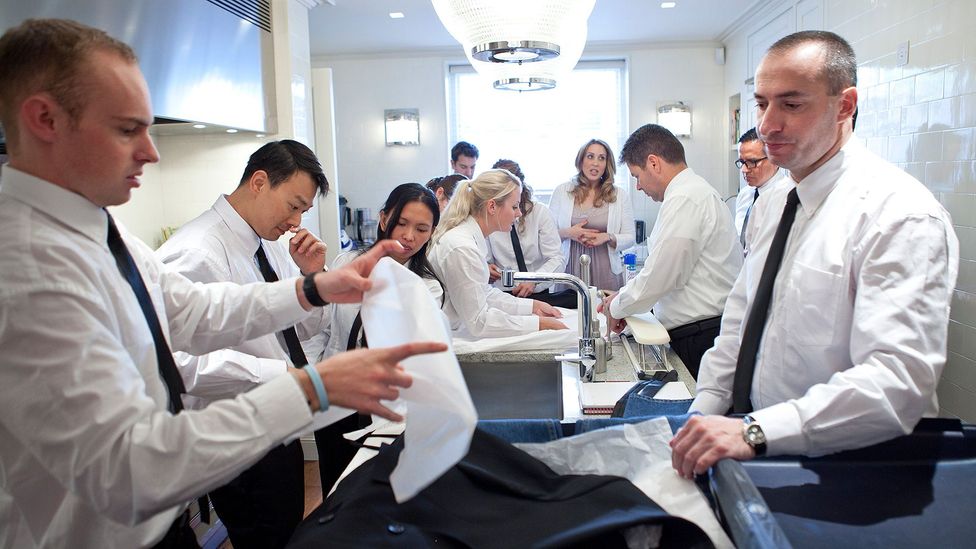 Students at the British Butler Institute; those that become super-butlers can expect to earn $150,000 or more (Credit: British Butler Academy)
In 2014, Rahmani placed 30 'super-butlers' in positions in the Gulf paying more than £100,000 ($143,000). In 2015, she placed double that number – a sign of just how much the trend of hiring butlers abroad has grown.
Meet Jeeves
One super-butler is John Deery, in his mid-40s and a native of Northern Ireland. Along with planning travel arrangements for his principal, a businessman, and valeting, serving meals, and making sure visas are up to date, Deery manages three of his employer's properties. One is in the Balkans with 34 staff, there is a London residence with another 12, and a third is being developed.
You have to be on your toes and you don't have too much of a private life, but I love it – John Deery
"You need to know when to be in the background, not too intrusive, very respectful of his time and space to ensure his comfort at all times and that the household runs like clockwork," Deery says. "You have to be on your toes, very dedicated, and you don't have too much of a private life. But I have to say, I love it."
Particularly for wealthy employers from Middle Eastern, Asian or Russian backgrounds, one of the attractions of a British butler is their knowledge of the nuances of the traditional English way of dining or formal dressing.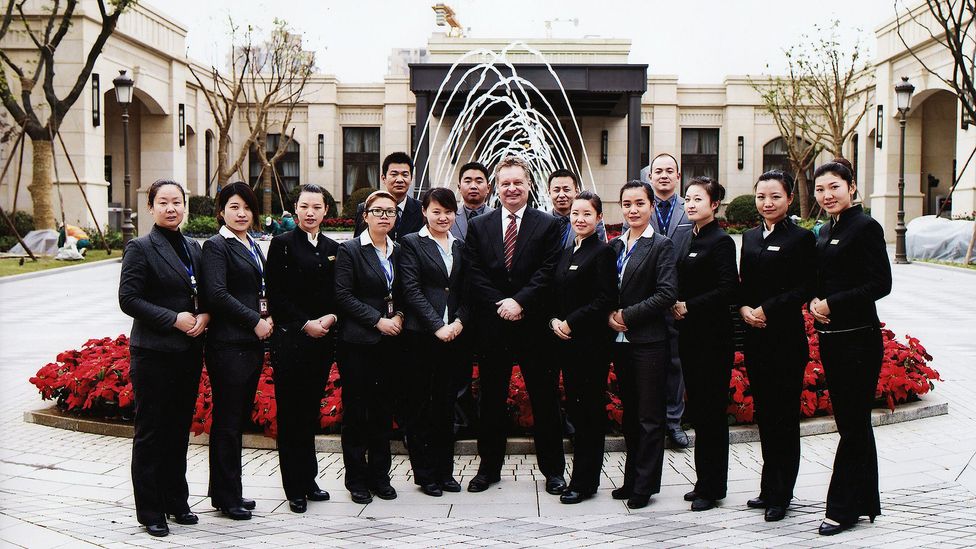 The stereotype of butlers as being mainly older men no longer holds true (Credit: British Butler Academy)
But the stereotype of a butler as a lifelong position held by an older man is no longer the case. The average age of a newly employed butler is 41, and 40% of the people placed by the British Butler Academy are women, says Rahmani. (Many work as combined lady's-maids and personal assistants to women from the Gulf).
Many butlers are career changers
And many butlers are career changers. Deery had a first career as a graphic designer. With cutbacks in the armed forces, many other butlers were previously in military service. There are also a good number of former actors, unsurprising given the element of performance required in the role.
Others find their way from traditional British crafts, which form part of a butler's art. Deery mentions a Jermyn Street tailor-turned-butler who previously made handmade shirts.
Everyone wants a Carson
With the worldwide desire for butlers increasing, training them has become a flourishing British industry.
To meet demand, the City & Guilds Butlers Diploma was set up in 2010. The course's syllabus runs the gamut, with lessons on fire control and first aid, how to care for leather, wool and wood, food preparation and service, wine, basic sewing, etiquette around the world and how to manage a busy property.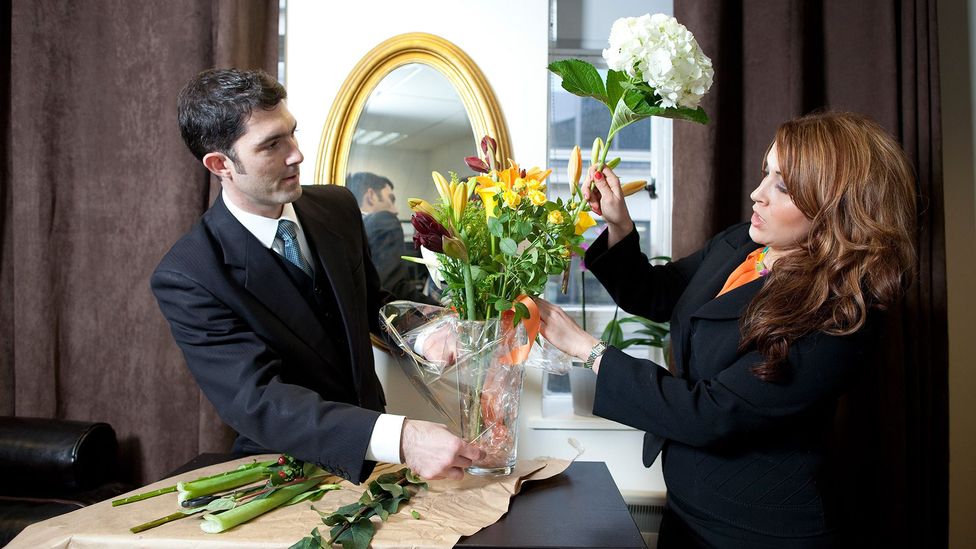 Butlering skills run the gamut from fire safety to flower arrangement (Credit: British Butler Academy)

The diploma came about because the Savoy and the royal household were training their staff internally to a very high standard, says Patricia Paskins, one of the course's organisers. "But they had no accredited qualification at the end of their training," she says. "They wanted them to have a diploma they could build on."

Paskins is currently training butlers for Etihad Airways, who will staff private suites on the airline's Airbus A380 aircraft.

Another surprising butler employer is the university system. Richard Hein is head butler at Peterhouse, Cambridge, where he has worked for five years. Cambridge's oldest college, Peterhouse's butlers date back at least to its early statutes of 1344.

Today, of course, one major difference is the technology. "We have a WhatsApp group with the staff," he says. "I use it for covering the shifts and for training, to take a picture of something new or interesting and send it round."

The butlers of yesteryear may not have approved. But it seems safe to assume that they would, at least, be glad to see their profession flourishing.

This story is a part of BBC Britain – a series focused on exploring this extraordinary island, one story at a time. Readers outside of the UK can see every BBC Britain story by heading to the Britain homepage; you also can see our latest stories by following us on Facebook and Twitter.

;