50 Cent says he's done it. Why not you? The art and science of leasing a lifestyle.
S
Scroll through rapper 50 Cent's Instagram feed and you'll find a preponderance of photos where he basks in unimaginable riches.
There's the shot where the rapper, real name Curtis James Jackson III, can't seem to find his legs because they're buried under $100 bills. There's another where he's stocked his refrigerator with bundles of greenbacks. More confusing still is a snap where the rapper arranges his "lunch money" ($100 bills) to spell out the word "broke".
Do you know someone who leases a lifestyle to live above their means? Tell us about it here.
That last image is the most telling. Jackson filed for bankruptcy in July last year, claiming debts of between $10m and $50m, according to court documents. But when the 40-year-old was summoned to a Connecticut court in the US this February, the judge explained that she was having trouble reconciling the man in front of her with the man in those Instagram photos.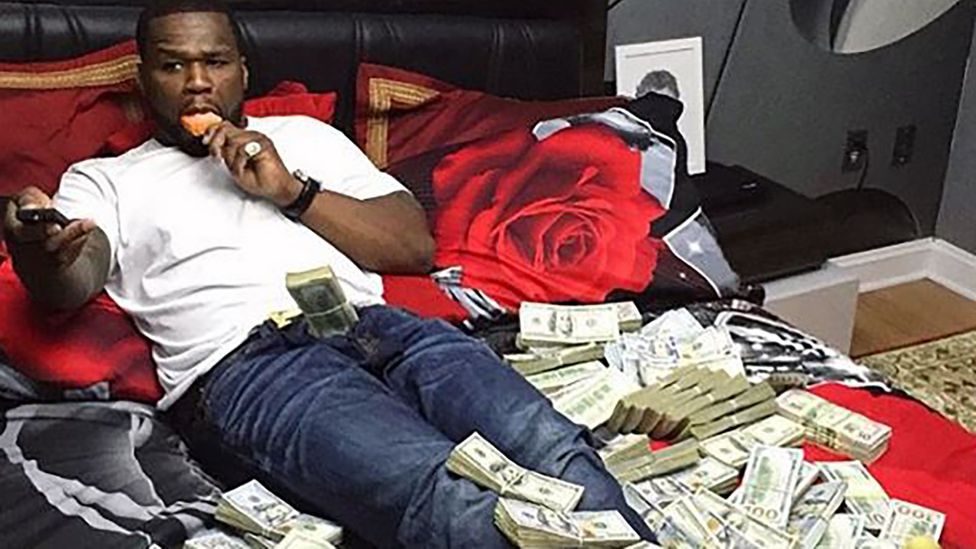 Asked by a judge in bankruptcy proceedings to explain the piles of cash in Instagram photos, 50 Cent revealed it was mostly 'prop money' (Credit: Instagram/50 Cent)
The rapper's creditors had tipped her off to the Instagram account, according to the New York Times. Jackson's response was as simple as it was unexpected.
The piles of notes were "prop money", he wrote in documents filed to the court. "Just because I am photographed in or next to a certain vehicle, wearing an article of clothing, holding a product, sitting next to what appears to be large sums of money or modelling expensive pieces of jewellery does not meant that I own everything in those photos."
Everyday people are leasing a lifestyle beyond their reach in order to project an image of power.
The rapper is hardly the first person to prop up his public image with borrowed finery. It's an open secret in Hollywood that much of the clothing and jewellery worn by celebrities has been "seeded", or loaned, to them by fashion brands. And those lavish cars? They're often leased (or even rented) from high-end dealers who specialise in working with athletes and stars.
And it's not just celebrities; an increasing number of everyday people are leasing a lifestyle beyond their reach in order to project an image of power and authority they hope will give them an edge.
Worth the investment?
Image consultant Marian Rothschild, author of the book Look Good Now And Always, said making small lifestyle changes to give the appearance of wealth or power can often prove to be a good long-term investment for professionals. Consider it investing in your personal brand.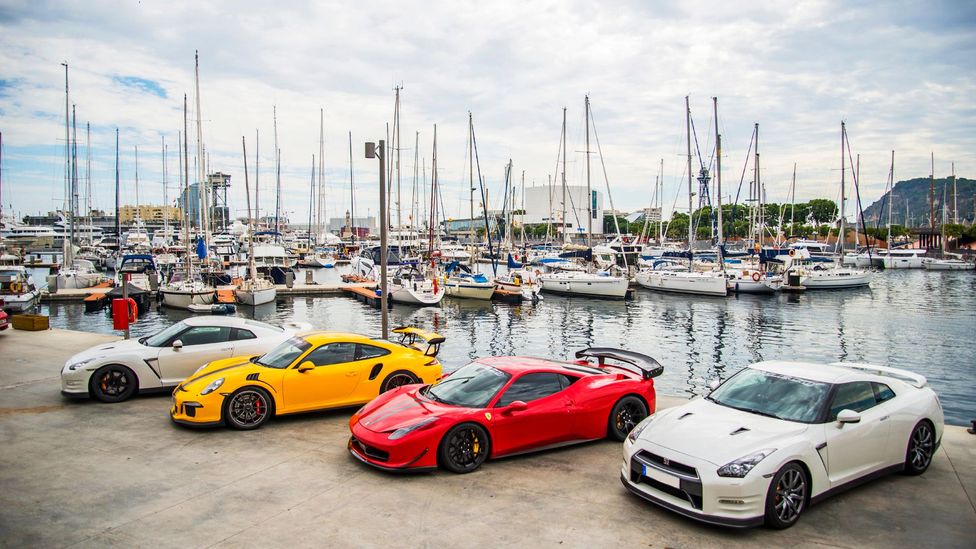 The case for faking a lifestyle (Credit: iStock)
"People these days are realising, 'I need to up my game for what I believe my potential is, where I want to go, and how I want my life to be. So I'm going to make this investment by buying this Rolex watch, or leasing this gorgeous car, or overextending myself on my wardrobe for this season'," she explained. "It's kind of like a peacock extending its feathers and saying, 'look at me'."
A recent survey from global staffing service OfficeTeam found that 80% of executives take clothing choices into account when considering an employee for a promotion, while a similar study at Korea's Yonsei University found that interviewees with clearly branded luxury clothing were more likely than their competitors in cheaper clothing to not only win the job, but also receive a higher salary.
It's kind of like a peacock extending its feathers and saying, 'look at me'.
The study concluded that the job candidates instantly increased their status in the eyes of others by actively signalling that they could afford the luxury brands and were, thus, seen as higher up in the hierarchy of capitalism.
Carol Megehee, a co-author on the study and professor of marketing at Coastal Carolina University in the US, said that how and when you wear a prominent brand can have a big impact on your target audience's unconscious bias. But it might not always be positive.
"If you're a woman who is going in to interview with another woman you may not want to over flash with luxury brands because it might actually work against you," she explained. Megehee noted in her study that brand logos had considerable benefits in most interactions, but there was a clear gender bias between women where, at least anecdotally, she believes jealousy may be at play.
Renting the runway
Julie Fisk had a 25-year career as a radio host when she lost her job in 2014 and decided to relaunch herself as a full-time film critic. The new role required her to appear on two TV stations, as well as make public appearances in her hometown of Dallas, Texas. That included attending events where she'd have to interview famous actors and directors.
Faced with the prospect of more time in the spotlight and a need for "statement clothes" she turned to Rent The Runway, a service that allows people to borrow — for a fee — designer dresses at a fraction of the cost of buying them.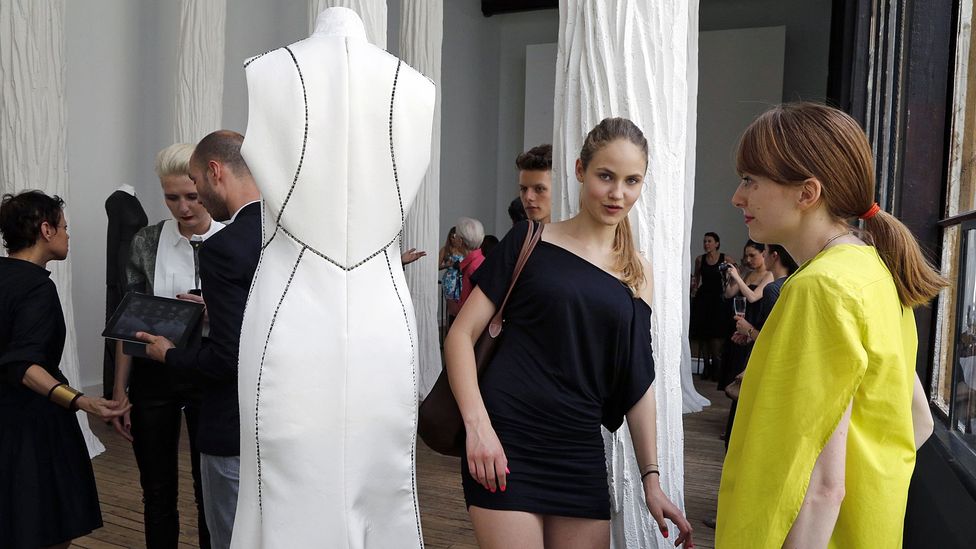 You can rent a single dress or an entire wardrobe on the cheap (Credit: Getty Images)
"Never would I be able to just go out and buy a Carolina Herrera dress for a one-off situation, but I could rent one," Fisk explained.  Then she rented another dress for a different event, and, meanwhile, her new career blossomed and the number of public appearances she booked increased.
Eventually she went out on her own and inked partnership deals with local businesses in the Dallas area that would loan out clothing and accessories in return for promotion, including plugs on her blog Julie Says So.
If you feel strong and magnetic and feel like you look like a million bucks, then that's going to translate.
"Even if an employer or the person who's attention you're trying to get doesn't recognise that you're wearing a designer dress or fantastic suit, how you feel inside of it definitely makes an impact," Fisk said. "If you feel strong and magnetic and feel like you look like a million bucks, then that's going to translate."
Studies show that how we dress for an occasion does indeed affect the way we feel about ourselves. That, in turn, influences how others may perceive us. Researchers at Northwestern University, near Chicago, Illinois, call it "enclothed cognition," noting in a 2012 study that dressing for the part helps us to mentally prepare for the task at hand.
Ownership is so last year
Ron Conway, a prominent Silicon Valley "super angel" investor, proclaimed at a recent Goldman Sachs conference that there had been a "seismic shift in the American Dream". People, he said, now prize access over ownership.
Rent the Runway is but one example of the many ways this burgeoning trend has crept into the professional arena. Comparable services like Girl Meets Dress and Yeechoo are available in the UK and Hong Kong respectively, while others like Eleven James (available in the US, with plans to go global) focus on delivering luxury watch rentals under an annual membership model. Some services, like LeTote or Gwynnie Bee, send an entire wardrobe for use and return, on a monthly subscription model.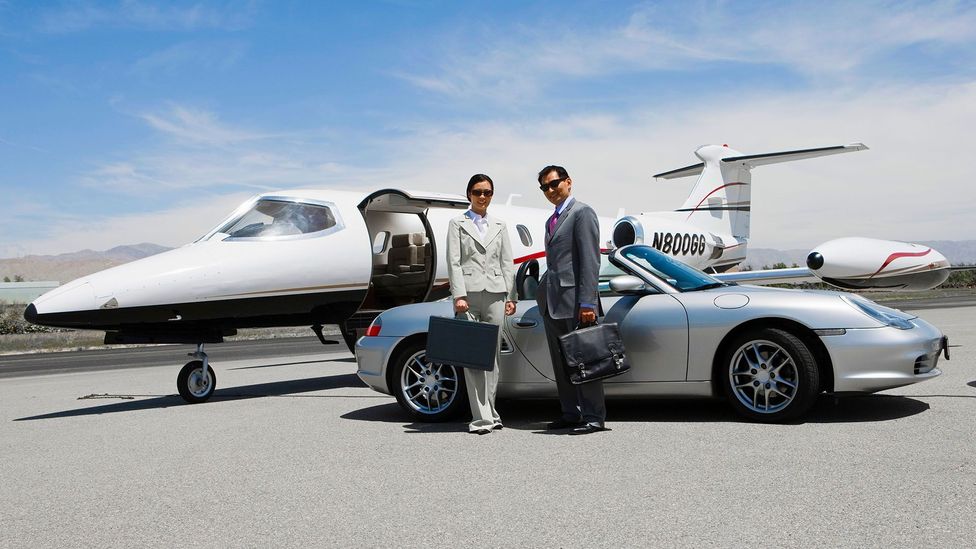 If leasing a sports car isn't enough, some membership clubs provide discounted flights on private jets (Credit: Alamy)
There are similar services where one can rent designer suits, jewellery or bags. And if leasing a luxe sports car isn't flashy enough, you can join a private jet membership club like JumpJet or NetJets for steep discounts on chartered flights. Or use a service like Victor, which offers "empty leg" flights (the return portion of a booked one-way trip) at up to 75% off the cost of a conventional charter.
How much is too much?
Of course, leasing a lifestyle can turn from a wise investment to an unhealthy ego trip pretty quickly. Being honest with yourself about overextending your budget without tangible professional results is key to avoiding that trap, said Rothschild.
Are you spending rent money on renting clothes, for instance? Maybe you've gone too far.
Rothschild believes if you want to be seen as "responsible, reliable, worldly, and competent," then it's important to strike the appropriate balance between being genuine while ensuring that "every element of your personal brand stays in alignment with how you wish to be known."
To comment on this story or anything else you have seen on BBC Capital, head over to our Facebook page or message us on Twitter.