Move over dumb socks, shoes and shirts, 'smart' clothes are poised to take over.
O
Over the next month, we're celebrating technology and innovation in a new series called Bright Sparks. As part of the series, we're bringing back some of our favourite articles about the people and ideas that are changing the world with technology.
In 1919, founder of the Italian futurist movement Filippo Tommaso Marinetti caused quite a stir when he wore a light-bulb tie that he had fashioned himself. He rigged it so that whenever he wanted to emphasise certain words or phrases in his speeches, the bulb would flash.
Fast forward nearly a century, and wearable technology has come a long way since flashing ties — think biometric T-shirts and smart digital tattoos. And it is still evolving, moving from gadgets to fashion statements to the potential for a future in which technology is easily integrated into our clothing and lives. A shirt that controls temperature or changes shapes to give you a custom fit, for example. Or even one that is able to provide power — imagine no longer needing to charge your cell phone with a stray cord.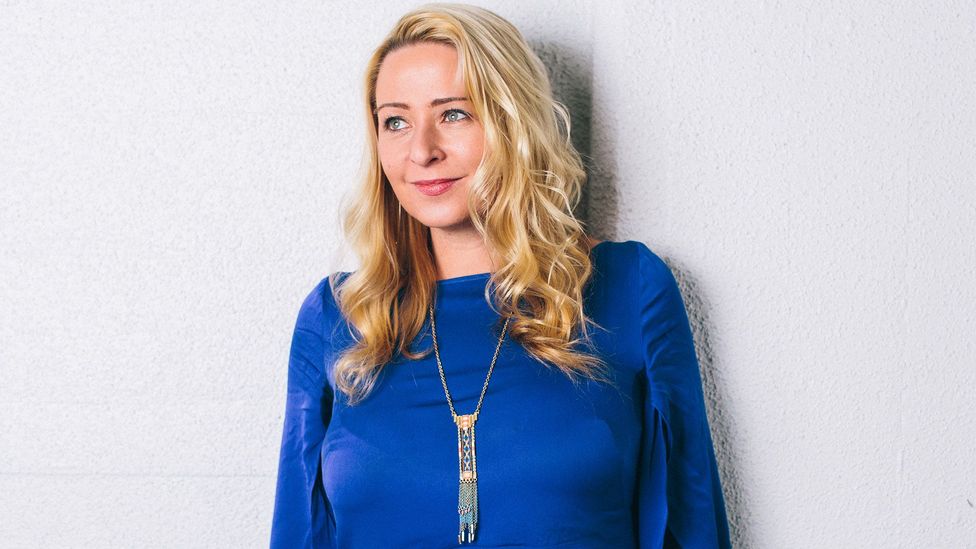 Wearables are 'less about pure practicality but more about convenience', said Amanda Parkes. (Credit: Bryan Derballa)
Wearables are expected to become "less about pure practicality but more about convenience, seamlessness, and personal experience," said New York-based fashion technologist Amanda Parkes. 
But getting there requires the cooperation and integration of two seemingly disparate worlds: fashion and technology.
It's about being able to speak each other's language.
"It doesn't mean that everybody has to be an electrical engineer and a fashion designer," said Parkes. "It's really more about being able to speak each other's language... to understand how processes work, to understand limitations and constraints." 
The two fields are already starting to collide in some interesting and unexpected ways — and with products that don't necessarily fit the standard definition of wearable technology.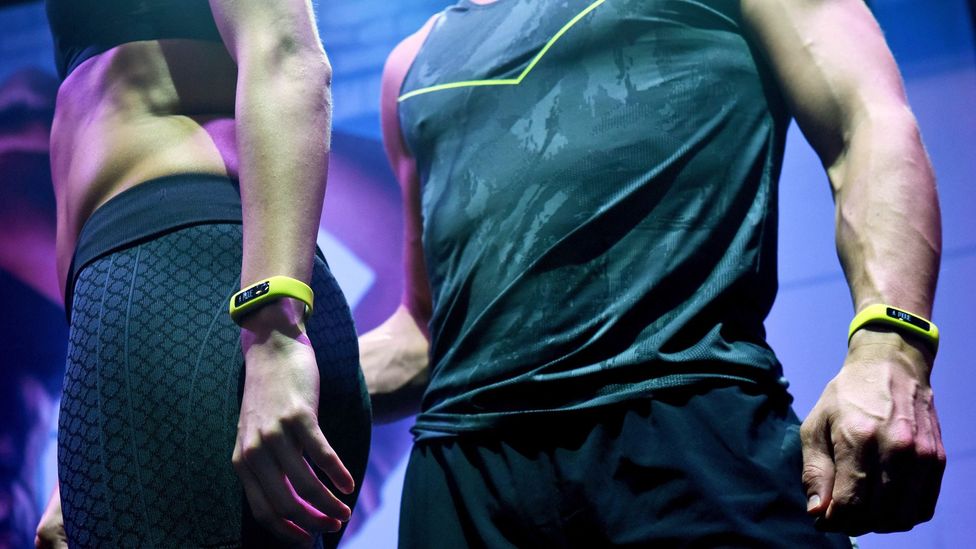 Fitness trackers are some of the most recognisable wearables. (Credit: Getty Images)
Los Angeles start-up Thesis Couture is reinventing the stiletto in an effort to make a more comfortable heel, using ballistic-grade plastics and thermoplastic polyurethane — with the help of a diverse team, including a rocket scientist, an astronaut, an orthopaedic surgeon, an Italian shoe artisan, a shoe designer, and Parkes. The team is led by Dolly Singh, Thesis Couture's founder and the former head of talent at Elon Musk's SpaceX.
Just navigating the conversation was its own challenge.
"Just navigating the conversation was its own challenge in the first few meetings we had," said Parkes. "You're translating tech speak into design speak and fashion speak and trying to recognise people's priorities and processes and their way of working, their way of thinking."
Parkes, who has a PhD in tangible media and an undergraduate degree in art history, runs the research and development side of Manufacture NY, a fashion incubator. Thesis Couture is one of Manufacture's incubator partners. "What we're trying to do is merge the community to create an ecosystem that is both fashion brands — emerging designers — as well as fashion tech start-ups," she said.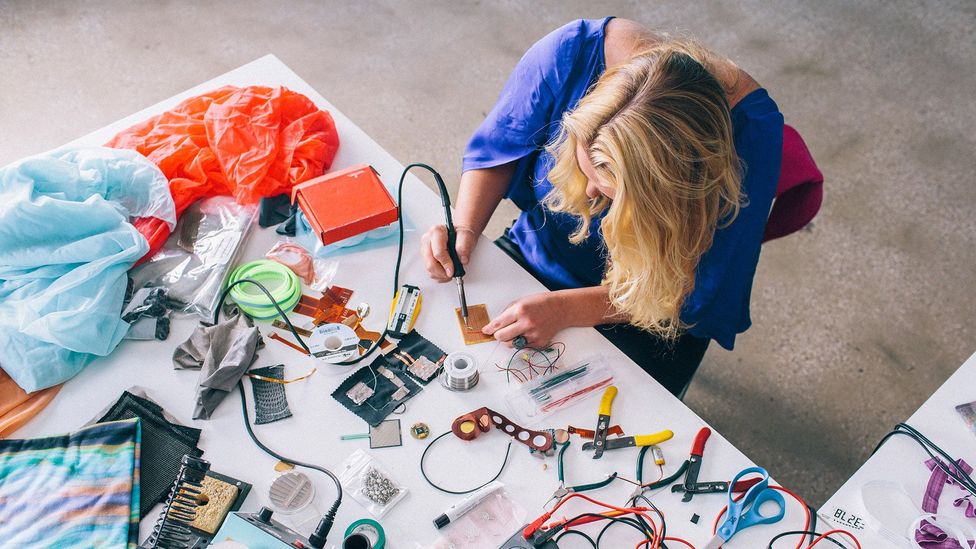 Amanda Parkes working on wearables ideas at fashion incubator Manufacture NY, where she heads research and development. (Credit: Bryan Derballa)
Still the early stages
But wearables still have a long way to go, said Parkes. Consider the early days of the internet. "When the internet was first created, it was seen as a communications tool, basically a bulletin board," she said. "We never could have imagined in the beginning what all different kinds of creative people were going to do with it and what it was going to turn into. But we knew it had massive capabilities."
Likewise, experts say wearables have huge potential. And a lot of companies are jumping into the space.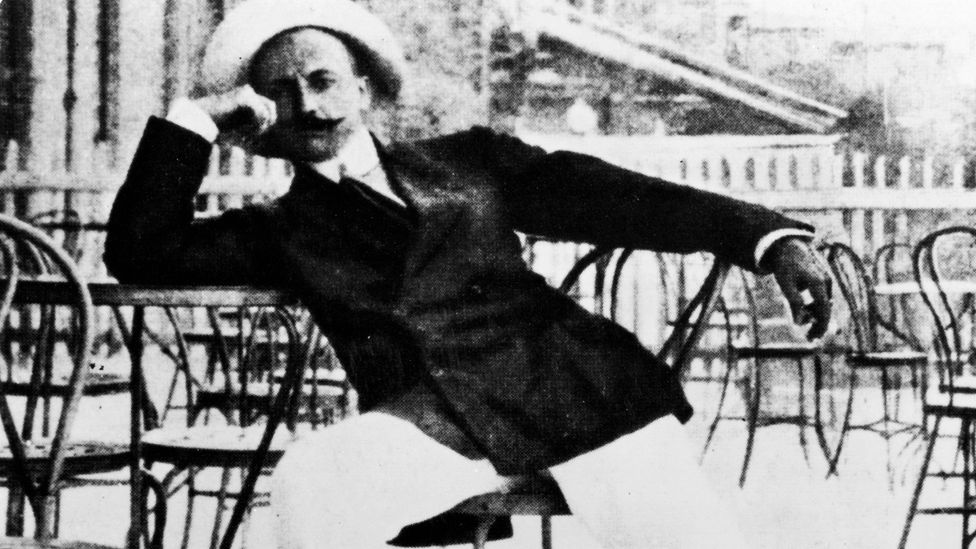 Wearable technology has come a long way since futurist Filippo Tommaso Marinetti's light-bulb tie. (Credit: Hutton Archive/Getty Images)
Worldwide shipments of wearable devices — including everything from fitness-tracking bracelets to Bluetooth watches to app-enabled rings — are expected to reach 110 million pieces by the end of this year and 237.1 million in 2020, according to a report from information technology research firm IDC.
For Parkes, gadgets are merely a jumping-off point for wearables. The real wearables will only come with the transition into soft materials that can allow technology to be worn just like regular clothing, smart materials, and textiles. "When we are thinking about designing for interactivity around the body, we should be thinking about the whole body," she said. "There are a lot of different metrics you can use, and it's not just about counting steps and getting a heart rate."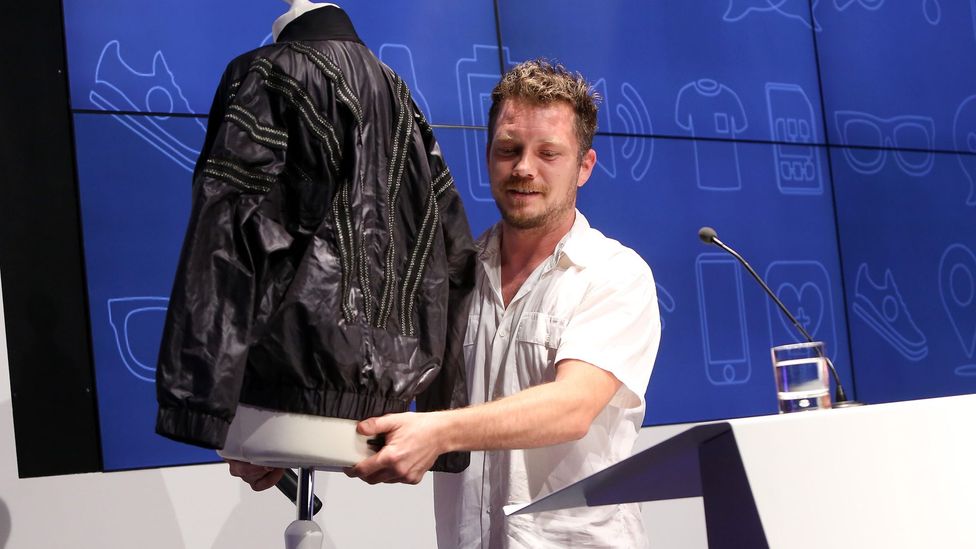 Gabriel Platt carries a Distance Control sexual assault jacket with built-in electrical shock for oncoming perpetrators. (Credit: Getty Images)
Of course, heart rate is the current craze. For instance, Ralph Lauren's PoloTech shirt monitors the wearer's heart rate, breathing depth and balance, along with other vitals and then feeds that information to an iPhone or Apple watch. Pricetag: $295.
There will still be a market for dumb socks, shoes, and shirts.
"We are moving to a place where anything you buy to wear will be categorised into two buckets: 'smart' and 'dumb'," said David Norton, author of Digital Context 2.0: Seven Lessons in Business Strategy, Consumer Behavior and the Internet of Things. "While there will still be a market for dumb socks, shoes and shirts, the brands that embrace 'smart' will be able to differentiate themselves, charge a premium, and impact people's lives in ways previously unimaginable."
Inter-disciplinary future
Those working in this space will need to be comfortable across different disciplines.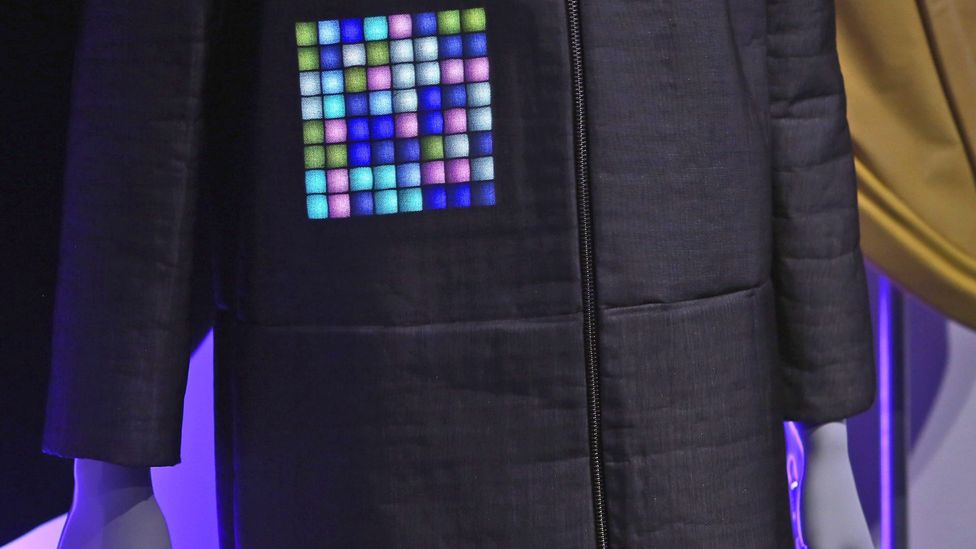 A jacket with built-in display by Screenstoff. (Credit: Getty Images)
"People working in this space need a variety of skills, including background in the material side of computing and garment manufacture, technical requirements and capabilities, as well as customer understanding — how to move beyond art and technology demonstrations to create things that consumers can enjoy every day," said Todd Harple, Intel's director of pathfinding and innovation strategy for new devices.
It's the world they live in.
That also means developing and integrating software and hardware into patterns and the construction of garments, he said.
For the technologists, the days of hunkering down in a lab by oneself or with like minds to create the backbone of devices could be coming to an end. At New York's Fashion Institute of Technology, there aren't any courses in wearable technology yet. Instead, the school is taking more of an integrative approach, according to Joanne Arbuckle, FIT's School of Art and Design's dean. After all, she said, "it's the world they (the students) live in."
To comment on this story or anything else you have seen on BBC Capital, head over to our Facebook page, message us on Twitter or find us on LinkedIn.