During the Han dynasty, the wealthiest Chinese noblemen were sometimes buried in jade suits made from hundreds of small jade tiles linked together, sometimes with gold thread. It was a lavish display of status. But it also suggested that jade offered protection from physical decay.
Jade usually represents good health and long life for Chinese people
And for centuries since, there has been a deep connection between Chinese culture and the smooth green stone.
"Jade usually represents good health and long life for Chinese people," according to Kent Wong, managing director of Hong Kong luxury jeweller Chow Tai Fook.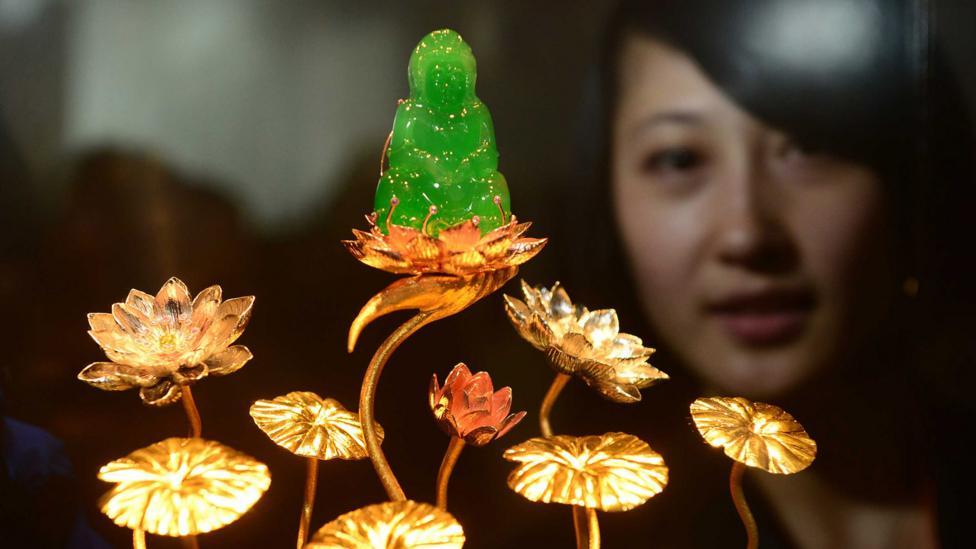 As China's middle class grows, so has the appetite for jade jewellery (Credit: Getty Images)
Jade suits are no longer in fashion, but China's appetite for the stone has grown as the country has become wealthier. Credit Suisse says there are now 109 million middle class people in China collectively holding $7.3tn in financial assets and real estate. More than two million Chinese are millionaires.
Demand for jade is driven almost entirely by the Chinese market. At the top end, it can be worth more than gold
With figures like that it's no wonder more Chinese are buying luxury products like jade, which has in recent years experienced double-digit growth, Wong said. Demand for jade is driven almost entirely by the Chinese market. At the top end, it can be worth more than gold.
In fact, it's so valuable, that criminals half a world away are taking notice. A gang in the UK was recently sentenced to prison for plundering jade artefacts from museums and an auction house. The artefacts were estimated to be worth up to $79m on the Chinese auction market, although criminal blundering ensured they never got there.
Why is it so valuable?
Jade is in fact a catch-all title for two chemically different substances that are physically similar. Jadeite, which comes exclusively from Burma, is by most accounts the more prized of the two. But nephrite, which traditionally comes from western China, was in use long before jadeite became popular.
Jade jewellery can be incredibly valuable. This jadeite bead necklace sold for more than $7m in Hong Kong in 2010 (Credit: Getty Images)
Older Chinese nephrite pieces sometimes command huge figures at auction. Bonhams auction house in Hong Kong recently sold a collection of historical jade items for $23m, dating from as early as the Neolithic period. It's a big number, but it's not investors who are buying.
"In my experience, nobody treats Chinese archaic jade as an investment vehicle. It's a highly specialised, highly scholarly, very narrow sector of the collectors' market," said Colin Sheaf, the head of Asian art at Bonhams.
Investors typically seek out something with broader appeal. Often that means jadeite jewellery. Art deco pieces are particularly prized. Last October, Sotheby's Hong Kong sold an art deco jadeite brooch by Cartier for $930,000.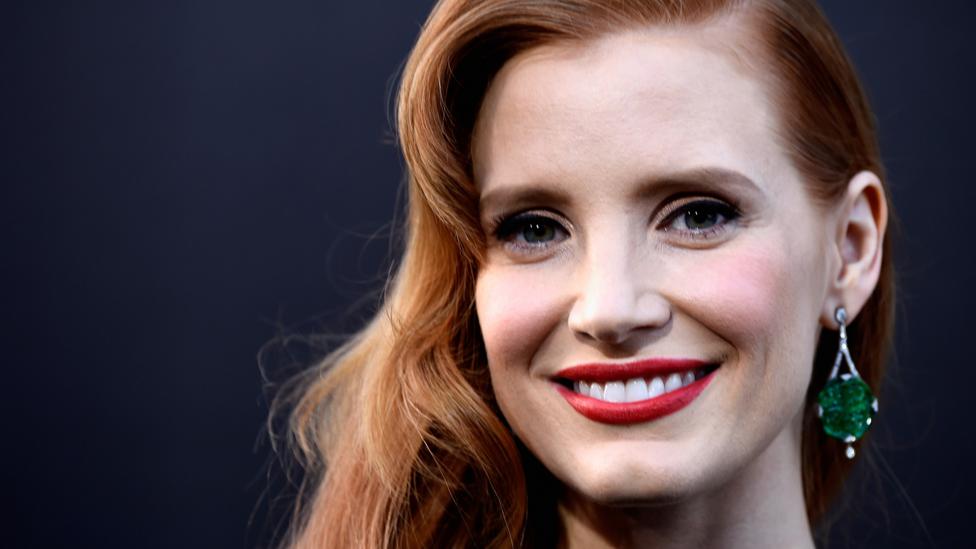 Jade is popular with Hollywood celebrities too – Jessica Chastain wore jade earrings to the premiere of Interstellar in 2014 (Credit: Getty Images)
The deputy chairman of Sotheby's Asia, Quek Chin Yeow, thinks there's money to be made at the top end of the market, but only if you know what you're buying. "Like all investment possibilities, you have to select the right pieces," he said.
What to look for
Picking a winner can be tricky, though, because every piece of jade is different, and figuring out what each one is worth is an art rather than a science. There are labs that can determine the chemical makeup of the stone, and whether it's chemically treated or if it's an outright fake. But there's no "jade index" that gives a price per ounce like there is for gold.
Figuring out what each one is worth is an art rather than a science
Colour is often the first thing buyers look for. Jade is almost synonymous with green, and bright emerald shades of the colour are still the most prized. But jade comes in many hues, ranging from blue to lavender to "icy" white, which has increased significantly in price in recent years. Buyers also look for size, shape, transparency, texture and craftsmanship. A jade bangle, for instance, is often a good investment because it can only be made with high-quality material, according to Wong.
And as with anything, the higher the quality, the higher the value.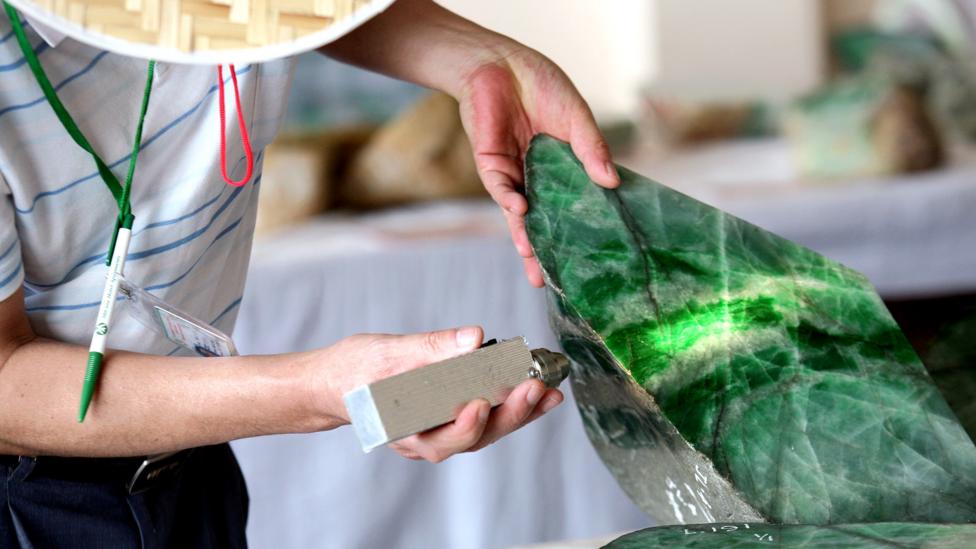 Determining the quality of jade can be tricky (Credit: Getty Images)
With jade, auction sale records often provide the best indicator of price. The single most expensive jade item ever sold is the Hutton-Mdivani Necklace. It was owned by Woolworth heiress Barbara Hutton. Made of 27 graduated bright emerald green jadeite beads with a clasp set with diamonds and rubies, the necklace sold for $27.4m at auction in 2014, more than six times the price it sold for at auction 20 years earlier.
The risks
But if the top end of the market seems glamorous, there's a dirty underbelly to the industry, which by some estimates is worth $8bn.
There's a dirty underbelly to the industry, which by some estimates is worth $8bn
Jadeite comes from Myanmar, and there are serious concerns over labour and human rights in the mining industry there. So much so that the US left in place sanctions on the jade industry even as it removed them from most other sectors of the country's economy.
There's no certification process to prove to consumers that their purchase has been sourced ethically. On the other hand, Quek points out that some of the most prized jade items are decades or even centuries old, and tracing the source would be virtually impossible.
And as with any investment, there's always the possibility that market conditions will change. Although there are enthusiastic jade lovers the world over, it's a market that depends very heavily on growth in China.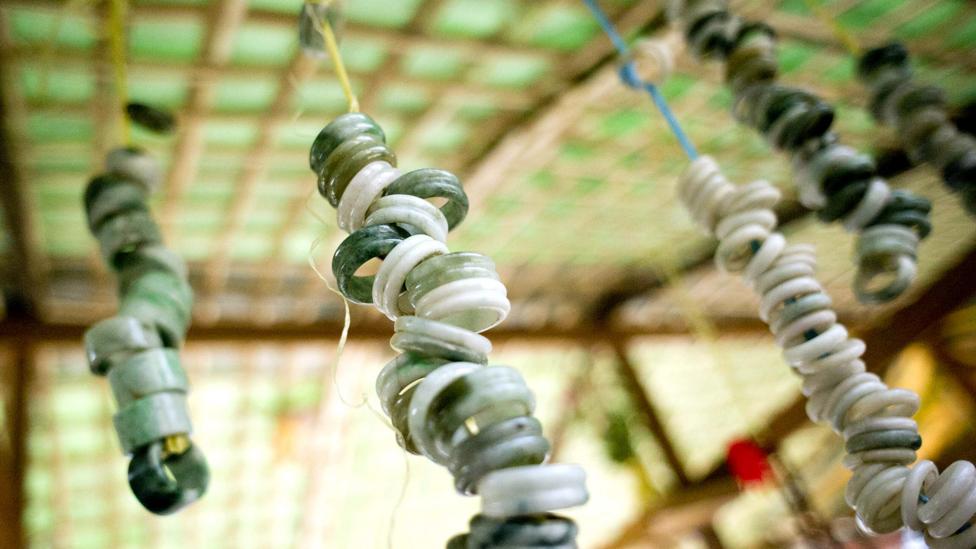 Jade rings are displayed at a wholesale jade market in Mandalay, Myanmar (Credit: Getty Images)
But China's economy isn't growing as fast as it once did. It's currently seeing its slowest growth in 25 years. Even so, if it hits the government target of 6.5-7% growth, that still equates to an enormous amount of wealth being added to the country's economy every year.
There are other concerns too. Many luxury goods have taken a beating recently, in part because of the Chinese government's crackdown on corruption, which has been blamed for all manner of things, from declining gambling revenues in Macau, to slowing fortunes for high end wine-makers, slow sales of Tibetan mastiffs and, indeed, jade.
Wong thinks there's no government policy that could derail a love affair with jade that dates back to the Neolithic period. He believes that as China becomes wealthier, and its appetite for jade grows, the price is only likely to climb.
This story was produced under the BBC's guidelines for financial journalism. A full version of those guidelines can be found at bbc.co.uk/guidelines.
To comment on this story or anything else you have seen on BBC Capital, head over to our Facebook page or message us on Twitter.