W
Who is really winning the war of followers, fans, likes and shares on social media? It's not necessarily Kim and Kanye or even Taylor Swift.
You might be surprised, but the real movers and shakers are, well, a bit more buttoned-up.
 It's the glimpse into politicians' everyday lives that fans are most interested in.
World leaders are getting in on the celebrity act with carefully curated Facebook pages and Instagram feeds, all in a bid to show their human side and promote their political standing. And in the all-out race for popularity before and after the ballot box, followers, likes and shares are the ultimate prizes. 
They're in a competition for eyeballs against the likes of celebrities, singers, and cartoon characters. So while Shakira, Cristiano Ronaldo and The Simpsons still have more likes, among his peers, US President Barack Obama wins the popularity race by a mile. With more than 48 million likes on his main Facebook page, the study World Leaders on Facebook found the current US president is winning the political figure social media race.
Premiers of India, Turkey and Indonesia are also among the top five world leader accounts, partly because, like Obama, they come from populous countries, but also because they play the social media game oh-so-well.
Like him or hate him, Donald Trump epitomises that.
"Effective social media translates into votes," said Brian Donahue, who has served on several US election campaign teams, including George W Bush's 2004 presidential campaign, and founded Craft, a PR firm. "It translates into support, interest, contributions, and overall engagement in your base. It's crucial."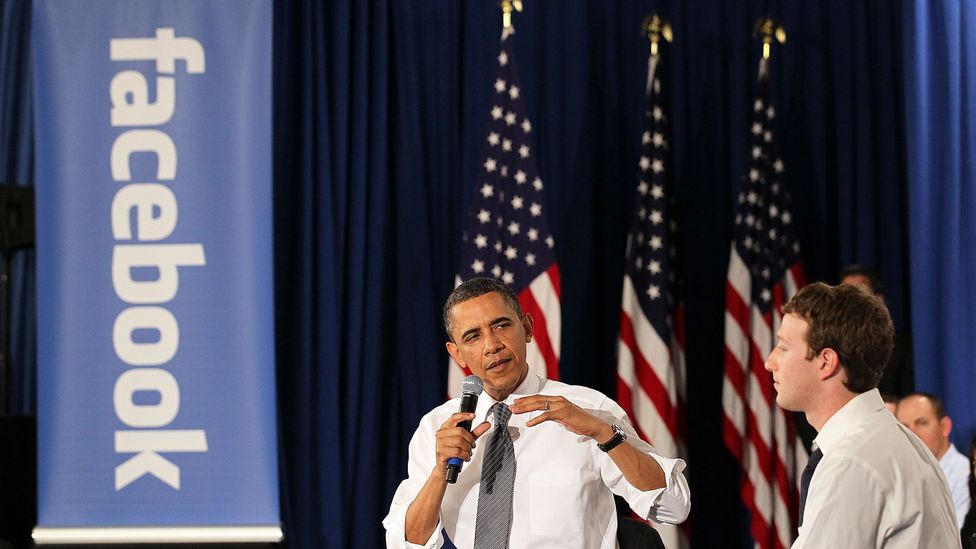 US President Obama and Facebook CEO Mark Zuckerberg (Credit:Justin Sullivan/Getty Images)
No matter their rationale for using social media, politicians have become more sophisticated in their approach, according to Donahue. Potential voters "expect candidates running for office to be sincere and honest and open. They have to be much more casual in their content", he said.
When it comes to that — although he's more a Twitter guy than anything else — one candidate really stands out.
"Like him or hate him, Donald Trump epitomises that," Donahue said. Through an aggressive online campaign for the US presidential nomination, Trump has dominated headlines, leaving him the actor, while others react, he said.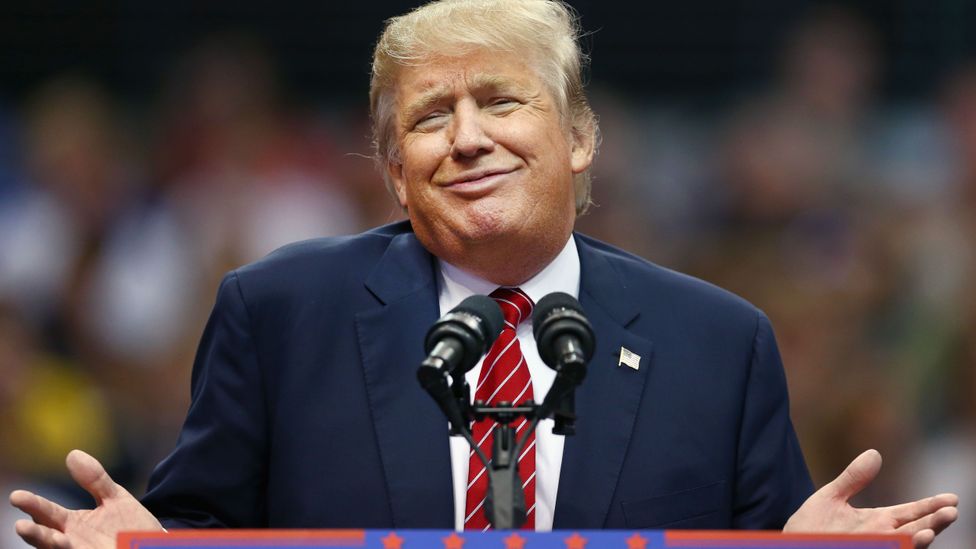 Is Donald Trump surprisingly appealing on social media? (Credit: Getty Images)
That's even as rivals outspent him. Data from communications agency SMG Delta shows former fellow Republican candidates Jeb Bush spent $82m on television advertising, while Marco Rubio spent $55m. Meanwhile, Democrats Bernie Sanders and Hillary Clinton spent around $28m each. Trump's spend? Just $10m.
The path to Facebook glory
What really makes a politician's page a hit are casual and personal posts — it's the glimpse into politicians' everyday lives that fans are most interested in, said the study's author, Matthias Luefkens, managing director at the digital team at PR firm Burson-Marsteller.
Obama's page is not just the most 'liked', but also one of the best examples of how a politician's team can run a page successfully, according to social media analysts.
He doesn't post every day — just when he has something important to say.
"He uses lots of videos, he tells stories, and he doesn't post every day — just when he has something important to say," Luefkens said.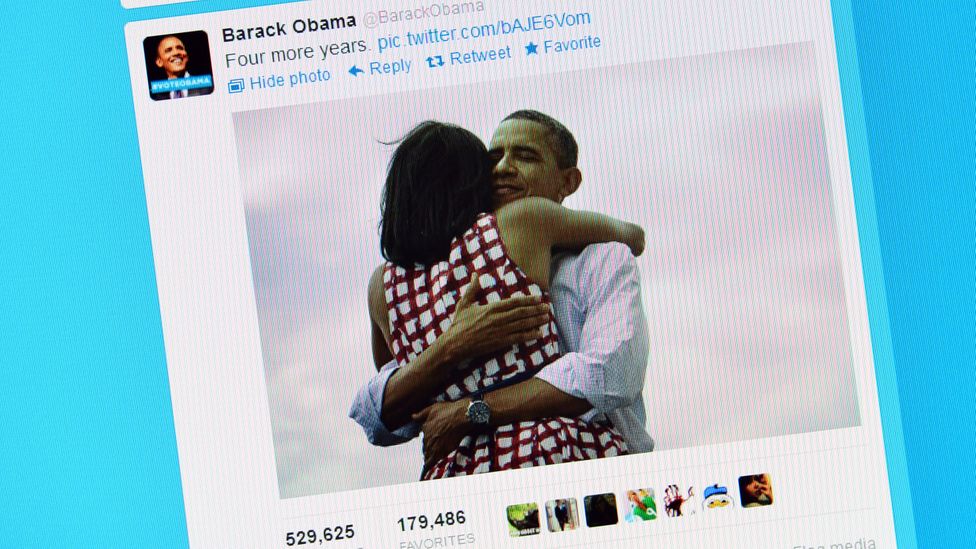 This post was Obama's most retweeted, with 472,000 shares in three hours (Credit: Getty Images)
Every once in a while, there will also be the occasional holiday shot with his wife Michelle Obama and daughters Malia and Sasha. These personal posts could hold the key to real engagement as they often get the most interactions, but usually, his posts are meant to help tell a political story.
Obama's team started using Facebook and Twitter in 2007, when he was still a senator from the state of Illinois. Since then, he and other world leaders have jumped on the bandwagon, joining everything from video streaming services like YouTube, Vimeo and Instagram to social media sites from Facebook and Twitter to Snapchat. Many have also hosted Reddit ask-me-anything sessions, with mixed results (Obama's remains among the most successful, the all-time top scoring AMA).
Kings of engagement

Newer social media channels are also on the rise, but measuring popularity isn't always easy. 
Mauricio Macri stands nearly alone as a master of Snapchat.
On Snapchat, for example, the number of followers and views isn't shared publicly, making it hard to determine how popular an account really is. But it is the fastest-growing social network among teenagers who will be voting beginning in the next few years. That makes politicians quite keen to crack it.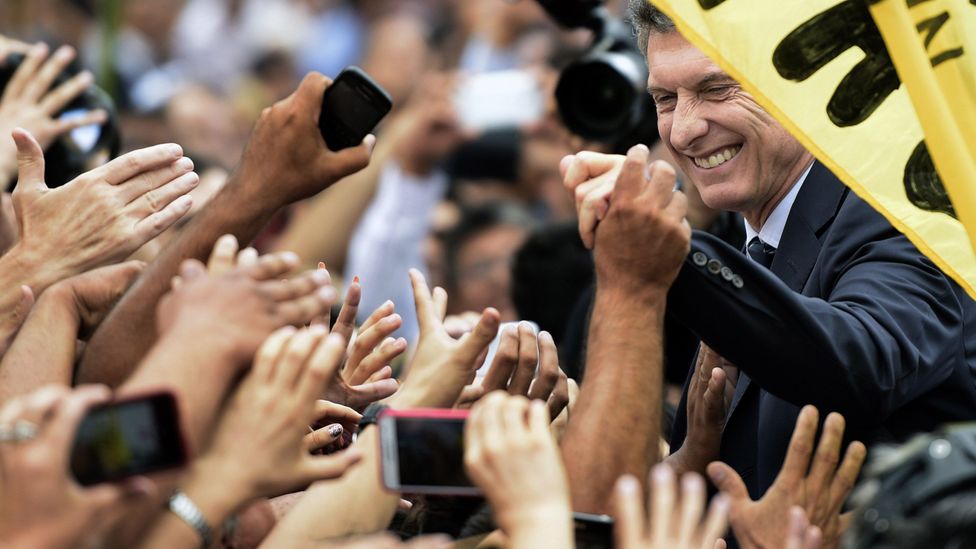 Argentine President Mauricio Macri presses the flesh in Buenos Aires (Credit: Juan Mabromata/AFP/Getty Images)
Argentina's new president Mauricio Macri stands nearly alone as a master of Snapchat. By giving a behind-the-scenes tour of the presidential day, showing trips to factories and other daily affairs, he's given young users a glimpse into political life they'd likely miss otherwise. But, most of the world's leaders don't have a clue how to use the service to their advantage (or even at all) yet.
"They are still playing around," Luefkens said.
In terms of engagement, Macri ranks higher than any other world leader on Facebook.
Macri and his social media team, Luefkens said, have had great success in the social sphere in part because they know how to engage across platforms. Indeed, in terms of engagement, a ratio of fans to commenters, likes and shares, Macri also ranks higher than any other world leader on Facebook, according to the research.
Among his nearly 4 million fans, Macri frequently gets between 50,000 and 70,000 likes on his posts. A recent post on the death of iconic tango composer, Mariano Mores, got more than 500,000 likes.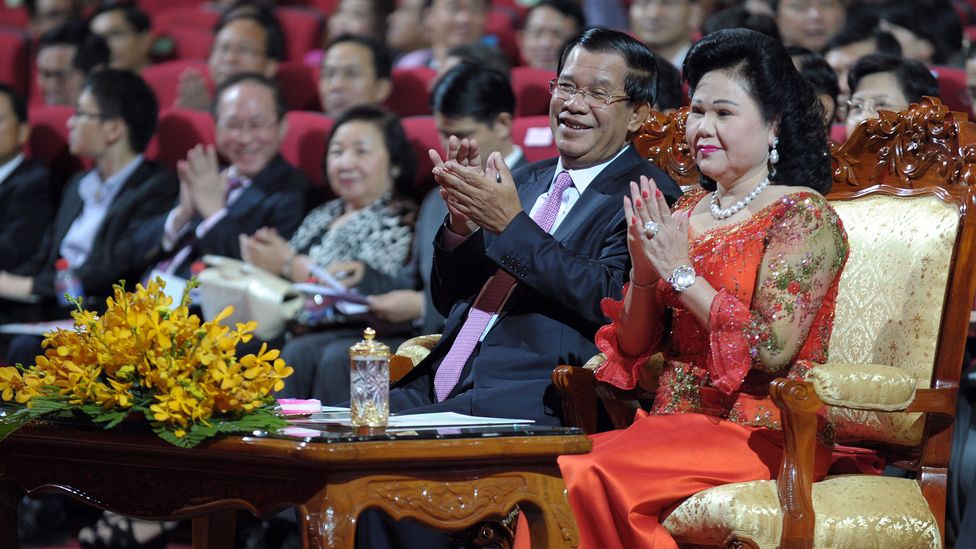 Cambodia's leader, Hun Sen and his wife (Credit: Getty Images)
Follow me, or else!

Facebook has become a popular tool even among autocrats (leaders who rule with total power, rather than by election and/or democratic rule). Hun Sen, who has tightly ruled the small Southeast Asian nation of Cambodia for more than 30 years, ranks second on Luefken's engagement ranking.
On Facebook, the strongman presents himself strolling down a beach in a revealing bathrobe and playing with his grandchildren while he sports a tight white undershirt.
It's an opportunity to narrow the gap between my prime minister and the people.
But as Hun Sen rules a country publicly struggling with corruption and poverty, he is losing the support of the growing urban middle class, according to news reports. Facebook, his government hopes, holds the solution.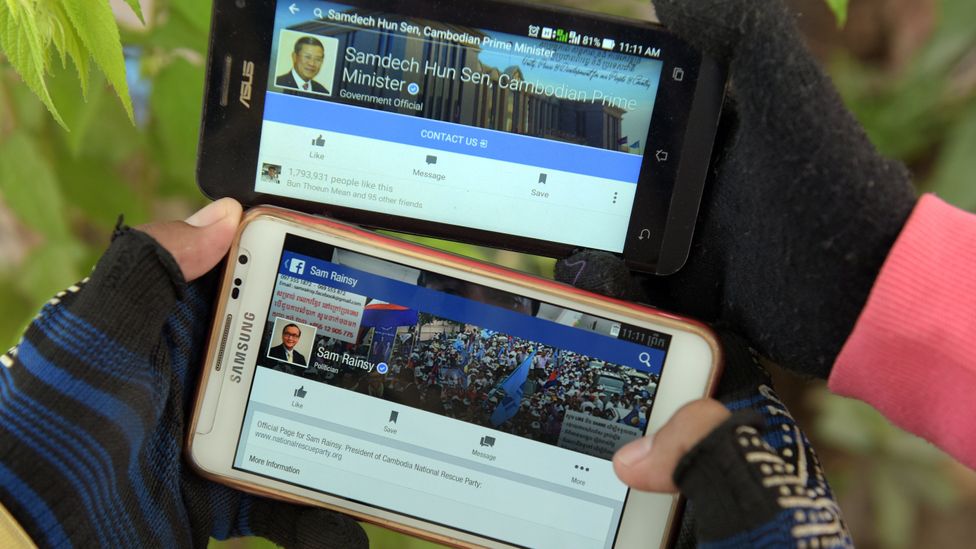 Facebook pages for Cambodian Prime Minister Hun Sen and opposition leader Sam Rainsy (Credit: Getty Images)
"It's critical. It's an opportunity to narrow the gap between my prime minister and the people," Cambodian government spokesman Phay Siphan said of Hun Sen's Facebook page.
Just like leaders in free democracies, autocrats care deeply about their public image, said Aim Sinpeng, a lecturer of comparative politics at Sydney University who has looked into how politicians use social media.
"(Hun Sen) needs more legitimacy from the young, wired, middle class so hence Facebook as a main form of engagement and re-designing his own image," she said.
Singapore's Lee Hsien Loong is also trying to establish legitimacy through social media, Sinpeng said.
With lower approval ratings than his father, who governed the rich island state for 30 years, the younger Lee's Facebook profile portrays a perfectly groomed leader. Sometimes he invites fans to guess where he was taking a stroll with a photo and the hashtag #guesswhere.
"Singapore does this (Facebook) mostly as a way to cultivate legitimacy over time and to collect information on its people," said Sinpeng.
To comment on this story or anything else you have seen on BBC Capital, please head over to our Facebook page or message us on Twitter.