Cashing in on a new thirst for java
I
In 2005, Richard Chien opened a coffee shop in northeastern China, where an assembly line of novice baristas dished out 900 cups a day for 6 yuan – or less than a $1 – a pop. A decade later, he runs a classy coffee school in Beijing, where trainees spend hours contemplating bean aromas and tasting techniques for $6 brews.   
Chinese coffee consumption has nearly tripled in the past four years
Coffee is elbowing its way into tea culture in China, with the potential to transform one of the world's smallest markets into its largest. The Chinese drink less than 2% of the world's coffee, but already they're reshaping the industry.  
The country's "economics have changed; people more and more understand a different living style," said Chien. "It's no longer just about tea."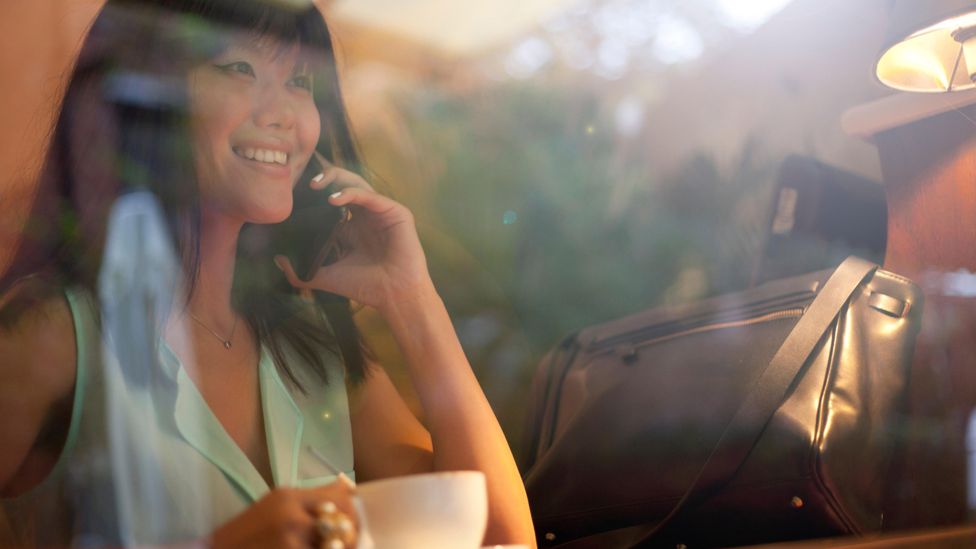 Woman in coffee shop on smartphone in Shanghai, China (Credit: Alamy)
Chinese coffee consumption has nearly tripled in the past four years, according to the United States Department of Agriculture, faster than any other major market the agency tracks. And that potential market is vast: China's population nears 1.4 billion.
Starbucks is so confident it plans to open its first international roastery and tasting room next year in Shanghai, and believes the country could become its top market. The Seattle company, which already operates more than 2,000 stores in China, plans to add 500 shops annually for the next five years. Dunkin' Donuts – another US chain known for its coffee – last year announced plans to add more than 1,400 locations over the next two decades, an increase of nearly 100-fold.
Much of China's younger generation is coming of age surrounded by Starbucks
Java's rise exemplifies China's swing toward a consumer-driven economy, fuelled largely by changing desires of an expanding middle class. More Chinese are travelling abroad and have sipped espressos in Japan or finished term papers at US cafes. And unlike their parents, much of China's younger generation is coming of age surrounded by coffee shops.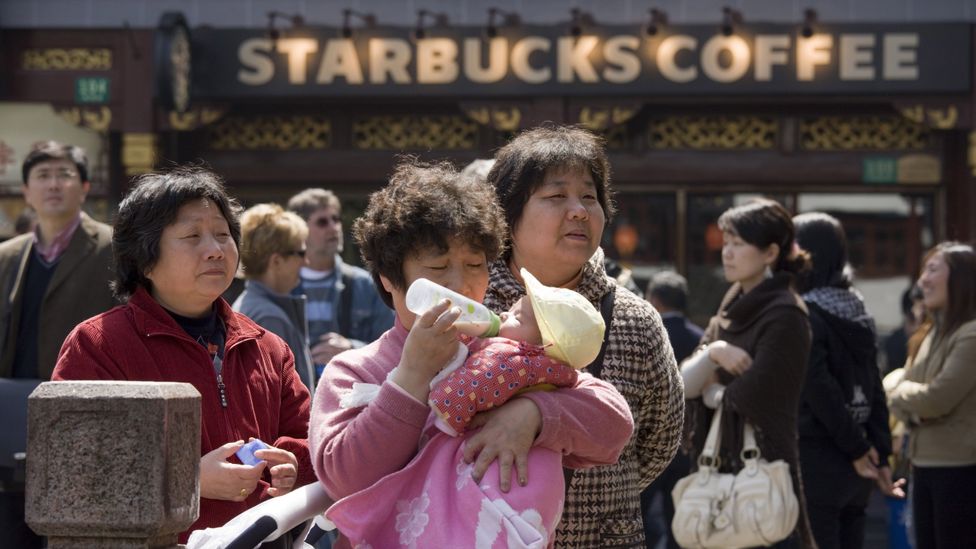 Woman feeds baby outside Starbucks in the Yu Garden Bazaar, China (Credit: Tim Graham/Getty Images)
"It fits in that sweet spot of discretionary household spending," said Jeffrey Towson, an investment professor at Peking University and co-author of The One Hour China Consumer Book: Five Short Stories That Explain the Brutal Fight for One Billion Consumers. The beverage still feels like an indulgence to many Chinese, he said, but it's an accessible luxury. 
It fits in that sweet spot of discretionary household spending
Coffee is an outlier in China's cooling economy, where demand for other commodities is declining. The country's massive population and a largely untapped market present unprecedented opportunity.
An average mainland Chinese person drinks about three cups of coffee a year, which puts China near the bottom of the pile, just above countries like Sudan and North Korea. By contrast, the US gulps 363 cups per person and the UK ingests 250 cups a year, according to research firm Euromonitor International.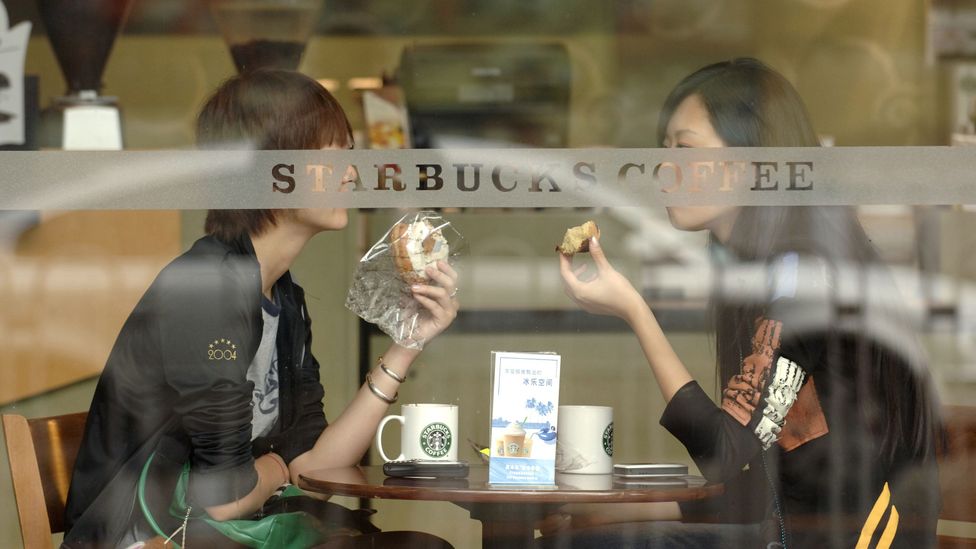 Students from The Beijng School of Fashion, Art and Engineering catching up over a cuppa (Credit: Joe McNally/ Getty Images)
China's thirst for coffee will "totally change supply chains globally," said Shaun Rein, managing director of Shanghai-based China Market Research Group. Growers will need to determine how to produce more coffee beans in response, he said, with flavours geared toward Chinese tastebuds. "This has happened in the past, where demand outpaces supply so the price of coffee beans skyrockets until farmers are able to plant more."
The firm estimates China's coffee consumption will grow about 20% annually, and Rein credits women under 30 for much of the shift. "They are moving away from buying Louis Vuitton bags to experiences," he said. "Coffee culture is a part of that."
Zhang Zheyuan, a 24-year-old designer, embodies that shift. She recently graduated from university and moved to Shanghai, where she began the hunt for a coffee shop. "They are always nice and pleasant, so I enjoy studying or meeting people there," said Zhang, who started drinking coffee last year, while part of an exchange programme in Australia.
"The only problem is that it's hard to find good coffee shops in China," she said.
Starbucks aims to fill that gap.  
"I wouldn't be surprised if one day we have more stores in China than we do in the US," Starbucks CEO Howard Schultz told CNBC in May. Shanghai alone has about 1,000 stores, making it one of the world's largest concentrations of Starbucks outlets.
 I wouldn't be surprised if one day we have more stores in China than we do in the US
Cafes with wi-fi and air-conditioning, where friends can gossip and entrepreneurs can hold meetings, are still more of a draw than what's behind the counter. Nestle – maker of Nescafé instant coffee – dominates the market, and many Chinese who do drink coffee opt for instant packets that sell for less than a dollar in cramped corner stores. Coffee shops rarely open before 9am, and see much of their traffic later in the day. Even then, green tea lattes and frothy milk drinks proliferate.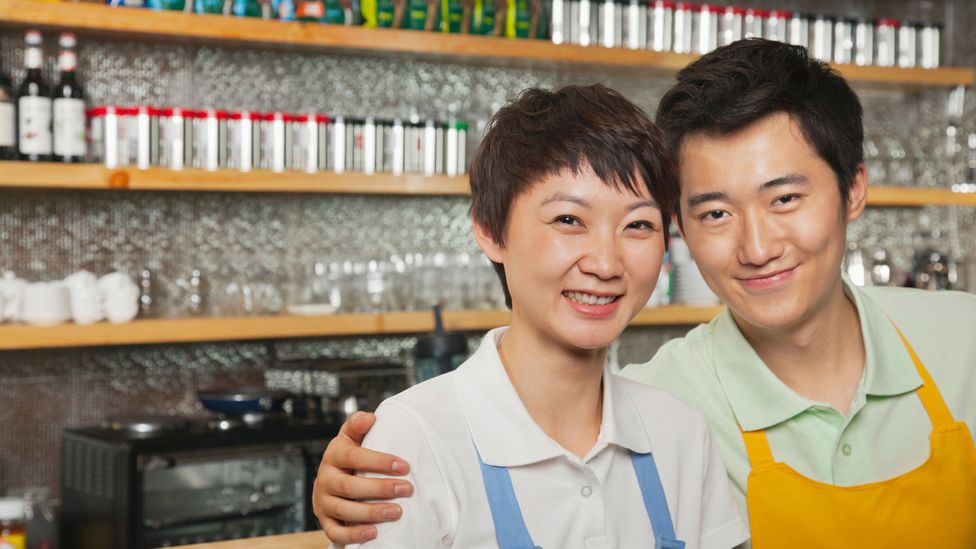 A red roasting machine sits in the window of Jiang Zhen's Beijing coffee shop, which he uses to produce beans with a taste more amenable to the Chinese palate – less bitter and with less caffeine.
But it doesn't come cheap. A cup of freshly roasted coffee sells for as much as $10 at his airy cafe near Lama Temple, close to shops with 20-cent steamed buns and $3 bowls of beef noodles. Jiang, who discovered a passion for the brew while working in Russia, last year sold an even amount of coffee and juices. Now java outnumbers juice by more than two to one. He also distributes large thermoses of coffee to offices, which pay about 50 cents a cup.
Jiang, a quick-witted 40-year-old, likens his café to a tech start-up. "We're trying to offer better and healthier coffee," he said.
Both taste and cost pose threats to China's developing coffee market, particularly outside affluent urban areas.
It's not flying out the door
"If you look at a single coffee shop in China, especially a higher end one, and you compare that with one in California or Boston, the amount of cups they are selling per day is lower," said Peter Radosevich, a trader at Royal Coffee, a California-based green coffee importer. "It's not flying out the door."
For the beverage to truly succeed, especially speciality types, devotees must convince less touristy regions that coffee can supplement – or even supplant – tea.
That's where efforts like Chien's China Barista & Coffee School come in.
Jiang Tao, a trainee at the school, wore a black apron one May afternoon and listened to a coffee-brewing lesson. A former reporter at China Central Television, the main state broadcaster, she planned to take new skills back to her hometown of Lanzhou, an industrial city on the banks of the Yellow River in northwest China.
"Traditional culture people are not conscious of what good coffee is," said Jiang, 38. "I'm responsible for introducing people."
Then she returned to the cluster of students watching the teacher pour piping hot coffee, ever so gently, into a glass filter.
To comment on this story or anything else you have seen on BBC Capital, head over to our Facebook page or message us on Twitter.