Could you live with only 33 pieces of clothing? How about just 10?
T
The best part of Joshua Becker's morning routine: he doesn't need to spend time thinking about what to wear. After all, he's got very few options.
Becker, author of The More of Less, is part of Project 333, a movement where participants wear only 33 items of clothing for three months at a time.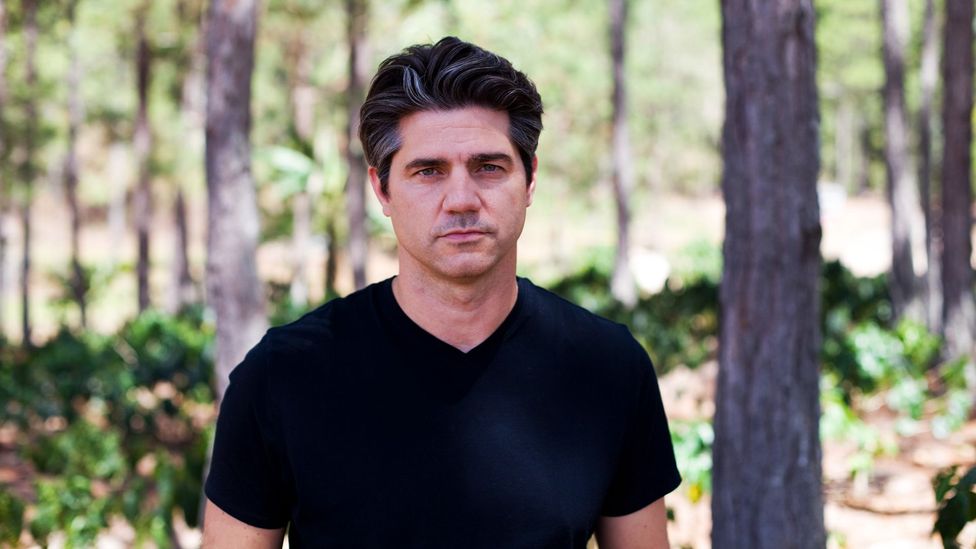 Joshua Becker's clothing philosophy: Just 33 items, worn for three months at a time. (Credit: Anthony Ongaro)
"This is the perfect amount of clothing for me," said Becker who lives in Peoria, Arizona in the US and now permanently stocks only about 30 items in his closet. "It's one less decision I make each day."
Consumers – inspired in part by authors and bloggers – are eager to simplify their lives by throwing out what they don't truly need. And many, including Becker, start with their closets, eschewing fast fashion trends for small high-quality so-called capsule wardrobes where key pieces can be easily counted without any rummaging.
It's one less decision I make each day
Some of the world's most successful executives already have a capsule-like wardrobe. In the 1980s, Donna Karan introduced her seven easy pieces of wardrobe basics to target the busy modern woman. Today, Facebook's Mark Zuckerberg and fashion designer Karl Lagerfeld wear a similar outfit every day. US President Barack Obama commits to either a blue or grey suit, and Steve Jobs' black turtleneck was ubiquitous.
While some focus on curating 10 core pieces with additional seasonal items, others are strict about maintaining the prescribed 33 pieces of clothing, including accessories.
Some of the world's well-known executives sport a limited wardrobe. (Credit: Alamy)
Ultimately, the number is just a starting point for maintaining a clutter-free closet, something that seems difficult with the rise of disposable fashion, said Courtney Carver, a former advertising sales executive who started Project 333 as an experiment about six years ago.
"You are really learning what 'enough' is," she said.
Planning ahead
For those willing to clean up their closets, the financial payoff can be big.
When I go to shop, I'm not lured in by the marketing
Carver spends less than $1,000 per year on replacing well-worn items, a far cry from the more than $6,000 per year that she used to spend purchasing the latest styles each month. Rather than shop nearly weekly, she now browses stores several times per year and adheres to a list of items she needs to buy.
"When I go to shop, I'm not lured in by the marketing," she said.
And there can be psychological benefits, too. Having less stuff can help you stop putting unnecessary meaning into your possessions, points out clinical psychologist Jennifer Baumgartner, author of You Are What You Wear who is based in Washington, DC. Over time, cleaning out a closet from unnecessary items becomes easier, she said.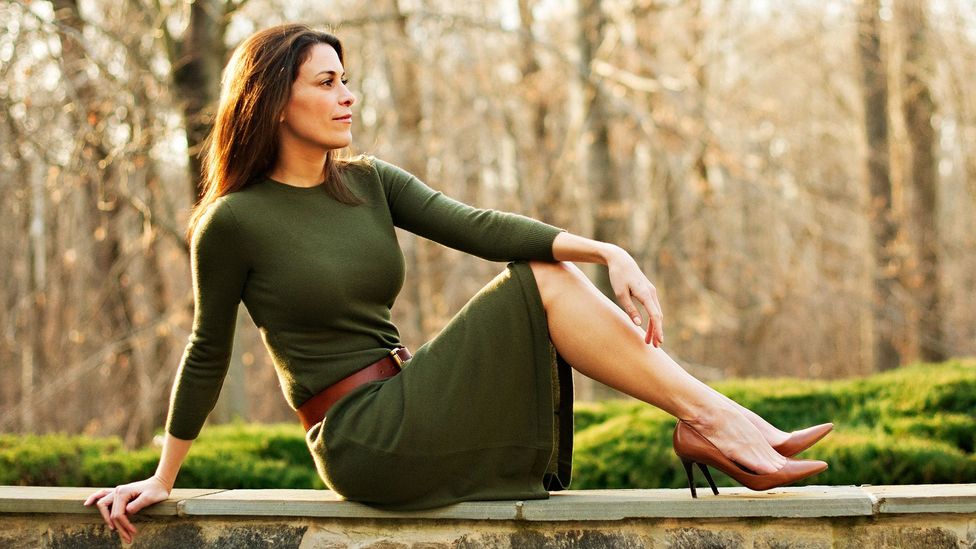 Having less stuff can help you stop putting unnecessary meaning into your possessions, says psychologist Jennifer Baumgartner (Credit: Rebecca Bixler Photography)
"We tend to put meaning into our things, which are really meaningless," said Baumgartner, whose entire wardrobe takes up about 65 hangers and three small drawers. "There's no reason why our clothing should bring about any emotion."
There's no magic number or type of clothing to own, adds Jennifer Scott, Los Angeles-based author of Lessons from Madame Chic: 20 Stylish Lessons I Learned While Living in Paris, who keeps 10 core items in her wardrobe. Scott's closet includes three dresses, two pairs of jeans, three blouses, a skirt and a t-shirt, which are then rounded out by what she calls "accessory" items such as belts, jackets and sweaters.
It starts in the closet. Then… start removing unnecessary people or activities
If it's something you want to do long-term, the trick is to purchase items that work for multiple occasions and match when mixed with other items in the closet.
"I had to… dress up my leisure wear and dress down my work wear outside of work," said Carver, who quit her job in 2011 to write about simplicity. For example, she would trade her tailored shirt, skirt and blazer out for a more casual shirt and jeans, but wear the same blazer. Solid colors in non-wrinkle fabrics with some stretch work best.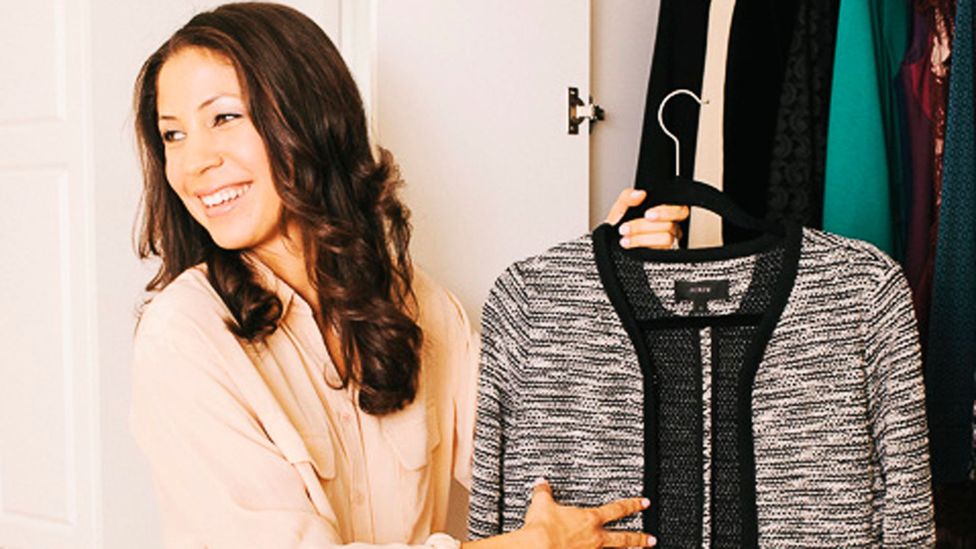 There's no magic number of clothing to own, says Jennifer Scott, standing in front of her 10-item closet. (Credit: Danny Liao)
Keeping a narrow assortment of clothing has psychological benefits, decreasing decision fatigue — the concept that people make worse choices after having to make a lot of decisions — for some. "It starts in the closet," said Baumgartner. "But then they apply it to other things in their home, and then they can start removing unnecessary people or activities and obligations."
Making it work
It can take some trial and error to find the right mix. Becker said he has had to experiment with finding high-quality clothing capable of withstanding constant churns in the washer and dryer and constant wear. While he didn't pay much attention to quality in the past, he does now. Recently, he stopped buying his favourite brand of pants because he discovered that the pockets rip more easily now that he wears them several times per week. And he's invested in better quality t-shirts that keep their shape after dozens of washes.
You end up looking more presentable
"Things just have to be more durable," he said.
Closet minimalists, including Scott, say a capsule wardrobe doesn't have to be unstylish. Most people actually find that having fewer clothes makes it easier to "hone in on your true style," said Scott. Reaching for the same trusty favourites means even the few dresses Scott owns have impeccable fit.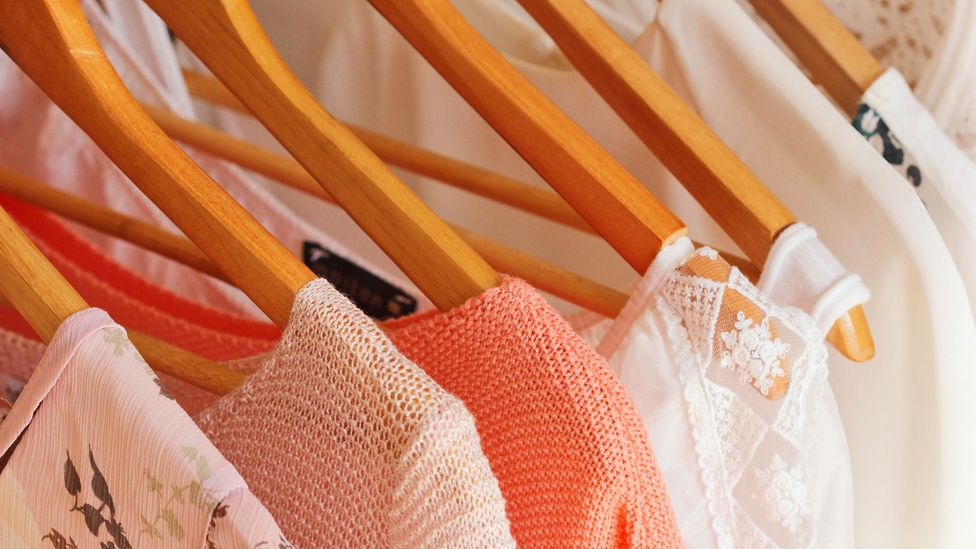 So-called capsule wardrobes contain key pieces you can mix and wear. They consist of as few as 10 pieces. (Credit: Alamy)
"Everything goes with everything else and you end up looking more presentable," she added. While Scott mostly works from home, professionals who must dress more formally in the office can easily build two capsule wardrobes to distinguish leisurewear from professional wear, she said.
More importantly, not all wardrobe minimalists need to step away from shopping altogether. Rather than give up on favourite pastime, Scott suggests browsing for wardrobe staples without actually acquiring.
"Enjoy the hunt," she said. "When you cross it off your list, it feels really good."
To comment on this story or anything else you have seen on BBC Capital, head over to our Facebook page or message us on Twitter.
Downsize your wardrobe
Sort the clothes you don't wear. Store these out of sight until you're ready to donate or discard them
Set a limit. Determine the number of items you'll have in your wardrobe, be it a core 10 or wider 33 or in between
Set a time. Decide how long you'll wear your capsule wardrobe. One to three months is a good starting point
Curate your clothing. Replace ill-fitting or well-worn items as needed
Enforce a one-in-one-out policy. When you buy a new item, donate or toss an old piece